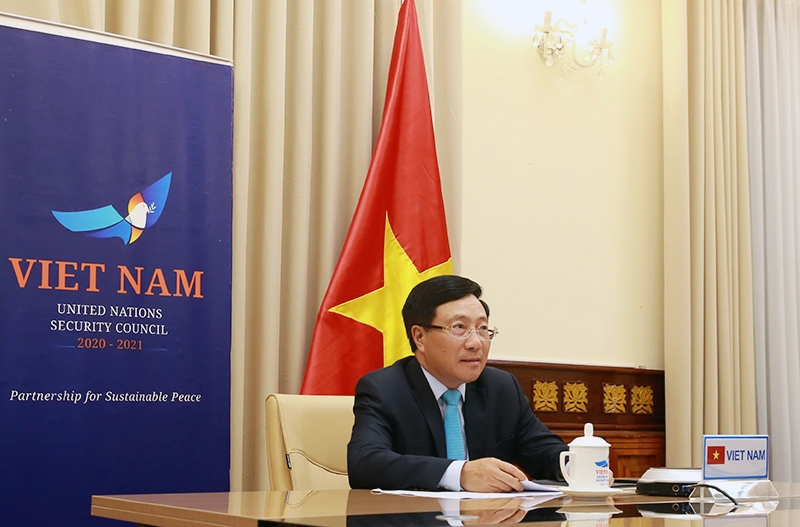 Deputy Prime Minister, Foreign Minister Pham Binh Minh delivered his Statement at the High-level Open Debate of the United Nations Security Council on Pandemics and Challenges to Sustaining Peace, held in form of online meeting on August 12. Photo: VGP
Indonesia's Minister for Foreign Affairs, Retno L.P. Marsudi, chaired the session, which included briefings by UN Secretary-General António Guterres, former UN Secretary-General Ban Ki-Moon on behalf of the Elders, and Sarah Cliffe, who is the Director of the Center on International Cooperation, New York University.
During his speech, Minh informed the delegates about the recent reemergence of the coronavirus in Vietnam after three months, saying "it is a stark reminder that no single country can win this battle, unless and until everyone wins."
"Vietnam has been enjoying peace, stability and long periods of growth for decades. But when the pandemic hit Vietnam, it hit us hard. It put enormous strain on our healthcare system, undermined our socio-economic development. It disrupted every aspect of our lives in unprecedented and unthinkable ways.
As such, we can only imagine the level of devastation this pandemic can bring to conflict-affected areas. The pandemic threatens to wipe out hard-won peace-building gains and worsen the already complex and fragile situations, especially the humanitarian situation. Such a multi-dimensional crisis demands multi-dimensional solutions," said Minh.
At national level, a whole-of-government approach is needed to tackle the pandemic from a disease-control perspective, and at the same time strengthen institutions, build trust and foster cooperation.
According to Minh, special support must be given to the most vulnerable in conflicts and health crises, particularly the elderly, women and children, persons with disabilities, refugees and displaced persons.
Globally, a threat like COVID-19 can only be curbed by working together through multilateral efforts. The Deputy Prime Minister, Foreign Minister affirmed that Vietnam welcomes the adoption of Security Council Resolution 2532, and the Secretary-Generals appeal for an immediate global ceasefire and facilitation of humanitarian activities.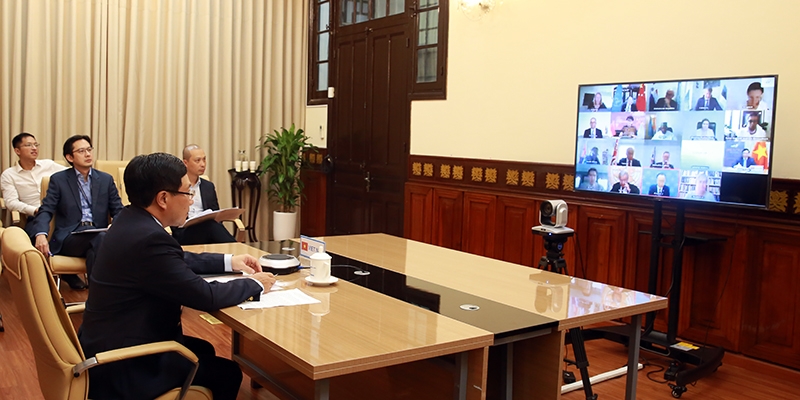 Vietnam welcomes the adoption of Security Council Resolution 2532, and the Secretary-Generals appeal for an immediate global ceasefire and facilitation of humanitarian activities. Photo: VGP
Vietnam is calling for the lifting of sanctions which can undermine countries capacity to respond to COVID-19 as well as commending UN peace operations for continuing to fulfill their crucial mandates and support host countries, despite even more challenging operating environment, he added.
"We urge the UN peace-building architecture, from headquarters to field operations, to take coordinated actions and deliver as one. A whole-of-system approach is crucial for the UN to deliver its promises of sustainable peace and development," he continued.
He further noted that sustaining peace in a time of pandemic can generate great impact even from the smallest actions to win the hearts and minds of the local community, saying he particularly moved by the story of a resourceful Vietnamese woman peacekeeper in the Central African Republic who made face masks to help protect fellow peacekeepers and the local populations.
He took the occasion to stress that the important role of regional organizations cannot be overstated. In Southeast Asia, ASEAN, of which Vietnam and Indonesia are proud members, is taking a whole-of-community approach in fighting the pandemic.
ASEAN leaders have reaffirmed their political commitment and taken coordinated measures to protect the health of our citizens, revitalize our economies and prevent the pandemic from undermining the overall regional peace and stability, he highlighted.
No one can win this battle against the COVID-19 pandemic alone. Vietnam continues to underscore the critical importance of international solidarity and strengthened cooperation in response to COVID-19. Vietnam are strongly committed and call on all to join hands in this common endeavor, Minh concluded.
As of August 12, Vietnam has so far recorded 880 infection cases, including 321 imported ones and 419 community transmissions since July 25, reported the National Steering Committee for COVID-19 Prevention and Control.
The same day, a patient was given the all-clear from the virus at Da Nang Lung Hospital, raising the total number of recovery cases to 400, or 45.5 percent. There have been 17 fatalities so far.
Hannah Nguyen