260 Vietnamese citizens stranded in UAE due to COVID-19; domestic cases reach almost 850
On August 10, Vietnam recorded new daily cases and fatalities as well as more recoveries. Meanwhile, the Vietnamese embassy in the United Arab Emirates (UAE), along with Bamboo Airways coordinated with the hosts' relevant agencies to bring home over 260 Vietnamese citizens.
Vietnamese citizens arrive home from UAE.

A flight carrying more than Vietnamese citizens from UAE landed safely at Can Tho International Airport in the Mekong Delta city of Can Tho.
The majority of passengers onboard the flight were made up of minors under the age of 18, the elderly, individuals suffering from illnesses, labourers with expired work contracts and visas, in addition to others facing challenging circumstances.
In order to assist citizens, the Vietnamese Embassy in the UAE sent staff to the airport to assist with all necessary procedures ahead of the flight's departure.
Moreover, Bamboo Airways strictly implemented a range of measures on security, safety, and hygiene throughout the journey to protect the health of citizens and prevent the possible spread of the novel coronavirus.
When the plane touched down on Can Tho International Airport's runway, all passengers and crewmembers underwent medical check-ups and were immediately transferred to quarantine facilities in line with regulations relating to COVID-19 prevention and control.
In the coming time, bringing home Vietnamese citizens with extremely difficult circumstances will be arranged by relevant agencies based on their needs and the nation's current quarantine capacity.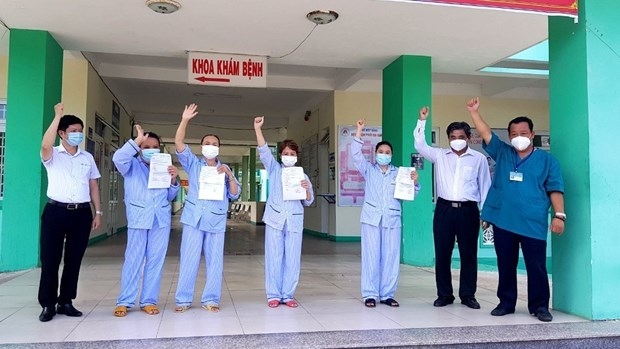 The four patients (holding papers) are discharged from the Da Nang Lung Hospital on August 10. Photo: VNA
This Monday morning, the first 4 COVID-19 patients recorded in Da Nang have been announced to have recovered. The number of recoveries has amounted to 399.
Of those patients, 3 patients are from Da Nang and 1 patient is from Quang Ngai, according to Dr. Le Thanh Phuc, Director of Da Nang Lung Hospital. Da Nang Lung Hospital will arrange for cars to take the patients home.
Dr. Phuc also added that, after being declared recovered, the patients will continue to be isolated and monitored locally and under the management of medical staff.
August 10 also saw three more COVID-19 fatalities, raising the country's total death toll to 14.
Two women residing in the central city of Da Nang and one man living in Quang Nam province who had been suffering from end-stage chronic kidney failure.
Although no coronavirus cases reported on this morning, six more new patients were confirmed in the August 10 evening update of the National Steering Committee for COVID-19 Prevention and Control, raising the national count to 847, including one is in Quang Nam province, 4 in the central city of Da Nang, the current pandemic hotspot and the other is an imported case in Ho Chi Minh city who was quarantined right upon arrival.
At present, the Da Nang Centre for Disease Control (CDC) has successfully collected more than 15,000 samples in the form of pooled testing, with the majority of samples coming from people who are at a high risk of infection.
This comes after Da Nang CDC started to carry out pooled testing from August 7.
The centre now has 13 real-time reverse transcription polymerase chain reaction machines in addition to over 460 medical workers. Of the medical staff, several experts from the Central Institute of Hygiene and Epidemiology have been dispatched to the centre in an effort support the analysis of test samples in a timely and accurate way./.
When Covid-19 comes to an end?

Although scientists are racing to find a cure for the virus, there's a chance COVID-19 will never fully go away — with or without a ...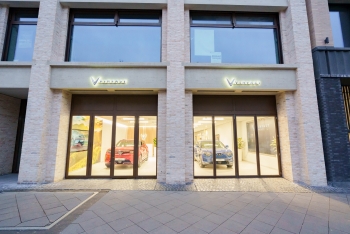 Economy
VinFast has officially opened its first two VinFast Stores in Cologne, Germany, and Paris, France.