Vietnam, Cambodia Enhance Defense Cooperation
Both nations have pledged to foster closer defense cooperation by having delegations at all levels exchange views, expertise and knowledge.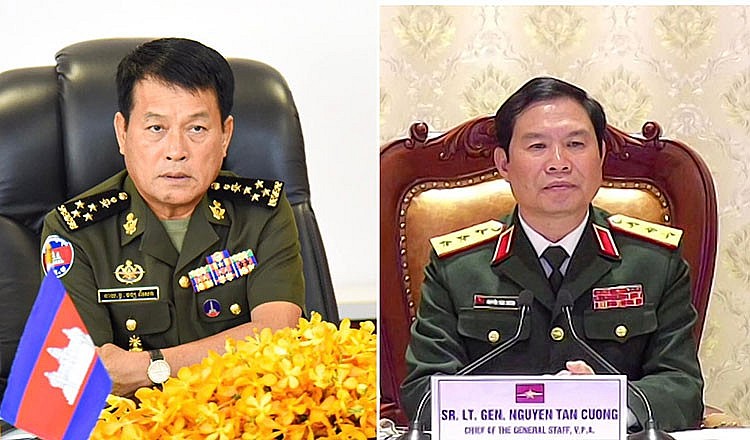 General Vong Pisen (L) holds a bilateral meeting with Lieutenant General Nguyen Tan Cuong, Chief of Staff and Deputy Minister of Defence, via video conference. (Photo: RCAF)
Chief of the General Staff of the Vietnam People's Army (VPA) and Deputy Minister of National Defence Sen. Lieut. Gen. Nguyen Tan Cuong on January 11 held an online working session with Commander-in-Chief of the Royal Cambodian Armed Forces General Vong Pisen, according to VNA.
Pisen thanked the VPA for its support for the Cambodian armed forces in all aspects in the spirit of friendly neighborliness, expressing his hope that the pandemic would be driven back so that the two sides would be able to conduct defense cooperation activities signed between the two countries for the mutual benefit of the two armies and people.
He shared Cambodia's experience in responding to Covid-19 while affirming the role played by the Royal Cambodian Armed Forces in the work.
The Cambodian side emphasized their commitment to further boost cooperation, especially in disaster rescue, and the exchange of visits of all levels after the Covid-19 situation eases, Khmer Times cited.
As the Royal Cambodian Armed Force will chair the 19th ASEAN Chiefs of Defence Forces' Meeting (ACDFM-19) and related activities in Phnom Penh in March this year, General Pisen invited his Vietnamese counterpart to join the meeting.

At the event. (Photo: VNA)
For his part, Cuong expressed his belief that the ACDFM-19 would be held successfully, contributing to promoting the military–defense cooperation channel within ASEAN in a practical and effective manner.
He affirmed that the VPA is ready to assist the Royal Cambodian Armed Forces to successfully host ASEAN military and defense conferences in 2022.
The Vietnamese officer suggested Pisen continue to direct relevant authorities to closely work with the VPA in order to implement synchronously and effectively cooperation activities as listed in the 2022 defense cooperation plan signed by the two sides' defense ministers, focusing on the exchange of delegations at all levels, information sharing, cooperation in managing border and crime prevention.
In a meeting held in December last year, Defence Minister General Tea Banh and his Vietnamese counterpart Lieutenant General Phan Van Giang pledged to effectively implement existing defense and security agreements and improve the efficiency of border protection and management.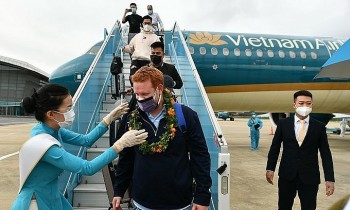 National
Vietnam News Today (Jan. 29): Vietnam records 14,892 new local Covid-19 cases; PM orders prioritizing pandemic control for safe and warm Tet; Vietnam scraps rapid Covid test requirements for int'l passengers; Vietnam-Australia trade hits all time high in 2021.