Vietnam, Cambodia Further Coordination in Mass Mobilization
Vietnam, Cambodia seek ways to foster cooperation in mass mobilization
Mass mobilization activities play a crucial role in facilitating the country's socio-economic development and strengthening the great national unity bloc as they help to summon public support for and trust in the national revolutionary cause.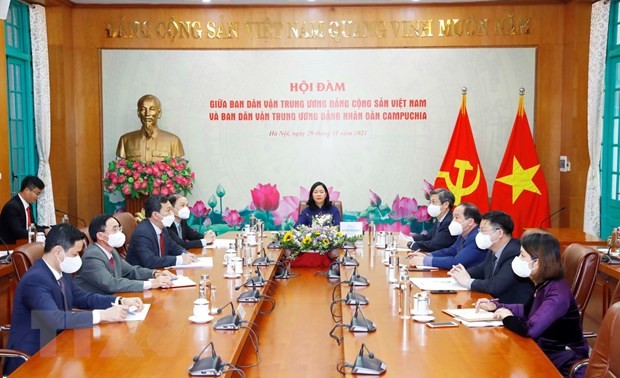 Head of the CPV Central Committee's Commission for Mass Mobilization Bui Thi Minh Hoai and Vietnamese officials. Photo: VNA
The Commissions for Mass Mobilization of the Communist Party of Vietnam (CPV) Central Committee and the Cambodian People's Party Central Committee sought cooperation orientations during their online talks on Nov. 29, reported VNA.
Head of the CPV Central Committee's Commission for Mass Mobilization Bui Thi Minh Hoai briefed the Cambodian side on Vietnam's situation and mass mobilsation work.
She stressed the significance of enhancing the solidarity and cooperation between the two countries, Parties and commissions to stability and development in each country, as well as peace, stability, cooperation and development in the region.
Men Xom On, head of the Cambodian commission, congratulated the Vietnamese Party, State and people on achievements they have recorded over the past time, and spoke highly of the thriving relations between the two countries.
She informed Hoai about the political, socio-economic situation, external affairs, the Covid-19 combat and the mass mobilisation work in Cambodia.
The two sides will closely coordinate in the exchange of experience in mass mobilisation, support each other and educate the two peoples, especially the youth, about the Vietnam-Cambodia relationship. Photo: VNA
The two sides agreed to step up the communications work to encourage people, especially young generations, to further consolidate the bilateral ties.
They will also increase delegation exchange and information sharing in mass mobilisation, while providing mutual support in regional and international issues of shared concern.
They will pay more heed to mass mobilization collaboration in localities that share the border line.
Mass mobilization is identified as a strategic task of the revolutionary cause, throughout the periods of the struggle for national independence, the resistance against colonialism and imperialism, the construction and defense of Vietnam.
The literary work "Mass Mobilization" ("Dân vận") has affirmed a worthy position in the Ho Chi Minh ideological legacy, with special value, demontrating through his thought"Revolution is the cause of the masses". "Dan van" is the Uncle Ho's dedication to each cadre and party member, deeply affirming an advocacy perspective that mass mobilization is the responsibility of the entire political system and also reflects vividly, fully Ho Chi Minh's thought, morality and lifestyle.