6 imported cases in the last 24 hours (Photo: VNA)
6 imported cases in the last 24 hours
Vietnam recorded six new imported COVID-19 cases, including five Vietnamese citizens and an Indian expert, from 6 am to 6 pm on April 5, the Ministry of Health (MoH) said. Meanwhile, no new cases found on the morning of April 6.
To live safely with the pandemic, the Ministry of Health advised people to remain proactive in pandemic prevention and control by continuing to wear face masks when going out, disinfecting frequently, maintaining a safe distance, refraining from mass gatherings, and making medical declarations.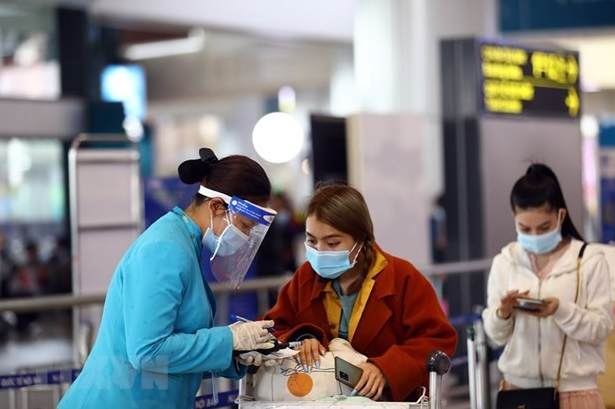 E-health declaration compulsory for all air passengers: CAAV. (Photo: VNA)
E-health declaration compulsory for all air passengers: CAAV
All airlines must ensure that their passengers complete electronic health declarations before boarding at all airports nationwide, according to the Civil Aviation Authority of Vietnam (CAAV). This is part of the efforts to prevent the spread of the COVID-19 pandemic.
According to its documents recently sent to competent authorities, the CAAV said that without an e-health declaration, passengers will be denied to fly, while airlines that fail to follow the regulation will have to bear legal responsibility. In a document recently sent to competent authorities, the CAAV required airlines to instruct their passengers to fulfill the health declaration at https://tokhaiyte.vn or through the Vietnam Health Declaration application.
Besides, airlines should arrange staff at check-in kiosks at terminals to support passengers in the e-health declaration procedure. They should join hands with airports nationwide to inform passengers of the mandatory declaration through passenger information systems, posters, and panels at easy-to-see places in airports. Earlier, many passengers failed to make e-health declaration before coming to the security screening checkpoints at Noi Bai International Airport. On March 30, 1,447 passengers did not fulfill the e-health declaration, while the number recorded on March 31 was 712. About 80 percent of them completed check-in procedures via websites and at kiosks.
Members of the national men's football team receive COVID-19 vaccinations. (Photo: VNA)
Members of the national men's football team receive COVID-19 vaccinations
Members of the national men's football team and head coach Park Hang-seo received COVID-19 vaccinations on April 5. In addition to national teams set to compete at international tournaments to secure berths at the Tokyo Olympics, the men's football squad was also inoculated in preparation for upcoming matches in Group G of the 2022 FIFA World Cup qualifiers, according to the Vietnam Football Federation (VFF).
The games will be played in the United Arab Emirates (UAE). Vietnam will play Indonesia on June 7, Malaysia four days later, and then wrap up the qualifiers with a game against the hosts UAE on June 15.
The vaccination drive for the footballers will be held in five phases, with the last being on April 17. The men's football squad is set to gather in mid-May, with 34 players. Vietnam currently tops Group G with 11 points, followed by Malaysia with nine and Thailand with eight. The UAE has six points, while Indonesia is yet to pick up any. The Vietnam Sports Administration recently announced that more than 300 athletes will receive COVID-19 vaccine shots this month.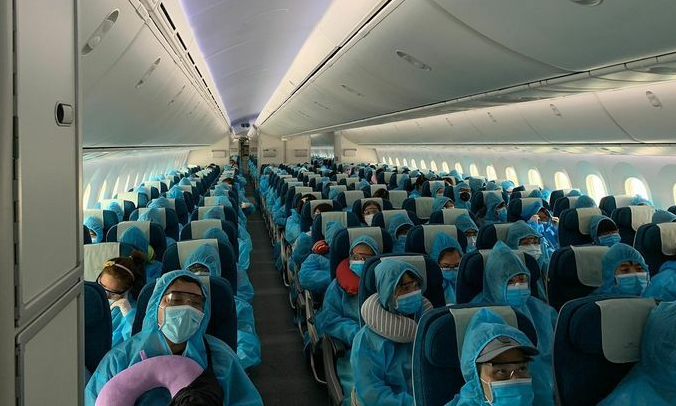 Over 3,600 stranded Vietnamese to be brought home from Asian destinations. (Photo: VN Express)
Over 3,600 stranded Vietnamese to be brought home from Asian destinations
The government has given permission to carriers to operate flights in the next few weeks to bring home 3,640 Vietnamese stuck in Japan, South Korea, and Taiwan. All returnees will be quarantined for 14 days and tested for Covid-19.
Vietnam Airlines would operate six flights to carry 1,600 people back from South Korea and Taiwan, the country's largest labor export markets, from now until the end of next month. Budget carrier Vietjet Air will bring 1,380 people from South Korea, Taiwan, and Japan on six flights to Cam Ranh and Da Nang airports in central Vietnam. Bamboo Airways will deploy three flights to carry 660 Vietnamese from Japan and Taiwan. The passengers will pay their own fares as well as quarantine and testing expenses.
Vietnam has suspended all inbound international commercial flights since March 2020, though the government has been allowing repatriation flights and special flights to bring foreign experts and investors to the country. Over 75,000 people were repatriated last year. Besides, Vietnam Airlines and Vietjet have been allowed to resume commercial flights this month from Hanoi and HCMC to some Asian destinations such as Seoul in South Korea, Taipei in Taiwan, and Tokyo in Japan.
The new patients brought the total number of infections detected in the country to 2,637, including 1,603 domestically transmitted cases. The total number of recoveries has been raised to 2,416, while the death toll related to the disease remained at 35. Among active patients undergoing treatment at medical establishments across the country, 17 tested negative to the virus once, nine twice and 16 others thrice.
As many as 27,478 people who had close contact with COVID-19 patients or entered Vietnam from pandemic-hit regions are currently quarantined nationwide, including 498 in hospitals, 18,870 in state-designated establishments, and 8,110 others at their residences.
Valerie Mai