Vietnam COVID-19 Updates (April 1): 8 continuous days recording no community cases
According to the Ministry of Health, Vietnam has gone through 8 continuous days recording no community cases.
Photo: VNA
Nine imported cases reported
Nine new cases of COVID-19, all Vietnamese citizens returning from abroad, were detected in the past 12 hours to 6 pm March 31, according to the Health Minister.
Among the new cases, three entered the country via the Moc Bai international border gate in the southern province of Tay Ninh. They tested positive while in quarantine. Three others were among passengers on a flight from the Philippines that landed in Can Tho airport, while the remaining three returned from Japan on a flight landing in Da Nang.
No new case found on April 1 morning. So far, nearly 50,000 people have been injected with the AstraZeneca vaccine.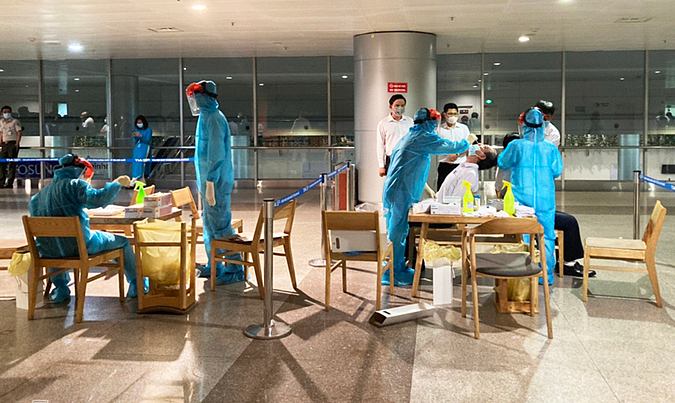 Photo: VN Express
Deputy Health Minister: vaccine passport scheme needs to be done step by step
Deputy Health Minister Truong Quoc Cuong said at the regular Government press conference on March 31 that the Health Minister is still studying and working on scenarios for the use of "vaccine passport" in the future. Cuong noted that the issue of vaccine passports is still under debate in many countries. In Vietnam, the Health Minister is collaborating with other ministries and sectors to research the issue and report to the Government and the National Steering Committee for COVID-19 Prevention and Control, he said, stressing the goal of ensuring safety in pandemic prevention while re-opening the economy through the resumption of flights.
According to the deputy minister, the first thing is to devise suitable quarantine procedures for entrants who have received full doses of the COVID-19 vaccine. "Related options on the matter must be considered thoroughly, so as to balance the benefits and risks. The benefits here are economic development from the reopening, but there is still the risk of the pandemic spreading in the community," Cuong said.
For this reason, the implementation of vaccine passports is not simple, and must be done step by step, he said. Earlier during the regular Government meeting for March, Prime Minister Nguyen Xuan Phuc asked the health, tourism, and diplomacy sectors to early study and issue a mechanism for vaccine passports in order to promote trade and investment. The health sector was told to submit a plan for this matter as soon as possible.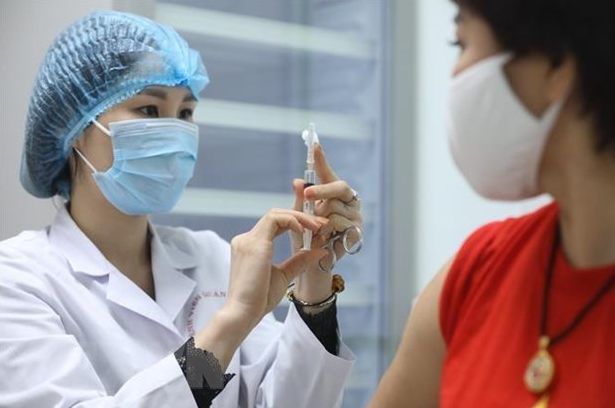 Photo: VN Express
HCMC asks for 6,000 more Covid-19 vaccine doses
Ho Chi Minh City has requested urgent approval for 6,000 more Covid-19 vaccine doses to inoculate all Tan Son Nhat airport staff.
In a statement sent to the National Steering Committee for Covid-19 Prevention and Control and the Ministry of Foreign Affairs on Tuesday, the city administration said Tan Son Nhat International Airport became a Covid-19 hotspot in early February when an infected baggage handler later transmitted the virus to other members of his team. Until today, the source of the transmission behind the outbreak remains unclear.
Giving priority to the group of staff working inside the airport and those who usually come into close contact with passengers is essential to ensure safety for a facility that plays a crucial role in economic development and transportation for not just HCMC but the entire nation, it said. The city has already received 8,000 vaccine doses as allocated by the Ministry of Health and given the majority to frontline medical workers.
Five days ago, HCMC's streak of 42 days without community transmission was broken after a Vietnamese woman returned home illegally from Cambodia and traveled to the city where she tested positive. As of Wednesday, there had been no new cases detected in the city.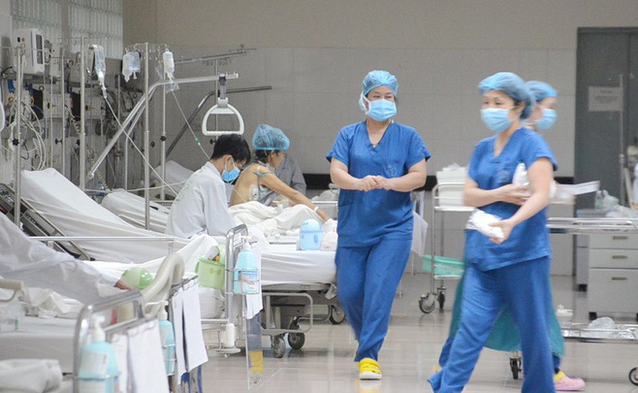 Photo: MOH
Vietnam seeks Covid-19 vaccination support from China, India, Russia
Vietnam wants to cooperate with India and Russia to develop Covid-19 vaccines and needs China's help to inoculate prioritized groups, Health Minister Nguyen Thanh Long said. He made the request at a Thursday meeting with Chinese ambassador Xiong Bo, Indian ambassador Pranay Verna, and minister counselor of the Russian embassy, Bublikov Vadim.
Long requested China to help with inoculating prioritized groups against Covid-19, including Vietnamese citizens who need to travel, work and study in China. "We hope to receive documents from China to seek approval for its Covid-19 vaccine soon. Once the documents are properly received, the approval process should be done quickly within two weeks," he said.
Long requested India to support Vietnam in the third phase of human trials for its own Covid-19 vaccines. Currently, two Vietnamese Covid-19 vaccines, Nanocovax by Nanogen Pharmaceutical Biotechnology JSC and Covivac by the Institute of Vaccines and Medical Biologicals, are undergoing human trials. Nanocovax entered the second phase last month, while Covivac began its first phase earlier this month.
The national count now reaches 2,603, with 1,603 domestic infections. The number of recovered patients is 2,359, while the death toll remains at 35.
Among patients still under treatment, 18 have tested negative for SARS-CoV-2 once, 15 twice and 37 thrice. A total of 37,008 people are being quarantined nationwide, with 506 at hospitals, 19,093 in concentrated facilities, and 17,409 at their accommodation.