Vietnam Covid-19 Updates (Nov. 21): Over 9,500 New Cases in 24 Hours
As many as 23,685 patients have died of the virus, making up 2.2% of the total number of infections. More than 106.5 million vaccine doses have been administered nationwide, with 40 million people getting their second shot.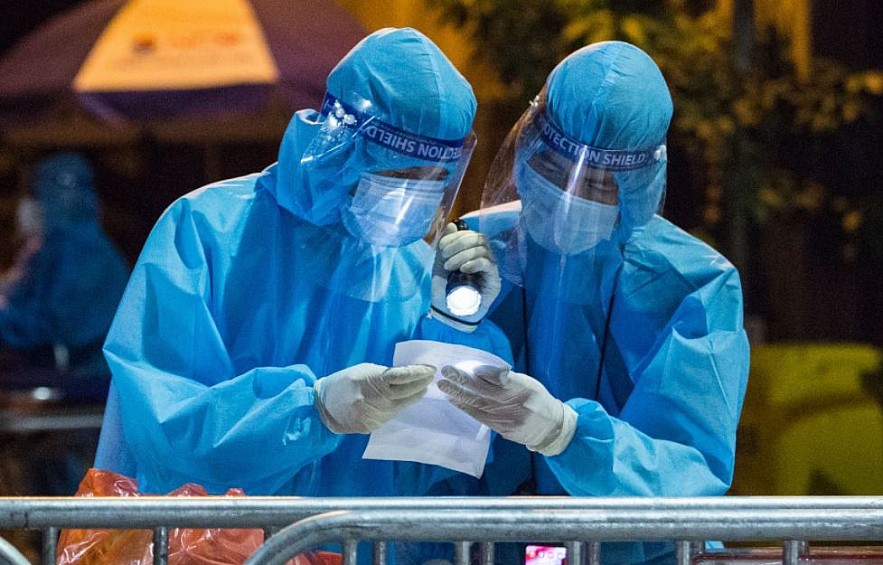 Photo: Zing
Vietnam sees over 9,500 new Covid-19 cases in 24 hours
As of 4 pm on Nov. 20, Vietnam recorded 9,531 new cases of Covid-19 in 24 hours, including 13 imported cases, according to the Ministry of Health (MoH). Of the 9,518 new domestic infections in 60 provinces and cities, there are 4,776 cases of community transmission.
Ho Chi Minh City still reported the most (1,046), followed by the provinces of Binh Duong (669), Dong Nai (621), Dong Thap (515), and Tay Ninh (495).
The MoH also reported 107 new fatalities while 16,773 patients were given the all-clear during the 24 hours.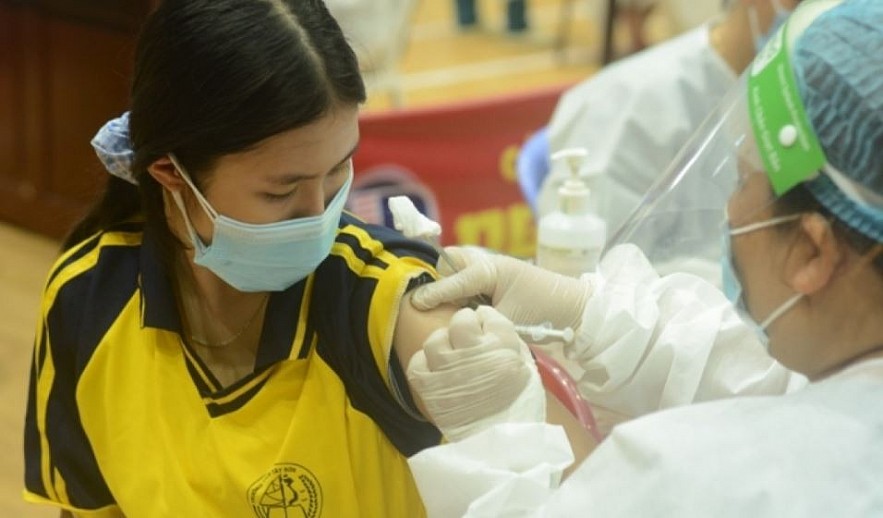 Photo: VOV
Da Nang starts Covid-19 vaccinations for teenagers
The central city of Da Nang on November 20 kick-started a Covid-19 vaccination campaign for children aged 12 to 15. According to the municipal administration, nearly 35,000 children in this age group are expected to receive their first Pfizer shot this time.
All the children are required to strictly follow the Ministry of Health's Covid-19 guidelines, such as wearing a face mask, maintaining a safe distance, and washing their hands with sanitizer at the vaccination site. They all undergo medical examinations before inoculation and close monitoring after injection to ensure there are no adverse reactions.
Earlier this month, the city started inoculating children aged 15 to 17, with more than 45,000 students of grades 10 to 12 expected to receive their first jab. Da Nang plans to resume face-to-face learning for high school students in safe areas next week. To meet the immunization target, the city has arranged 19 vaccination venues in all districts and medical facilities. All healthcare workers have undertaken training to ensure safe vaccinations.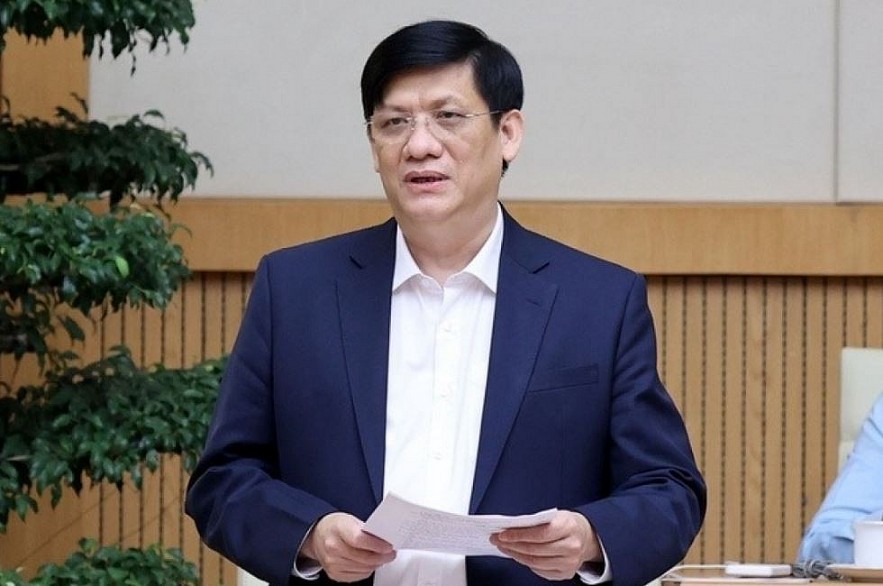 Photo: VOV
Critically-ill Covid-19 cases drop sharply: Ministry of Health
Vietnam recorded more than 105,500 community cases between October 11 and November 19, representing a small increase compared to the previous month, but the numbers of deaths and critically-ill cases plummeted considerably, Minister Long said on November 20. Minister Long cited statistics from the Ministry of Health (MoH) as saying that the numbers of deaths, critically-ill cases, and hospitalizations plunged by 46.3%, 40.8%, and 25.3%, respectively throughout the reviewed period.
The latest wave of the outbreak has basically been brought under control nationwide, he said, although he went on to acknowledge that the number of community infections continues to rise, with thousands of locally-acquired cases recently recorded in 35 localities.
According to the Minister, virulent pathogens have long existed within the community; many cases are asymptomatic, and the source of infections remains unknown or linked to returnees from areas with a high level of spread of the virus. Furthermore, the majority of the outbreaks are recurring in densely populated areas, especially in localities that have seen a high influx of trade exchanges and the movement of people.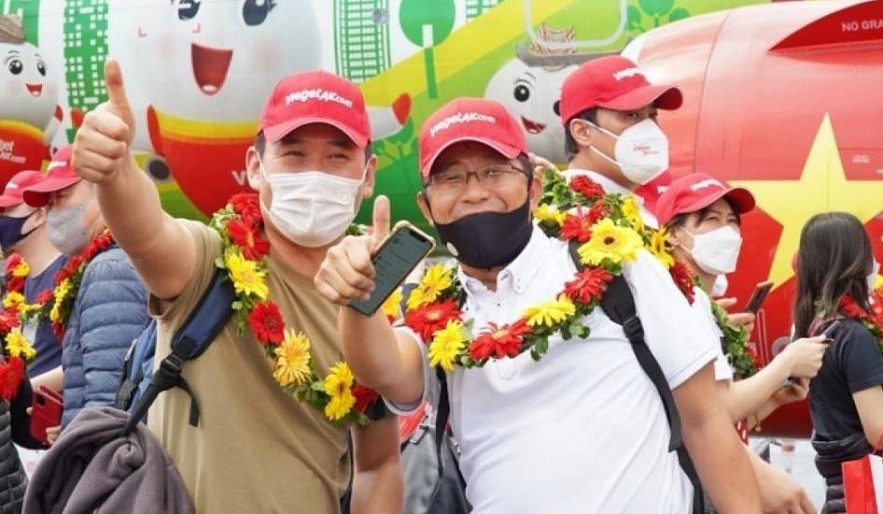 Photo: VOV
Phu Quoc resort welcomes first foreign visitors with vaccine passport
Vietjet Air flight VJ3749 touched down at Phu Quoc International Airport on November 20, bringing 204 vaccinated visitors from the Republic of Korea to Phu Quoc tourist resort in Kien Giang province. The visitors were welcomed at the airport by the leader of Kien Giang and the Vietnam National Administration of Tourism, as well as representatives of travel operators.
"The flight has kick-started a pilot scheme to welcome back foreign visitors with a vaccine passport to Vietnam in general and Phu Quoc in particular in an effort to restore the tourism sector that has been hit hard by COVID-19," said Nguyen Trung Khanh, general director of the Vietnam National Administration of Tourism at the ceremony.
After completing immigration procedures, the visitors were transferred to Vinpearl Resort & Spa Phu Quoc where they will be staying and enjoying the discovery of major tourist attractions locally. They will experience a unique journey of world-class tourism services offered by Vinpearl, including discovery tours, food catering, shopping, and festivals as soon as they test negative for the virus. The visitors are the first to travel to Phu Quoc in Kien Giang after the Vietnamese government decided to pilot reopening its skies to air travel, allowing vaccinated visitors to explore tourist destinations in five localities.
As of 6 pm on November 20 Vietnam has documented 1,084,625 Covid-19 cases since the start of the first outbreak in January 2020, ranking 37th out of 223 countries and territories worldwide. Of the total, 900,337 patients have been discharged from the hospital after making a full recovery from the disease.
As many as 23,685 patients have died of the virus, making up 2.2% of the total number of infections. More than 106.5 million vaccine doses have been administered nationwide, with 40 million people getting their second shot.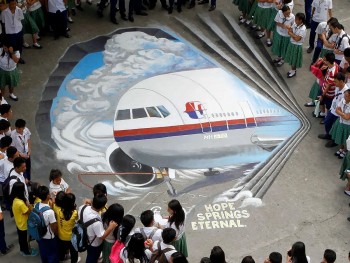 World
The world might never know what really happend when these planes went off the radar. Let's take a look at some of the unsolved mysteries of aircraft disappearances.