Vietnam Covid-19 Updates (September 1): National Caseload Increases By 12,607 cases
The new infections brought the country's total number of infections since Covid-19 broke out in Vietnam in early 2020 to 462,096.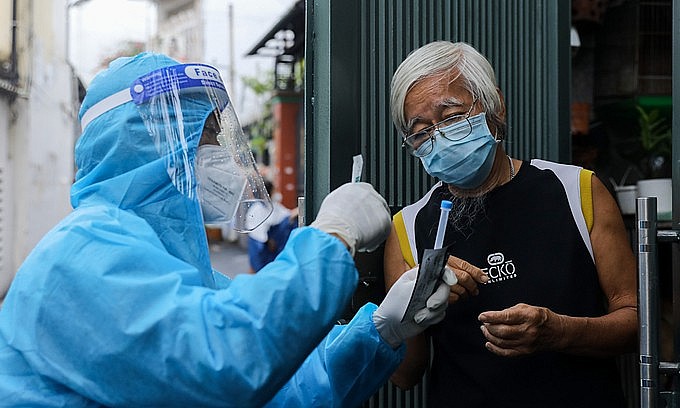 A medic guides a man in HCMC's Binh Thanh District to use a test kit on himself, August 23, 2021. (Photo by VnExpress/Quynh Tran)
National caseload increases by additional 12,607 cases
An additional 12,607 Covid-19 infections, including 16 imported cases, were added to the national caseload from 5 pm on August 30 to 5 pm on August 31, the Ministry of Health announced.
Ho Chi Minh City reported the highest number of infections during the day at 5,444. It was followed by Binh Duong province with 4,530, Dong Nai 634, Long An 587, Tien Giang 214, and Dong Thap 138. The capital city of Hanoi logged 77 cases.
Also on August 31, an additional 10,044 patients were given the all-clear, raising the total number of recoveries to 238,860. The number of fatalities during the day has not been updated, leaving the total death toll from Covid-19 at 11,064.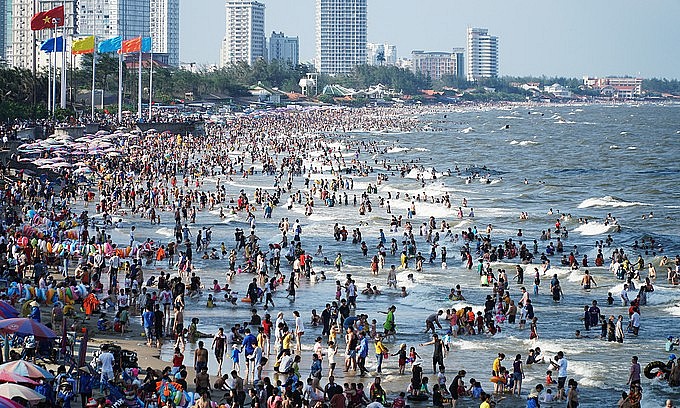 People flock to the beach of Vung Tau Town in Ba Ria-Vung Tau Province that borders HCMC, April 30, 2021. (Photo by VnExpress/Truong Ha)
Ensure no crowd gathers during National Day break: PM
With a four-day break for the September 2 National Day holiday coming up, Prime Minister Pham Minh Chinh has asked all localities to ensure that people don't form crowds anywhere. The holiday which allows people four days off from Thursday to Sunday could lead to threats of spreading infections if they travel and gather together in one place, he said.
While the ongoing Covid-19 wave has yet to be controlled, local authorities must ensure that people will not gather in crowds. Cities and provinces that are applying social distancing measures must strictly make people stay where they are, guarantee absolutely no crowd gathering, prevent people from going out on the streets as much as possible, and strictly handle any violations, the PM ordered.
He also told localities to stop all cultural activities if not necessary, suspend all entertainment and spiritual activities and at the same time, enhance inspections at places where people usually visit to avoid any possible gathering before it could happen. He demanded all frontline task forces at each locality to stay alert "around the clock" to handle any possible violations and threats to "absolutely avoid the situation of being neglected and losing vigilance.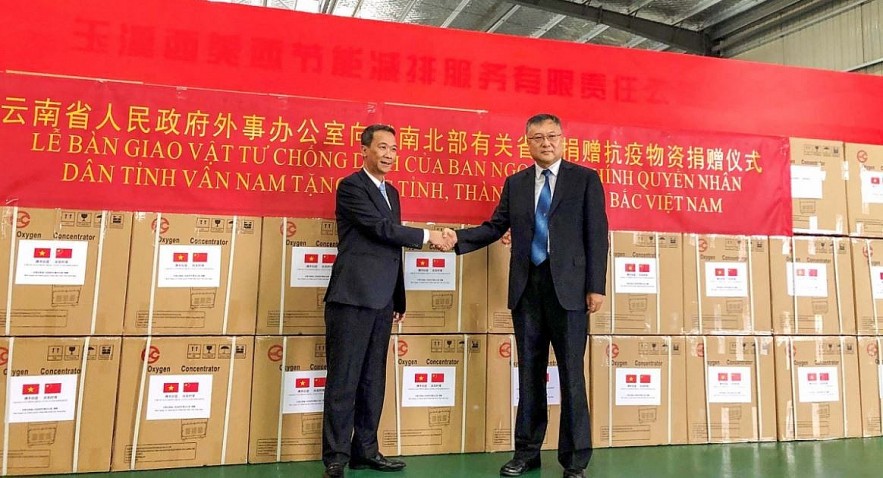 Consul General Nguyen Trung Hieu (L) and a Yunnan representative at the handover ceremony. (Photo: Baoquocte)
China donates Covid-19 medical supplies to Vietnam
The Consulate General of Vietnam in Kunming, China, has received a shipment of medical equipment and supplies for Covid-19 prevention donated by China's Yunnan province and Hong Kong's Sunwah Group. The shipment contains 160 oxygen generators, 30,000 antigen test kits, 1,200 personal protective suits, and 400,000 medical masks.
In particular, the oxygen generators will be given to eight Vietnamese localities of Lao Cai, Ha Giang, Lai Chau, Dien Bien, Yen Bai, Hanoi, Hai Phong, and Quang Ninh that have increased extensive cooperation with Yunnan over the years. The gifts were transported to Vietnam through the Lao Cai – Hekou international border gate between August 29 and 31.
Addressing the handover ceremony held in Kunming recently, Consul General Nguyen Trung Hieu thanked Yunnan and Sunwah Group for their gifts which he said create a great source of encouragement for the Vietnamese localities in their ongoing Covid-19 fight. After receiving the medical equipment and supplies, he said Vietnamese authorities will soon deliver them to coronavirus hit localities to assist them with Covid-19 prevention and control.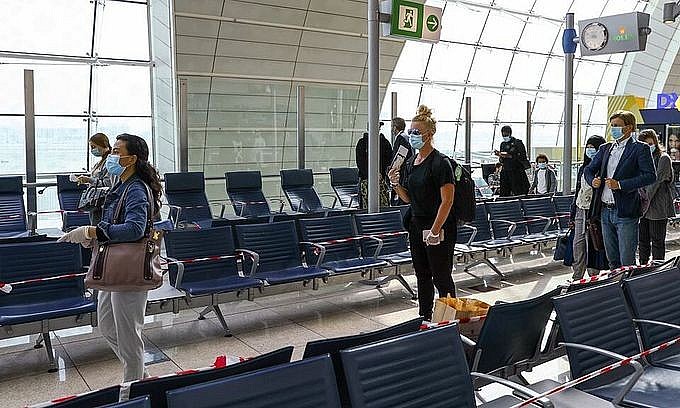 Passengers keep distance at Dubai International Airport in Dubai, UAE, April 27, 2020. (Photo by Reuters/Ahmed Jadallah)
UAE to lift ban on tourist visas for red-listed countries, including Vietnam
The United Arab Emirates will resume the issuance of tourist visas to vaccinated travelers from all countries including Vietnam, which was previously red-listed over Covid-19 fears. Passengers must furnish a certificate showing they are fully vaccinated with a WHO-approved Covid vaccine and take a mandatory rapid PCR test at the airport.
WHO has approved the U.K.'s AstraZeneca, the U.S.'s Moderna, Pfizer/BioNTech, and Johnson&Johnson, and China's Sinopharm and Sinovac.
The UAE had until now barred entry for arrivals from Vietnam and 13 other countries due to rising concerns over the highly transmissible Delta variant.
The new infections brought the country's total number of infections since Covid-19 broke out in Vietnam in early 2020 to 462,096.
The country has to date administered over 19.96 million doses of vaccines, with close to 2.62 million people having been fully vaccinated.