Vietnam Covid-19 Updates (September 2): 11,434 New Infections Logged
The country has to date administered over 20.21 million doses of vaccines, with close to 2.72 million people having been fully vaccinated.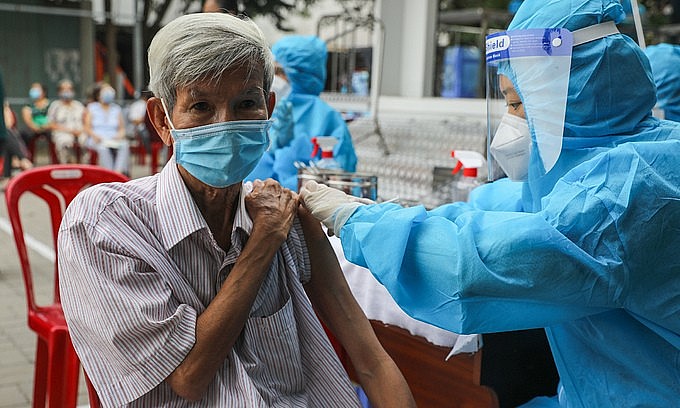 A man in HCMC's Go Vap District gets the Covid-19 vaccine, August 14, 2021. (Photo: VnExpress)
Vietnam logs 11,434 Covid-19 infections on September 1
Vietnam reported 11,434 Covid-19 infections, including 5 imported cases, from 5 pm on August 31 to 5 pm on September 1, the Ministry of Health announced.
Ho Chi Minh City reported the highest number of infections during the day at 5,368. It was followed by Binh Duong province with 3,440, Dong Nai 759, Long An 594, Tien Giang 194, and Khanh Hoa 112. The capital city of Hanoi logged 51 cases, down 26 against the previous day.
Also on the day, an additional 9,862 patients were given the all-clear, raising the total number of recoveries to 248,722. The country recorded 804 deaths on August 31 and September 1, raising the total death toll from Covid-19 to 11,868.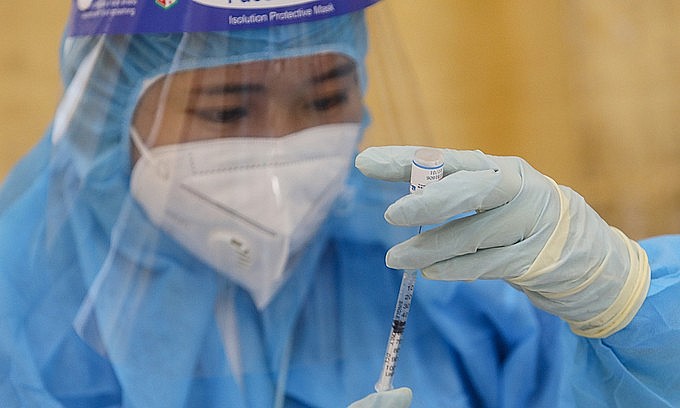 A health worker prepares a Covid-19 vaccine shot in HCMC, August 15, 2021. (Photo: VnExpress)
Covid-19 vaccine fund receives over VND 8.6 trillion
The national Covid-19 vaccine fund had received a total of VND 8.652 trillion (US$ 376.1 million) as of 5 pm on September 1, said its management board.
The sum was donated by 536,467 organizations and individuals. The list of donors is updated daily on the portal of the Finance Ministry and the mass media.
According to the Health Ministry and Ministry of Finance, Vietnam needs about 150 million doses of vaccines to inject about 75 million people, every two doses, to achieve herd immunity. The cost of vaccine purchase and vaccination is estimated at over VND 25.2 trillion.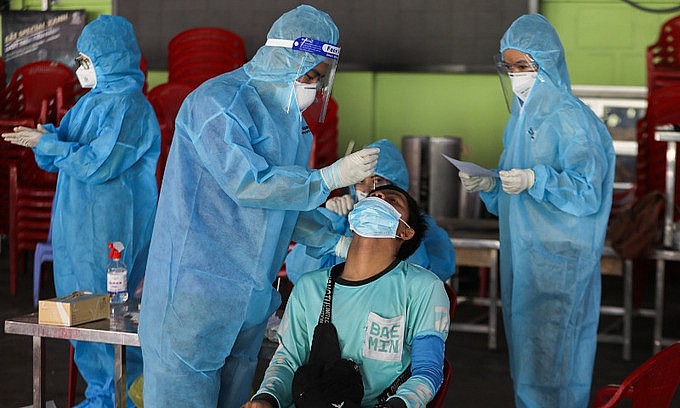 A medical staff takes samples of a shipper in Go Vap District, Ho Chi Minh City on August 31, 2021. (Photo: VnExpress)
Health Ministry renews Covid-19 prevention measures with 5T message
The Ministry of Health on September 1 announced its 5T message to renew measures against Covid-19 during the extended social distancing period.
The 5T message in Vietnamese stands for Tuân thủ 5K (Compliance with 5K) - Test COVID-19 (COVID-19 testing) - Tiêm chủng (Vaccination) - Thực phẩm đủ tại nhà (Sufficient food at home) and Thầy, thuốc đến tận gia (Healthcare service to the door).
Earlier, it encouraged people to follow the 5K message in Vietnamese, namely Khẩu trang (face masks) - Khử khuẩn (Disinfection) - Khoảng cách (Safe distance) - Không tập trung (No gathering) - Khai báo y tế (Health declaration) in order to keep the virus at bay.
Now when the outbreak is evolving in a complex manner, the Ministry of Health requested people, besides complying with the 5K message, to have a test and get fully vaccinated. Vaccination is considered a fundamental, long-term, strategic and decisive solution to weather the coronavirus crisis. In addition, the health sector will establish mobile medical units to provide people in need with healthcare services and drugs at home as the home-based care service is getting underway in Ho Chi Minh City, the largest coronavirus hotspot in Vietnam.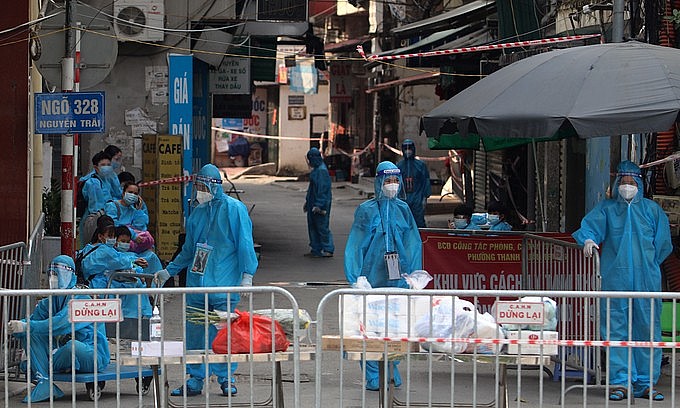 Residents of alleys 328 and 330 of Nguyen Trai Road wait to be taken to an isolated area on September 1, 2021. (Photo: VnExpress)
Hanoi evacuates residents from Covid-19 cluster
Hanoi will start moving 1,200 residents from its biggest Covid-19 cluster to an isolated facility in the outskirts from Wednesday evening, officials said. The city will move residents in alleys 328 and 330 of Nguyen Trai Road in Thanh Xuan District to FPT University, 33 kilometers to the west.
As the two alleys have old buildings with high population density, Prime Minister Pham Minh Chinh had ordered the evacuation Tuesday. Residents have been asked to prepare for the evacuation in letters sent by the Thanh Xuan District administration.
Thanh Xuan Trung Ward, where the alleys are located, has increased the number of officials at checkpoints by 50 and established mobile medical stations to assist Covid-19 patients. Over 1,300 people reside in the two alleys where 379 Covid-19 cases have been confirmed since Aug. 23. Officials have said that the number of infections is expected to rise.
The new infections brought the country's total number of infections since Covid-19 broke out in Vietnam in early 2020 to 473,530, ranking 56th among 222 countries and territories.
The country has to date administered over 20.21 million doses of vaccines, with close to 2.72 million people having been fully vaccinated.