Vietnam Customs Receives Asia Environmental Enforcement Awards
The Anti-smuggling Investigation Department under the General Department of Vietnam Customs has won the 2021 Asia Environmental Enforcement Awards in the Collaboration category.
The sixth Asia Environmental Enforcement Awards were organised virtually on November 30 by the UN Environment Programme (UNEP), the UN Development Programme, the UN Office of Drugs and Crime (UNODC), INTERPOL, the World Customs Organization, and the Secretariat of the Convention on International Trade in Endangered Species of Wild Fauna and Flora (CITES).
According to details posted on UNEP's website, the Enforcement Division of Thai Customs Department, the Anti-Smuggling Bureau of Huangpu Customs, and the Anti-Smuggling and Investigation Department of Vietnam Customs were awarded this time for their joint collaboration in the Asia-specific Operation Mekong Dragon II.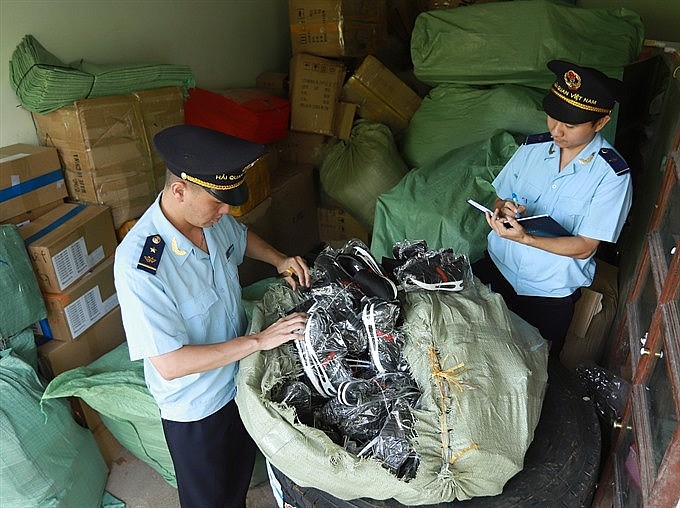 Officers at Lạng Sơn Department of Customs implement customs clearance procedures on import-export goods. — VNA/VNS Photo Hoàng Hùng
The Thai Customs Department intercepted two shipments destined for China in late 2020 that contained logs and processed pieces of a plant, the Dalbergia, listed in Appendices I and II of the CITES. Upon this discovery, all three teams exchanged, inspected, and verified shipment details and uncovered substantial plant smuggling operations from Vietnam under falsified declarations and forged CITES permits.
"Thanks to all the awardees' constant efforts, the joint operation led to the arrest of four members of criminal gangs and the seizure of 29 tonnes of illegally smuggled plants," says UNEP.
As reported by VOV News, this year has seen four nominations successfully awarded from over 115 entries submitted from across the region. For their outstanding achievements, recipients were also granted awards in three other categories of innovation, gender leadership and women empowerment.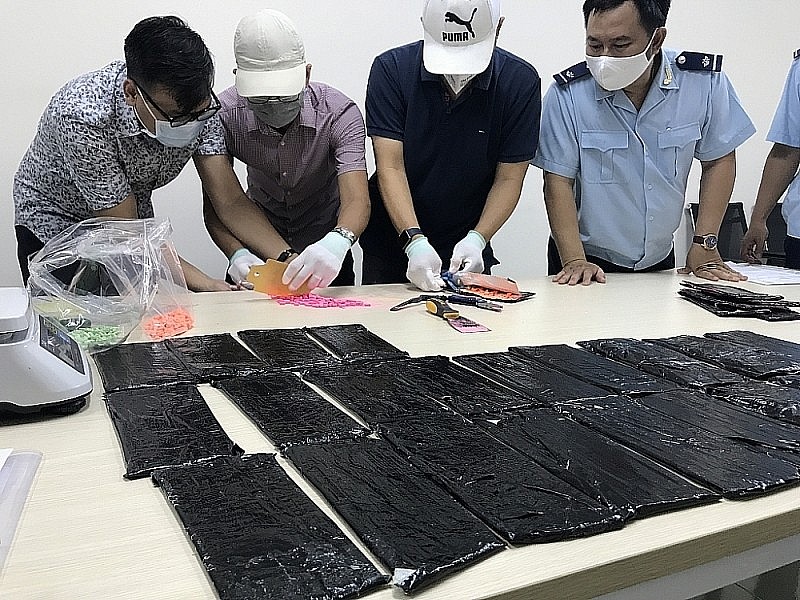 Exhibits of drugs case that were hidden insides postal parcel seized by Customs forces. Photo: L.T
The awards acknowledge the winners' contribution to the effective enforcement of environmental laws and regulations, with a specific focus on the illegal wildlife trade.
"Crimes that harm the environment enjoy a high level of impunity as they fall between the cracks of different sectors, such as security, conservation and trade," said Jeremy Douglas, Regional Representative of UNODC. "The winners of this Award have succeeded in filling those gaps and bringing justice thanks to their drive, courage and creativity."
"These recipients today represent the dedication of the hundreds of men and women who are champions in enforcement because it is through collective commitment and action that we can combat environmental crime. This Recognition goes to all those dedicated to these efforts," UNEP's Tsering said.
UNEP is the leading global voice on the environment. It provides leadership and encourages partnership in caring for the environment by inspiring, informing, and enabling nations and peoples to improve their quality of life without compromising that of future generations.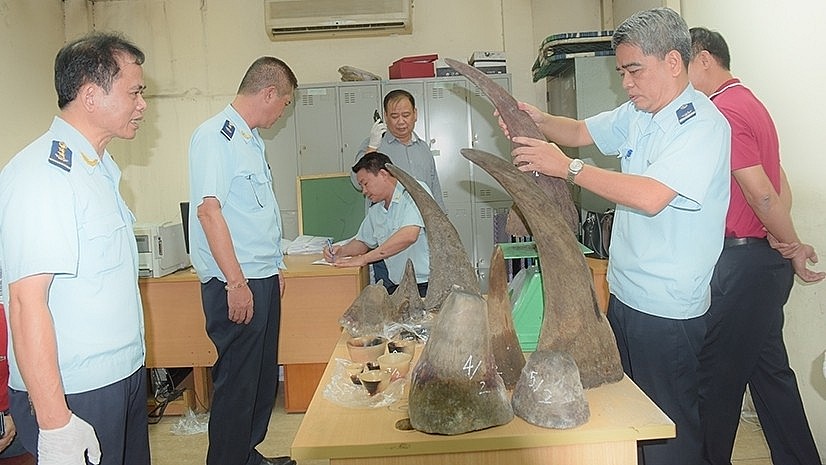 The rhino horns seized by customs officers. Photo: nhandan.
The 2021 winners of the 6th Asia Environmental Enforcement Awards are:
- Swayam Mallick, Ajay Kumar Sahoo, Ghanashyam Mahanta and Sanjib Rout, Keonjhar Forest Division, Department of Forest and Environment, Government of Odisha (India) - Category: Innovation
- Dr. Anna Wong, Director, Singapore National Parks - Category: Gender Leadership and Women Empowerment
- Singapore National Parks, Singapore Customs, and Anti-Smuggling Bureau of China Customs - Category: Collaboration
- Enforcement Division of Thai Customs Department, Anti-Smuggling Bureau of Huangpu Customs (China), and Anti-Smuggling and Investigation Department of Viet Nam Customs - Category: Collaboration
2021 Awards theme: Fighting Transboundary Environmental Crime
In June, the UNEP has invited nominations for Asia Environmental Enforcement Awards that publicly recognize and celebrate excellence in enforcement by government officials and institutions or teams combating transboundary environmental crime. The thematic scope of the Awards covers any transboundary environmental crimes, such as illegal trade in wildlife, illegal trade in chemicals or waste, including plastic, all of which become increasingly significant in the Covid-19 response and recovery era.
According to Funds for NGOs, this is the sixth time the Awards is given, and this year's Awards is given to recipients who demonstrate excellence and leadership in one or more of the following categories: collaboration; impact; innovation; integrity; and gender leadership. There is also a separate category for Africa-Asia cooperation in the area of illegal trade in wildlife.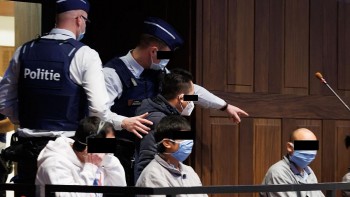 Overseas Vietnamese
Belgian court sentenced smuggler organization over 39 Vietnamese victims found dead in sealed lorry container in Essex.