Vietnam demands China respect its maritime economy
Vietnam hopes China will thoroughly solve maritime disputes without affecting the bilateral ties.
Hanoi has demanded Beijing respect its maritime economic activities in the South China Sea in accordance with Vietnamese law, Vietnam's Prime Minister Nguyen Xuan Phuc has told China's Premier Li Keqiang.
Vietnam's Prime Minister Nguyen Xuan Phuc and China's Premier Li Keqiang in Thailand on November 3. Photo: VGP
Hanoi hopes that the two sides will thoroughly solve the issues, including those relating to fish catching and fishermen, PM Phuc said in a meeting with the Chinese counterpart on November 3 on the sidelines of the 35th ASEAN Summit held in Thailand.
During the talk, Phuc affirmed that Vietnam is determined to protect its sovereignty basing on international law.
In turn, the Chinese side expected to solve the disputes in an effective way without affecting the bilateral ties, according to the Vietnamese Ministry of Foreign Affairs.
Speaking at the ASEAN Summit, Phuc said maintaining peace, security, and maritime and air navigation in the South China Sea is a common responsibility of all countries.
The Vietnamese PM emphasized the need to promote both bilateral and multilateral efforts on the enforcement of international law, including the United Nations Convention on the Law of the Sea (UNCLOS) 1982 to prevent any activities that go against the law.
China's sweeping maritime claims in the South China Sea are rejected by several members of ASEAN which have competing claims in the busy waterway.
In late August, the US Department of Defense said it is greatly concerned by China's coercive interference in Vietnam's longstanding oil and gas activities in the South China Sea.
At the summit, ASEAN also reported progress toward setting a code of conduct with China regarding disputed waters in the South China Sea.
A legally binding code has long been a goal for ASEAN members sparring over what they see as China's disregard of sovereign rights and its obstruction of their energy exploration and fishing.
After being accused of delaying the start of talks for years while building artificial islands with military outposts on contested reefs, China agreed to commence negotiations and both sides announced that the first of three expected rounds was concluded in July.
"China's continued harassment of Malaysia, Filipino and Vietnamese activities over the last year shows that it isn't yet prepared to compromise in any substantive way. So these talks always seemed to be heading for trouble," said Greg Poling, a South China Sea expert with the US-based Asia Maritime Transparency Initiative (AMTI).
VNF ( Hanoitimes )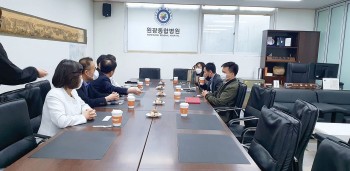 Overseas Vietnamese
A meeting was organized at the Wonkwang Hospital on the provision of medical support for the Vietnamese community in Korea in accordance with the signed cooperation agreement.