Vietnam Earns 14 Awards at Asian Tourism Forum 2023
The four-day ASEAN Tourism Forum 2023 concluded in Yogyakarta, Indonesia on Feb 5, with the theme "ASEAN: A Journey to Wonderful Destinations." Vietnam won a total of 14 awards from the prestigious institution.
ASEAN Tourism Forum (ATF) 2023 includes the 4th ASEAN Homestay Awards; The 3rd ASEAN Community Tourism Award; The 2nd ASEAN Public Lavatory Award; and the 2nd ASEAN Spa Service Award.
Winning the Homestay Awards, there are two Vietnamese Homestay Clusters. The first one is the Homestay cluster in An Binh commune, Vinh Long province (gathering 6 affiliate homestay units including Ut Thuy, Sau Thanh, Nam Thanh, Ba Linh, Ngoc Phuong, and Ngoc Sang).
The second one is the Homestay cluster in Nghia Do commune, Lao Cai province. It is a cluster of 5 units in No.1 Hon village, No. 2 in Muong Kem village, No. 4 in Hon village, No. 5 in Na Khuong village, and No. 6 in Tham Ma village.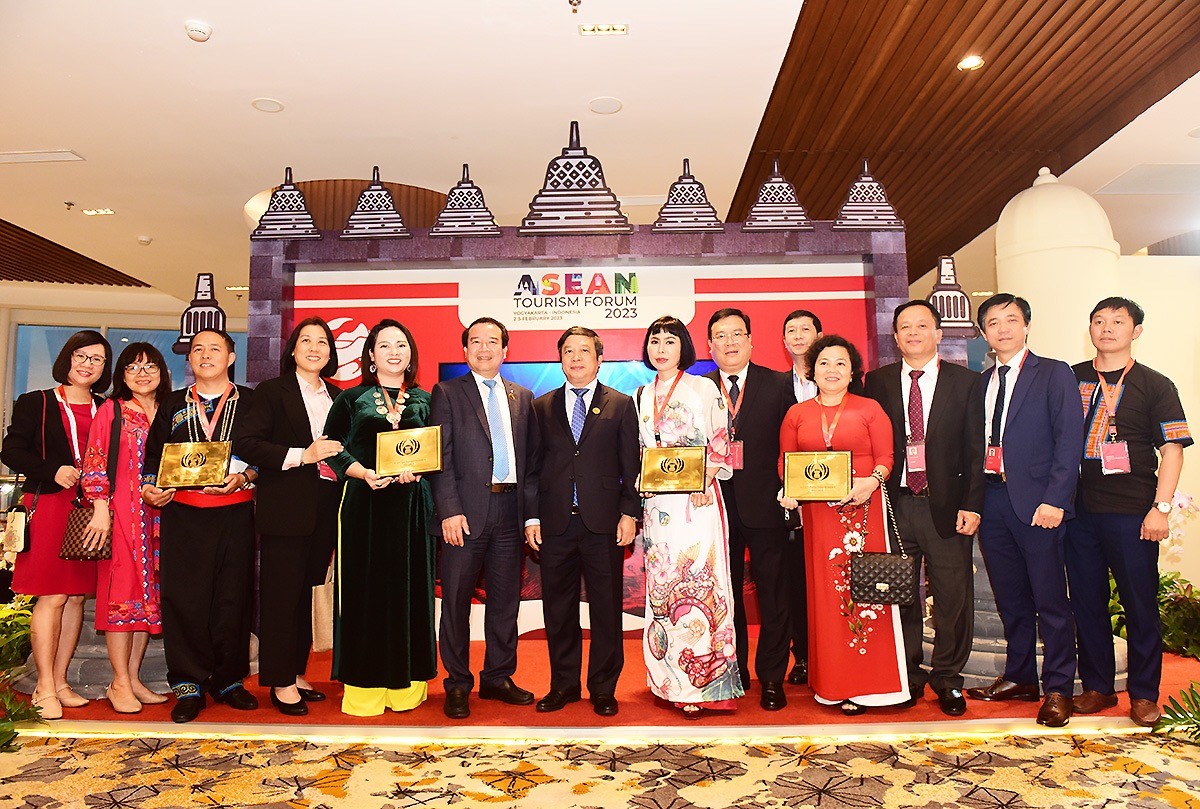 The Vietnamese delegation attending the award ceremony (Photo: baochinhphu.vn).
In the category of ASEAN Community-based Tourism Award, 4 Vietnamese awardees are Quan Ba ​​Community Tourism Service Cooperative (Ha Giang); Sin Suoi Ho community tourist site (Lai Chau); Tourism community of Tan Thanh fishing village (Quang Nam); and Thai Hai Ethnic Ethnic Stilt Village Conservation Area (Thai Nguyen).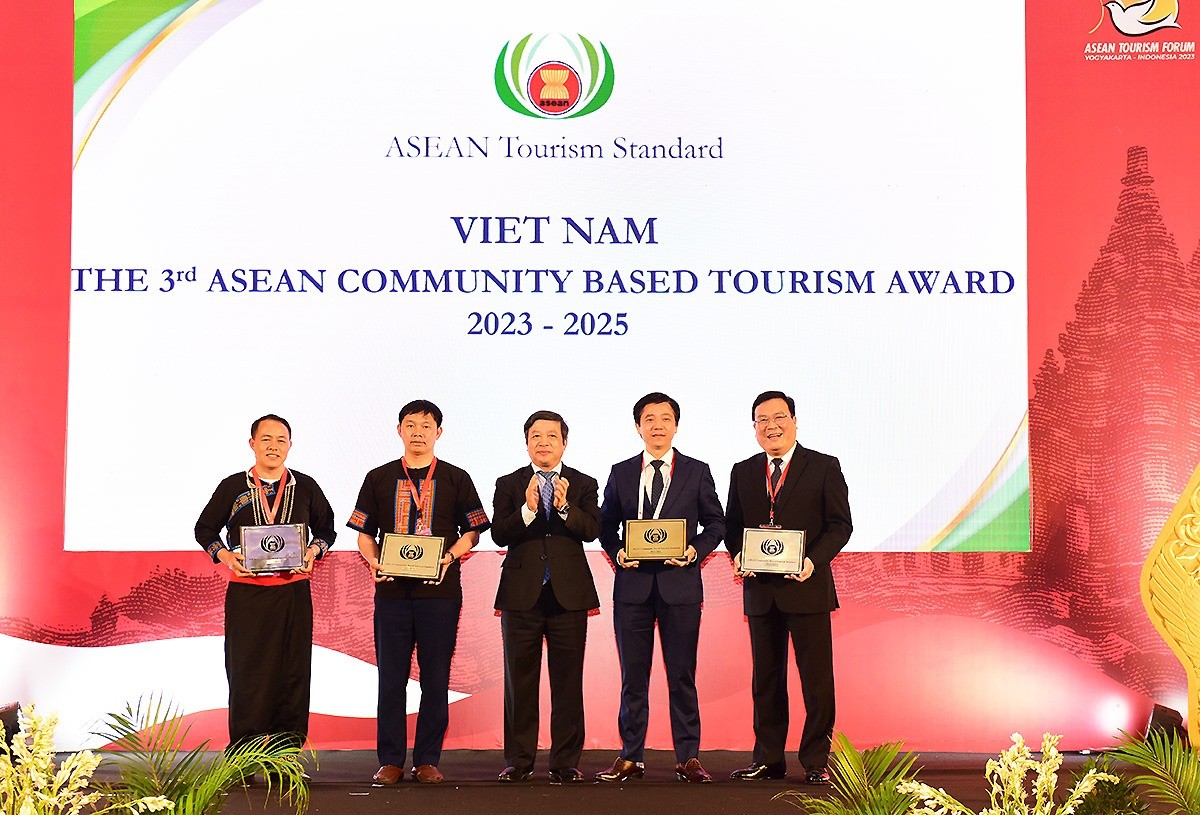 Vietnamese awardees for the 3rd ASEAN Community Based Tourism Award (Photo: TITC).
The ASEAN Public Lavatory Award winners from Vietnam are the Saigon Skydeck Observation Deck of Bitexco Financial Tower - Ho Chi Minh City; the Southern Women's Museum - Ho Chi Minh City; and the Ben Xua Tourist Area - Ho Chi Minh City.
In ASEAN Spa Services Award, the 5 winners from Vietnam are Cham Spa & Massage (Da Nang city), Facility Sen Tai Thu Vincom Mega Mall Smart City (Hanoi); Sol Spa (Minera Resort Hotel, Ba Ria - Vung Tau Province), Chi Spa (Silk Path Grand Resort & Spa Sapa, Lao Cai province) and Thala Spa (Best Western Premier Sonasea Phu Quoc Hotel, Kien Giang province).
These awardees have confirmed the recovery of Vietnam's tourism over the past time, affirming the determination to open up international tourism in 2023. Vietnam welcomes foreign friends to come and experience green services and high-class tourism that is suitable for all tastes and needs.
"This is a remarkable highlight to affirm the recovery of Vietnam tourism in the past time, thereby showing the determination to open tourism, and welcome visitors to come and experience the green, beautiful, and premium services of Vietnam tourism, suitable for all demands of visitors," announced by Vietnam National Administration of Tourism's official website.
The ASEAN Tourism Forum (ATF) is the biggest annual tourism event in the ASEAN region. The event is attended by top industry policymakers, practitioners, and suppliers of ASEAN-based tourism products and services.
ATF includes dialogues among tourism government bodies and private sector organizations as well as a travel exchange (TRAVEX) among ASEAN exhibitors and international buyers from major travel markets.
This year, it was held in the Special Region of Yogyakarta on 2 – 5 February 2023, by Indonesia's Ministry of Tourism and Creative Economy.
The Minister of Tourism and Creative Economy Sandiaga Uno, at the press conference on Jan 30 in Jakarta, said ATF is the biggest annual tourism agenda in the ASEAN region. According to him, at ATF 2023, Indonesia will bring back tourism based on conservation and education.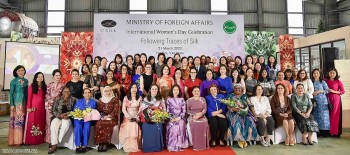 Friendship
Female ambassadors, representatives from diplomatic corps and international organizations, along with spouses of diplomats in Vietnam gathered together to find about more about silk weaving and silk products in Vietnam.