Vietnamese Ambassador to Germany Becomes Patron of Baby Elephant
The Vietnamese Ambassador to Germany attended the naming ceremony and became the godfather of Bao Ngoc the elephant. According to the ambassador, Bao Ngoc is one of the symbols of Vietnam-Germany friendship.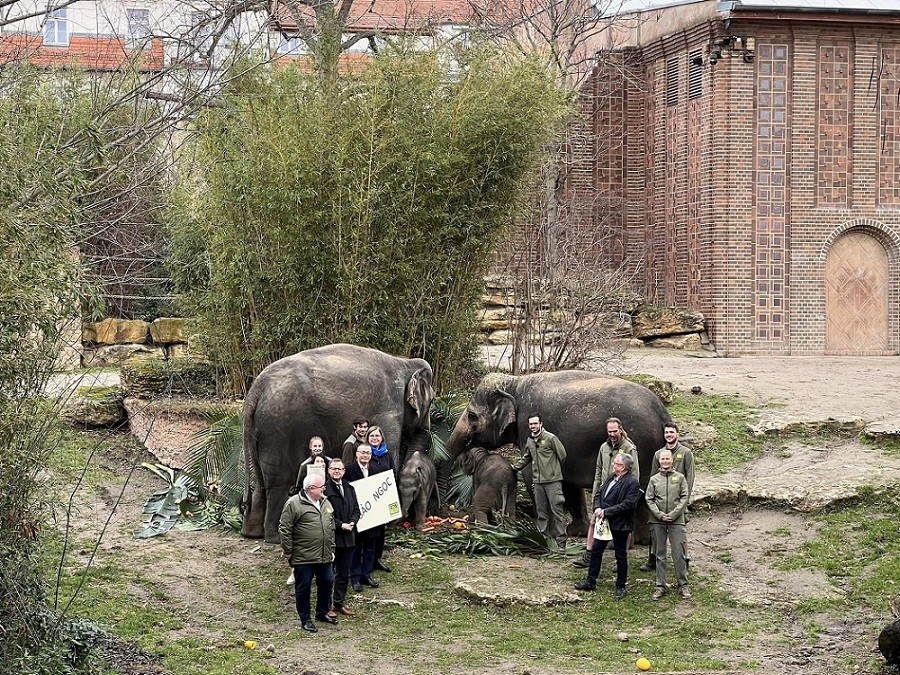 Ambassador Vu Quang Minh (holding a nameplate) and his wife attend the naming ceremony of baby elephant Bao Ngoc. Photo courtesy of the zoo
The elephant herd of Leipzig Zoo in Germany's Leipzig city officially welcomed a new member - Bao Ngoc, the second calf of Nam, a male elephant, whose father and mother were both born in Vietnam and presented by President Ho Chi Minh City to Leipzig in 1984 and 1985.
Baby elephant Bao Ngoc was born on December 20, 2022, but after nearly five weeks, Leipzig Zoo officially held a naming ceremony for this youngest member. Vietnamese Ambassador to Germany Vu ​​Quang Minh and his wife Nguyen Minh Hanh attended the naming ceremony and became the patrons of Bao Ngoc.
According to the ambassador, Bao Ngoc is one of the symbols of friendship among Vietnamese Germany.
Previously, Leipzig Zoo had polled elephant lovers to find a suitable name, in which special priority was given to names of Vietnamese origin.
Thanks to the help of Nguyen Thu Thuy, who represents the city's patrons and animal lovers, Ambassador Vu Quang Minh and the zoo's leader chose the final name with the meaning of "Bao Ngoc" (means precious gem in Vietnamese).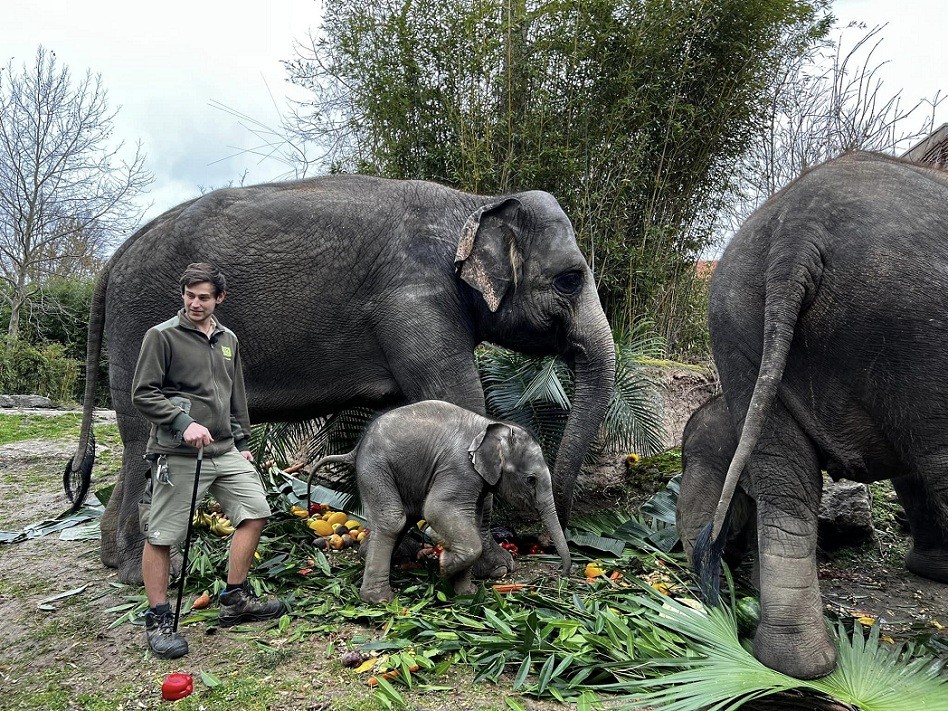 Bao Ngoc is the second child of elephant father named Nam, born in 2002.
The ceremony was attended by Mayor for Finance Torsten Bonew, Mayor of Culture Dr. Skadi Jennicke along with many German press and people, and soon after that many newspapers published the news.
Bao Ngoc is the second calf of a male elephant father named Nam that was born to Vietnamese elephant parents named Mekong and Trinh.
More than 20 years ago, the birth of Nam was a big event, because after 66 years, since 1936, the elephant herd at Leipzig Zoo, for the first time, welcomed a new member. When he was born, Nam weighed 120kg and was 95cm tall.
Nam, now 20 years old, became the father of a baby elephant named Akito in September 2022 and now Bao Ngoc. And yet, Nam's two youngest children, expected to be born in the next few weeks, are the children of elephant mothers from Asian countries.
The people of Leipzig and Germany in general love Nam very much and are delighted to welcome Bao Ngoc. The elephant caretakers here also say that they love Nam very much because he is lovely, sociable, friendly and intelligent.
Officials and animal-lovers at the naming ceremony.
In an interview with the VNA correspondents in Russia, Thomas Guenther, director in charge of Asian species of the zoo, said that the protection of species, especially the conservation of endangered species, is an important task.
In some tropical countries, forest elephants have been listed in the red book, and are also one of the most endangered wildlife species in the world. The mating of elephants of Vietnamese origin with those from countries with the same ecosystem is both a measure to maintain the breed and ensure good upbringing.
According to Guenther, the rearing of Asian elephanys is not too difficult, because they are easy to adapt to the environment, have high endurance, and are easier to tame than African elephants.
Asian elephants, which have thick skin, can adapt to living in cold environments because their body temperature is generally high and they tolerate cold well. In addition to efforts in building and developing the elephant herd today, the mahouts must maintain the spirit of solidarity among the members of the herd.
Nam, in good health, is now the father of two calfs and will have two more in the near future.
Bao Ngoc and her brother Akito. Photo courtesy of the zoo
Leipzig Zoo (or Leipzig Zoological Garden) has the second largest scale in Europe, built in the 19th century, with a total area of 26.3 hectares. There are nearly 600 species of animals from all continents of the world.
In addition to developing and conserving rare animals, Leipzig Zoo is also implementing projects to help Cuc Phuong and Cat Ba national parks in Vietnam take care of, maintain, and conserve rare wildlife animals.
Leigzig city in Germany's Sachsen state in 2021 had approved the establishment of a partnership with Vietnam's Ho Chi Minh City, lifting their bilateral friendship to a new level.
Leigzig has worked closely with HCM City, and Vietnam, in general, to effectively implement many cooperation projects in economy, culture, health, education - training, energy, water treatment, environmental protection, and conservation of rare animals. The two sides have also supported each other in the fight against the Covid-19 pandemic.
Leipzig is the only German city to have a representative office in Vietnam so far.