Vietnam Easing Visa Policy Key to Boosting International Tourist Numbers
Vietnam is expected to welcome a high influx of foreign visitors from September to April of the following year, a period representing the peak season for foreign tourist attraction, providing that it moves to ease its visa policies.
Vietnam has set a target of welcoming 5 million foreign visitors this year, but statistics show it had only attracted 1.44 million as of August 31. It hopes to meet the yarly target as the September - April period is considered the peak season for foreign visitors in Vietnam, said the aseanvietnam.vn
The Vietnam National Administration of Tourism believes that the domestic tourism market has already recovered from the COVID-19 pandemic thanks to tourism stimulus programmes launched by localities nationwide.
Localities welcomed roughly 80 million domestic holidaymakers during the initial eight months of the year, marking an increase of 33.6% compared to the same period from 2019, the pre-pandemic period in which the tourism sector was in its heyday.
However, the number of foreign arrivals has so far yet to meet expectations, though the country reopened its borders in the middle of March. Statistics show 1.44 million foreign arrivals have been reported over the past eight months, representing a decline of 87.3% compared to the same period from 2019 and meeting less than one third of this year's plan, reported the VOV.
According to the calculations made by local travel companies, Vietnam attracted 18 million international tourists in 2019, and its revenue was large compared to the revenue generated by 85 million domestic tourists in the same year. Therefore, tour operators fear that they will continue to encounter difficulties over the coming months unless the international tourism market has yet to fully recover.
As part of efforts to attract international visitors, easing visa policies is considered an important tool. While Vietnam is considering expanding visa exemption as a solution to boosting international tourism, neighbouring countries have already taken action.
The Thailand Centre for COVID-19 Situation Administration recently approved the Tourism Authority of Thailand's proposal which will extend the visa exemption stay to 45 days for visitors from more than 50 countries and territories, as opposed to the previous maximum stay of 30 days. This new policy is set to start from October 1, 2022 and run to March 31, 2023. In addition, visitors with visas issued upon arrival in Thailand will also be able to double their stay to 30 days.
As soon as this new policy takes effect, Thailand hopes to receive approximately 10 million visitors this year, or 3.9 million visitors more than the target set in April.
Elsewhere, the Republic of Korea (RoK) first opened its doors to foreign tourism in June and quickly implemented a visa-waiver programme for some markets, including for Vietnamese nationals visiting to Gangwon province and Jeju island. Immediately after the implementation of this policy, many charter flights brought Vietnamese tourists to Jeju and YangYang airport in Gangwon.
In contrast, Vietnam only exempts visas for citizens of 25 countries and territories, with the duration of stay mainly ranging from 15 to 30 days. This visa policy is causing difficulties for travel firms, with many describing the visa procedure as a game of chance.
According Dang Minh Truong, chairman of multi-sectoral Sun Group, Vietnam has yet to take advantage of the visa policy which the World Tourism Organization has previously identified as key to attracting foreign visitors.
The facts clearly show that neighbouring countries with more open visa policies enjoy an outstanding advantage in the race to welcome international visitors compared to Vietnam. Typically, 2019 saw Vietnam welcome a record high of 18 million international visitors, while Thailand celebrated achieving the milestone of receiving 40 million international visitors. The policy of extending the stay of tourists also helps Thailand to attract more international travelers who wish to stay longer and spend more.
Tourism expert Nguyen Duc Chi frankly points out the competitive race of luring tourists has begun. Japan has officially opened its doors to tourists, while the RoK and Thailand are also willing to ease visas to quickly increase arrivals. Due to this, Vietnam will ultimately lose out to its rivals unless it takes action, he concludes.
Foreign nationals from Japan arrived at Noibai International Airport, Hanoi, on January 1, 2022. — VNA
New policies to ease entry procedures for foreigners, overseas Vietnamese and their family members from Jan 2022
In accordance with directions stated by Permanent Prime Minister Phạm Bình Minh in the Government Office's Document no. 450/VPCP-QHQT dated January, 18th, 2022, the Immigration Department hereby announces new policies to ease entry procedures for foreigners, overseas Vietnamese and their family members as follows:
- Foreigners and overseas Vietnamese, who hold valid permanent or temporary residence cards, visas and visa exemption certificates, can enter Vietnam in accordance with the Law on foreigners' entry into, exit from, transit through and residence in Vietnam without having to obtain prior approval from relevant Ministries, sectors, and local authorities or undergoing pre-clearance procedures at the Immigration Department.
- Foreigners who wish to enter Vietnam for market research, business, investment, work, conferences, study, family visits but do not have one of the above-mentioned documents must obtain approval from the provincial People's Committees or Ministries, sectors, and central authorities before undergoing sponsoring, inviting procedures for visas at the Immigration Department.
- All entrants must adhere to applicable Covid-19 prevention regulations by the Ministry of Health.
- Those wishing to enter Vietnam for tourism purposes can do so by joining tour groups under the Ministry of Culture, Sports, Tourism's pilot inbound tourism program./.
VIETNAM IMMIGRATION DEPARTMENT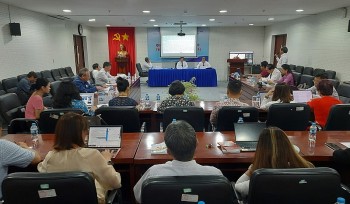 Friendship
The Vietnam - India Friendship Association's Ho Chi Minh City branch, the Ho Chi Minh City Union of Friendship Organizations (HUFO) and the Southern Institute of Social Sciences on March 21 held a scientific seminar themed "Vietnam - India relationship: tradition and present".