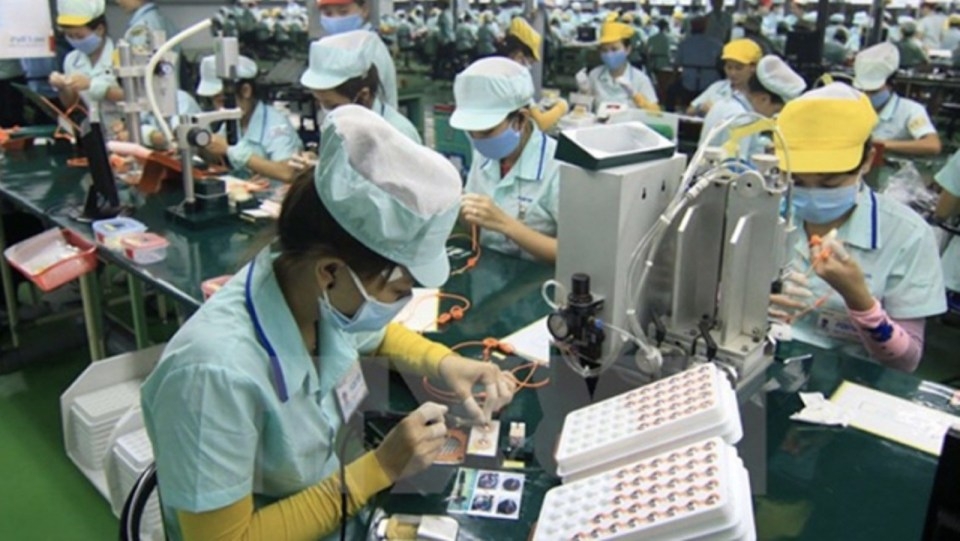 Vietnamese workers at a factory in Vietnam. (Photo: Twitter)
5,000 exporters in Vietnam that need help in finding markets amid COVID-19 have been listed as priority by the Ministry of Industry and Trade's Vietnam Trade Promotion Agency (Viettrade).
These enterprises will be classified by groups and categories, Vietrade said, adding it will team up with localities, associations and relevant sectors to build up a database of Vietnamese exporters, expected to amount to 100,000 in the near future.
A list of nearly 100 Vietnamese enterprises which are capable of supplying face masks and other supplies for COVID-19 prevention has also complied by Vietrade in order to meet rising demand in European and American regions. That list will be sent to trade counselors to support Vietnamese businesses in seeking new export outlets, according to Vietnam News.
The first quarter of 2020 saw the country's exports reach US$59.08 billion, up 0.5 per cent in comparison to 5.2 per cent recorded during the same period last year - the lowest level of growth in 17 years.
In the first two months of 2020, export turnover to China decreased by 17 per cent; South Korea by 1.5 per cent; Thailand by 0.8 per cent and Japan by 4.1 per cent.
The MoIT assessed that Vietnam's export of goods also had positive expectations in the future especially as the pandemic has been controlled in China - one of Vietnam's largest trade partner.
Vietnam Trade Promotion Agency (Viettrade) is an organization belonging to Ministry of Industry and Trade, helping the Ministry in trade promotion activities through different projects, promoting investment and development of industry and trade in Vietnam.
Viettrade has a branding program, which aims to build Vietnam's image as a country with high quality products and services, and to promote foreign trade and improve national competition. Besides, the national trade promotion program aims to promote trade, develop exports, grow trade in mountanous areas, border areas and islands, connecting trade, investment and tourism, according to Viettrade.
Candy Lee