Vietnam, Germany Strengthen Cooperation between Localities
Vietnamese Ambassador to Germany Vu Quang Minh on July 21 paid a working visit to Leipzig at the invitation of Mayor Burkhard Jung, during which the two sides discussed ways to further strengthen cooperation between the German locality and Vietnam.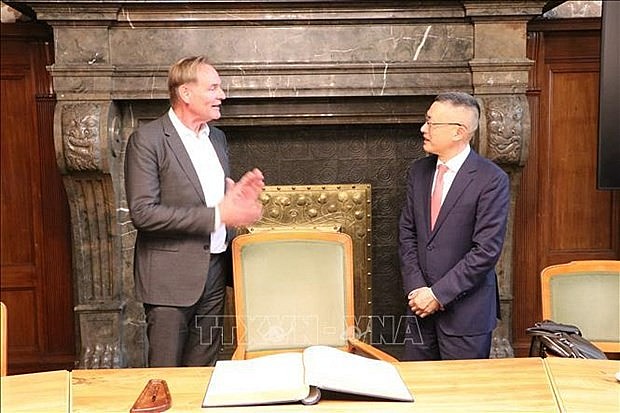 Vietnamese Ambassador to Germany Vu Quang Minh (R) and Mayor of Leipzig city Burkhard Jung. Photo: VNA
Mayor Burkhard Jung said the Leipzig authority attaches importance to the traditional friendship and cooperation with Ho Chi Minh City, and Vietnam in general, VietnamPlus said.
The establishment of a partnership between Leipzig and Ho Chi Minh City a year ago, as well as effective cooperation projects jointly implemented by the two sides in many fields, is a clear example of this relation, he added.
The Leipzig authority always supports businesses of both sides to expand cooperation in the coming time, thus contributing to deepening and strengthening the bilateral relations between Germany and Vietnam, he said.
Jung underlined the important role played by the Vietnamese community in Leipzig, saying that they serve as a friendship bridge connecting the two countries. He affirmed that the municipal authority will continue to create all favourable conditions for the Vietnamese community to do business, live and contribute more to local development.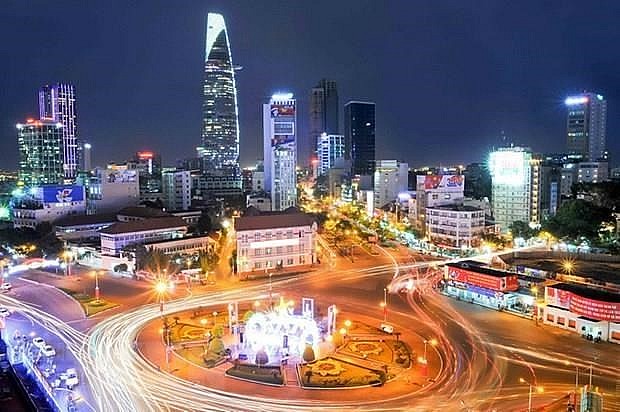 A corner of HCM City. Photo: VNA
Ambassador Minh noted that Leipzig has worked closely with HCM City, and Vietnam in general to effectively implement many cooperation projects in economy, culture, health, education - training, energy, water treatment, environmental protection, and conservation of rare animals. The two sides have also supported each other in the fight against the Covid-19 pandemic.
The partnership between Leipzig and HCM City has contributed to deepening the friendship between Vietnam and Germany, he said, noting that Leipzig is the only German city having a representative office in Vietnam so far.
He expressed the hope that the partnership between Leipzig and Ho Chi Minh City, and the bilateral relations in general will continue to grow stronger in the coming time.
Earlier this month, Minh visited Wernigerode city to seek ways to enhance ties between the German city and its Vietnamese sister city Hoi An and potentially other cities and provinces in Vietnam, according to The World & Vietnam Report.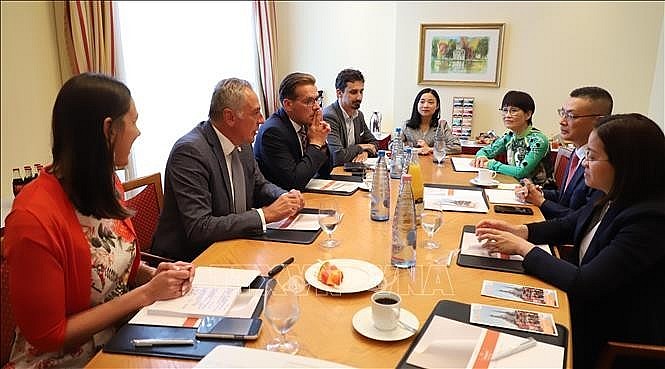 Vietnamese Ambassador to Germany Vu Qung MInh meets leaders of the German city of Wernigerode. Photo: VNA
Talking to newly-elected mayor Tobias Kascha and his predecessor Peter Gaffert, Ambassador Minh emphasised the huge potential for further accelerating partnership between Wernigerode and Hoi An as well as other Vietnamese localities.
The bilateral relations will be built on the solid foundation of the Vietnam – Germany strategic partnership which has been growing strong in all areas, from economy, energy, environment, education-training, to culture and science-technology, over the last 12 years, he said.
Wernigerode and Hoi An set up a sister-city relationship in 2013, he recalled. Since then, the first has provided support for the latter in many major projects. For example, developing a solar power system at Song Hoai (Hoai River) Square, promoting efficient use of renewable energy, and minimising waste, among others.
He called on enterprises from the German city to explore investment opportunities in Vietnam to reap benefits from the EU-Vietnam Free Trade Agreement (EVFTA).
As Wernigerode and Hoi An are celebrating the 10th anniversary of their ties next year, the ambassador proposed the two sides to organise several activities for the promotion of trade, investment and tourism.
Former mayor Gaffert affirmed that maintaining sister-city relations with Hoi An was among his city's top priorities and a major highlight during his term of office. He expected the new mayor will facilitate the further development of bilateral ties. He suggested the two sides further expand ties in vocational training, tourism services, hospitality and handicraft making.
Kascha, for his part, pledged to foster sister-city relations in a long term during his upcoming sever years in office.
On the visit, Ambassador Minh also visited a German mechanical corporation and representatives of the Vietnamese community in Wernigerode./.
Vietnam, Germany beef up economic links

Germany will make all-out efforts to push ahead with the implementation of trade and industry cooperation deals with Vietnam, including the EU-Vietnam Free Trade Agreement ...
Vietnam, Germany seek stronger economic ties

A virtual conference on economic cooperation between Vietnam and Germany was held under the sponsorship of Leipzig city, the Vietnamese Embassy in Germany, InvestRegion Leipzig, ...