Vietnam homegrown Covid vaccine Nano Covax: Not enough scientific basis for licensing
Nanogen, the Vietnamese company which produces the Nanocovax Covid-19 vaccine, is seeking approval for its emergency use, yet in order to evaluate a vaccine, both short-term and long-term safety must be considered, according to health experts.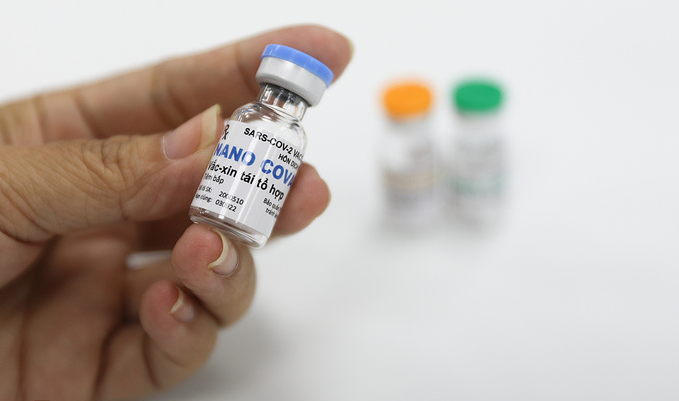 A vial containing the Nano Covax vaccine at a production facility in Ho Chi Minh City. (Photo: VnExpress)
Vietnamese Covid-19 vaccine Nano Covax seeking early approval for emergency use
Among Vietnamese homegrown Covid-19 vaccines, Nanocovax is considered the most promising candidate, having entered its third phase of human trials with around 13,000 volunteers. Over 1,100 volunteers have been inoculated so far. The first-phase trials began on December 18, 2020, while the second phase on February 26 this year, and the third on June 11, Vietnam Plus cited.
The company said that its Covid-19 vaccine has a 99.4 percent rate of producing immunogenic responses. Its expected price would be VND120,000 (US$ 5.21) per shot. The company said it could produce 8-12 million vaccine doses a month, and a production chain upgrade after October could catapult productivity to up to 50 million doses a month. By 2022, it would be able to produce 100 million doses, according to VN Express.
Ho Nhan, chairman of the management board and general director of Nanogen, said Tuesday that the company has filed the proposal for approval with Prime Minister Pham Minh Chinh last week, but has received no response so far.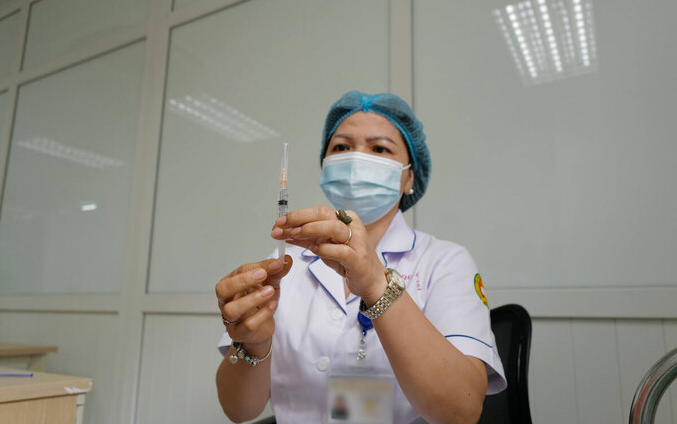 Preparing for Nano Covax trial injection on June 11. (Photo: VN Express)
Experts: Not enough scientific basis for licensing
On the night of June 22, Ph.D. Nguyen Ngo Quang, Deputy Director of the Department of Science, Technology, and Training, Ministry of Health, said that there was not enough scientific basis to grant an emergency license for Nano Covax.
According to Quang, the vaccine has undergone two successful phases of clinical trials, however, its sample size was small, therefore it did not show much about the vaccine's protective ability. There is no data on how well the vaccines help reduce Covid-19 risk. In addition, experts also need to evaluate the immunogenicity and protective effect on days 36, 45, 56 after the second dose in the third phase.
"Therefore, the Ministry of Health has not had enough scientific basis and data to grant an emergency license for the Nanocovax vaccine at this time," Quang said.
Hoang Hoa Son of the Department of Science, Technology, and Training under the Ministry of Health, the unit in charge of domestic novel coronavirus vaccine research, highlighted the correct Vietnamese policy of determining early Covid-19 vaccine production. Despite this, to have a vaccine for use by all people is not something that is done overnight, according to VOV.
"It is impossible to confirm in which month there will be a vaccine for people because it depends on many factors, such as the urgent pandemic situation and the supply of vaccines. The are two main indicators to evaluate vaccine effectiveness, namely reduced morbidity and mortality," Son said.
Vietnam is currently developing four domestic Covid-19 vaccines: Nanocovax by Nanogen, Covivac by the Institute of Vaccines and Medical Biologicals (IVAC), and two other vaccines by the Vaccine and Biological Production Company No. 1 (Vabiotech) and the Center for Research and Production of Vaccines and Biologicals.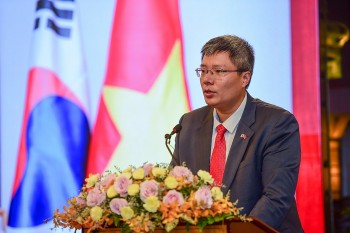 Viet's Home
Tran Hai Linh, member of the Central Committee of the Vietnamese Fatherland Front, chairman of the Vietnam-Korea Business & Investment Association (VKBIA) shared with the Vietnam Times about strengthening the capacity to promote Vietnamese culture to the world.