Japan continues to support Vietnam with Covid-19 vaccines
Japan will continue to support Vietnam so that all of its citizens are vaccinated against Covid-19.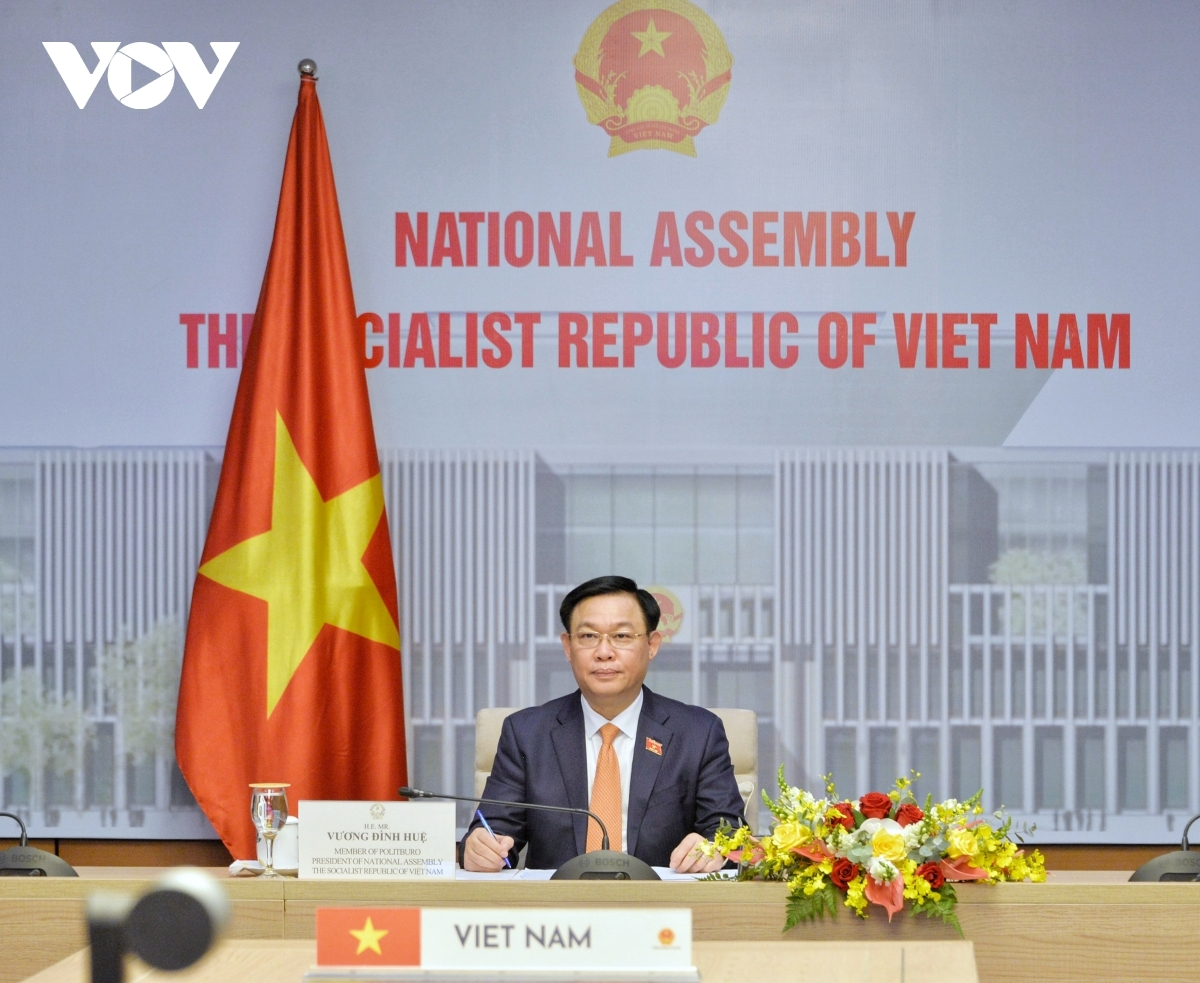 NA Chairman Vuong Dinh Hue of Vietnam pushes for a stronger extensive strategic partnership between Vietnam and Japan during his phone talks with Oshima Tadamori, Speaker of the House of Representative of the Japanese Diet. Photo: VOV
Speaker of the House of Representative of the Japanese Diet Oshima Tadamori made the statement during online talks with National Assembly Chairman Vuong Dinh Hue on June 21.
Vietnam supports Japan in promoting its role as a global power, making a positive contribution to peace and development in the region and the world at large, Hue said.
He thanked the National Diet, Government and people of Japan for recently donating one million doses of vaccine to Vietnam, helping it carry out its vaccine strategy in key localities.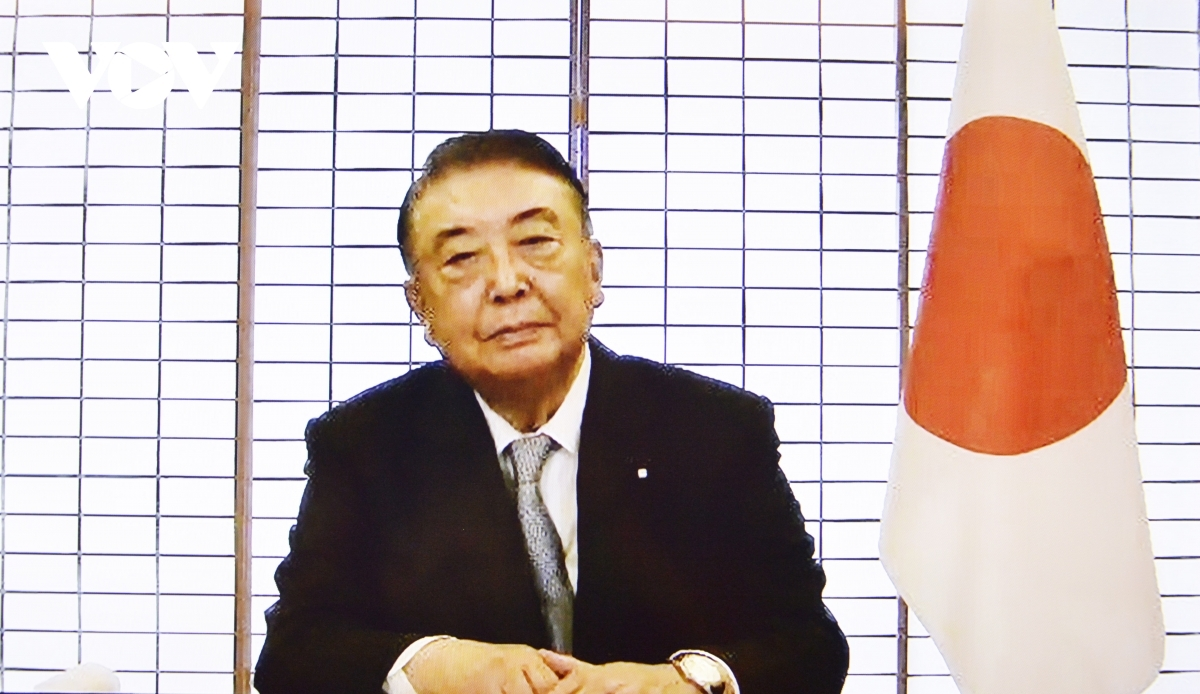 Speaker Oshima Tadamori agrees with Chairman Hue's proposal to promote reciprocal visit exchanges as well as cooperation between their legislative bodies. Photo: VOV
For his part, Oshima Tadamori affirmed that Japan will work closely with international mechanisms and organizations such as the World Health Organisation (WHO), the United Nations, and G7 countries to assist all countries worldwide to access Covid-19 vaccines for domestic use.
Japan will work alongside Vietnam to ensure all of its residents are vaccinated against Covid-19, paving the way for sustainable economic recovery and development, said Tadamori.
He thanked Vietnam for sending medical masks to Japan last year when Japan faced a shortage of medical supplies as well as assisting the Japanese firms operating in the country.
NA Chairman Hue suggested that the two sides strengthen economic connectivity on the basis of the Joint Statement released during a Japan visit in 2015 by General Secretary Nguyen Phu Trong that focuses on enhancing production capacity and developing quality human resources.
He expressed his hope that Japan will continue to support and receive more Vietnamese interns and workers to meet its businesses' huge labour need.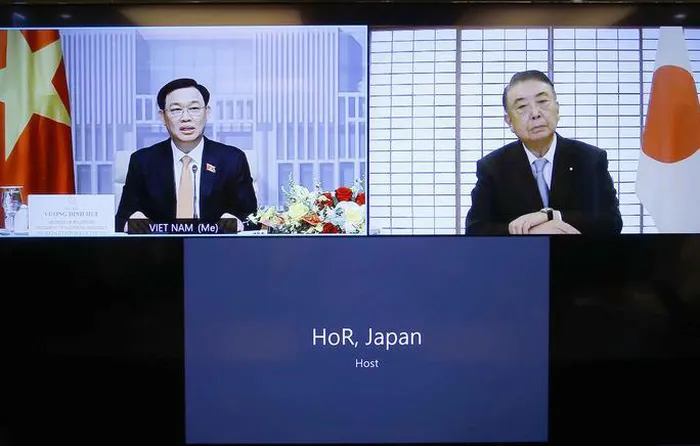 The two chief legislators of Vietnam and Japan during their phone talks on June 21. Photo: Nguoilaodong
The two leaders stressed the need to promote reciprocal visit exchanges as well as cooperation between their legislative bodies. In this regard, Hue suggested the two sides increase experience sharing, especially in legislation, in order to create an environment conducive to local and foreign businesses, including those from Japan, VOV reported.
During talks, the two sides highlighted ASEAN's central role in resolving regional and international issues. They jointly affirmed the importance of maintaining peace, stability, security, safety, freedom of navigation and overflight in the East Sea, respecting the rule of law, and peacefully settling sea-related disputes according to international law, including the 1982 United Nations Convention on the Law of the Sea (UNCLOS 1982).
They highly appreciated ASEAN's efforts in resolving the crisis in Myanmar with the 'five-point consensus' that gives Myanmar people hope to end the violence.
A Japanese donation of 966,320 doses of a Covid-19 vaccine arrived in Hanoi on Wednesday night, according to VnExpress.
Receiving the consignment at Noi Bai Airport, Minister of Health Nguyen Thanh Long said Vietnam is the first Southeast Asian nation to receive vaccine support from Japan.
"Vietnam is committed to using this batch of vaccines effectively and quickly. On Thursday the vaccines will be transported to HCMC to inject people in priority groups, especially factory workers."
Yamada Takio, the Japan ambassador to Vietnam, said his country wishes to cooperate with the international community to overcome the pandemic.
"Try your best, Vietnam, let's beat the pandemic," he said.
With the new arrivals, Vietnam has around four million doses of vaccines now.
Vietnam aims to secure 150 million vaccine doses this year to cover 70 per cent of its population.
Vietnamese Minister of National Defence Sen. Lt. Gen. Phan Van Giang talked via videoconference with his Japanese counterpart Kishi Nobuo on June 3, agreeing to further intensify cooperation in military medicine to combat Covid-19 and other disease outbreaks.
The two ministers discussed the regional and international situation and informed each other about their respective countries' efforts to prevent and control Covid-19. They also highly valued Vietnamese and Japanese military medicine experts sharing knowledge and experience in the pandemic response via teleconferences, Nhan Dan reported.
They agreed to carry out bilateral and multilateral defence cooperation activities as soon as the COVID-19 pandemic is brought under control, with priority given to all-level meetings and UN peacekeeping operations; effectively maintain the dialogue and consultation mechanisms among the staff of the countries' naval, infantry, and air forces; organise exchanges among the naval, air, and coast guard forces; and hold capacity improvement programmes.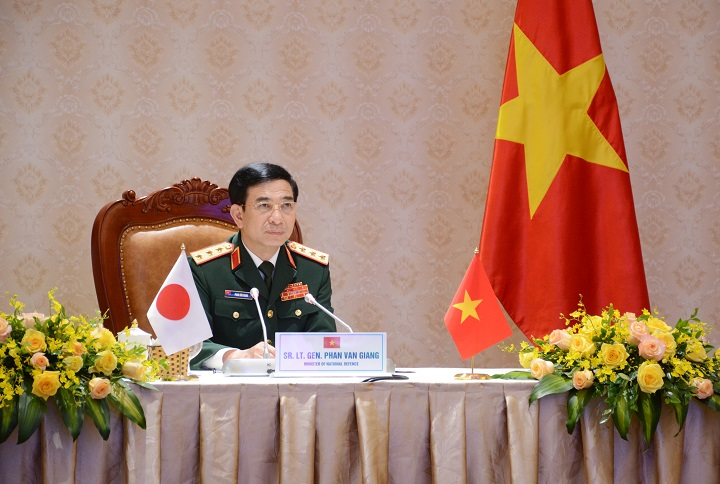 Vietnamese Minister of National Defence Sen. Lt. Gen. Phan Van Giang speaks during the talks. Photo: People's Army Newspaper
The officials also emphasised on the need to sign an agreement on the transfer of defence equipment and technology between the Vietnamese and Japanese governments soon.
Congratulating Giang on his appointment as Minister of National Defence of Vietnam, Kishi spoke highly of the two countries' relations as well as Vietnam's role in ASEAN, expressing his belief that in his new position, Giang will continue making significant contributions so as to lift bilateral ties, including those between the two militaries, to a new height.
Appreciating his counterpart's positive evaluation of the countries and the militaries' relations, Giang thanked Japan for assisting and supporting Vietnam to fulfil its role as ASEAN 2020 Chair.
He held that the two sides should coordinate together to well perform the co-chairmanship of the Experts' Working Group on Peacekeeping Operations within the framework of the ASEAN Defence Ministers' Meeting Plus in the 2021 - 2023 period.
The Vietnamese minister applauded Japan' proposal and successful organisation of online Japan - ASEAN seminar on humanitarian assistance and disaster relief last April.
He also voiced his hope that Minister Kishi will continue paying attention to and promoting the countries' defence cooperation in a substantive manner that matches each side's interests, for the sake of regional and global peace and development.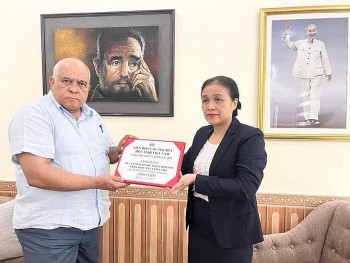 Focus
According to Cuba's News Agency Prensa Latina, on August 16, President of Vietnam Union of Friendship Organizations Nguyen Phuong Nga said that Vietnamese people will always stand by and support Cuba no matter what difficulties our friend is facing.