Vietnam hopes for stronger cooperation with U.S in Covid-19 vaccine technology transfer
Vietnamese State President Nguyen Xuan Phuc on May 30 sent a letter to U.S. President Joe Biden, suggesting the two countries strengthen cooperation in Covid-19 vaccine research, production and technology transfer.
Vietnamese State President Nguyen Xuan Phuc. Photo: VGP
Phuc welcomed and thanked the U.S. for its pledge to provide US$4 billion to the Covid-19 Vaccines Global Access initiative (COVAX), saying that Vietnam has received around 2.5 million doses via this mechanism, VGP News reported.
The COVAX initiative is really a precious and timely assistance for Viet Nam and many other developing countries in combatting the Covid-19 pandemic amid global vaccine shortage.
Phuc also welcomed the U.S. Administration's commitment to share an additional 80 million vaccine doses with the international community, expressing his wish that the U.S. will continue assisting Vietnam and other countries in accessing Covid-19 vaccine supply sources.
A health worker in HCMC Hospital for Tropical Diseases holds a dose of AstraZeneca vaccine in March, 2021. Photo: VnExpress
Vietnam always attaches great importance to the comprehensive partnership with the U.S., and hopes that both sides will continue to further deepen the bilateral ties in a practical manner, thus bringing benefits to people of the two countries, and contributing to maintaining peace, stability, cooperation and development in the region and the world.
Earlier, in recent phone talks with leaders of other countries such as China, Russia and Japan, leaders of the Vietnamese Party, State and Government also asked for the countries' assistance in accessing vaccine supplies and cooperation in studying and transferring Covid-19 vaccine production technology, the Vietnam News Agency (VNA) reported on May 30.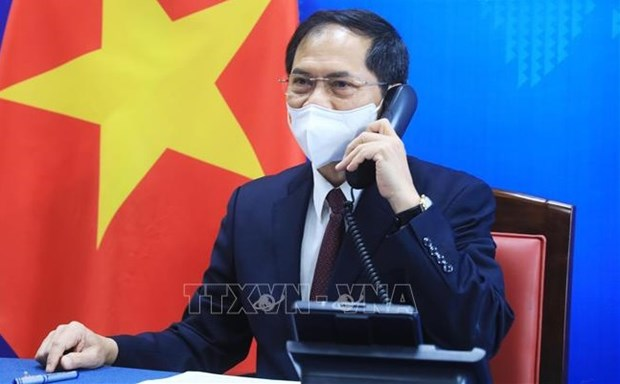 Minister of Foreign Affairs Bui Thanh Son holds phone talks with US Secretary of State Antony Blinken on May 28. Photo: VNA
During a phone talk with Vietnamese Minister of Foreign Affairs Bui Thanh Son on May 28, U.S Secretary of State Antony Blinken affirmed that the U.S will keep assisting countries, including Vietnam, to access vaccines via the COVAX Facility and partner nations./.
Vietnam, which currently uses the vaccine produced by British-Swedish firm AstraZeneca for its immunization program, has received nearly 2.9 million doses, 464,000 through commercial contracts and the rest through Covax, and vaccinated over a million of its 96-million population, according to VnExpress.
The ministry has struck commercial deals for 30 million doses and will get 38.9 million doses through Covax.
It has registered to buy another 10 million doses through Covax under a cost-sharing scheme to benefit from lower prices.
Besides, it has inked a deal to buy 31 million doses of Pfizer's vaccine this year.
Four vaccines are under development in the country by Nanogen Pharmaceutical Biotechnology JSC, the Institute of Vaccines and Medical Biologicals, Vaccine and Biological Production Company No. 1, and Polyvac.