Vietnam, US join hands in resolving war legacy
Over the past decade, the US has given Vietnam hundreds of millions of USD to overcome war consequences. Reciprocally, Vietnam has helped the US locate the remains of thousands of soldiers missing since the war.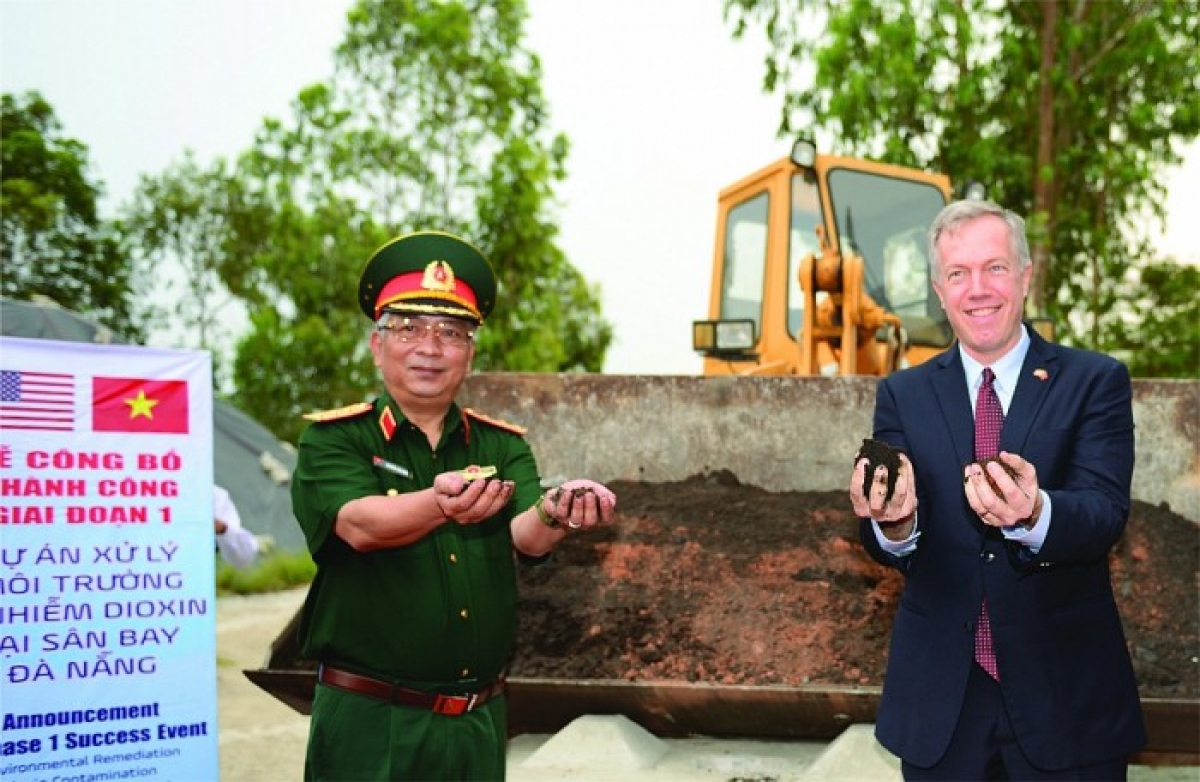 Deputy Minister of Defense Nguyen Chi Vinh and former US Ambassador to Vietnam Ted Osius holding a handful of soil that has been completely decontaminated at Da Nang Airport. Photo: Ministry of Foreign Affairs
In the spring of 1975, "the longest war in American history" waged by the US military in Vietnam, came to an end with the historic Ho Chi Minh campaign, the VOV reported.
Over 46 years since the Vietnam-US relationship has shifted from confrontation to dialogue, from adversary to friend, and evolved into a Comprehensive Partnership, thanks to efforts by both sides to neutralize hatred, build trust, and join hands to resolve the consequences of war in a constructive spirit.
Remedying war consequences has been an important part of the relationship since Vietnam and the US normalized their diplomatic ties in 1995. Both are committed to cooperating in the fulfillment of humanitarian obligations.
Severe consequences of the war
Although the war ended 46 years ago, its consequences remain evident, from the injuries of veterans and civilians, and the illnesses and malformations of toxic chemical victims, to family separations, from completely deformed vegetation to land contamination with unexploded ordnance. Those who survived the war continue to face serious economic, social, and environmental problems. Vietnam has the highest rate of birth defects in the world.
The US and its allies also suffered human losses and mental health problems. Hundreds of thousands of people returning home have suffered from post-traumatic stress disorder (PTSD). The number of US soldiers afflicted with mental illness during and after the Vietnam War is the highest of all the wars US military has fought.
Fulfillment of humanitarian obligations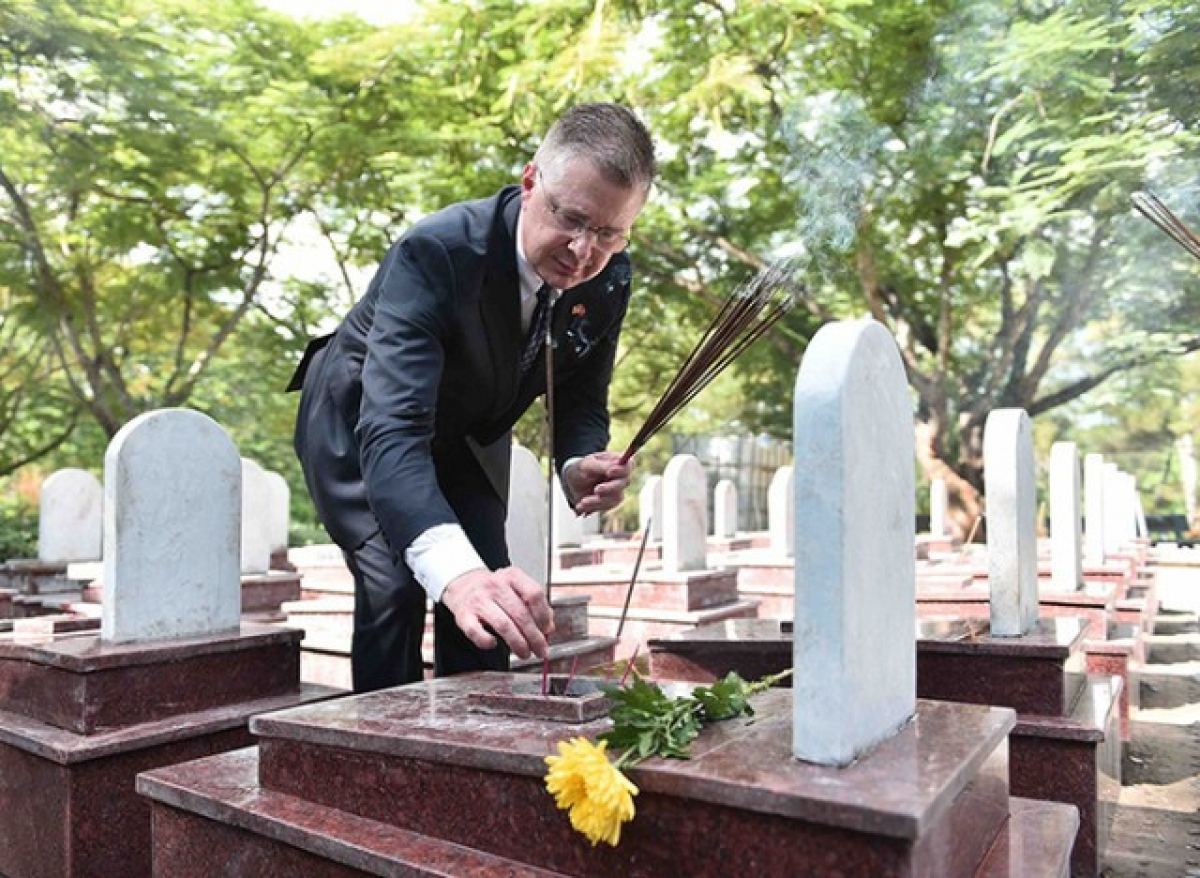 US Ambassador to Vietnam Daniel Kritenbrink offers incense on a soldier's grave at Truong Son National Martyrs Cemetery. Photo: US Embassy
In 2006, Vietnam and the US signed a Memorandum of Understanding on a health and environmental treatment program to deal with Agent Orange/dioxin in Vietnam, an important milestone in finding solutions to a difficult problem. In 2012, the US Agency for International Development (USAID) partnered with Vietnam's Ministry of Defense to implement the project to clean up dioxin contamination at Da Nang airport. After completing this project in 2018, both sides continued with a similar project at Bien Hoa airport.
Two years later, the US committed US$65 million over five years to give people with disabilities in eight Vietnam provinces greater opportunities for social inclusion and an improved quality of life.
Former US Ambassador to Vietnam Daniel Kritenbrink said, "When we start with our cooperation on humanitarian and legacy of war issues, we really do believe that even our partnership today is very much focused on the future, we have the responsibility to also address issues from the past."
"And one important area related to our past history is our joint effort to clean up dioxin or Agent Orange contamination from the war. We are treating people with disabilities in the eight provinces most heavily sprayed by Agent Orange during the war. And of-course our two countries are also working hard together to account for missing on both sides from the war," said Kritenbrink.
Over the past decade, the US has given Vietnam hundreds of millions of USD to overcome war consequences. Reciprocally, Vietnam has helped the US locate the remains of thousands of soldiers missing since the war.
Deputy Minister of National Defense Nguyen Chi Vinh said, "The US greatly appreciates Vietnam's cooperation in searching for Americans missing in action. This is an area of cooperation we are very proud of. We do it out of humanity, responsibility, and trust."
Remedying war consequences has helped relationship normalization and improvement and trust building between Vietnam and the US. To achieve today's fruitful cooperation has required consistency in action, wisdom, a strategic vision, and a strong belief in a bright future. This is not only a model of reconciling two former foes, but also a solution to many of the current regional and global conflicts.
US aims to remove all UXOs from famous Vietnam battlefield by 2025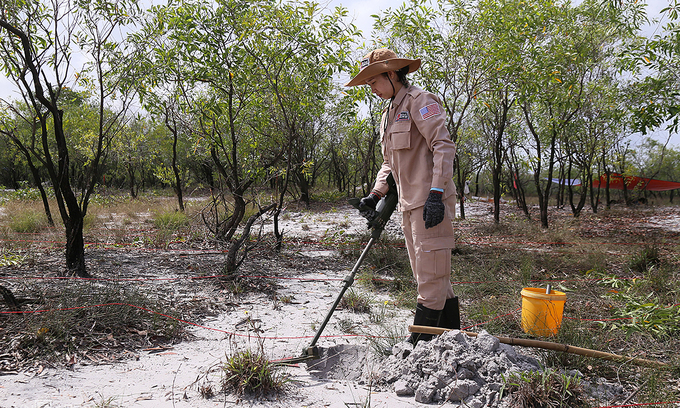 A member of the Mines Advisory Group (MAG) detects unexploded ordnances in Quang Tri Province, October 2019. Photo: VnExpress
The US has set a target of removing all unexploded ordnance (UXO) left in Quang Tri Province from the Vietnam War by the end of 2025.
"Vietnam has been a tremendous partner for the US when it comes to addressing legacies of war, not just, obviously, the unexploded ordnance issue, but also the issues of those who've been missing in action as well as dioxin and Agent Orange," Jerry Guilbert, chief of Programs for Weapons Removal and Abatement under the U.S. Department of State, was cited by VnExpress as saying.
Guilbert said one of the greatest accomplishments in Vietnam-US cooperation in dealing with war legacies is the fact that there have been no deaths from unexploded ordnance in Quang Tri Province for the past few years.
He also praised the efforts of provincial authorities in pioneering many new and innovative technologies and techniques for addressing UXOs.
"We're actually on track to making Quang Tri free from the impact of UXOs by the end of 2025," Guilbert stressed, adding the central province was the most heavily contaminated by UXO in all of Vietnam.
Between 2014 and 2019, the province had attracted $100 million in foreign non-governmental aid, receiving an average 38 new projects a year. It has cooperated with 67 foreign NGOs and international organizations from countries like Ireland, South Korea, the UK and US.
Quang Tri was the stage of the Tet Offensive in 1968 and Easter Offensive in 1972.
A total 391,000 hectares of provincial land, accounting for 83.3 percent of its total area, remains infested with mines and other explosives from the war, according to official statistics.
According to Quang Tri's Legacy of War Coordination Center, 8,540 people in the province have fallen victims to UXOs since 1975, with 3,431 fatalities. Many were collecting scrap when detonating an explosive./.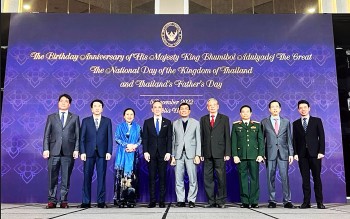 Friendship
The Royal Thai Embassy organises the reception on the occasion of celebration of the Birthday Anniversary of His Majesty King Bhumibol Adulyadej the Great, the National Day of the Kingdom of Thailand and Thailand's Father's Day on 2nd December 2022 in Hanoi.