Vietnam-India Find Science and Technology Cooperation Indispensable and Advantageous
In an interview with Vietnam Times, Ambassador Pham Sanh Chau says that it's high time for Vietnam's entrepreneurs, youth, and agencies to strengthen the cooperative programs with India on science and technology, as well as help develop successful start-ups.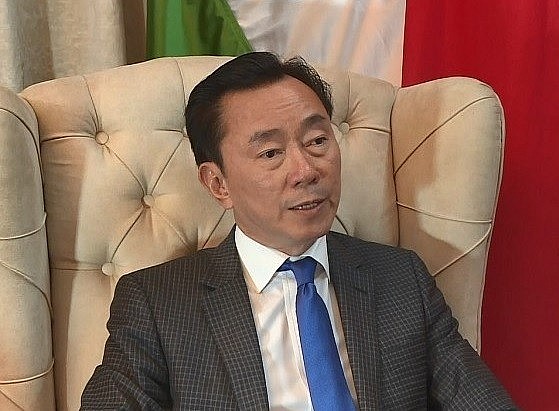 Vietnamese Ambassador to India Pham Sanh Chau.
- What has been the biggest event for cooperation in science, technology and start up of two countries recently? Why have we chosen the topic?
Last August, the Vietnamese Embassy in India held an online workshop named:" Invest Vietnam: High-tech Investment and Start-up". The Embassy also held workshops connecting two countries in many fields, however, that was the first time a workshop on high-tech and start up well enabled by the embassy.
First, the workshop was held in the occasion of the embassy opening the Vietnam's honorary consular office in Karnataka State. The state's capital is Bangalore City is known as the Silicon Valley of India, gathering many big technological companies and groups of India and the world. The city is also a cradle of policies promoting activities of research, technological development and well-known as a launching pad of many Indian start -ups to become unicorns (companied valued over 1 billion US dollars). Among 81 Indian unicorns, 33 of them (accounting for 40,5%) started and built headquarters in Bangalore City.
In August 2021, the Vietnamese Embassy in India held the webinar "Invest Vietnam: High-tech Investment and Start-up".
Second, India is a country taking advantage of strength of science and technology (sci-tech) and start up. In 2021, India has issued the policy of sci-tech creation and innovation targeting to become the third power of sci-tech in the world. Over the last few years, India also has focused on promoting sci-tech research activities and gained many achievements of almost fields including many for Vietnam to cooperate with and exchange experience. Regarding start-ups, India is ranked third in the word of start-ups and renovation ecosystems, only after the US and China. And, India has many start up and renovation centers such as Bangalore, Delhi, Mumbai, Hyderabad, Gujarat…and a system of large amount of start up (more than 6000 businesses). Many of them have become unicorns.
Third, Vietnam recognizes the sci-tech as key field to strengthen cooperation with potential or strong countries with the upper hand including India. Moreover, the sci-tech is also a key cooperation for Vietnam and India's relation. During the last time, the Embassy and Vietnamese Sci-Tech Office in India which is responsible for sci-tech, have well implemented cooperative activities aiming to promote sci-tech in two countries. In 2021, many programs were organized and got good results.
- What do you expect in two countries' cooperation of start up?
Vietnam is promoting the cooperation with start-ups, focusing on creation and renovation with many advantageous countries such as the US, Israel, Singapore, and many others. However, the same level of cooperation with India is still limited. The Karnataka workshop held by the Embassy in last August was supposed to be the first big event in 2021 for start up , creation and renovation. Besides, in last November, the Vietnamese Sci-Tech Office in India connected Vietnam to participate in the Bangalore Tech Forum 2021 in which Vietnam introduced the country's policy and development situation, models supporting start-up development and renovation to Indian and global communities.
In December, representatives of Vietnamese Ministry of Information and Communication also participated in the Global Technology Forum 2021 held by India Carnegie Institution an association with India Ministry of Foreign Affairs. The forum is well known for reputed event of technology, start-up, and renovation in India over the years. The event was paid much attention by the world and participated by a lot of leaders, experts from large hi-tech companies and groups.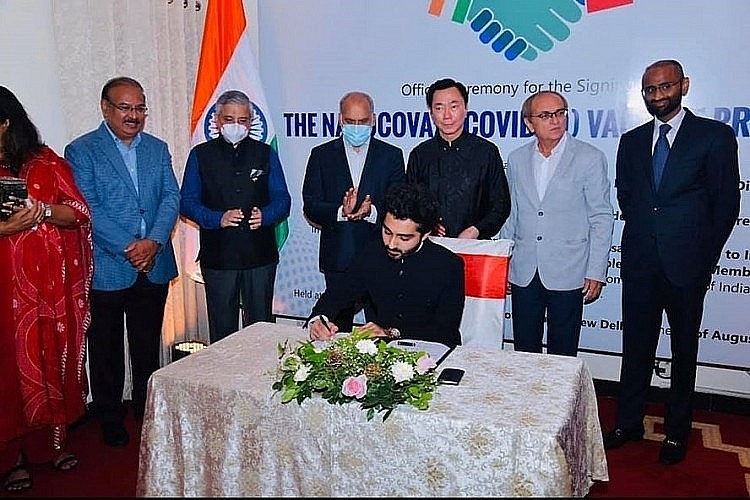 Ambassador Pham Sanh Chau at the signing ceremony of the Non-disclosure agreement
(NDA) between India's Vekaria Healthcare LLP Company and Vietnam's Nanogen Company for technology transfer, production and distribution of Nanocovax vaccine, on September 9. August 2021. Source: Vietnamese Embassy in India
India has succeeded in encouraging the sci-tech; start up and renovation to take off that Vietnam wishes to enhance two countries' cooperation, experience exchanging and calling for sources and support made by Indian partners and investors. That will help Vietnamese start up and renovation ecosystem develop and Vietnam's start ups take advantages of the conditions to broaden their cooperation for faster and more stable steps in the global market. The Embassy hopes that through bridging Vietnam to join Indian big events of sci-tech, start up and renovation, two countries' organizations and individuals will find more practically cooperative opportunities in the coming time.
- Could you share your estimation on the potential sci-tech development of India?
India's capability and potential in sci-tech development has been recognized for years. In the past, there were a lot of inventions and scientific achievements in maths, astronomy, medical, and other fields researched and developed by Indian professionals. In the modern time, Indian scientists have also succeeded in such many fields as: nuclear, universe, agriculture with achievements of green revolution for improving food productivity, white revolution in milk cow breeding, among other advancements. Today, India's scientists continues to demonstrate their capability and prestige in the world's map of science.
Every year, the Indian scientists' announced scientific articles rank third in the world of number, only after China and the US. India has succeeded in researching, developing and applying modern technologies for energy such as: nuclear, solar power, biomass…; in medical such as: generic medicine production, vaccine, medical equipment…in general and, for Covid-19 prevention in particular, many domestic vaccine and equipment directly used for the pandemic prevention have been researched and successfully produced without any relying on foreign countries. Moreover, the country has also many gains in agriculture of high-yield and high-quality productive plant varieties creation; automobile and motorbike manufacturing; shipbuilding; in electronic – IT including software manufacturing; digital transition platforms in healthcare, banking, education…; in environment such as: waste treatment, clean water conservation.
India is taking independent and active role in researching, developing and producing in many fields. Also, India itself is able to meet the domestic demand of a 1,3 -billion-people country and export. The ability that the country has quickly researched, developed and produced the Covid-19 essentials such as: masks, protective suits, medical oxygen, vaccine, ventilators… for meeting both domestic and exported demand shows the outstanding sci-tech of India.
- What advantages do you think of Vietnam and India's cooperation basically in the field?
This current time can be considered the perfect one to enhance India and Vietnam's cooperation on many fields including sci-tech. For example, the two countries have a good friendly relationship, especially since the 2016 establishment of the comprehensive strategic partnership relation, focusing on 5 cooperative keys with the sci-tech is one of them. Additionally, 2022 is the 50th year anniversary of the two countries' diplomatic relation establishment.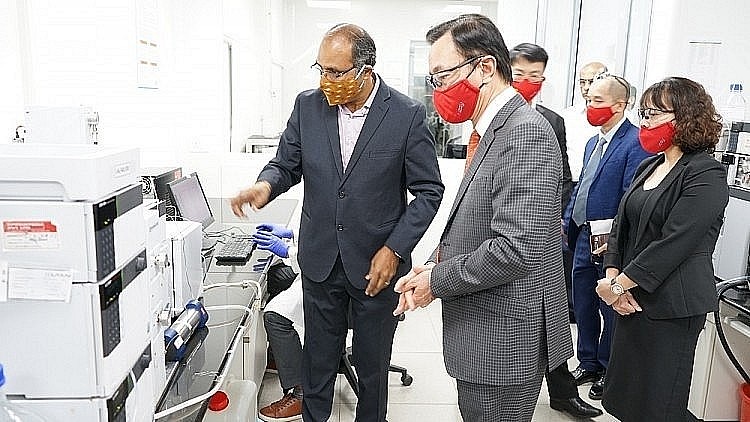 India and Vietnam find potential for science and technology cooperation.
The two countries' highest leaders often exchange opinions and phone talks on situations and solutions for promoting bilingual cooperation including sci-tech.
Vietnam is supposed to play the country's very important role of position in India's Act East policy in the region. Besides, India also takes the similar importance in Vietnam's foreign policy.
Vietnam and India have many similarities in culture facilitating the two countries' cooperation implementation.
- To promote Vietnam and India's cooperation, in your opinion, what spearheads should be given priority in the immediate future?
India and Vietnam have potential in many fields of sci-tech. Over the years, the two countries have cooperated in fields including: energy, IT…However, those haven't been diversified while not high efficiency. In the near future, two sides should concentrate on mutual benefits for both nations such as: new and renewable energy; medicine and vaccine production; start up; digital transition; manufactured mechanism of automobile and motorbike manufacturing; shipbuilding; biotech in healthcare; agriculture; waste and wastewater treatment; clean water management and conservation…
- Could you please share what key points need policy making work of Vietnam focus on for the bilateral cooperation to get the best results?
Our country's Party, State and Government have issued many policies creating convenient conditions for promoting the cooperation of Vietnam and other countries including India. It is important for related authority agencies to actively and positively support, encourage the two sides' contacts and work. In sci-tech field, the Ministry of Sci-Tech and its agencies implementing sci-tech work will play very important roles of key factor.
The sci-tech cooperation of Vietnam and India need a plan of reviewing and re-evaluating done by agencies at all levels to make a foundation for particular programs, plans, targets and contents of implementation. Based on that, the Vietnamese Embassy and Sci-tech Office in India will be the connectors at ground to implement bilateral cooperative activities. The two sides' sci-tech cooperation will be gain big achievements on the basis of harmony collaboration and work of related agencies.
- Thank you so much!