Vietnam, India Held Second Security Dialogue Held in New Delhi
The second Vietnam-India security dialogue held to further the Comprehensive Strategic Partnership, especially in areas of security and geopolitics.
At the second Vietnam-India security dialogue. Photo: ANI
The second Vietnam-India security dialogue took place in New Delhi on September 13, VNA reported Wednesday.
The Vietnamese delegation to the dialogue was led by Deputy Minister of Public Security Sen. Lieu. Gen. Luong Tam Quang, while the Indian delegation was headed by Deputy National Security Advisor Vikram Misri.
At the dialogue, the two sides engaged in straightforward discussion on a number of issues of shared concern. Misri reiterated India's Indo-Pacific Oceans Initiative (IPOI) initiated by Indian PM Narendra Modi, which focuses on collaboration efforts to preserve, maintain and protect the maritime industry.
Vietnam highly valued the role of India in promoting peace and security in the region as well as shaping Indo-Pacific architecture.
They agreed to cooperate and coordinate with each other in a number of areas including anti-terrorism, and reached consensus on the need for joint efforts against the connections of extremism, terrorism, illegal production and trafficking of drugs and weapons in the region.
The Indian side offered to continue to support Vietnam through capacity building programmes, including the training of public security officers engaging in UN peacekeeping missions, and the sharing of professional knowledge on cyber security.
As coastal countries, India and Vietnam share long-term interest in ensuring peace and security for the common maritime space, they said.
The dialogue agenda also included the sharing of best practices to combat piracy and illegal fishing. Both sides concurred to actively exchange views on areas such as green economy, sustainable oceans and maritime connectivity.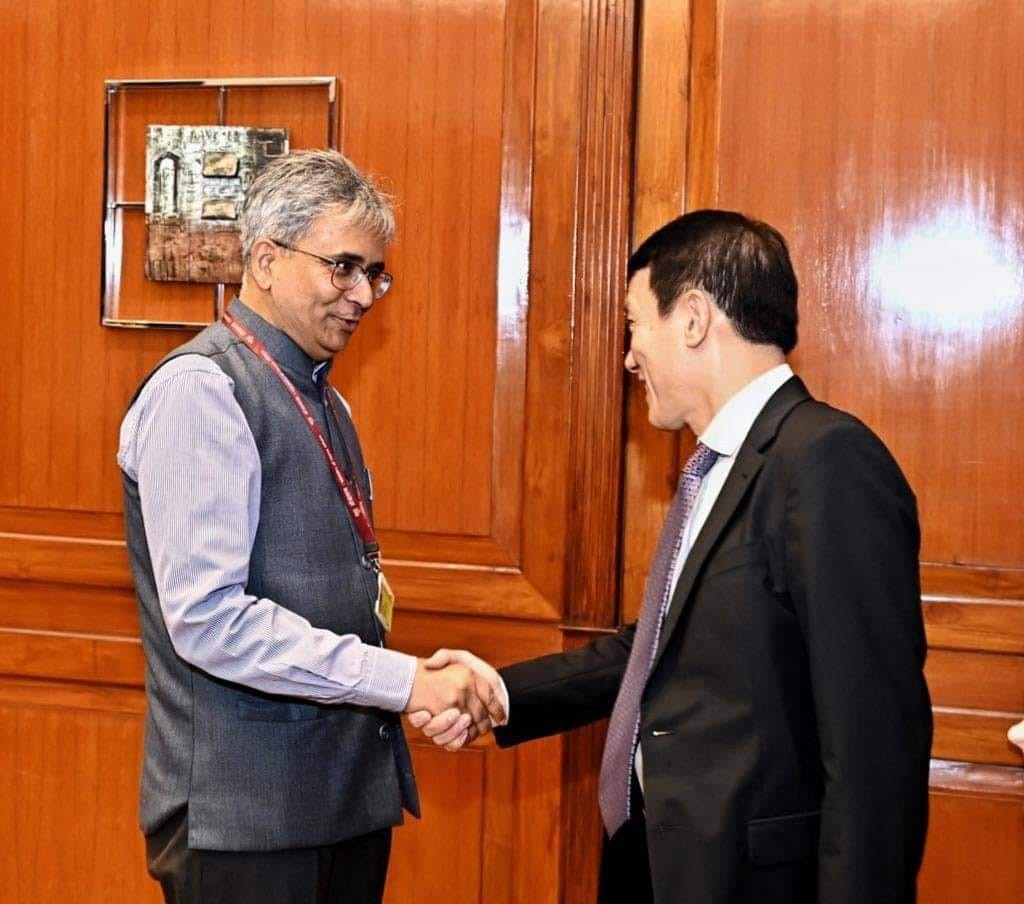 Secretary (East) in the Indian Ministry of External Affairs Saurabh Kumar meets Deputy Minister of Public Security Sr. Lt Gen. Luong Tam Quang of Vietnam, who is in Delhi to attend second Vietnam-India security dialogue. Source: Indian Ministry of External Affairs
India's National Security Council Secretariat (NSCS) and the Vietnamese Ministry of Public Security signed a memorandum of understanding on cooperation in 2016 to set up a mechanism and institution between the two sides.
The first Vietnam-India security dialogue was held in April 2018 in Hanoi. During the meeting, the two sides agreed that coordinated efforts are needed to combat the nexus of radicalization, terrorism and the production and trafficking of illegal narcotics and arms in the region.
Sen. Lieu. Gen. Quang called on National Secretary Adviser and Secretary (East) in the Indian Ministry of External Affairs Saurabh Kumar. He will travel to Bodh Gaya during the visit.
Eariler, on September 12, Vietnam's diplomat in India Do Thanh Hai in the Roundtable session on Bilateral Trade Opportunities between Indian and Neighbourhood countries spoke about the increasing trade between both nations due to enhanced connectivity.
He said, "Trade between India and Vietnam is growing stronger. We should have a higher target. We're optimistic about growth in sectors like electronics, automobiles, computers, pharmaceuticals and agricultural products. Trade has been further enhanced by stronger connectivity between the two countries. We also have direct maritime links."
Vietnam and India have conducted regular high-ranking delegation exchanges. The two sides have enjoyed sound economic relations, with trade reaching USD 15 billion, and a number of big investments in both countries in two ways, former Vietnamese Ambassador to India Pham Sanh Chau has stated while granting an interview to WION news channel.
Even as political ties have seen firming up, to increase people-to-people relations 17 direct flights today run between six cities of India and four cities of Vietnam.
He held that defense now is "one of the most important pillars" of ties with India which "reflects a very high level of mutual strategic trust". The comments come even as defense engagement has seen many fold increase, including high level exchanges.
Vietnam and India have seen engagement in defense cooperation especially in Defence production. "We are going into the final stage of the 500 million credit line for equipment in defense. Relationship ranges from training to equipment purchase, to equipment production, to geopolitics, to sharing information," he stated.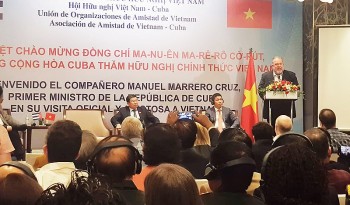 Friendship
Cuban Prime Minister Manuel Marrero Cruz met representatives from the Vietnam-Cuba Friendship Association in Hanoi on September 30, as part of his visit to Vietnam from September 28 to October 2.