Vietnam - Inspirational Model at UNDP
On December 20, in Hanoi, President of the Viet Nam Union of Friendship Organizations (VUFO) Nguyen Phuong Nga received Ramla Khalidi - Resident Representative of the United Nations Development Program (UNDP) in Vietnam.
According to Ramla Khalidi, Vietnam's development is often discussed at UNDP. The country's progress from difficulty to an active, responsible member of the international community, contributes to UN's goals of peace, security, and development is inspiring for observers.
Khalidi believes Vietnam has been doing well in its agendas on responding to climate change and human rights, especially in key areas. Elected as a member of the United Nations Human Rights Council for the 2023-2025 tenure, Vietnam can further contribute to the UN agenda in this area.
VUFO President Nguyen Phuong Nga (right) receives UNDP Resident Representative Ramla Khalidi (Photo: Thu Ha).
President Nguyen Phuong Nga replied, the United Nations, particularly UNDP have made significant contributions to the success and prosperity of Vietnam. UNDP has connected Vietnam with the global communities to overcome the consequences of war and difficulties in hunger eradication, poverty reduction, and economic development. UNDP has shown interest in and supported VUFO's foreign non-governmental aid work. UNDP currently provides financial aid to two organizations in climate change and flood prevention. UNDP's national development plan for Vietnam in 2022-2026 is in line with Vietnam's development strategy and UNDP's goals.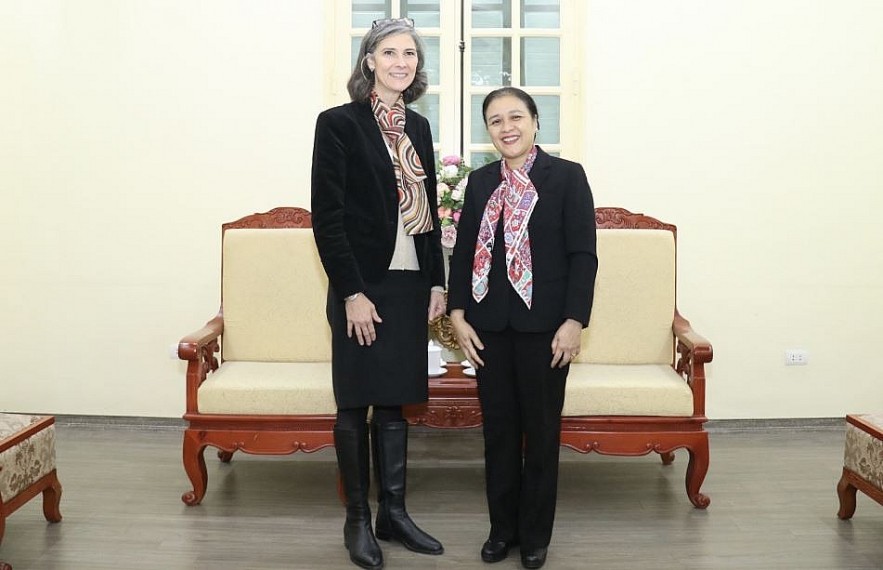 President Nguyen Phuong Nga (right) takes a photo with Resident Representative Ramla Khalidi (Photo: Thu Ha).
According to President Nguyen Phuong Nga, Vietnam is implementing a development plan to 2045. In the process, Vietnam still needs international support on issues such as climate change and overcoming landmines consequences, gender equality, sustainable poverty reduction, and post-Covid-19 recovery.
The UNDP Resident Representative emphasized that the two sides also need to maintain the achieved results, recognize difficult issues and find solutions. UNDP is interested in Vietnam's energy transition and adaptability and will accompany Vietnam in this regard.