Vietnam, Italy Coordinate on Space Technology
Italy is among several countries that Vietnam has coordinated with on space technology.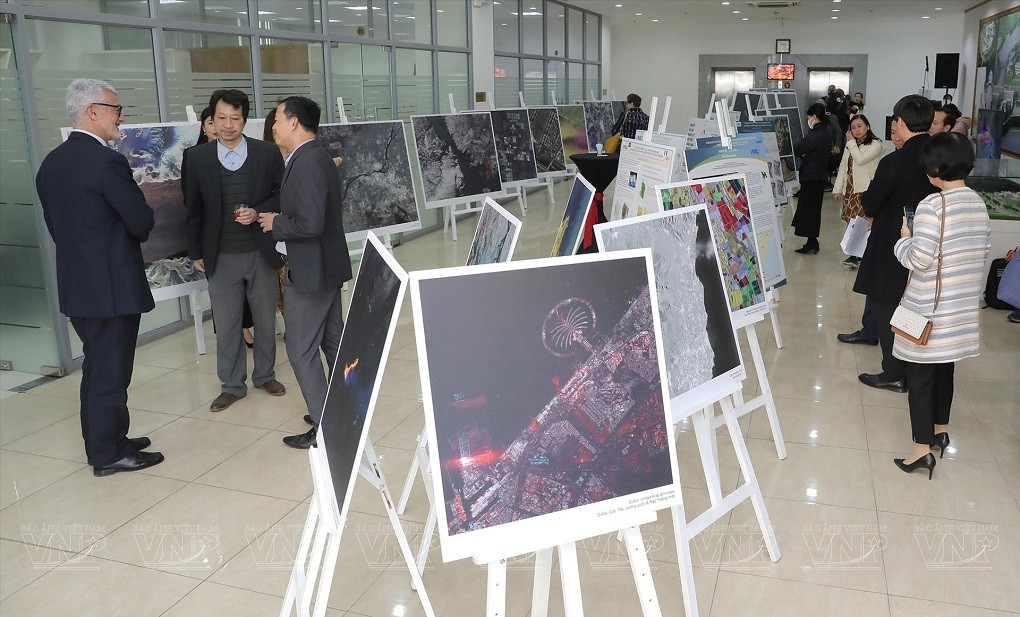 At the exhibition. Photo: VNA
One of the activities celebrating the 50th anniversary of diplomatic relations between Vietnam and Italy (March 23, 1973-2023) is an exhibition entitled "Vietnam-Italy Space Technology and Application. Looking Beyond".
It was a cooperation program organized by the Vietnam National Space Centre (VNSC) under the Vietnam Academy of Science and Technology (VAST) and the Italian Embassy in Hanoi.
In recent years, Italy has supported Vietnam with many space technology projects, notably the COSMO-SkyMed satellite system.
The COSMO-SkyMed system is a constellation of five radar satellites owned by the Italian Space Agency and the Italian Ministry of Defence. Satellite technology has many important uses for human well-being and safety as it provides crucial information on climate change and earth dynamics, thus helping to prevent natural disasters and better protect the environment. It is at the forefront of radar technologies, providing the highest quality and precision features required for Earth observation regardless of weather conditions.

At the exhibition, participants saw 23 high-definition images of the Earth taken by the Italian satellite system COSMO-SkyMed, including two images of the city of Hanoi and the Mekong Delta. Photo: VNA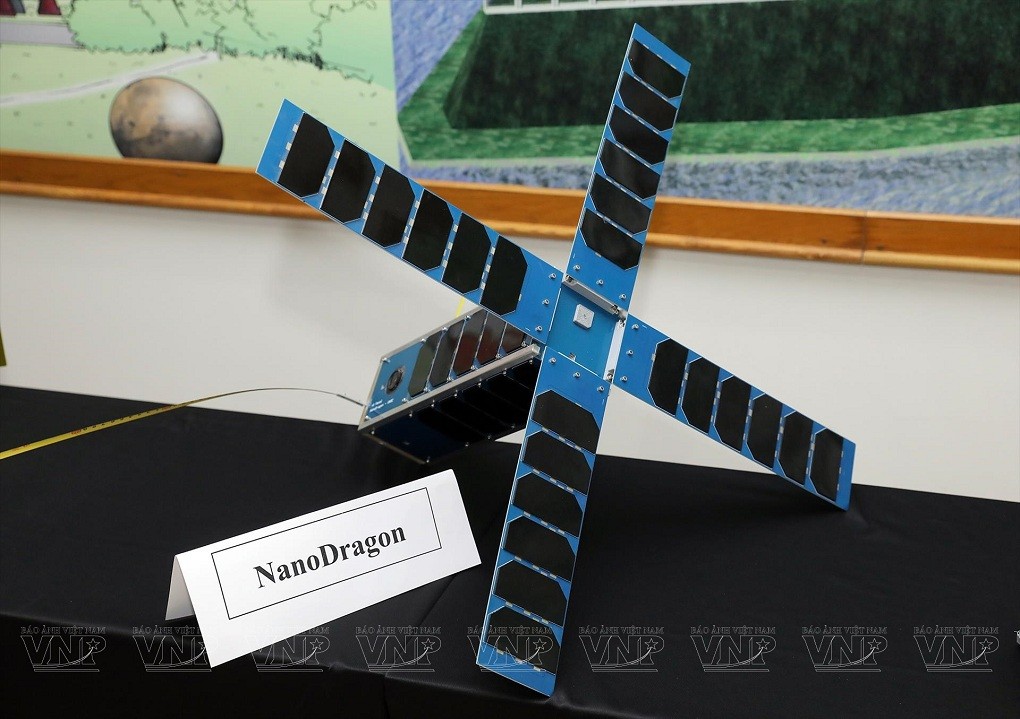 The satellite of Vietnam NanoDragon. Photo: VNA
The exhibition displayed 23 high-definition images of the Earth taken by the Italian satellite system COSMO-SkyMed and processed by Telespazio/e-GEOS, including two remarkable images of the city of Hanoi and the Mekong Delta, together with nine panels by VNSC illustrating applications of satellite images in remote sensing and disaster prevention in Vietnam.
As seen from the sky, the planet appears like a patchwork or a mosaic, resembling a beautiful piece of contemporary art.
Besides, the COSMO-SkyMed satellite system applies Radar remote sensing data in rice monitoring for agricultural areas of Vietnam or as a quick monitoring map of the flood situation in the central provinces of Vietnam such as Ha Tinh province.
Next is the application of Radar remote sensing data in landslide detection in Mu Cang Chai, Yen Bai province, where the harsh climate, high/steep slopes, and mountain structures are considered the most dangerous during the rainy season.
The discoveries of landslides or climate change and natural disasters brought by satellite technology have helped Vietnam to forecast the impact of natural disasters on public life, helping first responders rescue rural citizens.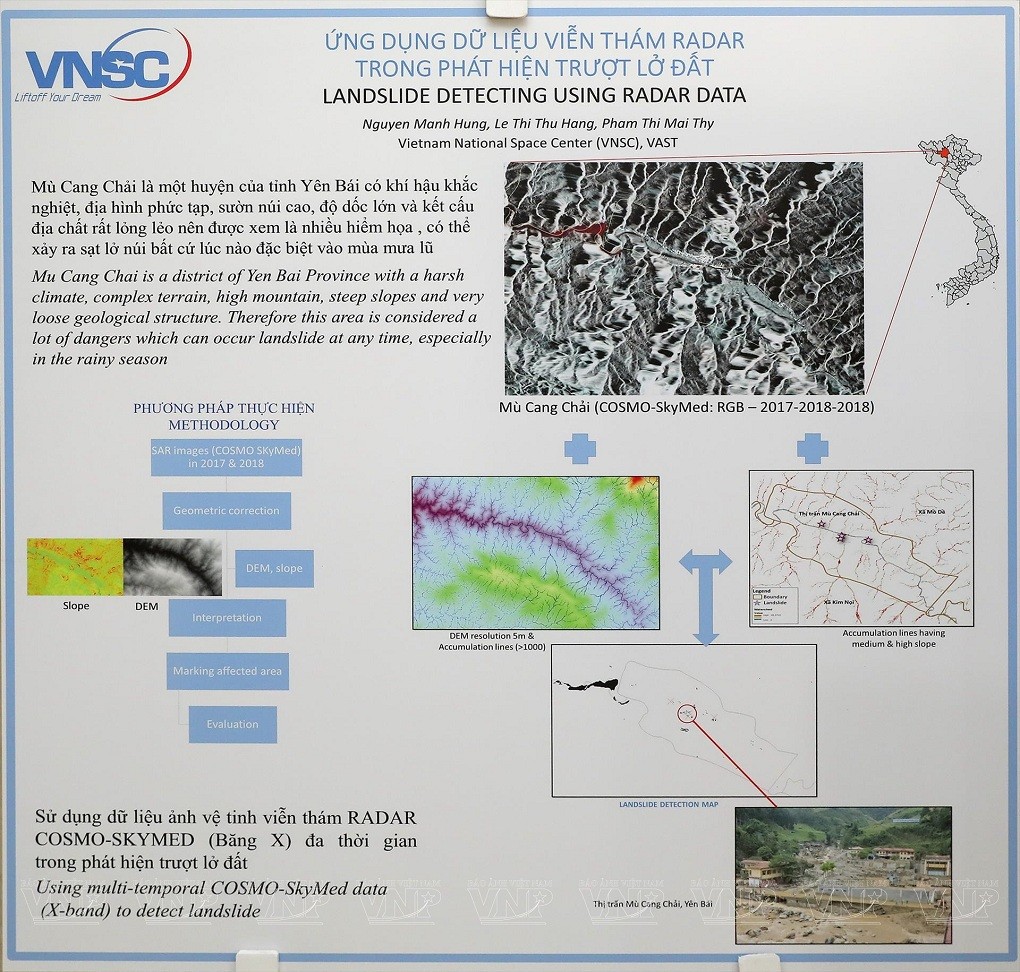 Landslide detecting using radar data. Photo: VNA

Seen from the sky, our planet looks like a patchwork or a mosaic, resembling a beautiful piece of contemporary art. Photo: VNA
Italian Ambassador to Vietnam Antonio Alessandro said with over 200 companies, more than 7,000 employees, and 10 national technology parks, Italy is one of the few countries with a complete supply chain in the field of the space industry. The Italian space industry includes large and small-sized enterprises and has joint research programs and scientific activities with many countries.
At the time when Vietnam is implementing its National Space Strategy, the Italian Space Agency (ASI) and leading space technology companies such as Telespazio/e-Geos, Thales Alenia and Leonardo can concretely contribute to the development of Vietnamese expertise in this field.
The maps displayed at the exhibition included HCM City's Thu Duc surface displacement monitoring map; ASNARO-2 flood map for Quang Nam province; or a map showing a combination of three images obtained in downtown Hanoi in 2018, signs, data show that the Red River have tidal effects; image map obtained on the Mekong River, Dong Thap province showing the water cycle floods are considered essential data for Vietnam to respond well to climate change.
Ambassador Alessandro emphasized that we need to develop space technology together because industry applications are very important for human health and safety, providing important information about climate change, helping prevent disasters and better protecting our environment.
Prof. Le Truong Giang, vice president of VAST emphasized that space science is the most advanced science and technology field that requires high and close cooperation between scientists, research institutions and countries today. He hopes that through this exhibition, scientists of the Academy in particular and Vietnam, in general, will establish more opportunities for cooperation in the field of space technology with Italian partners to cooperate with each other. "Go together" we will "look beyond" and "go further" to discover and apply the achievements of space technology in development in each country.