Vietnam, Laos and Cambodia to Hold Parliamentary Summit on Rotating Basis
The legislatures of Cambodia, Laos and Vietnam (have agreed to hold a summit (CLV parliamentary summit) every two years on a rotating basis.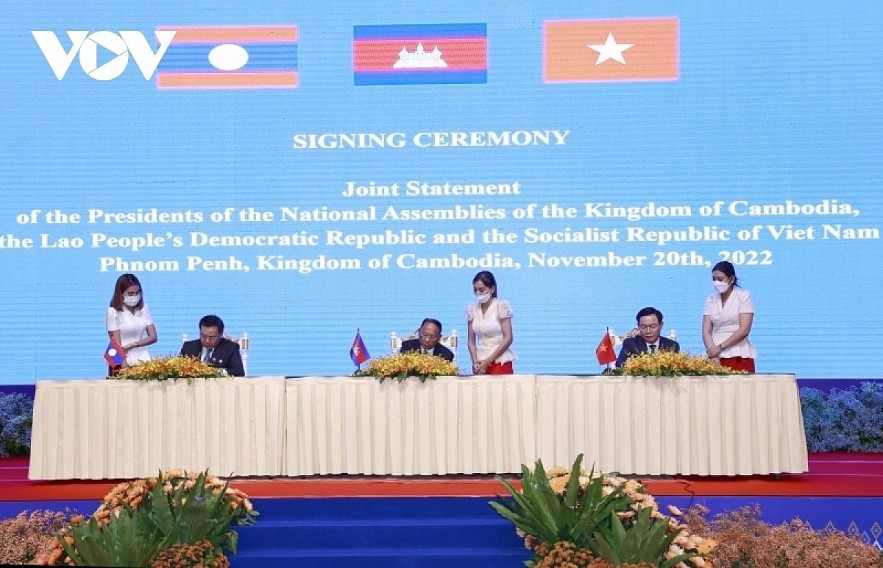 An overview of the signing of the Joint Statement on the establishment of the Cambodia-Laos-Vietnam parliamentary summit between the leaders of the three legislatures.
A joint statement to this effect was signed in Phnom Penh, Cambodia, on November 20 by Vuong Dinh Hue, chairman of the National Assembly of Vietnam, Samdech Heng Samrin, president of the National Assembly of Cambodia, and Saysomphone Phomvihane, chairman of the National Assembly of Laos.
The joint statement was signed on the sidelines of the 43rd General Assembly of the ASEAN Inter-parliamentary Assembly (AIPA) which is getting underway in Phnom Penh.
The CLV parliamentary summit has been upgraded from the conference of committees of the three legislatures. The establishment of the mechanism is to strengthen and consolidate friendship, close solidarity and comprehensive cooperation, focusing on socio-economic development, defense-security cooperation, and people-to-people exchanges for sustainable development of the three countries and of the region, according to the joint statement.
It will help beef up and supervise the implementation of agreements, action programmes and cooperation projects agreed by the Governments of the three countries, as well as multilateral agreements to which the three countries are signatories.
It will also promote the exchange and sharing of information, experiences and good practices in performing the functions and tasks of the legislatures of Cambodia, Laos and Vietnam, as well as in allocating budgets and mobilizing capital from partners inside and outside the region to implement programmes and projects in the CLV Development Triangle Area and other fields of cooperation.
Immediately after the signing ceremony of the Joint Statement, the heads of the foreign relations committees of the Vietnamese, Cambodian and Lao legislatures co-chaired a press conference, affirming the establishment of the CLV parliamentary summit is a historic milestone for cooperation between the three legislatures.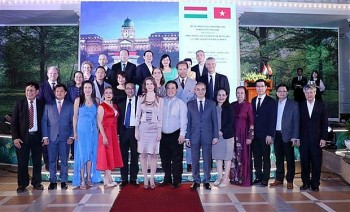 Viet's Home
Saigontourist Group in coordination with the Hungarian Consulate General held a series of events within the framework of the Hungarian Food and Culture Festival 2022 in Ho Chi Minh City