Vietnam - Laos Strengthen Cooperation in Economy and Transportation
At a recent talk, businesses of the two countries highlighted the advantages and disadvantages in the investment process in each country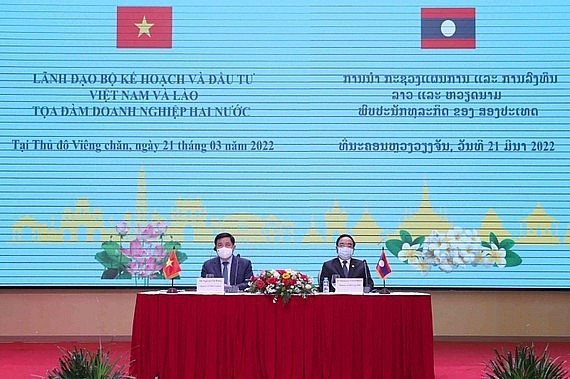 Vietnamese Minister of Planning and Investment Nguyen Chi Dung, and Laotian Minister of Planning and Investment Khamjane Vongphosy hosted the event. (Photo: Ministry of Planning and Investment)
A Vietnam - Laos business seminar took place in Vientiane, Laos on March 21 to boost investment projects, particularly those of Vietnamese enterprises in Laos.
The seminar attracted hundreds of enterprises from both countries, including many large private corporations. It was chaired by the Vietnamese Minister of Planning and Investment, Chairman of the Vietnam - Laos Cooperation Committee Nguyen Chi Dung, and Laotian Minister of Planning and Investment, Chairman of Laos - Vietnam Cooperation Committee Khamjane Vongphosy.
Minister Nguyen Chi Dung said the event aimed to implement the conclusion that the general secretaries of Vietnam and Laos reached at the meeting of the two countries' politburos on January 1, 2022. The conclusion focuses on strengthening and promoting the great friendship, special solidarity, and comprehensive cooperation between the two countries. It concentrates on promoting effective economic cooperation and connecting the two economies towards the 60th anniversary of diplomatic relations (September 5, 1962 - September 5, 2022) and the 45th anniversary of the Vietnam - Laos Treaty of Friendship and Cooperation (July 18, 1977 - July 18, 2022).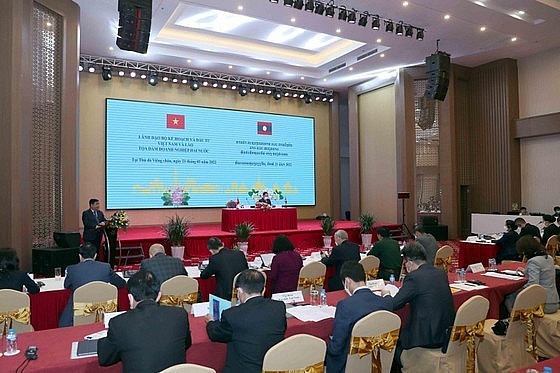 Delegates at the talk. (Photo: Ministry of Planning and Investment)
Minister Dung said many investment projects were effectively operating in Laos by Vietnamese enterprises, making positive contributions to socio-economic development, creating jobs, and raising incomes for thousands of people. Thanks to such projects, revenue for the Lao state budget is increased, especially in the fields of telecommunications, banking, rubber plantation and processing, food production and processing, and dairy. It is estimated that the contribution of tax and other financial obligations of Vietnamese enterprises to the Lao government in the last 5 years has reached more than USD 1 billion.
Businesses highlighted the advantages and disadvantages of the investment process in each country. They proposed solutions for both governments further improve the investment environment.
Minister Nguyen Chi Dung appreciated the discussion and recommendations. He said he is delighted to witness enterprises discuss and sign agreements, invest in large-scale and strategic projects in the coming time.
During the event, the two sides witnessed the signing of important agreements such as an agreement on the construction of the Vientiane - Vung Ang railway between FLC Group and Petroleum Trading Lao Public Company, an agreement on investment and development of energy projects along the Vietnam-Laos border between T&T Group and Phongsubthavy Group.
Laos Media: Vietnam Relations Prospering

Major newspapers, radio and television broadcasts from local to central of Laos all reported on the preparations to celebrate the Year of Solidarity and Friendship ...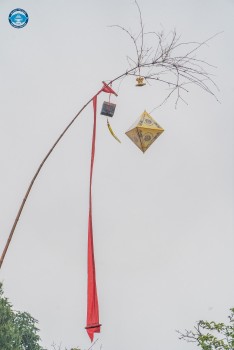 Viet's Home
In the past, the Neu pole (a tall bamboo pole with red garment strips used to ward off evil spirits during the lunar New Year) lowering ceremony at the royal palace of the Nguyen Dynasty was performed to mark the end of the New Year holiday and prepare to enter a new working year.