Vietnam Love Market: Khau Vai - Must-experience Heritage in Ha Giang
Khau Vai Love Market is a unique cultural practice of locals in Khau Vai commune in Meo Vac district, Ha Giang province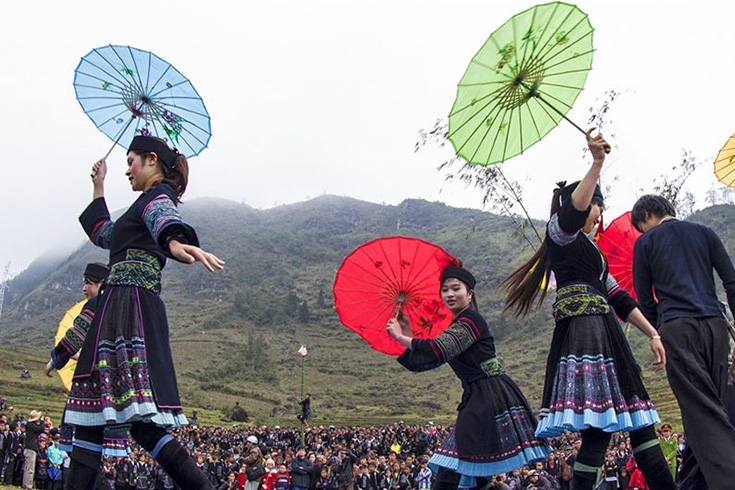 Black H'Mong girls are dancing at the Khau Vai Love Market. Photo: Vietnam Active Adventure
The New Intangible Cultural Heritage
The Social Practices and Beliefs of Phong Luu Khau Vai Market, or Khau Vai Love Market, in Khau Vai Commune, Meo Vac District, Ha Giang Province has become a new National Intangible Cultural Heritage of Vietnam, according to a decision of the Ministry of Culture, Sports and Tourism.
The legend of Khua Vai love market
The history of Phong Luu Khau Vai dates back around 100 years ago. Different from others in mountainous areas, the Khau Vai Love Market, which is held once a year, is not a place for traders gathering nor agricultural exchange but for ex-lovers to meet again, talk about their current living situation and warm up their lost feeling.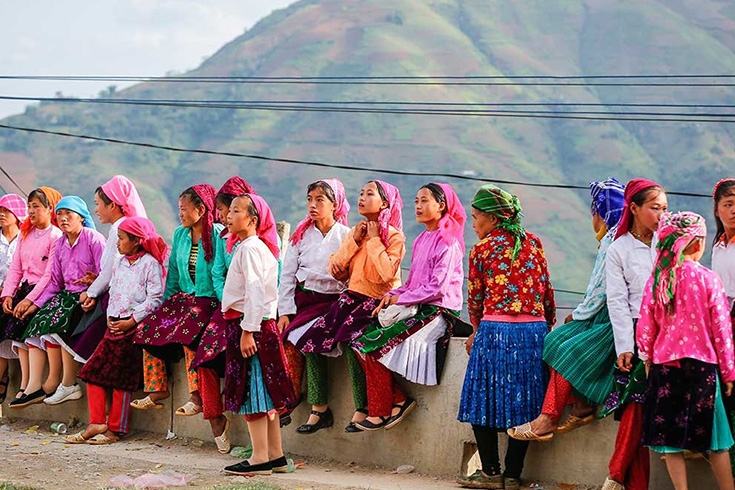 Photo: Vietnam Discovery
"Khau Vai Love Market is considered the only one of its kind in Vietnam. Together with Dong Van Karst Plateau Geopark, the funky market is held to promote the tourism industry of the province and eliminate poverty step by step," said the organizer of Khau Vai Love Market and Vice Chairman of Ha Giang Provincial People's Committee Tran Duc Quy.
Legend has it that the Khau Vai Love Market emanated from the love story between a Hmong boy and a Giay girl that sparked a grudge between the two ethnic groups. In order to avoid bloody confrontations, they were forced to be away from each other. However, the couple vowed that they would meet once a year at Khau Vai Market.
Today, the one-in-a-year meet-up became the dating fair, for young people to find love and married couples to freshen their feelings, as reported by VOV.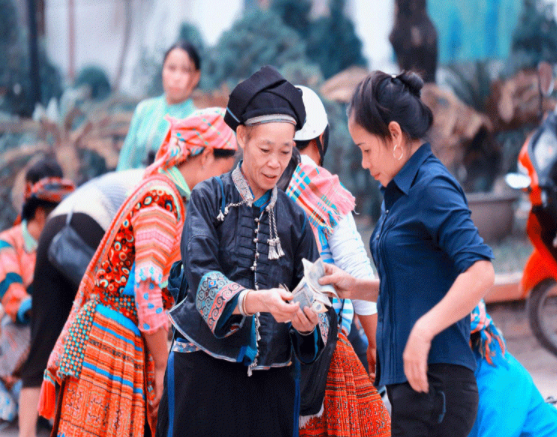 Women exchange money at the love market. Photo: Trekking Ha Giang
The market usually takes place in three days from the 26th to the 28th on the third month of the lunar calendar. On the 26th, there is a ceremony about the coming crops with everyone praying for a good harvest. Afterward, everyone leaves to the vicinity of a pagoda for dancing, food, and drink, and playing traditional games. The second day is all about cooking rice and searching for happiness. The final act of the Market is washing the Buddha's statue.
Many cultural activities, performances of folk art and games are also organized in the market, including the dance of drums of the Giay ethnic group; the weaving of lanh cloth of the Hmong; flute making and horse riding; performance of folk songs from the Giay ethnic group; black pig race and Giay cake pounding competition.
Visitors will also have chances to taste traditional specialties such as maize wine, mint-fragrant honey, smoked pork, goat hot pot, and wear the costumes of the ethnic minority women.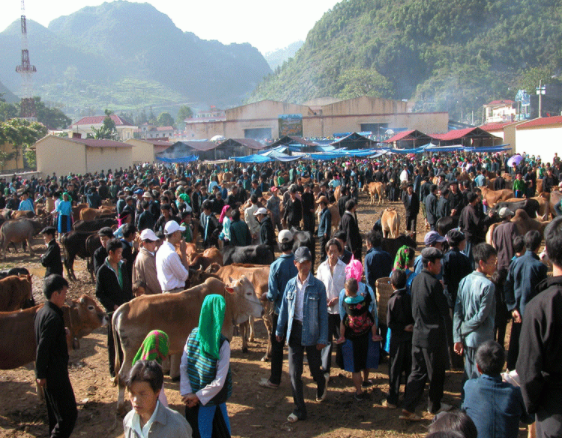 The love market attracts many people. Photo: Trekking Ha Giang
Activities of Khau Vai love market festival
The first day of the market session is for the ceremony to turn into the new calendar period. On this day, at a selected hour, people take a bath and put on their best clothes in anticipation of the New Year. They bring incense, lamps, flowers, and fruits to a pagoda where they join the great calendar-receiving ceremony.
Then the official ceremony is carried out inside the sanctuary. After that, every participant prays to Buddha and chant prayers for a happy new year. Young people walk out to the pagoda yard and join fun activities till late at night.
The second day is for the ceremony to offer boiled rice and heap up a sandy mountain. Every Khmer family cooks rice and offers it to Buddhist monks at the pagoda in the early morning and at noon.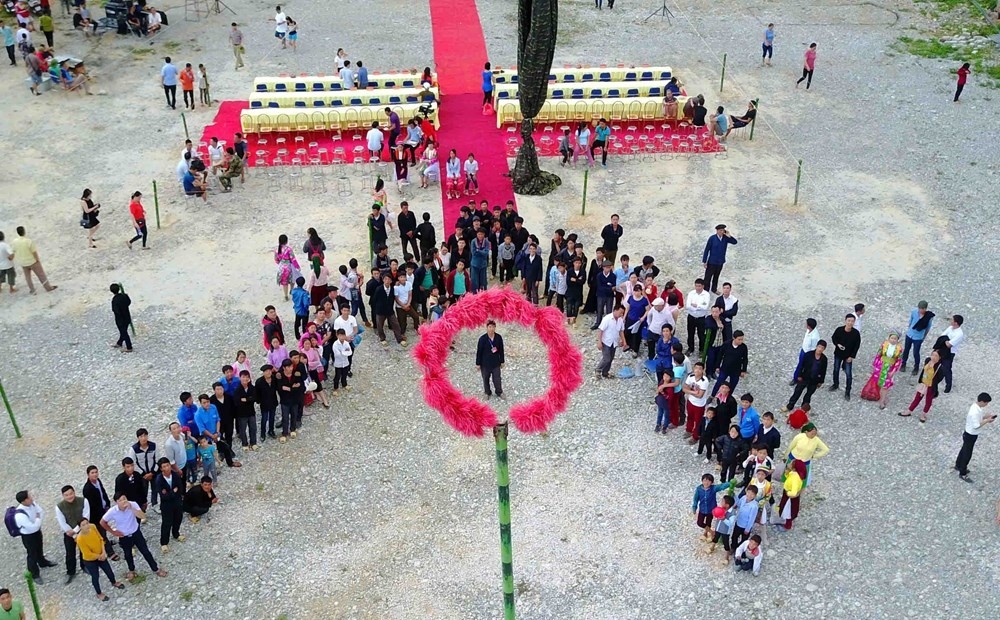 Going to the festival, visitors are offered a chance to enjoy art performances and participate in various folk games. Photo: Vietnamnet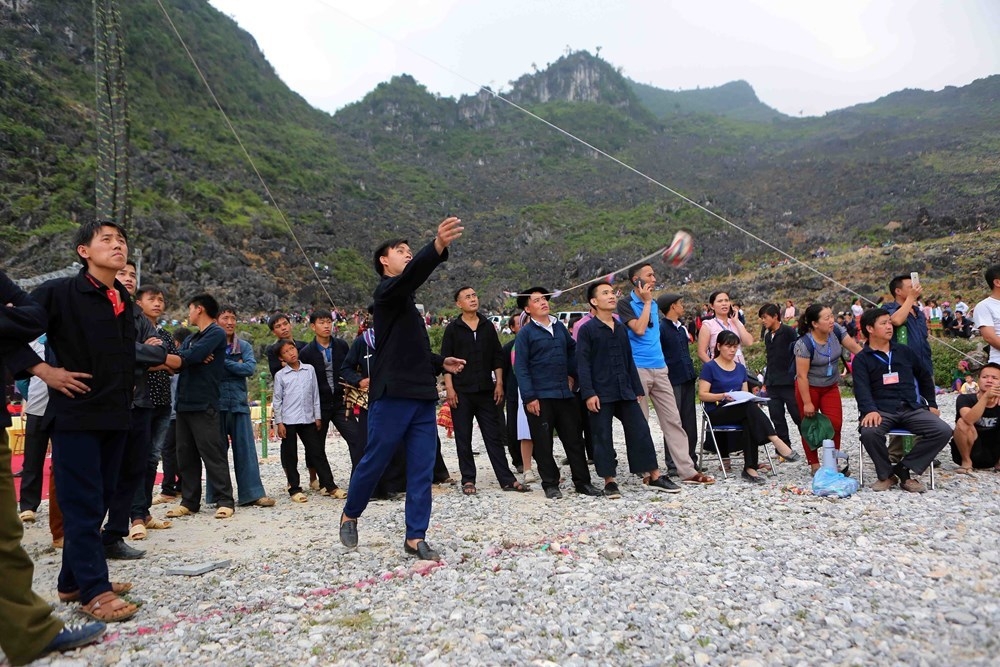 Photo: Vietnamnet
In the afternoon, people start to heap up a sandy mountain for seeking happiness and luck. They make small mountains in eight directions and one in the middle reflects the universe. This custom originates from an age-old legend. It displays people's aspirations for rain.
On the third day of the market, there comes the ceremony to wash the Buddha's statue and Buddhist monks. In the afternoon, they burn incense, offer sacrifices and use scented water to wash the statue in order to pay tribute and gratitude to the Buddha. This is also to get rid of the old year's misfortunes and wish all the best for the New Year.
After that, people return to their house and wash the Buddha's statue at home. They offer dishes, confectionery and fruits to ask for happiness for their parents and grandparents and being forgiven for their mistakes made in the previous year, according to Vietnam Discovery.
Photo: Vietnamnet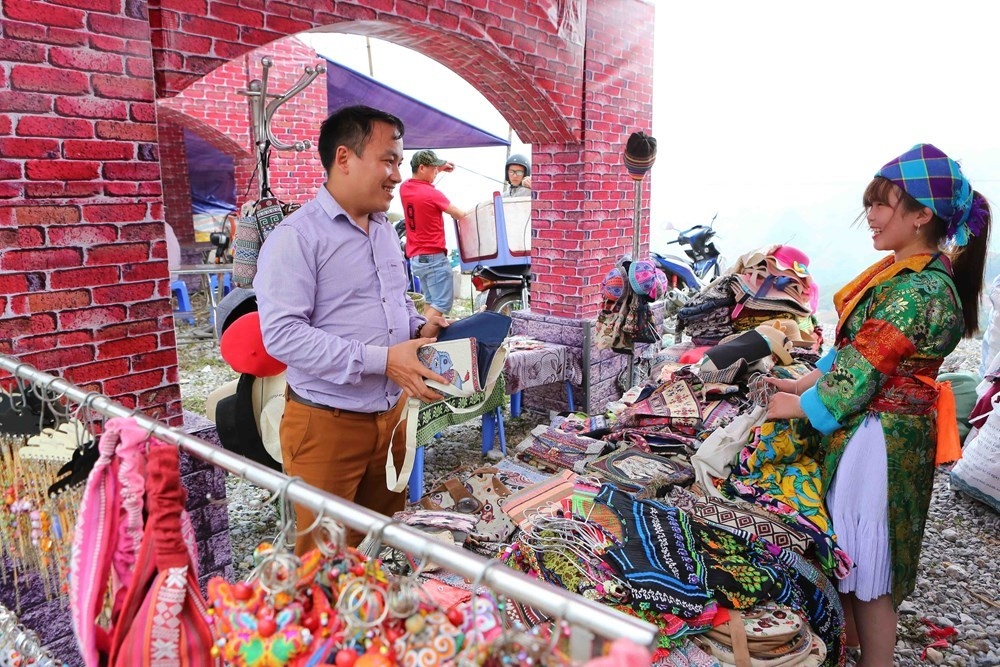 Photo: Vietnamnet
How to get there?
If you are staying in Hanoi, it is better to start your journey through the Red Delta region. Turn into Quan Ba district. The roads may be a little bit sweeping so you need to be careful. Next, cross Ma Pi Leng Pass and you will reach Meo Vac. Follow the signposts on the roads or stop for asking the local people, you will get to Khau Vai Market.
What to Eat?
When coming to Khai Vai Market in Ha Giang, you will have a chance to enjoy a number of delicious food such as Au tau porridge, grilled alga, steamed egg rolls, buckwheat cake, carried-under-arm pork and so on. You can easily find these kinds of cuisine in any food stalls here.
Where to Stay?
Ha Giang province owns a wide range of different hotels, motels or homestays for tourists to stay. Here are some suggestions for you.
Lila Inn Hotel
Location: 113 Nguyen Trai, Ha Giang, Vietnam
Tel: 093 913 7306
NoMadders Hotel
Location: Pho Quang, Vi Xuyen, Ha Giang
Tel: 0398 635 369
Maison Teahouse Homestay
Location: Phuong Do, Ha Giang
Tel: 0865 133 885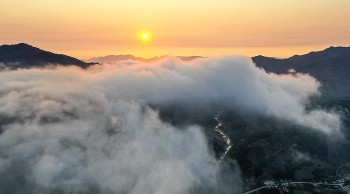 Multimedia
The gorgeous dawn behind a sea of fluffy white clouds creates a wonderful and beautiful picture of Truong Son Dong peak, Quang Ngai.