Vietnam News Today (Apr. 20): Fiala's Trip Provides Fresh Impetus to Vietnam – Czechia Relations
Vietnam News Today (Apr. 20): Fiala's trip provides fresh impetus to Vietnam – Czechia relations; UNESCO official hails Vietnam's role in protecting intangible cultural heritages ; Hanoi takes quick COVID-19 prevention measures as infections rise; Vietnam, Australia promote trade, tourism exchange.
Vietnam News Today (Apr. 20) notable headlines
Fiala's trip provides fresh impetus to Vietnam – Czechia relations
UNESCO official hails Vietnam's role in protecting intangible cultural heritages
Hanoi takes quick COVID-19 prevention measures as infections rise
Vietnam, Australia promote trade, tourism exchange
Vietnam records biggest hike in EIU's global business environment ranking
Vietnam logs over 2,000 COVID-19 cases on April 19
Vietnam's first international marina put into pilot operation
Vietnamese, Cuban news agencies forge cooperation
Italy helps Vietnam improve statistical capacity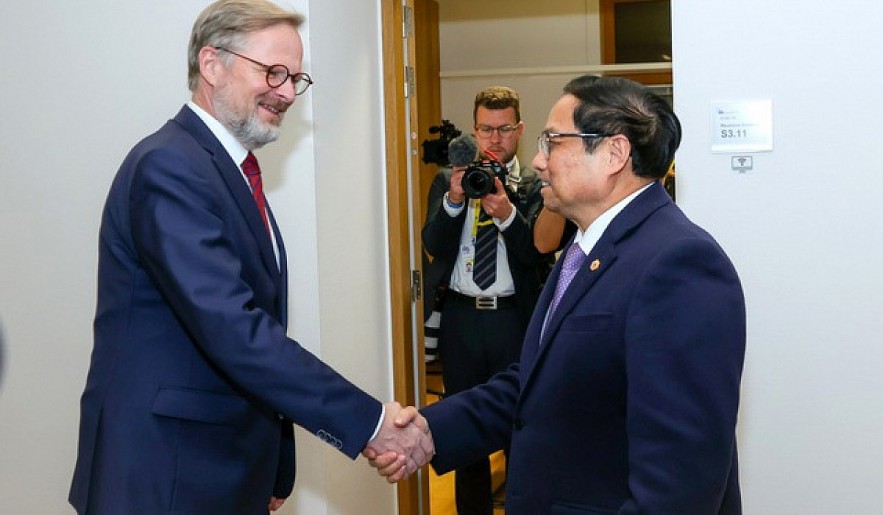 Czech Prime Minister Petr Fiala (L) meets with Vietnamese PM Pham Minh Chinh on the sidellines of the ASEAN-EU Commemorative Summit in Belgium, 2022. (Photo: VGP)
Fiala's trip provides fresh impetus to Vietnam – Czechia relations
Czech Republic Prime Minister Petr Fiala will pay an official visit to Vietnam from April 20 to 22 at the invitation of his Vietnamese counterpart Prime Minister Pham Minh Chinh.
This is Fiala's first Asian trip after he took office in late 2021, and is the first made by a Czech Government leader over the past 15 years.
The visit takes place at a time when the friendly and cooperative relations between the two countries are developing positively across various fields. Since the establishment of diplomatic ties in 1950, the former Czechoslovakia and now Czech Republic has prioritised strengthening multifaceted cooperation with Vietnam.
Both sides have maintained regular contacts at all levels, both physically and virtually. Most recently, Chinh met Fiala met on the sidelines of the ASEAN–EU Commemorative Summit in Belgium in December, 2022. Previously, the PM of the two countries had a phone conversation in August 2021.
The two countries have signed 14 cooperation agreements across a number of fields, including employment, economics, trade, and aviation cooperation, along with an agreement relating to the avoidance of double taxation.
They have also closely coordinated at regional and international forums. The Czech Republic supported the Vietnamese UNSC non-permanent member bid for the 2020 - 2021 term. It was also one of the first EU member states to ratify the EU-Vietnam Free Trade Agreement (EVFTA) and the Vietnam-EU Investment Protection Agreement (EVIPA).
The two countries have maintained defence cooperation since they signed a memorandum of understanding in this field in 2012, cited VOV.
Bilateral trade has grown over recent years but is not commensurate with the two countries' potential. Last year witnessed their two-way trade turnover hit US$848 million, marking an increase of 15% year on year.
Vietnam exports goods such as coffee, pepper, fresh and dried fruits, peanuts, tea, rice, rubber, seafood, footwear, textiles, fine art handicrafts, and computer components to the Czech Republic. It imports electronics, machinery, chemicals, garments, leather, machinery and equipment, milk and dairy products, pharmaceuticals, mechanical engineering products, plastics, along with glass and crystal products from the central European country.
The Vietnam – Czech Republic Inter-Governmental Committee has convened seven meetings since its establishment in 2006. At the seventh session held in Prague in 2022, the Czech side expressed a desire to become either a comprehensive or strategic economic partner of Vietnam.
As of 2022, the Czech Republic had 41 foreign direct investment projects in Vietnam with a total registered capital of US$92 million. Its main investments focus on processing, manufacturing, and mining.
With regard to development cooperation, the Czech Republic was the first country in the former Eastern European bloc to provide official development assistance (ODA) to Vietnam. Since 2013, Vietnam has not been on the Czech Republic's ODA recipient list thanks to its own economic development achievements.
Education-training cooperation represents a pillar in bilateral ties. The two sides have encouraged their educational institutions to establish partnerships and expand cooperation.
The Czech Republic has trained thousands of Vietnamese officials, engineers, and workers sent to the central European state under cooperation agreements in the past. It granted scholarships and received Vietnamese students to study in the 1999 to 2014 period.
To deal with labour shortages, the Czech Republic has received skilled guest workers, including those from Vietnam, especially in the healthcare sector. In addition, it has established vocational training institutions to support Vietnamese workers in improving their skills in fields such as mechanical engineering and the automobile industry to supplement its skilled workforce.
There are approximately 100,000 Vietnamese nationals living, working, and studying in the central European nation. Vietnamese expatriates are highly appreciated by the Czech Government due for their practical contributions to local society.
During Fiala's visit, the two sides are expected to outline orientations for future co-operation in potential areas such as economics, trade, investment, energy, environment, automobile assembly, as well as the effective implementation of the EVFTA.
UNESCO official hails Vietnam's role in protecting intangible cultural heritages
Vietnam has played an active role in implementing the Convention for the Safeguarding of the Intangible Cultural Heritage (2003 Convention) in both international and national scales, stated Chief of the Intangible Cultural Heritage Section of UNESCO and Secretary of the 2003 Convention Tim Curtis.
Curtis said that Vietnam is currently home to 15 recognised intangible heritages and the first country to switch some heritages from the list of urgent protection to the list of the common heritage of the humanity.
The country has also showed its active role through its engagement in the Intergovernmental Committee for the Safeguarding of the Intangible Cultural Heritage twice.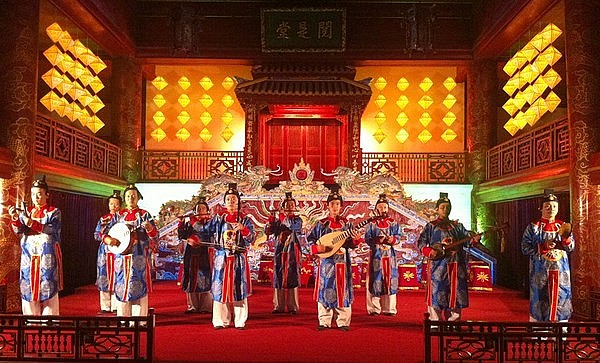 A performance of Hue court music, a UNESCO-recognised world intangible cultural heritage (Photo: thethaovanhoa.vn)
Vietnam has supplemented the Cultural Heritage Law 2009 with a number of new cultural policies, including the recognition of intangible cultural heritage, according to VNA.
Currently in Vietnam, intangible cultural heritages are recognised not only in national policies but also by all regions, all localities and all ethnic groups, he said, hailing Vietnam's strong efforts in the work.
Vietnam has been aware of the role of culture in the sustainable development and has put culture at a high position in its national development policy, he stated, underlining that this is an important message that the country is spreading.
According to Curtis, the 2003 Convention, which has taken effect for 20 years, has been ratified by 181 UNESCO member countries, showing that the convention is meaningful for all.
Regarding measures that Vietnam should take to protect its intangible cultural heritages, Curtis said that the protection of intangible cultural heritage takes place through the transfer between generations which must ensure its continuity.
It is necessary to design new mechanism, while working with communities and integrating knowledge on heritage into education and paying more attention to young people, as they are the person who will transfer the knowledge to future generations, he said.
Overall, the protection of intangible cultural heritage should aim at achieving sustainable development goals either in agriculture, education or poverty reduction, he said, adding that intangible cultural heritage matters should also be integrated into development policies. Vietnam has so far shown strong performance in the work and should continue to follow this direction, he stated.
Hanoi takes quick COVID-19 prevention measures as infections rise
The Hanoi administration has asked relevant departments and agencies to strengthen COVID-19 prevention and control efforts amid a recent spike in infections.
In an urgent dispatch dated April 14, the municipal administration requested that designated units maintain a close watch on ongoing pandemic developments, develop response scenarios, and enhance communication campaigns, including those on vaccination and medical recommendations.
It asked the local medical sector to prepare all resources to receive and treat patients in case a new outbreak occurs.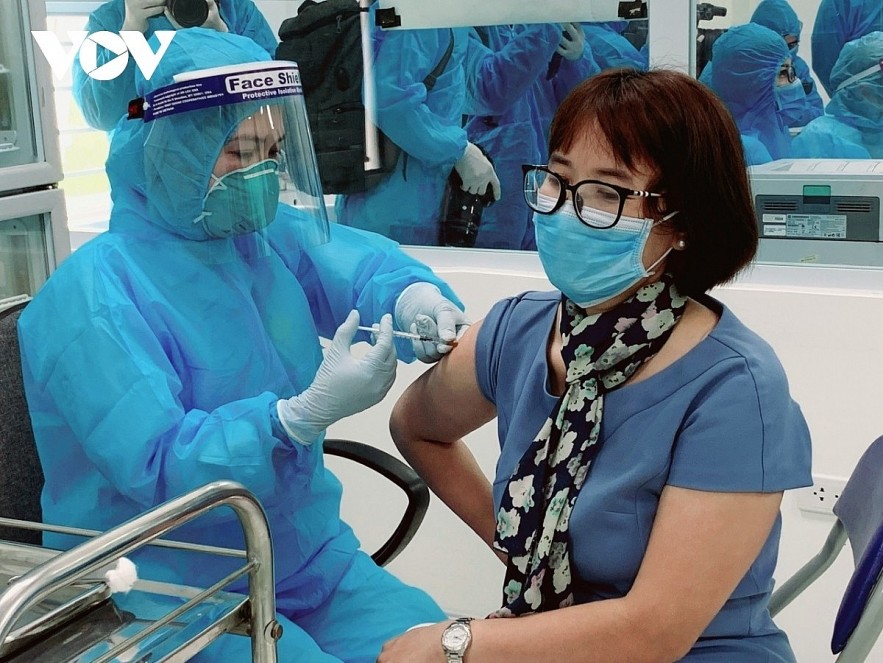 A medical worker gives a booster shot to a woman in Hanoi
According to the Hanoi Centre for Diseases Prevention and Control (CDC), the city detected 497 coronavirus cases between April 7 to April 14, representing a sevenfold rise from the previous week.
The centre on April 17 took 10 samples and sent them to Bach Mai hospital for genome sequencing in order to find out new variants of the SARS-CoV-2 virus.
Currently, there are a total of 566 COVID-19 cases being treated in the capital, including two severe cases which require mechanical ventilation, reported VOV.
Experts say the COVID-19 pandemic is evolving in a complex manner globally, with the virus mutating constantly that increases infection risks. In Hanoi, the number of COVID-19 infections has increased considerably over the past days and may keep rising in the coming days, especially when people enjoy a five-day break, starting on April 29.
Elsewhere, Vietnam reported a total of 3,325 new COVID-19 cases from April 10 to 16, the highest figure in a week since the beginning of the year.
Despite the rise, health experts played down public concern about a possible outbreak of COVID-19 and said the situation is under control.
They advised people to abide by medical recommendations, including wearing a facemask and taking disinfection practice in public places, along with getting additional vaccine shots.
Vietnam, Australia promote trade, tourism exchange
A Vietnam-Australia trade and tourism promotion conference was held by Vietnam Airlines, Thien Minh Group and Vinpearl JSC in Sydney on April 19, drawing a large number of Australian businesses and travel firms from different Australian localities.
Addressing the event, Vietnamese Consul General in New South Wales, South Australia and Queensland Nguyen Dang Thang said that right after Vietnam and Australia reopened their doors one year ago, the number of tourists travelling the two countries has continuously increased.
Statistics from the General Statistics Office of Vietnam showed that Vietnam welcomed 3.66 million foreign visitors in 2022 and 3 million in the first quarter of this year, of whom 85% arrived by air, cited VNA.
According to Australian Bureau of Statistics (ABS), Vietnam is among the top 10 favourite destinations for Australian tourists.
Currently, Vietnam Airlines is operating direct air routes to the majority of the other nine destinations like the UK, India, the US, and Indonesia, he noted.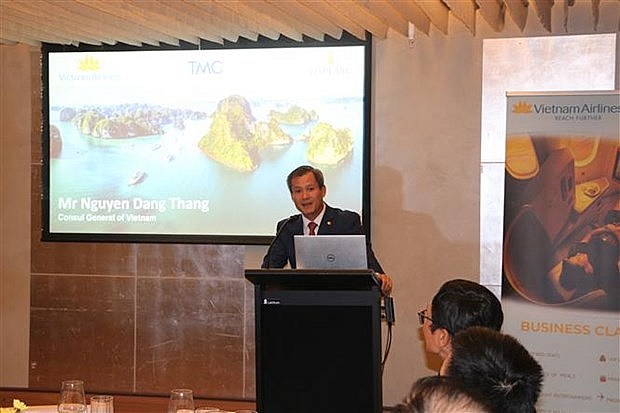 Vietnamese Consul General in New South Wales, South Australia and Queensland Nguyen Dang Thang addresses the event (Photo: VNA)
Nguyen Huu Tung, chief representative of Vietnam Airlines in Australia, said that the airlines is operating 16 flights between Vietnam and Australia each week. Particularly, the Hanoi-Melbourne route will be officially launched from June 15 with two flights per week, making it easier for Australian visitors to explore northern tourist destinations of Vietnam and transit to other countries such as Germany, France, the UK, the Republic of Korea, and Japan.
Participants at the event agreed that Vietnam has great tourism potential and is a good choice for Australian tourists.
Many Australian travel firms said that Australian tourists are increasingly interested in Vietnam and tend to choose the Southeast Asian country for their future vacations.
Yvonne Chapple from Flight Centre said that the firm has received many requests from its customers for Vietnamese tourism information, especially destinations in the north.
Chapple held that although Thailand and Bali (Indonesia) have received the largest bookings, Vietnam has still been among the top five most popular Asia destinations chosen by Australian visitors.
Vietnam records biggest hike in EIU's global business environment ranking
Vietnam jumped 12 positions in the latest Global Business Environment Rankings for the second quarter of this year released by the Economist Intelligence Unit (EIU) under the UK's Economist Group.
The rankings, which measure the attractiveness of doing business in 82 countries and economies globally, showed Viet Nam witnessed the largest improvement in the business environment in the past year, followed by Thailand (10 places) and Belgium (six places).
The assessment is based on data collected throughout the year, considering factors such as global economic chains, inflation, cost of living, fiscal and monetary policy and economic growth, VNS reported.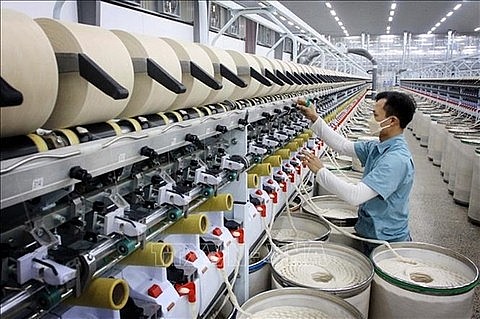 Yarn production at Logitex Co Ltd in Thai Binh Province. Viet Nam moved fastest in the EIU's Global Business Environment Rankings. Photo: VNS
Vietnam's rise was attributed to its favourable policies for foreign investment and its status as an appealing alternative market for firms pursuing a China+1 policy with supply chains in China and other Asian markets.
The country's GDP exceeded US$400 billion for the first time in 2022, expanding by over 8 per cent and its foreign direct investment (FDI) capital increased by 13.7 per cent. The country's constant inflow of FDI, robust industrial sector and revival of international tourism are expected to sustain Viet Nam's GDP target of 6.5 per cent this year.
In the 2023 EIU rankings, Singapore retained its position as the world's best place to do business for the 15th consecutive year and will continue to be the best place to conduct business over the next five years.
Canada and Denmark shared second place.
Meanwhile, the countries that were most significantly downgraded include China, Bahrain, Chile, and Slovakia. China has the deepest drop globally, falling 11 places from a year earlier.