Vietnam News Today (Apr. 19): Vietnam's Economic Growth Driven by Good Recovery of Sectors
Vietnam News Today (Apr. 19): Vietnam records 12,012 new Covid-19 infections on April 18; Over 12,000 children vaccinated, no serious adverse reactions recorded; Vietnam's economic growth driven by good recovery of sectors; Culinary map showcasing 100 Vietnamese delicacies in the pipeline.
Vietnam News Today (Apr. 19) notable headlines
Vietnam records 12,012 new Covid-19 infections on April 18
Over 12,000 children vaccinated, no serious adverse reactions recorded
Vietnam's economic growth driven by good recovery of sectors: WB
Culinary map showcasing 100 Vietnamese delicacies in the pipeline
Vietnam pushes for cashless payment in post-pandemic period
Aviation sector helps sustainable tourism take off
New products launched in Da Nang to recover tourism post-pandemic
Prime Minister checks preparations for 31st SEA Games
VN-RoK friendly deemed opportunity to test players prior to SEA Games 31: coach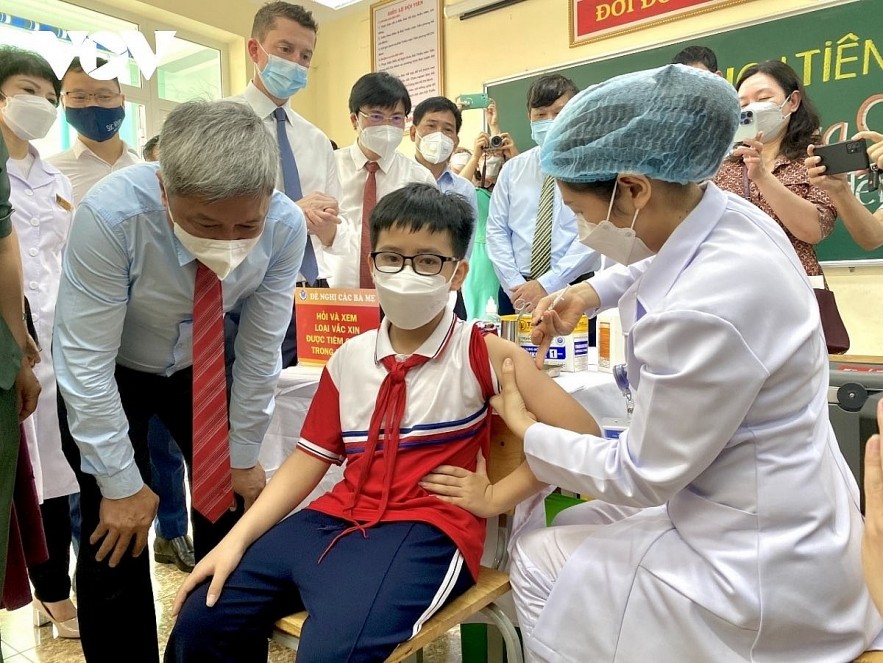 The national vaccination campaign for children aged 5 to 12 is getting underway in Vietnam. Photo: VOV
Over 12,000 children vaccinated, no serious adverse reactions recorded
As many as 12,414 children aged from 5 to under 12 years have been given their first vaccine shot against Covid-19 since the campaign was launched in Vietnam last week.
Quang Ninh, Hanoi, Ho Chi Minh City and Ha Nam are the first four localities that are carrying out the campaign.
The vaccination has been conducted in an orderly manner and no serious adverse reactions have been recorded, reported the Ministry of Health.
Other localities are set to vaccine their children this week, using the Moderna Covid-19 vaccine donated by the Australian government.
According to Deputy Minister of Health Nguyen Truong Son, vaccinating children aged 5-12 is an important task of the health sector in 2022. Vaccination is an effective way to better protect children from virus infections, helping to reduce transmission of the virus between generations in families and between teachers and pupils at school, cited VOV.
The ministry has asked for a permission from the Prime Minister to purchase vaccine and receive vaccine donations from international organizations such as the US Agency for International Development (USAID) and COVAX Facility, as well as from other countries.
The Australian Government has decided to donated approximately 7 million doses of the vaccine for children of this age group, and the first batch of more than 900,000 doses arrived in Vietnam on April 9.
Currently, 53 countries and territories worldwide have been vaccinating children aged 5-12 years.
Vietnam records 12,012 new Covid-19 infections on April 18
Vietnam on April 18 announced 12,012 new infections of Covid-19, including one imported cases, the lowest since February 4.
In Hanoi, 1,109 new infections were detected, with the capital still having the most cases nationwide.
It was followed by the northern provinces of Yen Bai and Phu Tho, with 715 and 700 cases, respectively.
The national tally has now reached 10,475,819 since the pandemic began.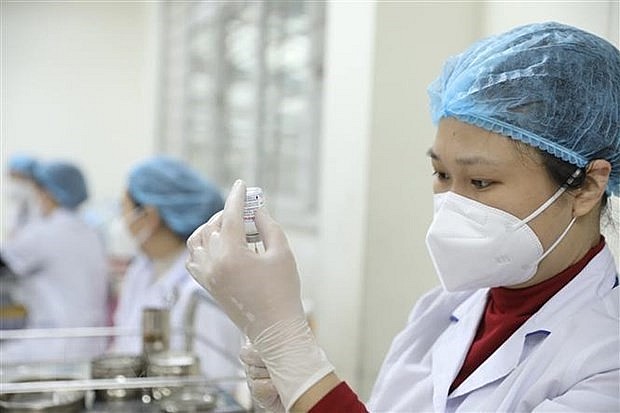 A nurse prepares to inject a COVID-19 vaccine jab. Photo: VNA
As many as 4,218 patients were given the all-clear, bringing the total number of recoveries to 8,941,064 so far.
There are currently 1,008 patients in serious conditions, reported VNA.
An additional 13 coronavirus-related deaths were recorded on the day, taking the total number of fatalities to 42,957, or 0.4 percent of the total caseload.
The country had administered 209,638,138 doses of Covid-19 vaccines so far, including more than 192.3 million for adults, more than 17.2 million for those aged 12-17, and more than 19,500 for children aged 5 to 11.
Vietnam's economic growth driven by good recovery of sectors: WB
Vietnam's economic growth in the first quarter of 2022 was consolidated thanks to the solid performance of export-oriented manufacturing and recovering service sector, according to the Vietnam Macro Monitoring report recently released by World Bank.The country's GDP grew by 5.0 percent year-on-year in Q1-2022, comparable to the growth rate in Q4-2021, yet still two percentage points below pre-pandemic rates.
Industry and construction and services sectors grew 6.4 percent year-on-year and 4.6 percent year-on-year, respectively, contributing 4.3 percentage points to quarterly GDP growth. Growth of industry and construction was driven by strong external demand for manufactured products, while services sector performance varied across sub-sector. Finance, banking and insurance, and information and telecommunications have been exceptionally resilient over the past two years and maintained solid growth. On the other hand, accommodation and catering services were 1.8 percent lower than a year ago, and well below their pre-pandemic level, the report pointed out, according to VNA.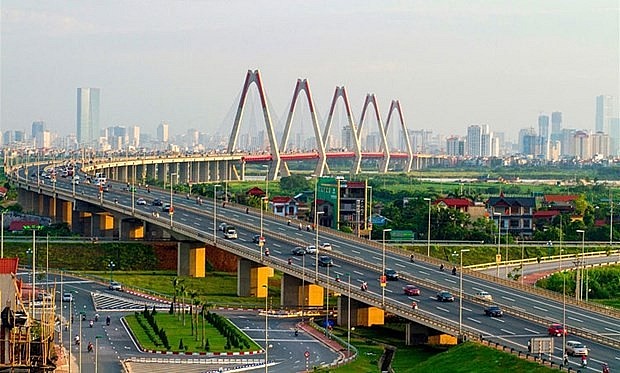 Vietnam's GDP grows by 5.0 percent year-on-year in Q1-2022. Photo: VNA
Industrial production index grew by 8.5 percent year-on-year in March, comparable to pre-pandemic rates, while retail sales growth accelerated from 4.1 percent in February to 9.4 percent, the second-highest growth rate since the onset of the Covid-19 pandemic. This rebound is partly due to the post-pandemic resumption of economic activities and was driven by a 10.7 percent growth in the sales of goods.
The merchandise trade balance posted a surplus of US$1.4 billion in March, while registered and disbursed foreign direct investment (FDI) remained stable amid global uncertainties related to the Russia-Ukraine conflict.
The Consumer Price Index (CPI) increased by 2.4 percent (y/y) in March, compared to 1.4 percent in February. This is the highest inflation rate in seven months but remains well below the 4.0 percent target.
According to the World Bank, rising consumer and producer prices warrant close monitoring of domestic price developments as rising inflation would affect the recovery of domestic consumption and economic growth. While CPI increases have been subdued in 2021 due partly to slack in aggregate demand, accumulated increases in intermediate and producer price index in the last three quarters could impact production decisions and translate into higher consumer prices, especially food prices.
In the short run, the bank said, targeted policy intervention to alleviate the impact of the price hikes on the general population, and especially on the most vulnerable is recommended. The temporary petroleum tax reduction recently introduced by the authorities is one such short-term measure. In the medium term, other measures would include a more targeted, effective, and responsive social protection system that would help build resilience to shocks in the economy. If price increases persist, the economy should be allowed to adjust to the price changes.
The authorities should consider structural reforms to help the economy become more productive and increase aggregate supply. These would include tax breaks for productive and innovative investments, reducing barriers to doing business and logistics costs and investing in the education and technical training of the workforce, said World Bank.
Culinary map showcasing 100 Vietnamese delicacies in the pipeline
The Vietnam Culinary Culture Association (VCCA) has launched a program aimed at searching for 100 typical Vietnamese dishes in order to establish a digitized culinary map of local delicacies in the future.
La Quoc Khanh, vice president of the VCCA, said the initial stage will focus on developing a list of 100 delicacies from the north, central, and southern regions of the country.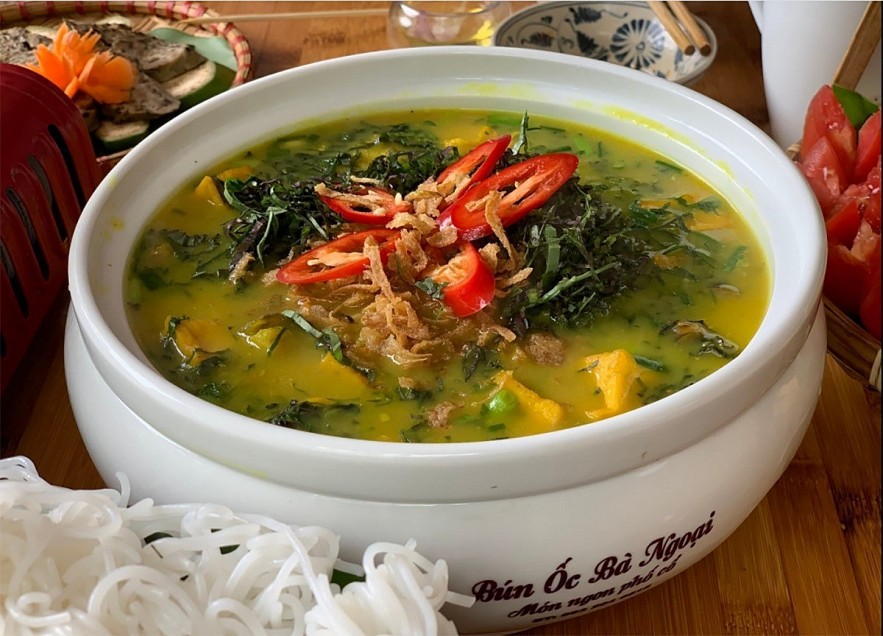 Oc nau chuoi dau (snail soup with green banana) is one of 100 typical Vietnamese dishes. Photo: thanhnien.vn
A survey was duly conducted in order to compile a list of typical dishes from five northern localities, including Nam Dinh, Ha Nam, Thai Nguyen, Phu Tho, and Hanoi at the end of March, with this stage involving the participation of several artisans, Khanh added.
He revealed that ahead in 2023 the VCCA plans to introduce 1,000 local delicacies, whilst also establishing a data warehouse to create a map of Vietnamese cuisine, reported VOV.
Dr. Nguyen Thu Thuy of Hanoi-based Vietnam National University emphasized the need to utilize the project to introduce Vietnamese cuisine and attract additional tourists to the nation.
Although Vietnamese cuisine is good, no one has been willing to popularize it professionally, said Dr. Thuy.
Vietnam pushes for cashless payment in the post-pandemic period
In the wake of the Covid-19 pandemic, the shopping habits of Vietnamese consumers have changed remarkably, with more and more adopting cashless payment, a significant step toward a cashless society.
Today instead of cash, consumers are turning to more practical methods such as chip-mounted bank cards, QR code payment, electronic wallets, and mobile banking apps.
According to Le Van Tuyen, deputy head of payment at the State Bank of Vietnam (SBV), payment activities of people and organizations, especially young people have reached the global technological standards. Electronic payment methods combined with advanced encryption and authentication solutions are making them increasingly safe and secure.
Notably, recent years have seen a strong push for electronic payment in the government's delivery of public services, in which one of the important solutions was the launch of the National Public Service Portal in 2019. Many public services are now available on the portal, providing convenience and swiftness for people.
According to the Deputy Director of Napas, which links payment systems in Vietnam, the company has completed connecting the payment infrastructure with 48 localities and 15 government agencies to provide online payment services for five groups of public services on the portal.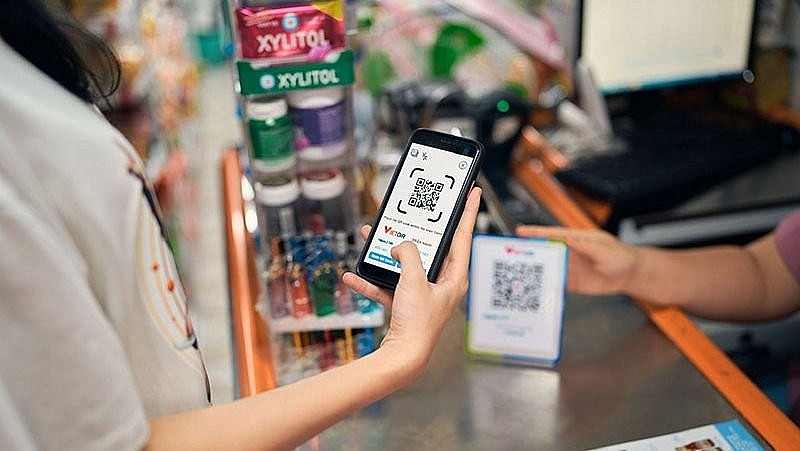 QR code payment is becoming more and more popular in Vietnam. Photo: Quynh Anh
To promote cashless payment in Vietnam, the SBV has taken various measures, one of which is finetuning the legal framework, mechanism, and policy. Under the central bank's digital transformation plan, Vietnam aims to develop the model of digital banks to increase service offerings, enhance customer experience and realize the goals of financial inclusion.
To encourage customers to engage in more cashless payment activities, it is also necessary to focus on risk management. The standards of Vietnamese banks are now similar to international standards, so the task of risk prevention and security must come first to ensure the rapid and sustainable development of the payment market, cited NDO.
Banks must meet global security standards and strictly comply with international regulations, especially in preventing card forgery when international travel rebounds following Vietnam's full opening.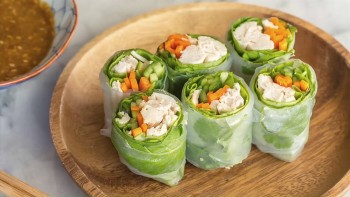 Travel
Rolls are a easy-to-make dish that is loved by many Vietnamese diners as well as Korean stars.