Vietnam News Today (Apr. 9): Fresh Impetus to Vietnam – Laos Relations
Vietnam News Today (Apr. 9): US holds important position in Vietnam's foreign policy, says PM; Exports-imports via Lao Cai border gate thrive in Q1; Fresh impetus to Vietnam – Laos relations; Lonely Planet highlights five best experiences during Vietnam trip.
Vietnam News Today (Apr. 9) notable headline
US holds important position in Vietnam's foreign policy, says PM
Exports-imports via Lao Cai border gate thrive in Q1
Fresh impetus to Vietnam – Laos relations
Lonely Planet highlights five best experiences during Vietnam trip
Vietnam to inspect TikTok next month amid increase in harmful content
Vietnamese health ministry issues plan to ensure vaccine supply until 2030
Vietnam Festival in Japan underway
Vietnam's AI-based education robot to compete with ChatGPT
Vietnam eyes US$30 billion in food, food stuff exports annually
Prime Minister Pham Minh Chinh (R) welcomes Senator Jeff Merkley and other US Congressmen to Vietnam on a fact-finding trip. (Photo: VGP)
US holds important position in Vietnam's foreign policy, says PM
Vietnam always considers the United States as one of the most important partners in its foreign policy, Prime Minister Pham Minh Chinh told US congressmen in Hanoi on April 8.
At the reception, Chinh said he was delighted at the positive development of the Vietnam – US partnership over the years, in which economic - trade cooperation is a key pillar. He highly appreciated the US Government and political circle's support for a strong, prosperous, self-sufficient and independent Vietnam.
He recalled the success of the recent phone talks between Vietnamese Party General Secretary Nguyen Phu Trong and US President Joe Biden, and said Vietnam is willing to work with the United States to continue promoting bilateral relations in respect of each other's independence, sovereignty, territorial integrity and political institutions, meeting the interests of the two peoples and contributing to peace, stability, cooperation and development in the region and beyond.
Vietnam wishes to elevate its comprehensive partnership with the US on the basis of mutual benefits, he told US senators.
He proposed that the US Congress continues to allocate budget to support Vietnam in overcoming war consequences, including landmine clearing and Agent Orange/dioxin related issues.
He also proposed that the US Congress continue to support the two Governments in effectively deploying cooperation initiatives in the fields of trade – investment, defence security, education – training, science - technology, innovation, energy transition, and climate change response.
Senator Jeff Merkley and other Congressmen affirmed that the US Congress considers Vietnam one of its most important partners in the region.
They underlined the importance of promoting exchanges and contacts between the Governments and legislatures of the two countries, especially when both countries are celebrating 10 years of their comprehensive partnership this year in 2023, as well as maintaining the bipartisan consensus of the US for relations with Vietnam.
They stressed that the US would continue to support Vietnam in areas of mutual benefit, and wished the US and Vietnam would upgrade their relations to a strategic partnership soon.
The US Congressmen said that the US would focus on addressing war consequences, including assistance to war victims, landmine clearance, dioxin decontamination, and search for missing soldiers, along with climate change adaptation, investment – trade promotion, and energy transition, cited VOV.
The US will continue to create favourable conditions for Vietnamese expatriates to live, work and study stably in the country, they assured the PM.
Exchanging views about regional and international issues of mutual concern, both host and guests agreed that the two sides have cooperated more and more effectively within the framework of multilateral institutions, especially in ASEAN, and related regional mechanisms. They voiced their support for the central role of ASEAN, the ASEAN-US Comprehensive Strategic Partnership, and the Mekong-US Partnership.
The US side asked Vietnam to support the US in strengthening responsible cooperation with the Asia-Pacific region, making positive contributions to peace, stability, cooperation and development in the region and the world.
The congressmen requested that Vietnam support the US in strengthening cooperation with the Asia-Pacific region, making positive contributions to peace, stability, cooperation and development in the region and beyond.
With regard to the East Sea issue, the two sides affirmed their stance on the maintenance of freedom and safety of navigation and aviation, and peaceful settlement of disputes on the basis of international law, the 1982 UN Convention on the Law of the Sea (UNCLOS). They voiced support for fully and effective implementation of the Declaration on the Conduct of Parties in the East Sea (DOC), while working towards an effective, substantive and consistent Code of Conduct (COC) in line with international law.
Senator Jeff Merkley is leading the US Congress delegation on a Vietnam visit. Other members of the delegation are Senator Chris Van Hollen, and Representatives Lloyd Doggett, Pramila Jayapal and Ilhan Omar.
They are scheduled to take part in activities in Hanoi, Ho Chi Minh City and some southern localities to promote the friendship and cooperation between the two countries in celebration of the 10th anniversary of the Vietnam – US Comprehensive Partnership (2013-2023).
Exports-imports via Lao Cai border gate thrive in Q1
Export-import activities via Lao Cai border gate in the northern border province of Lao Cai thrived in the first quarter this year, reaching nearly 186 million USD, reported the local customs agency.
Specifically, the value of exports reached 92.4 million USD, up 90.1% annually while that of imports rose by 15.2% year-on-year to 93.2 million USD.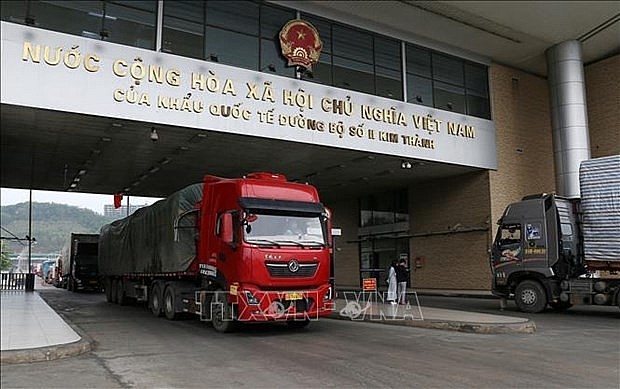 Illustrative image (Photo: VNA)
Among exports going through Lao Cai border gate, farm produce still accounted for the majority, with a value of over 71 million USD, up 63.2% annually and accounting for 76.8% of the total export turnover. The main export items include dragon fruit, banana, rambutan, watermelon, cassava, and mangosteen, according to VNA.
Vuong Chinh Quoc, head of the management board of Lao Cai Border Economic Zone, said there are 335 businesses operating in exports-imports through Lao Cai border gate at present, up 14 ones compared to 2022.
The board has also come up with plans to prepare all necessary warehouse, logistics and support facilities to create the most favorable conditions for businesses in the second quarter when several seasonal Vietnamese fruits like lychee and dragon fruit will be shipped to China, he added.
Fresh impetus to Vietnam – Laos relations
The upcoming State-level visit to Laos by President Vo Van Thuong is expected to give fresh impetus to the time-honoured Vietnam – Laos relations that have developed substantively over the years, says a Vietnamese diplomat.
Deputy Foreign Minister Do Hung Viet told the media on April 7 that Vietnam and Laos are two close neighbours that have treasured a very special relationship built and nurtured by generations of leaders and people of the two countries throughout history. They have both stood side by side in the past struggle for national independence, as well as in the present-day cause of national construction and defense.
For the very special relationship, President Vo Van Thuong has chosen Laos as the first country to visit in his new position to reaffirm Vietnam's consistent policy of attaching great importance to and giving high priority to the great friendship, special solidarity and comprehensive cooperation between Vietnam and Laos, said Viet.
Amid the unpredictable and complicated developments regionally and globally, the President's visit also shows Vietnam's strong and comprehensive support for Laos' renovation, socio-economic development and international integration, he said.
President Vo Van Thuong will pay an official visit to Laos on April 10-11 at the invitation of General Secretary of the Central Committee of the Lao People's Revolutionary Party, and President Thongloun Sisoulith.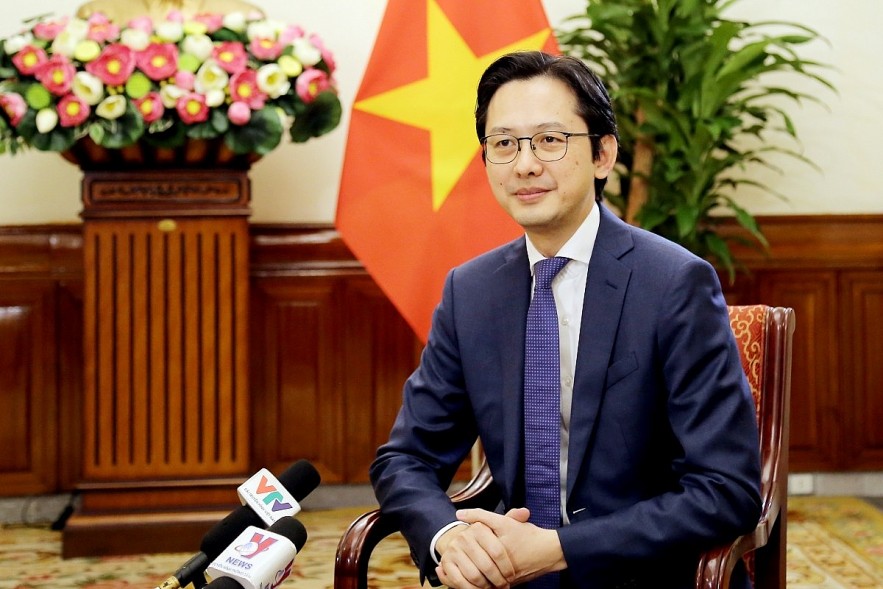 Dep[uty Minister of Foreign Affairs of Vietnam Do Hung Viet talks about the significance of the April 10-11 visit to Laos by Vietnamese State President Vo Van Thuong.
President Thuong will hold talks with President Sisoulith, and meet with other senior Lao leaders, including the Prime Minister, Chairman of the National Assembly, and head of the Lao Front for National Construction. He will witness the signing of a number of cooperation documents between the two countries.
Among other activities, the Vietnamese President will call at the Vietnamese Embassy in Vientiane and meet with representatives of Vietnamese expatriates in Laos, VOV reported.
The President will also lay a wreath at the Monument to the Lao Unknown Martyrs and the Monument to President Kaysone Phomvihane in Vientiane.
The visit is anticipated to contribute to the effective implementation of high-level agreements of the two parties and countries, including the Vietnam - Laos strategic cooperation agreement for 2021 - 2030 and the agreement on bilateral cooperation for 2021 – 2025, said Viet.
Vietnam and Laos established diplomatic relations in September 1962. Bilateral relations have developed considerably over the years through regular reciprocal visit exchanges.
Vietnam currently has 219 valid investment projects in Laos with a total registered capital of about US$4.3 billion, ranking third after China and Thailand.
Two-way trade turnover between the two countries reached nearly US$1.7 billion last year, an increase of more than 25% year on year.
In 2022, Vietnam granted 1,155 scholarships to Laos, the latter also offered Vietnam 60 scholarships. Currently 14,000 Lao students are studying at 160 educational institutions in Vietnam.
Bilateral defense and security cooperation has been consolidated, following the signing of a letter of intent on rescue cooperation and rescue drills between the three countries of Vietnam, Laos and Cambodia. The two countries have also worked closely in gathering and repatriating the remains of Vietnamese volunteer soldiers and experts who had died in Laos.
The two countries have also strengthened border control, prevented illegal entry and exit, and combatted human trafficking, drug trafficking and transnational crime.
Lonely Planet highlights five best experiences during Vietnam trip
Brekke Fletcher, a writer for the world's leading travel magazine Lonely Planet, has chosen Vietnam as a culinary destination to explore for the Elsewhere section.
Fletcher spent 9 days discovering the diverse cuisine of various regions in Vietnam together with photographer Thanh Huynh.
She said riding a scooter through the streets of Hanoi in Vietnam is one of those things she's always wanted to do but was too afraid to attempt.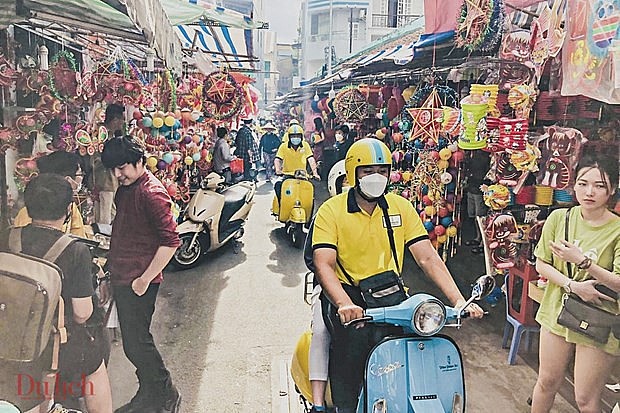 A tour of Ho Chi Minh City on vespa (Photo: HCM City tourism magazine)
"To be anonymous, another helmeted figure in the middle of a million little dramas and comedies happening on a million bikes moving through this amazing city – every second is pure joy," she wrote, and highlighted hopping on a Vespa as the first in the most outstanding experiences in her trip. On her first night in Ho Chi Minh City, she climbed on the back of a scooter and headed into the city centre to taste the diverse flavors of the market, like a Chinese roasted duck and a French baguette.
The second one is to go deep into the Mekong Delta. Fletcher entered Ben Tre province and island-hopped on a small-boat tour in the Mekong Delta, which included a stop at an artisan workshop and lunch with a local farming family.
Taking the slow train to Hue is another outstanding experience. The writer described the rail journey to Hue as among the most beautiful in Southeast Asia. Visitors could enjoy coastal and rural views and buy snacks from vendors who hop on along the way.
The next one is to spend the day and night on Lan Ha Bay. Fletcher said she cruised the glorious waters in the less-touristy area of Lan Ha Bay and took in stunning scenery. She then kayaked into a sea cave and sipped cocktails while the sun set.
And on the last night, she decided to dine with a Hanoian family and savored some Cha ca, a freshwater fish marinated in a slew of fragrant spices that's a specialty of the city, which is an outstanding experience for her.
Vietnam to inspect TikTok next month amid increase in harmful content
Vietnam will conduct a thorough inspection of the operations of TikTok, a popular video-sharing app, in the country, in May and will have drastic measures to have it remove harmful content which has been on the rise since 2022.
At a press conference held in Hanoi on Thursday, the Ministry of Information and Communications raised public violations of TikTok, which entered the country in 2019.
Harmful content has been on the rise on TikTok since last year, negatively affecting Vietnamese children, Le Quang Tu Do, head of the ministry's Authority of Broadcasting and Electronic Information said.
"Content on TikTok is addictive and constantly creates malicious trends, leaving negative impacts on users, especially young people," he said.
At the press conference, Do pointed out six violations of TikTok in Vietnam.
Firstly, Tiktok does not have effective measures to control violating content related to politics, content opposing the Party and State, fake news, harmful and even dangerous content for children, he said.
TikTok's second violation is its use of automatic content distribution algorithms to create trends to spread sensational, clickbait content, regardless of whether it is malicious or objectionable content that adversely affects the community and the young people, the official said.
The app's third violation is that it has no effective control measures to prevent scammed business activities and trading, advertising fake goods and goods with unidentified origins.
The fourth violation, Do said, is that TikTok doesn't manage the activities of Tiktok idols. Many Tiktok idols tend to produce uncultured content to target viewers' curiosity, and even create trends to profit from this content.
The fifth violation that the official mentioned is there is no effective control measure for pirated content, especially content extracted from movies.
The sixth is that TikTok also does not have management measures for users to arbitrarily use private and personal images of others to spread fake news, smear, or insult others, cited VNS.
Violations on TikTok have formed a breeding ground for fake news, causing economic damage and social instability, the official said.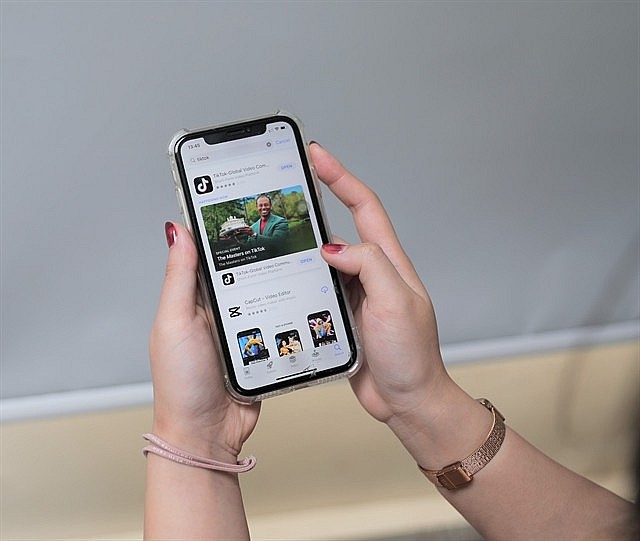 Harmful content has been on the rise on TikTok since last year, according to the Authority of Broadcasting and Electronic Information said. Photo: Seán Nolan
The platform has encouraged young people to imitate and follow negative and objectionable trends, distorting their perception and lifestyle, and undermined the nation's cultural values, he said.
The loose management of this platform also encourages and facilitates illegal business activities and makes copyright infringement rampant as well, he said.
Violations occur not only on TikTok but also on other social networking platforms with with similar features on Facebook Reels and YouTube Shorts. Short-form videos like TikTok are popular and easier to trend than long-form videos, text and images, he said.
Do said the Ministry will organise an interdisciplinary inspection team with the participation of relevant ministries and branches such as Ministry of Industry and Trade, Ministry of Culture, Sports and Tourism, Ministry of Public Security, General Department of Taxation to conduct comprehensive inspection of TikTok's activities in Vietnam.
Do said: "We will also coordinate with relevant ministries and sectors to comprehensively assess the impact and influence of TikTok on the community, as well as the law observance of this social network.
"The Ministry will then have consultations with leaders of higher levels to have a more radical and thorough handling direction, not just fighting to ask for the removal of malicious and illegal content."
At the same time, the Ministry will improve the efficiency of the scanning tool including images and videos on YouTube, TikTok, and Facebook. It will also organise conferences with third-party service providers (multi-channel network) of YouTube, TikTok, and Facebook to enhance management efficiency in compliance with Vietnamese laws and regulations between cross-border social networks and multi channel networks and key opinion leaders (KOLs).
The Ministry will also coordinate with the Ministry of Industry and Trade to manage TikTok Shop's provision of e-commerce services as well as other cross-border platforms in Vietnam.
He added: "The Ministry of Information and Communications requires businesses providing cross-border services to be responsible for preventing and removing infringing content and information at the request of competent authorities. In case these businesses fail to do so, the competent authorities will deploy technical measures to prevent all content, services, and applications on the network that violate the law."
Meanwhile, a growing number of countries have banned TikTok from devices issued to government employees due to rising privacy and cybersecurity concerns, according to Associated Press.
Countries that have implemented partial or total bans on TikTok include: Afghanistan, Australia, Belgium, Canada, Denmark, European Union, France, India, United Kingdom and the United States.