Vietnam News Today (Aug. 2): Vietnam Named Among Fastest Growing Travel Destinations Globally
Vietnam News Today (Aug. 2): Vietnam records 1,377 new Covid-19 cases; Vietnam named among fastest growing travel destinations globally; Petrol prices down in latest adjustment; Vietnam, India hold joint peacekeeping exercise.
Vietnam News Today (Aug. 2) notable headlines
Vietnam records 1,377 new Covid-19 cases
Vietnam named among fastest growing travel destinations globally
Petrol prices down in latest adjustment
Vietnam, India hold joint peacekeeping exercise
ASEAN Para Games 2022: Vietnamese swimmers bag two more golds
Vietnamese, Greek FMs hold talks
Workshop to evaluate post-Covid-19 management, conservation of world heritage
Vietnam, Australia share resolve in climate change response: expert
HCM City to push Covid-19 vaccinations for children in August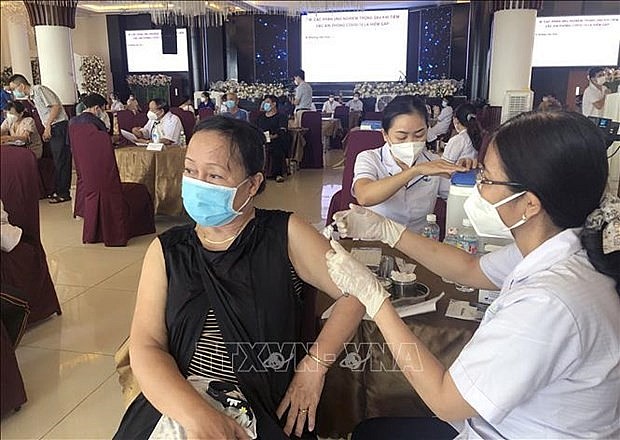 Illustrative image. Source: VNA
Vietnam records 1,377 new Covid-19 cases
A total 1,377 Covid-19 cases were logged on August 1, raising the national caseload to 10,781,009, according to the Ministry of Health.
A total 9,648 Covid-19 patients were given the all clear on the day, bringing the number of recoveries so far to 9,923,044. There are 50 patients in serious conditions needing breathing support, cited VNA.
No death from Covid-19 was recorded in the past 24 hours. The total fatalities stood at 43,093.
On July 31, 320,312 doses of vaccines were administered, raising the total number of doses of Covid-19 vaccines injected to 246,077,439.
Vietnam named among fastest growing travel destinations globally
Vietnam has continuously ranked among the world's fastest growing travel destinations, with a growth rate of between 50% and 75% since the beginning of the year, according to details given by the Vietnam National Administration of Tourism (VNAT).
Statistics compiled by the VNAT reveal that the country welcomed a total of 954,000 international visitors during the past seven months of the year, representing a nine-fold rise compared to the same period from last year, with the average monthly growth rate of 62%.
The leading 10 markets for Vietnamese tourism include nine countries in the Asia-Pacific region, with the United States and the Republic of Korea taking the lead.
Southeast Asia has up to four markets, including Cambodia, Singapore, Thailand, and Malaysia while markets from Europe also saw robust growth rate, with the UK taking the lead, followed by France and Germany.
Most notably, the global search volume for tourist accommodation facilities in the nation in July reached 100 points, thereby representing a 5.9 fold-rise compared to the beginning of March.
The 10 most searched countries for Vietnam tourism were the US, Australia, Singapore, India, Japan, the Republic of Korea, the UK, Malaysia, Germany, and Thailand, respectively.
Furthermore, the number of Vietnamese people searching for tourism in foreign countries in July remains high at 780% in comparison to the same period from last year, with this continuing to experience an upward trajectory amid global international tourism activities recovering, according to VOV.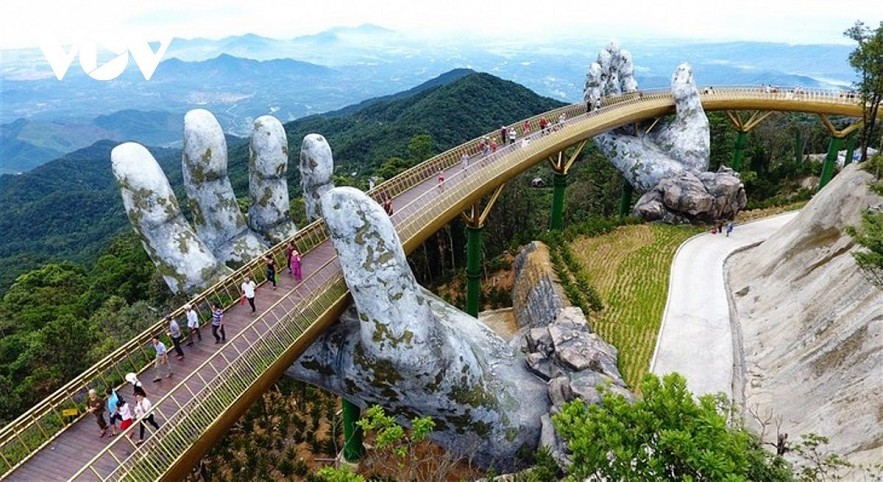 The Cau Vang (Golden Bridge) in the central city of Da Nang is a popular check-in destination for visitors. Photo: VOV
Destinations throughout Southeast Asia typically receive the most attention from Vietnamese tourists with up to six countries among the top 10 most searched by Vietnamese tourists, namely Singapore, Thailand, Cambodia, Indonesia, Malaysia, and the Philippine.
The VNAT, the Tourism Development Support Fund, businesses, and airlines have come together to devise a plan to promote destinations in order to quickly recover the international tourist market with a specific focus on markets near Northeast Asia, Southeast Asia and Europe.
Moreover, Vietnamese travel firms are expected to participate in the JATA International Tourism Expo in Japan from September 22 to September 25, which aims to attract Japanese tourists in the coming time.
They are also anticipated to attend the World Travel Market (WTM) in the UK from November 7 to November 9, as well as a number of festivals and programmes to introduce Vietnamese tourism in key markets, including the Republic of Korea, Japan, Taiwan (China), Europe, North America, and Australia.
Moving forward, Vietnamese tourism will be introduced at the ITE HCMC International Travel Expo in Ho Chi Minh City from September 8 to September 10 and the Greater Mekong Subregion's tourism promotion scheme within the framework of the Mekong Tourism Forum (MTF) that will be held in Hoi An, Quang Nam, from October 9 to October 14.
Petrol prices down in latest adjustment
Petrol prices were adjusted down from 3 p.m. on August 1 by the Ministries of Industry and Trade, and Finance, the fourth time in a row and the third significant decrease.
The retail price of E5RON92 bio-fuel dropped by VND444 to a maximum of VND24,629 (US$1.06) per liter, while that of RON95-III was cut by VND462 to VND25,608 per liter, reported VNA.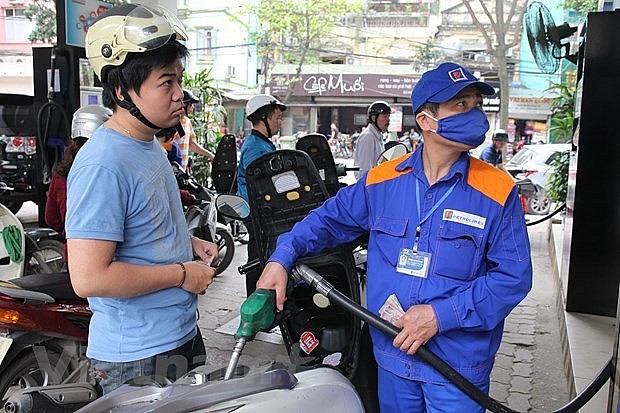 A driver gets his motorbike refilled at a fuel station. Photo: VNA
Meanwhile, the prices of diesel and kerosene decreased by VND950 and VND713 to VND23,908 and 24,533 per liter, respectively.
The two ministries also decided to use the petrol price stabilisation fund at a rate of VND450 – VND800 per liter.
After four times of being adjusted down, petrol prices have reduced about VND6,500 per liter in total.
Vietnam, India hold joint peacekeeping exercise
The Vietnam - India Bilateral Army Exercise (VINBAX) 2022 was launched on August 1 at Engineering Brigade 474 in the Indian state of Haryana.
Both countries sent a total of 45 personnel to the exercise, which is scheduled to last until August 21.
The Vietnamese delegation was led by Col. Luu Dinh Hien, chief commander of the training centre at the Vietnam Department of Peacekeeping Operations. Meanwhile, the Indian side was led by Brigadier General Saurabh Bhatnagar, head of Engineering Brigade 474, cited VOV.
As part of his opening speech at the event, Vietnamese Ambassador to India Pham Sanh Chau highlighted the importance of VINBAX 2022 to both nations' defence ties, as well as the comprehensive strategic partnership as they mark the 50th anniversary of diplomatic relations.
He went on to thank the Indian Ministry of Defence, especially Engineering Brigade 474, for creating the best conditions possible for the Vietnamese delegation to participate in the drill.
He also called on Vietnamese military personnel to play an active part in the exercise and learn from Indian experiences in order to make more effective contributions to UN peacekeeping operations in the future.
Upon welcoming the Vietnamese delegation, Lt. Gen. Prateek Sharma, commander of the II Corps of India's Western Command, said that VINBAX 2022 is one of the key practical co-operation activities to be held between the two militaries in recent years.
VINBAX 2022 is the third exercise on UN peacekeeping between Vietnam and India and focuses on performing engineering and medical tasks in UN peacekeeping operations. It was upgraded from two previous sand table exercises held back in 2018 and 2019.
ASEAN Para Games 2022: Vietnamese swimmers bag two more golds
Swimmers Le Thi Dung and Tran Quoc Phi added two more gold medals to Vietnam's tally at the 11th ASEAN Para Games (APG) in Indonesia on August 1.
Dung completed her performance in the women's 400m freestyle S8 event within 5 minutes 59.87 seconds, breaking a record of 7 minutes 24.1 seconds previously set by a Thai athlete.
Meanwhile, in the men's 100m breaststroke S13 event, Phi finished first with 1 minute 14.8 seconds.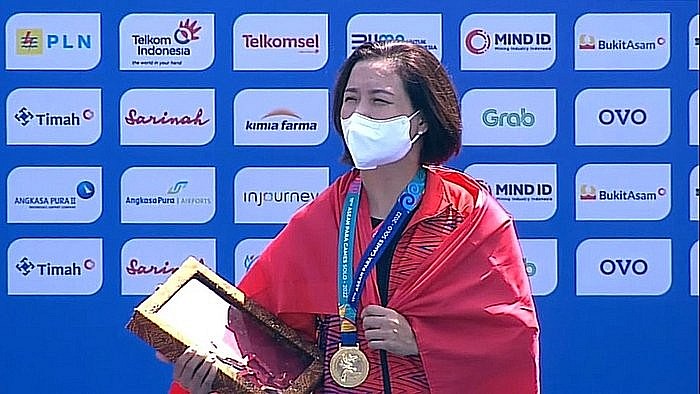 Swimmer Le Thi Dung. Photo: hanoimoi.com.vn
The new golds brought the total earned by Vietnam and its swimming squad to three, with the first won by swimmer Vo Huynh Anh Khoa in the men's 400m freestyle S8 event earlier the same day.
Also on August 1, the team is scheduled to compete in the events of women's 100m breaststroke; men's and women's 50m backstroke; 4x100m freestyle relay; and 4x100m medley relay, cited NDO.
Taking place from July 30 to August 6 in Surakarta city, the APG 2022 features 14 sports with 907 competition events, and 1,286 athletes.
The Vietnamese delegation to the games consists of 153 members, including 120 athletes who are competing in eight sports, namely athletics, swimming, weightlifting, badminton, table tennis, chess, judo, and archery. Vietnam is aiming at 35-40 gold medals.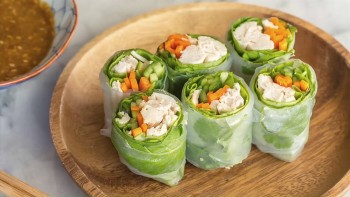 Travel
Rolls are a easy-to-make dish that is loved by many Vietnamese diners as well as Korean stars.