Vietnam News Today (Aug. 29): Vietnamese Airlines Make World-Beating Recovery
Vietnam News Today (Aug. 29): More countries eligible for Vietnam's e-visa; Vietnam ranks fifth at Army Games 2022; Vietnamese airlines make world-beating recovery; Vietnam Innovators Summit to be held in November.
Vietnam News Today (Aug. 29) notable headlines
More countries eligible for Vietnam's e-visa
Vietnam ranks fifth at Army Games 2022
Vietnamese airlines make world-beating recovery
Vietnam Innovators Summit to be held in November
Sports tourism in Lao Cai attracts tourists
More than 45,000 foreign students study in Vietnam in 2016-21: Education ministry
Closing ceremony held for Army Games 2022
New documentary films feature glorious Vietnamese history
Project helps strengthen Mekong Delta's resilience against climate change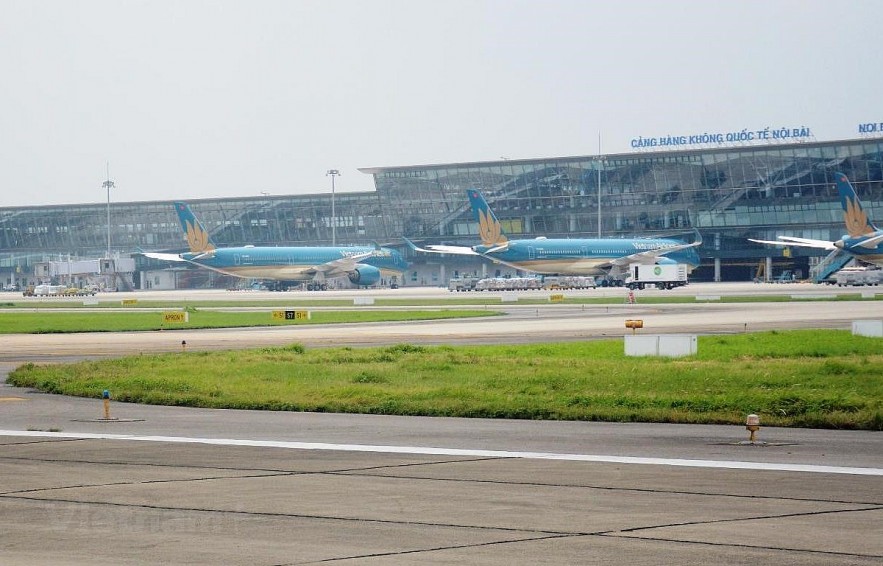 Photo: VNA
More countries eligible for Vietnam's e-visa
The Ministry of Public Security is considering expanding the list of countries whose nationals are eligible to get a visa online as instructed by Deputy Prime Minister Vu Duc Dam.
Vietnam currently offers a 30-day single-entry e-visa for citizens from 80 countries and territories and a visa waiver for 25 countries.
The Deputy Prime Minister worked with relevant departments and agencies over whether to expand the list of countries whose citizens are eligible for an e-visa at a meeting last week, according to Notice 262/TB-VPCP dated August 23.
He also requested the Ministry of Public Security to simplify e-visa issuance procedures and make it more convenient for international tourists to visit Vietnam.
The Steering Committee on Tourism for Development has proposed extending the stay of international visitors after entry into the country.
The Ministry of Culture, Sports and Tourism will take measures to support tourism businesses severely affected by the Covid pandemic and strengthen cooperation between provinces to foster inbound tourism, cited SGT.
The Ministry of Finance will coordinate with the Ministry of Culture, Sports and Tourism to draw up a plan to use the Tourism Development Support Fund appropriately.
The number of foreign visitors to the country in the first seven months of this year was not yet back to the pre-pandemic level despite the Government's effort to boost inbound tourism.
Vietnam saw 733,000 foreign arrivals in the first seven months of this year, accounting for only 15% of the year's target, according to the Ministry of Culture, Sports, and Tourism.
Vietnam ranks fifth at Army Games 2022
The Vietnam People's Army (VPA)'s delegation with eight medals finished fifth at the 2022 International Army Games, which was closed with a ceremony held in Moscow, Russia, on August 27.
Vietnam won one gold, two silver and five bronze medals at the Games, according to VNA.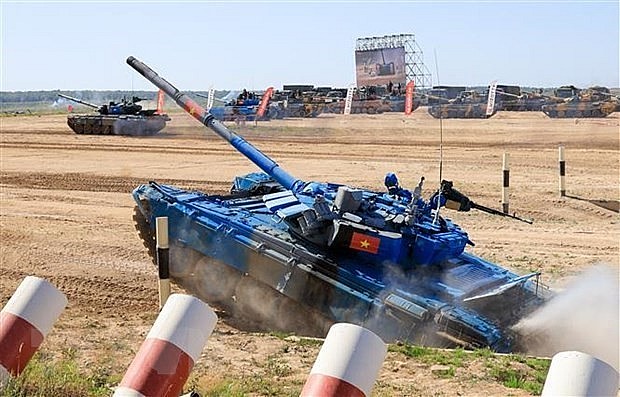 Illustrative image. Source: VNA
Russia ranked the first, followed by Uzbekistan. Belarus and Kazakhstan came second, while China and Iran ranked third.
Army Games 2022 took place from August 13-27, bringing together 264 teams from 34 countries worldwide. Its competitions were held in Russia and 11 other countries, namely Algeria, Armenia, Azerbaijan, Belarus, China, Iran, Kazakhstan, Mongolia, Uzbekistan, Venezuela and Vietnam.
This year, Vietnam hosted the Games' competitions in the category of "Emergency Area".
Vietnamese airlines make world-beating recovery
The high demand for travel has helped Vietnam's airline revenues grow impressively and exceed the set forecasts.
According to flight statistics from flightradar24 and Airbus, in the first half of 2022, Vietnam's domestic aviation market recovered faster than any other market with a growth rate of 123% over the same period in 2019. The number of passengers transported increased by 56% on-year to just over 20 million people, while the cargo volume also increased by 30%, reaching 765,000 tonnes.
Aviation data analysis site OAG also rated Vietnam as one of the top 10 countries with the strongest recovering domestic aviation market, next to the likes of China, Japan, Brazil, and North America.
Vietnam also currently boasts the busiest domestic flight routes in the region. First place belongs to Ho Chi Minh City-Hanoi, followed by Danang to both cities and Phu Quoc Island to both cities. The route between the capital and Ho Chi Minh City was also the second-busiest domestic flight worldwide in June.
According to the Vietnam National Administration of Tourism, among 954,500 international visitors to Vietnam in the first seven months of this year, there were more than 831,000 arrivals by air. In the domestic market, Vietnam's airlines transported 20.78 million passengers, up 60% over the same period in 2021. The Civil Aviation Authority of Vietnam noted that, by the end of June, VASCO, Vietjet, Bamboo, Pacific Airlines, and Vietravel Airlines are operating nearly 60 domestic routes connecting the country's three biggest cities with 19 local airports.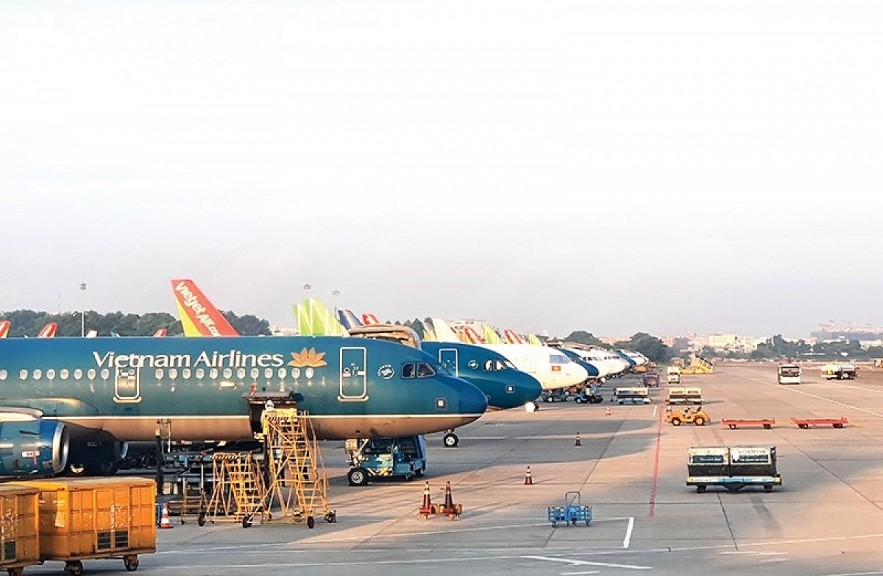 Vietnamese airlines make world-beating recovery. Photo: VOV
Flight routes to tourist destinations such as Quy Nhon, Phu Quoc, and Nha Trang are prioritised for high-frequency operation, in which the frequency to and from Phu Quoc currently reaches 100 domestic flights per day, an increase of nearly 30 trips compared to 2019. The seat occupancy rate on domestic routes in June also hit 85%-87% depending on the airline.
For the international aviation market, Vietnamese airlines have operated 68 international routes to 16 countries and territories, and are planning to increase the operating frequency and open a number of new routes.
Vietnam Airlines Group, which covers Vietnam Airlines, Pacific Airlines, and VASCO, reached nearly 9.5 million passengers in the first six months of 2022, up almost a quarter compared to the plan. The airline also recorded revenues of US$1.3 billion, up 113% over the same period, reported VOV.
Bamboo Airways has the most impressive growth rate with revenues exceeding US$43.4 million in April. Vietravel Airlines, a rookie in the aviation industry, saw the number of routes in June increase by 10%-15% over the previous month and up 40% over the same period in 2021.
Low-cost airline Vietjet added more than 150 flights in July compared to the previous month. This is also the only airline to maintain a positive profit despite skyrocketing fuel prices, with revenues of US$639 million and profit after tax of US$3.3 million in the first half of the year.
Vietnam Innovators Summit to be held in November
The first-ever Vietnam Innovators Summit will be organized in November, featuring high-level executive networking with informative and carefully curated activities aimed at providing a space for insight-sharing on Vietnam's continuous growth over the years, even amidst the pandemic.
With the theme of "The new Vietnam starts here", the summit, which gathers 350 luminaries and innovation leaders from large multinational firms, will bring unique and insightful discussions on technologies, businesses, human interactions, and how all of these define the new Vietnam.
Vietnam Innovators Summit is one of the most influential business and innovation event series backed by the media power of Vietcetera. The summit will see business innovators and thinkers from Vietnam and Southeast Asia come together for a three-week-long series of events.
A whole-day conference features keynote talks, fireside chats, and panel discussions hosted by CEO and Founder of Vietcetera and up to 20 executive speakers, experts, policymakers, investors, and disruptive entrepreneurs, reported NDO.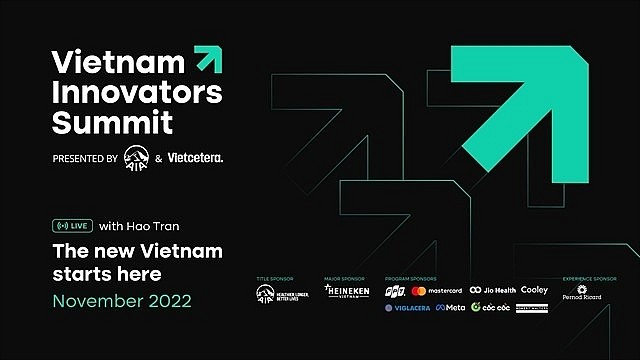 The Vietnam Innovators Summit will be held in Ho Chi Minh City in November. Photo: Vietcetera
Exhibition booths, including Vietcetera's own display of its most successful campaigns, podcast series, and events, are to be displayed for a more interactive exchange of information and ideas and for participants to fully embrace the innovative transformation in Vietnam and beyond.
The summit will include five separate sessions, each hyper-focused on a specific industry: Fintech, ESG and climate change, HR, investment, and healthcare (subject to change). These sessions are aimed at providing a clear snapshot of the significant changes, opportunities, obstacles, and growth forecasts of Vietnam's key-performing sectors through keynote speeches and panel discussions. A reception will be organized for an informal networking opportunity among speakers and attendees.
Vietnam Innovators, one of Vietcetera's most popular podcast series, started as an audio platform for a weekly conversation with some of the most influential names in Vietnam's soaring business ecosystem. With 82 episodes across three seasons to date, the series has been consistently listed as one of the top podcasts on Spotify Vietnam and brought Vietcetera's silver play button from YouTube.
Sports tourism in Lao Cai attracts tourists
Sports tourism and traditional culture within the autumn festival 2022 in Bat Xat district of the northern mountainous province of Lao Cai have attracted over 60,000 visitors, contributing to promoting new entertainment tourism products in the community.
Tourism products in the series of four-season festivals of Lao Cai always attract a great number of tourists who love adventure and discovery tours. Sports tourism in Lao Cai attracts tourists
As part of the festival's activities, the "Flying over the golden paddies" performance, which was organized in Den Thang, Sang Ma Sao and Muong Hum communes, is one of the most novel and adventurous experiences attracting holiday-makers.
Many tourists choose to conquer Bat Xat by paragliding – the sport helps participants to rise up, and see the majestic mountains and amazing terraced rice fields from above, cited WVR.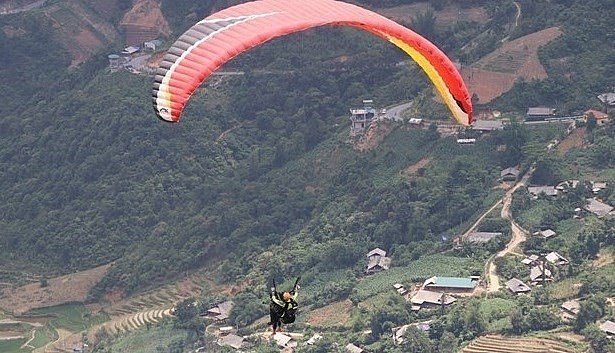 Sports tourism in Lao Cai reels in tourists. Photo: VNA
The sport attracted 66 riders from the Hanoi Paragliding Club. The Northeast Paragliding Club also organised the paragliding for 30 visitors. The event also attracted about 1,500 visitors and locals.
An off-road driving performance programme was also held in Ban Vuoc commune, Bat Xat district, attracting the attention of locals and tourists, and those who love off-road events.
Some 25 athletes from clubs inside and outside the province showed their off-road driving skills on the backroads throughout the district.
The local authority also hosted a marathon tournament, and water sports such as SUP (Standup Paddle Board) rowing and kayak.
Sports tourism activities on August 13-14 in Bat Xat attracted over 3,500 visitors and locals.
According to Vice Chairman of the district People's Committee Pham Nang Chung, ensuring the safety of visitors when attending the autumn festival is the top priority of the organizing board. Keeping people safe and having fun with new tourists to the community is what it is all about, he said.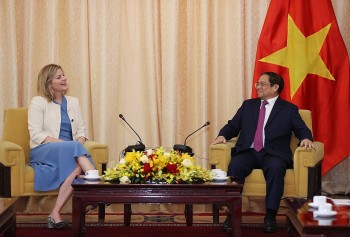 National
The Netherlands committed to cooperate with Vietnam, and together find innovative and sustainable solutions to accelerate green economy transformation.