Vietnam News Today (Aug. 25): Vietnam, Laos Foster Judicial Cooperation
Vietnam News Today (Aug. 25): Vietnam logs 3,591 new Covid-19 cases on August 24; Vietnam, Laos foster judicial cooperation; IAA international driver's license invalid in Vietnam; CNN: Hanoi among best places to visit this autumn.
Vietnam News Today (Aug. 25) notable headlines
Vietnam logs 3,591 new Covid-19 cases on August 24
Vietnam, Laos foster judicial cooperation
IAA international driver's license invalid in Vietnam
CNN: Hanoi among best places to visit this autumn
Vietnam seeks to build stronger economic ties with JETRO
Vietnamese President asks for Japanese assistance in multiple areas
Vietnam Fisheries International Exhibition attracts nearly 200 foreign exhibitors
EVFTA helps increase exports, investment opportunities: experts
Vietnam sees chain drugstores boom during Covid-19 pandemic: Nikkei Asia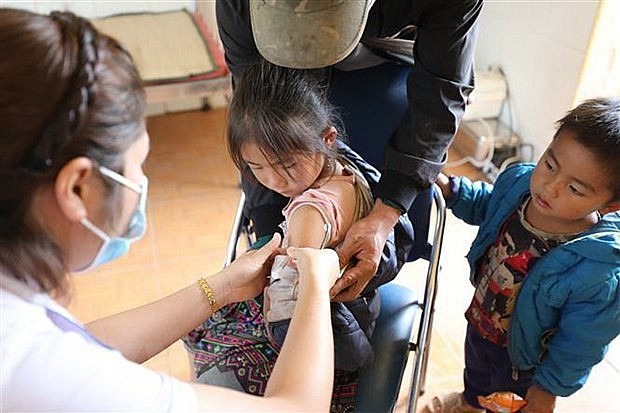 Covid-19 vaccination. Photo: VNA
Vietnam logs 3,591 new Covid-19 cases on August 24
Vietnam reported an additional 3,591 Covid-19 cases on August 24, according to the Ministry of Health. The new cases brought the total number of Covid-19 infections since the pandemic broke out to 11,392,859.
Also on August 24, 14,132 patients were declared to be free from the disease, raising the total number of recoveries to 10,104,180, cited VNA.
Two fatalities were recorded in the southwestern province of Tay Ninh, lifting the country's death toll to 43,108, accounting for 0.4% of the total infections.
More than 255.13 million doses of Covid-19 vaccines have been administered so far.
Vietnam, Laos foster judicial cooperation
More than 100 judicial officials from the Ministries of Justice of Vietnam and Laos and their provinces along the shared border and provinces setting up twin relations with Lao localities gathered at a conference in the central province of Nghe An on August 24 to discuss measures to further strengthen their judicial cooperation.
Addressing the event, Vietnamese Minister of Justice Le Thanh Long underlined the significance of the conference in giving recommendations and proposals to complete coordination regulations between the two Ministries of Justice and judicial agencies of border localities of Vietnam and Laos, ensuring law enforcement and creating favorable conditions for border residents to settle down and enjoy their rights and interests.
For his part, Lao Minister of Justice Phayvi Sibualipha noted that the conference was a chance for both sides to seek consensus and measures to effectively and comprehensively realize agreements reached by the two Ministries of Justice and the two Governments.
The participants discussed a wide range of issues on judicial cooperation between the two sides.
Vietnamese Minister of Justice Le Thanh Long (R) and Lao Minister of Justice Phayvi Sibualipha. Photo: VNA
To date, the number of undocumented Lao migrants and Lao people with unregistered marriage who are allowed to reside in Vietnam has reached 1,516, while the number of Vietnamese people with similar conditions that received Lao citizenship is 2,726.
The participants agreed that in the time to come, the two Ministries of Justice will continue to work closely with relevant agencies to deal with requests of undocumented Vietnamese residing in Laos to receive Lao nationality by June 2023.
They will seek measures to effectively resolve civil status and nationality issues in the spirit of ensuring the legitimate rights and interests of people on the basis of the sound traditional friendship between the two countries.
The two Ministries of Justice will also finalize negotiations for an agreement on mutual legal assistance in civil matters, while strengthening coordination in multilateral and regional mutual legal support cooperation activities, including coordination in implementing Vietnam's initiative on enhancing mutual legal assistance in civil matters in ASEAN.
The two ministries will also work together to implement their annual cooperation programs to realize their collaboration agreement for the 2021-2025 period as well as signed deals in personnel training.
On the sidelines of the conference, the two ministries signed their cooperation program for 2023. Cooperation agreements were also inked between the Central Region College of Law and the Lao National Academy of Justice, and between the Judicial Departments of Son La province and Xayaburi province of Laos.
IAA international driver's license invalid in Vietnam
Many foreigners and Vietnamese of foreign nationality are using two types of driving licenses to participate in traffic in Vietnam in general and HCM City in particular.
Specifically, the International Automobile Association (IAA) license is issued by the New York-based International Automobile Association (IAA) and the International Driving Permit (IDP) is issued by the competent state agencies in other countries including administrative sections which have participated in the Road Traffic Convention of 1968 (referred to as the Park Convention) under a uniform form.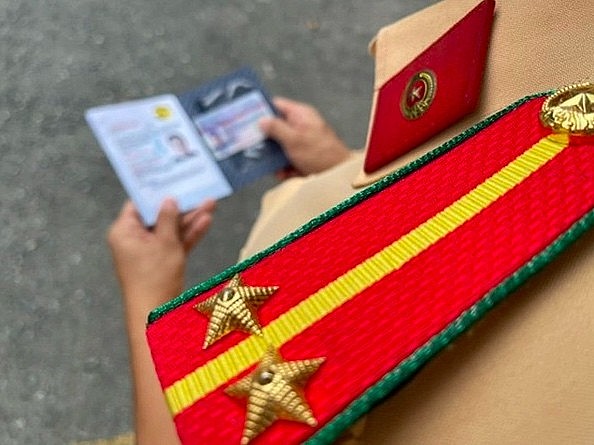 IAA international driver's license is invalid in Vietnam. Photo: VNN
In addition, some individuals and organizations advertise on social networking sites about the IAA license exchange service to make the license valid in many countries around the world including Vietnam, according to SGGP.
According to the provisions of Clauses 1, 2, Article 3 of Circular No. 29 of the Minister of Transport regulating the issuance and use of international driving permits (IDP) which are issued by a state agency in countries including administrative section party to the Vienna Convention on Road Traffic to grant in a uniform form.
Thus, on the basis of the provisions of law, only IDPs issued by countries participating in the Convention according to a uniform form are valid in Vietnam, other types of international driving licenses including IAA will not be valid in the Southeast Asian country.
Recently, traffic wardens in Ho Chi Minh City have made a record of handling administrative violations because drivers can't produce their legal driving licenses.
CNN: Hanoi among best places to visit this autumn
News outlet CNN has listed Hanoi among the top 12 best places to go globally this autumn.
According to details given by CNN, autumn in the capital is drier and cooler due to the end of the monsoon season.
Along with the wonderful weather on offer, the media channel also revealed that Hanoi has plenty of unique dishes to keep foodies satiated.
"Cha ca (fish cooked with turmeric and dill) is so popular a street was named after the dish. Hanoi-style banh tom (shrimp cakes) is another must-try," says CNN.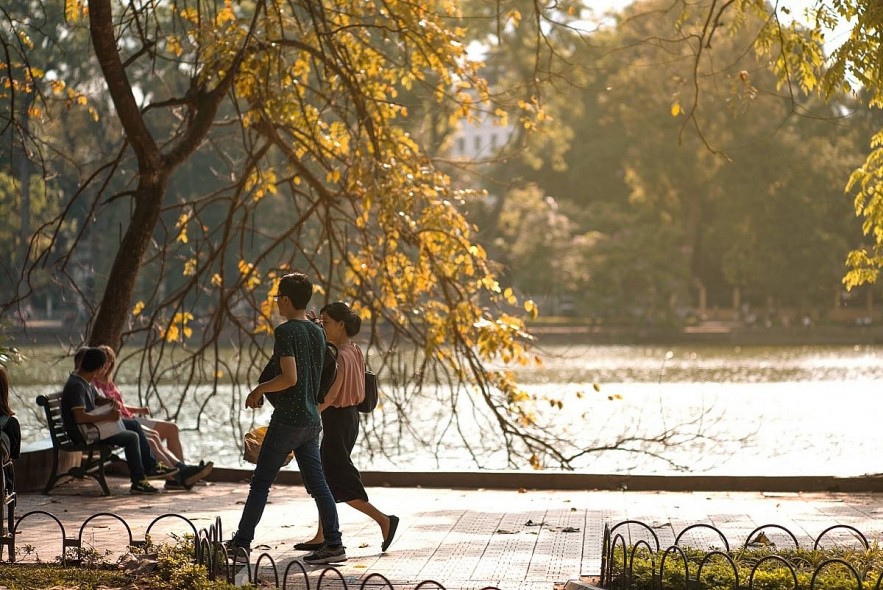 Hanoi is listed among best places to visit this autumn. Photo: VOV
It also suggested that visitors enjoy a wander around the city's famous Old Quarter which boasts historical streets and shops trading in jewelry, fabrics, and flowers, or alternatively, take a tour of the area and beyond on motorcycles.
"On the outskirts of Hanoi and far from tourists is Dong Ngac, a 'village of scholars' that has barely changed in centuries," the website notes.
Other places that included in CNN's top 12 list include Mexico, Madrid, Egypt, Cape Town, Hawaii, the Pacific island of Samoa, Greenville in the United States, US-Canada Atlantic cruises, Bavaria in Germany, Buenos Aires in Argentina, and the Azores in Portugal.
Vietnam seeks to build stronger economic ties with JETRO
Vietnamese Minister of Industry and Trade Nguyen Hong Dien and Sasaki Nobuhiko, chairman of the Japan External Trade Organization (JETRO), have discussed measures aimed at ramping up bilateral economic co-operation along with several of issues of mutual concern.
Minister Dien informed Nobuhiko about recent Vietnamese economic development, saying that during the Covid-19 pandemic, many economies around the world endured negative growth, although the country was still able to maintain positive growth.
In line with this, the Vietnamese economy grew by 2.58% last year and is forecast to reach over 7% growth this year. As a result, the nation must continue to co-ordinate alongside other parties in order to maintain production and be an important source of supply for Japan, the region, and the wider world.
Currently, the country is in the process of finalizing procedures to join 17 new-generation free trade agreements (FTAs), of which both nations are both members, including agreements such as the Comprehensive and Progressive Agreement for Trans-Pacific Partnership (CPTPP) and the Regional Comprehensive Economic Partnership (RCEP).
The relationship that exists between both sides is good, Minister Dien said, while suggesting that JETRO move to strengthen co-ordination with relevant Vietnamese agencies to help firms from both sides make the most of preferential commitments of these agreements.
The Ministry of Industry and Trade of Vietnam and JETRO should therefore seek to boost co-operation, especially in the field of supporting industries and industrial digital transformation, he continued.
With regard to trade activities, Minister Dien requested that JETRO support the country in developing traditional trade by developing retail and e-commerce networks, as well as jointly implementing a variety of trade promotion activities.
In response, Nobuhiko said that his organization has two representative offices in Ho Chi Minh City and Hanoi, both of which welcome many Japanese businesses asking for advice on co-operation with Vietnamese partners, reported VOV.
He went on to add that Japanese companies are highly keen on investing in the Vietnamese market. According to the latest results of a survey of Japanese companies conducted annually by JETRO which targets Japanese enterprises in different countries. Indeed, the number of Japanese firms with plans to expand their business in the Vietnamese market over the next one to two years is 55%, the highest among ASEAN member states.
At the working session. Photo: congthuong.vn
In relation to Japanese companies, Vietnam represents an indispensable presence in terms of building supply chains. In the future, the challenge is to shift production to products that have a high added value, while also maintaining the strength of manufacturing multi-purpose products. The country is therefore viewed as the most reliable destination in ASEAN for Japanese businesses to develop production.
Currently, Japanese enterprises based in Vietnam are only able to purchase 37% of input materials for production in the nation, with the rest being imported from ASEAN member states and China in order to then be exported to other countries.
Nobuhiko said that it is crucial for Vietnamese enterprises to increase the application of advanced Japanese technology in order to invest resources for production transformation.
Minister Dien, therefore, suggested that moving forward, the Trade Promotion Agency under the Ministry of Industry and Trade of Vietnam and JETRO of the Japan Ministry of Economy, Trade and Industry continue to co-operate in performing trade promotion tasks and solutions to achieve the set trade targets.
Moreover, the Vietnamese Minister urged JETRO to focus on supporting both nations' businesses in further developing relations and expressed confidence that JETRO will back trade promotion and investment and other activities in the lead up to the 50th anniversary of diplomatic relations ahead in 2023.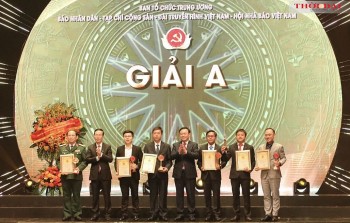 Viet's Home
The 7th National Press Prize on Party Building (named Golden Hammer and Sickle) - 2022 has been bountiful with thousands of entries on a variety of topics, rich in genres, closely following hot topics, outstanding events, key tasks of the political system and the country. Content relating to party building process was clarified and further exploited compared to previous years.