Vietnam News Today (August 27): HCM City Covid-19 Infection Rate Dropping
Vietnam News Today (August 27): HCM City Covid-19 infection rate dropping; Soldiers go grocery shopping for residents of epicenter HCMC;
Vietnam News Today (August 27) notable headlines
HCM City Covid-19 infection rate dropping: ministry
Soldiers go grocery shopping for residents of epicenter HCMC
Hanoi has potential risk of Covid-19 infection clusters in community
Quang Ninh applies itself to developing high-quality tourism
Weightlifter Le Van Cong wins silver at Tokyo Paralympics
Vietnam, Chile promote trade, investment cooperation
Vietnam – an important link of US supply chain
Vietnam, India strive to promote cooperation in medical equipment
Shrimp exports witness robust growth in FTA markets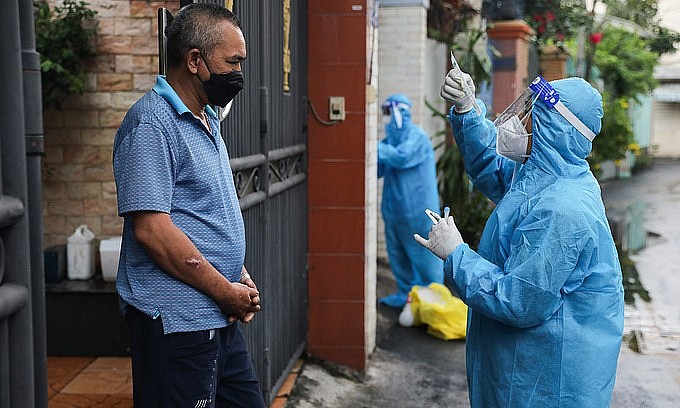 A health worker instructs a man on how to take a quick Covid-19 test in Binh Thanh District, HCMC, August 23, 2021. Photo: VnExpress
HCM City Covid-19 infection rate dropping: ministry
The novel coronavirus infection rate in HCMC has been decreasing over the past few days, based on samples tested, the Health Ministry says.
Minister of Health Nguyen Thanh Long said Wednesday that healthcare staff have collected around 500,000 samples for Covid-19 testing this week.
Around 3.6 percent of the samples have tested positive for the virus, showing a reduction in infection rates from earlier, he said.
During the city's social distancing periods people have drastically cut down on going outside and road traffic has reduced by around 80 percent from before, he noted.
"If we keep this up, along with ramping up Covid-19 vaccination, the coronavirus situation in Ho Chi Minh City will be brought under control soon," Long said.
Prime Minister Pham Minh Chinh has said that in order to control outbreaks, social distancing measures must be strictly followed, and people must have access to medical services anytime and anywhere, cited VnExpress.
Ho Chi Minh City, epicenter of Vietnam's fourth coronavirus wave since April, has recorded 190,166 local cases.
The southern metropolis has undergone a series of social distancing orders, with the latest one expected to last until mid-September. The city has further tightened social distancing restrictions starting August 23 amid worrying coronavirus situations, asking residents to not go out even for getting food, which would be delivered to their doorstep by local authorities.
Soldiers go grocery shopping for residents of epicenter HCMC
As people in HCMC are ordered to take shelter in place, soldiers are in charge of buying and delivering food and essential products.
"Every day we receive around 300-500 orders from more than 20,000 people and with help from soldiers, goods will be delivered faster," said Cao Thi Hien, chair of the Women's Union in the district's Ward 11.
HCMC on Monday commenced a 15-day campaign to tighten coronavirus restrictions, requiring people to "stay where they are," isolating homes from homes, streets from streets and wards from wards and have military forces support existing teams in the city in all activities to fight the pandemic, including patrolling and treating patients.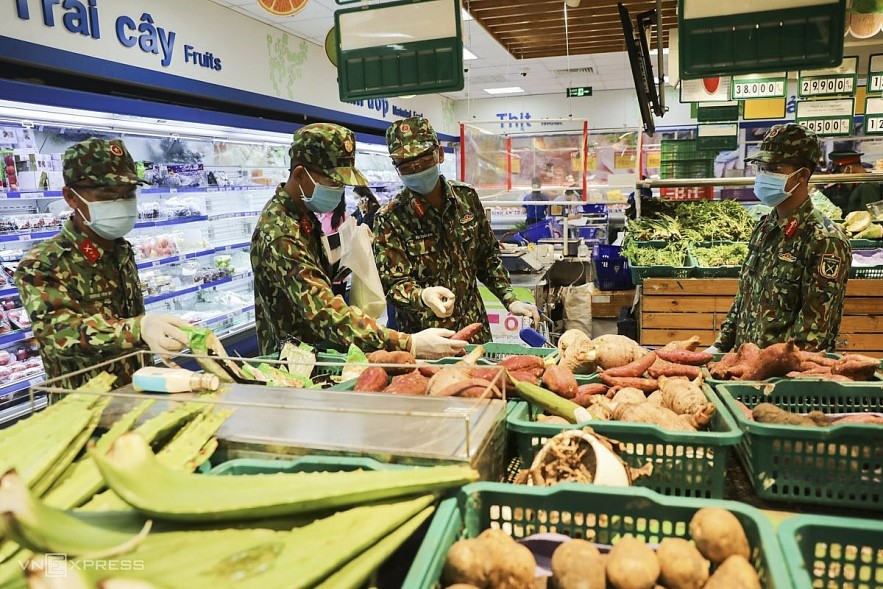 A group of soldiers pick veggies at a supermarket in Binh Thanh District on Wednesday. Photo: VnExpress
Ward 15 receives around 400 orders per day, reported VnExpress.
People who place the order can transfer payments to their wards' Women's Unions or the supermarkets will make advances, to be settled later.
Tran Thi Ngoc Hanh, deputy Party chief of Ward 1, said the ward has set up a hotline for a team of eight people to take care of grocery shopping and buying medicine for local people.
Lieutenant Tran Dinh Hung of the 5th Infantry Division said delivering goods to residents in HCMC is quite difficult because many people live in small alleys and their addresses are hard to find, not to mention some families having "aggressive dogs that make us quite nervous.
"But it feels really nice seeing how they have been looking forward for us to come," he said.
HCMC has been the epicenter of Vietnam's fourth Covid-19 wave.
So far in the wave that hit Vietnam four months ago, the city has recorded 190,166 local cases and 7,568 deaths.
Hanoi has potential risk of Covid-19 infection clusters in community
The capital of Hanoi is at high risk of recording an increase in the number Covid-19 cases within the community as it has many densely populated alleys and streets, as well as crowded residential areas, according to experts.
Khong Minh Tuan, deputy director of the Hanoi Center for Disease Control (CDC), said local authorities are devising and implementing plans in order to halt the spread of the pandemic in high-risk areas.
During the fourth wave of Covid-19 infections starting in late April 2021, Hanoi has so far recorded 2,770 cases, including 1,425 cases in the community.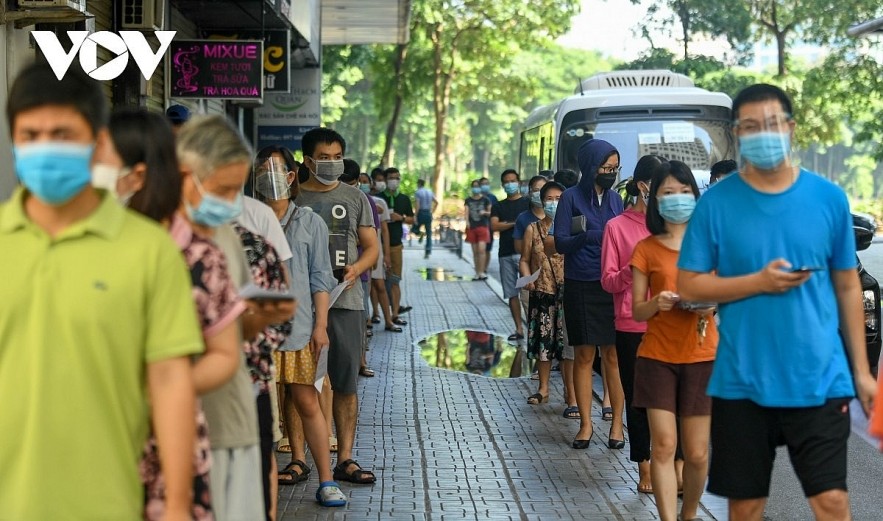 Residents wait for Covid-19 testing in Hoang Mai District, Hanoi. Photo: VOV
Dong Da is among districts that have seen the highest number of locally acquired infections, with many having symptoms such as a cough and fever.
At present, it is thought that F0 cases still haven't been separated from the local community, thereby increasing a potential risk of infection clusters, said Tuan.
According to the Hanoi CDC official, Thanh Xuan Trung ward in Thanh Xuan district is currently the most high-risk area, as it recorded 73 infections between August 23 – 25 through test screening in the community, VOV reported.
This cluster is similar to those in Van Chuong and Van Mieu wards of Dong Da district, and more infection cases are expected to be detected over coming days, Tuan said, warning local people to complete healthcare declarations to detect cases early.
Hanoi is ramping up testing, especially in high risk areas, including old apartment buildings and small, densely populated alleys.
Meanwhile, the pandemic in suburban areas has now basically been controlled with high-risk areas cordoned off and residents there tested.
The city is striving to expand the 'green' zones (safety zones) in an effort to keep the virus at bay in the community.
Quang Ninh applies itself to developing high-quality tourism
As tourism has a crucial role to play in local socio-economic development, authorities and businesses in northern Quang Ninh province are working hard to lift this industry to a new level and welcome visitors back once Covid-19 is under control.
The World Tourism Organization forecast it may take three - four years for the global tourism industry to return to pre-pandemic levels, and domestic travel is now considered the "lifebuoy" for this sector.
Pham Ngoc Thuy, Director of the provincial Tourism Department, said there could be a fierce competition among localities to attract visitors, and creating package tours with competitive prices may become a common trend.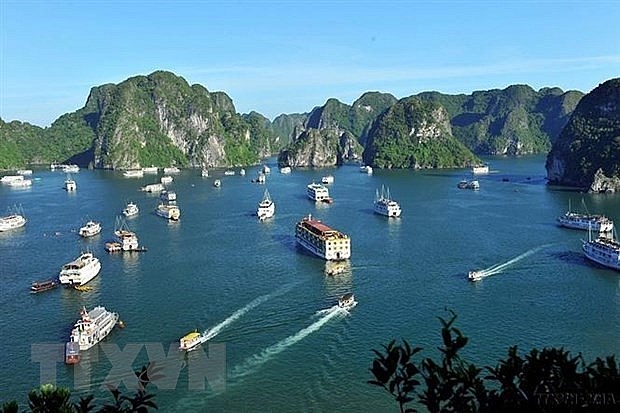 Boats carrying tourists to visit Ha Long Bay, a popular destination in Quang Ninh province. Photo: VNA
However, low-priced tourism amid the pandemic could drag this sector down, he warned.
It has taken Quang Ninh many years to upgrade infrastructure and develop high-quality tourism products to become an international-level destination. If it engages too deeply in the race to reduce tour and service prices, negative consequences are likely to occur since there won't be quality products while the province may lose high-quality human resources in this competition, according to the official, cited VNA.
Thuy pointed out that the problem now is not how to attract tourists but how to maintain travel companies, quality products, and visitors.
There was a time the local tourism industry just attached importance to the number of tourist arrivals. To improve its contribution to the budget and GRDP of Quang Ninh, development orientations for this industry have been changed gradually, with more attention paid to revenue per tourist and profit.
As one of the businesses actively preparing for their return once the Covid-19 resurgence in put under control, the Tung Lam Development Joint Stock Company has been developing and piloting new tourism products that suit the natural features and cultural space of the Yen Tu Complex of Monuments and Landscapes, its Deputy General Director Le Trong Thanh said.
Pannatour General Director Le Thi Nguyet noted after one and a half years of struggling with Covid-19, the tourism sector of Quang Ninh has been reviewing and working to improve products since the province has yet to succeed in attracting high-end tourists due to a shortage of appropriate services and experiences.
To help address those shortcomings, the Sun Group is developing new and high-end products based on typical values of Quang Ninh.
Apart from the Yoko Onsen Quang Hanh hot spring resort already operational, the firm is building a modern entertainment complex near the Ha Long - Cam Pha coastal road, along with an area of resort villas in the province.
Weightlifter Le Van Cong wins silver at Tokyo Paralympics
Vietnamese weightlifter Le Van Cong won a silver medal on August 26 in the 49 kg weight category at the ongoing 2020 Tokyo Paralympic Games.
Van Cong's success marks the first medal won by the Vietnamese delegation at the global sporting event.
The 37-year-old athlete from Ha Tinh province successfully lifted a total of 173 kg after three attempts. His rival Omar Qarada of Jordan also managed to reach 173 kg in order to match Cong's mark.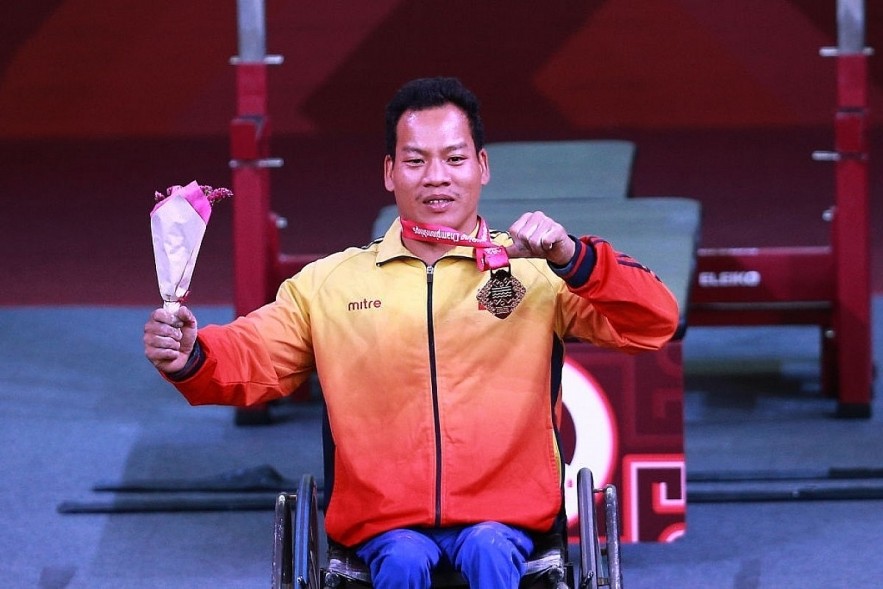 Weightlifter Le Van Cong wins silver medal at Tokyo Paralympics. Photo:Getty
Due to both athletes recording the same number of points, the organising board were forced to go to a tie-breaker in order to decide the ultimate winner, cited VOV.
According to the rule, in the event that two or more weightlifters successfully lift a combined total of the same weight in their two events, then the lighter athlete with lesser bodyweight will be declared the winner.
Van Cong weighs a total of 47.31 kg, while his opponent Omar Qarada weighs 47.21 kg, meaning the Jordanian athlete was named as the winner.
Previously, Van Cong became the first-ever Vietnamese athlete to win a Paralympic gold medal, setting a world record by lifting 183 kg in 2016.
Unlike Van Cong, Vietnamese athletes Trinh Thi Bich Nhu and Vu Thanh Tung failed to progress to the final round of their respective swimming events after finishing in the bottom half of the rankings.