Vietnam News Today (Dec. 29): Hanoi Allows Foreign Arrivals to Self-isolate
Vietnam News Today (Dec. 29): Vietnam records 14,421 new local Covid-19 cases; Vietnam, Cuba to augment cooperation across the board; Hanoi allows foreign arrivals to self-isolate; Vietnam confirms first case of Omicron variant infection.
Vietnam News Today (Dec. 29) notable headlines
Vietnam records 14,421 new local Covid-19 cases
Vietnam, Cuba to augment cooperation across the board
Hanoi allows foreign arrivals to self-isolate
Vietnam confirms first case of Omicron variant infection
Vietnam Airlines Group to resume 10 more domestic routes in January
Vietnamese, Lao foreign ministers co-chair 8th political consultation
Vietnam makes valuable contributions in UNSC: UK Permanent Representative to UN
Vietnam, Indonesia intensify collaboration in maritime security, safety
Trade promotion makes great strides in adapting to Covid-19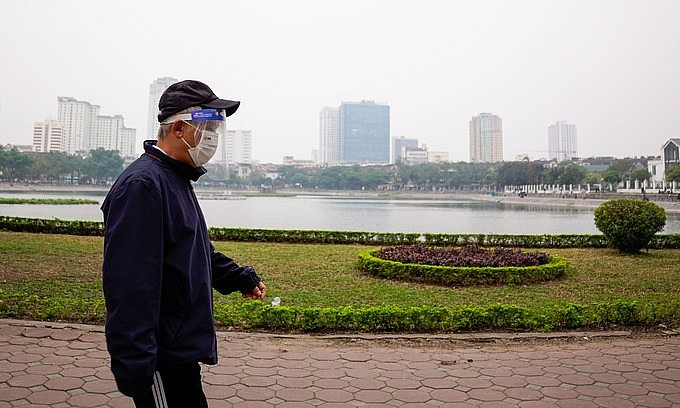 A man wears a face shield outside a mask as he walks by Hanoi's West Lake, December 26, 2021. Photo: VnExpress
Vietnam records 14,421 new local Covid-19 cases
The Health Ministry confirmed another 14,421 domestic Covid-19 cases Tuesday, marking the lowest daily tally in a week.
The three places with the highest numbers of new infections were Hanoi with 1,920 cases, Tay Ninh Province that borers HCMC with 923 cases the Vinh Long Province in the Mekong Delta with 911 cases.
HCMC reported 671 new cases.
In the past seven days, Vietnam has recorded 15,850 cases per day on average compared to 18,134 cases the previous week, cited VnExpress.
On Tuesday, the ministry announced another 214 Covid-19 deaths, including 35 in HCMC. The total Covid death toll so far rose to 31,632, accounting for around 1.9 percent of all infections.
Of more than 384,159 patients under treatment, 7,103 are heavy cases.
Around 66.8 million people in the country have been vaccinated with two doses and 3.1 million have received the third doses, including the ones of the three-dose combo for Cuba's Abdala vaccine.
Vietnam, Cuba to augment cooperation across the board
Vietnam and Cuba reviewed co-operation for this year and consented to co-operation contents ahead in 2022 during the 39th meeting of their Inter-Governmental Committee, held via an online platform in Hanoi on December 28.
Minister of Construction Nguyen Thanh Nghi, co-chair of the committee, said co-operation between both sides has been successfully maintained this year despite the impact of the Covid-19 pandemic.
Two-way trade during the past 11 months of the year hit US$105 million, marking an annual rise of 2%, he said, adding that the country has strived to maintain its rice exports to Cuba, helping the Caribbean nation ensure food security and social stability.
Through various conferences and workshops, both online and in-person, the two sides have managed to popularize the Vietnam-Cuba trade agreement among their businesses and relevant associations.
Most notably, the joint investment working group has introduced new Cuban policies, priority areas, and projects calling for foreign investments, whilst also proposing solutions aimed at removing difficulties facing Vietnamese investors in Cuba.
The co-operation project on rice production in Cuba for the 2019 to 2023 period has been carried out as scheduled. Meanwhile, the two sides have co-ordinated to raise proposals regarding the project which will help Cuba with aquatic farming and corn cultivation.
Remarkable progress has also been recorded in collaboration on health care and bio-technology, particularly with Cuba providing the Vietnamese side with five million doses of the Abdala Covid-19 vaccine.
As part of the official visit to Cuba by President Nguyen Xuan Phuc last September, ministries, agencies, and businesses of the two countries signed many important co-operation agreements, covering the economy, fisheries, health care, cyber security, justice, hotels, and clean energy.
The signing has created a crucial foundation for Vietnam and Cuba to focus on activities and expand co-operation opportunities in areas in which both are interested in.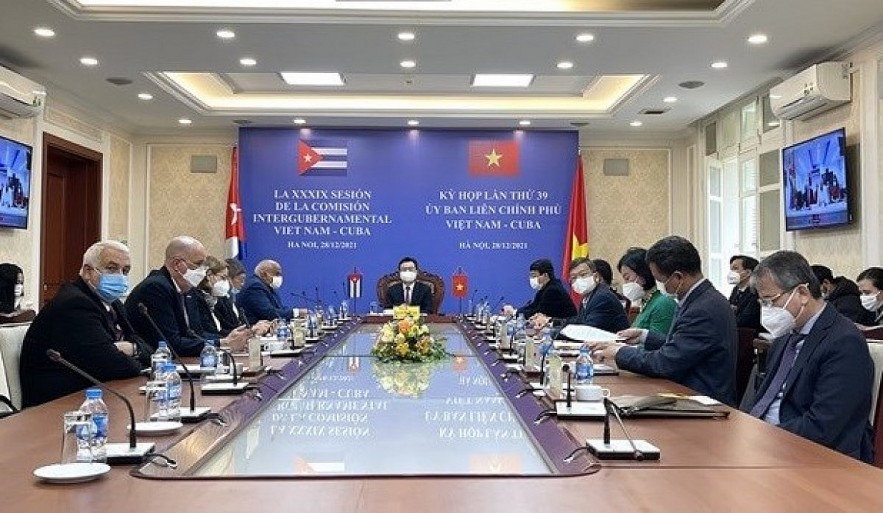 Vietnam and Cuba review cooperation during their 39th meeting of the Vietnam-Cuba Inter-Governmental Committee. Photo: VNA
Given the various difficulties and shortcomings to bilateral co-operation, the nation has suggested that the Cuban Government could soon come up with solutions aimed at ensuring the effective operation of Vietnamese projects.
Both sides concurred to boost collaboration in priority areas, as well as the spheres in which both are interested in.
They will therefore work to effectively implement reached agreements and create conditions in which businesses can fully utilize the tax incentives of the Vietnam-Cuba trade agreement and boost the bilateral trade.
Greater efforts will also be stepped up in order to carry out the co-operation project on rice production in Cuba, whilst also sketching out corn and aquaculture projects that are expected to be submitted to competent agencies for approval, the meeting heard.
The two health ministries will strive to ramp up co-operation in the supply and transfer of Covid-19 vaccine production technology in Vietnam, according to VOV.
The two nations used the platform to agree to enhance partnerships across a variety of fields like construction, information-communications, finance, customs, banking, education-training, culture-sports-tourism, labour-invalids-social affairs, radio, television, science-technology and justice, among others.
As part of the occasion, the Vietnamese Ministry of Culture, Sports and Tourism and the Cuban Ministry of Culture signed a memorandum of understanding on cultural co-operation.
Hanoi allows foreign arrivals to self-isolate
Those that have been fully vaccinated or recovered from Covid-19 will only need to self-isolate for three days when arriving in Hanoi from abroad.
In a regulation issued Tuesday, Hanoi stated those who have been fully vaccinated with two doses or recovered from Covid-19 will only need to self-monitor their health for three days, either at home, hotels or other facilities.
They will be tested on the third day. If results are negative, they will be required to monitor their health for the next 11 days, free to move about, but required to avoid large gatherings or crowded places.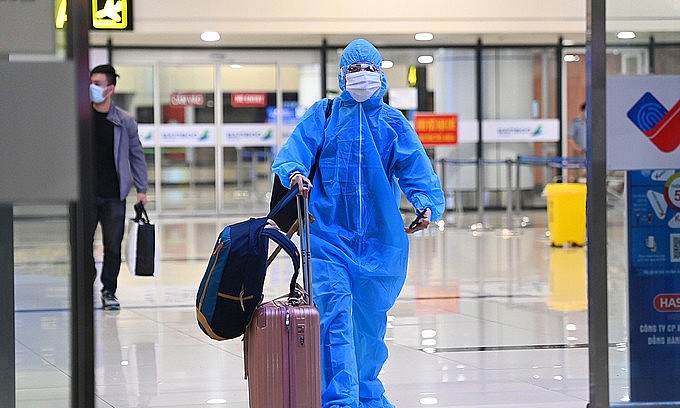 Passengers arrive at Noi Bai International Airport in Hanoi, October 11, 2021. Photo: VnExpress
Fully vaccinated people and recovered cases must have relevant certificates to prove their status.
Arrivals who are not fully vaccinated will be quarantined at home or other facilities for seven days, then tested on the third and seventh days.
Those under 18, above 65, pregnant women and those with underlying conditions can be quarantined with caretakers. However, the caretakers must be fully vaccinated or have recovered from Covid-19.
Taking effect from Jan. 1 next year, the new guideline is made just one day after the capital announced that everyone arriving from countries where the Omicron variant of Covid-19 has been detected have to stay in a centralized quarantine facility regardless of their vaccination or recovery status.
Hanoi made the adjustment after the government approved the resumption of international flights between Vietnam and nine destinations that have managed high vaccination rates and good pandemic control on Jan. 1.
Among the approved destinations are the U.S. and Japan, where Omicron has been detected.
According to initial information, the Civil Aviation Administration of Vietnam has allowed airlines to sell regular international flight tickets to Japan and the U.S.
It is the latest guidance, the Hanoi administration did not state specifically how it would quarantine those arriving from these two destinations.
Vietnam confirms first case of Omicron variant infection
An entrant returning from the UK was confirmed by the Ministry of Health on December 28 to be the first Omicron case recorded in the nation.
According to information provided by the country's infectious disease surveillance system and a preliminary report produced by the 108 Military Central Hospital on December 19, the Central Military Hospital 108 received one case of the variant.
The confirmed case is a passenger who was onboard flight QH9028 from the UK to Vietnam who then landed at Noi Bai International Airport on the evening of December 19, reported VOV.
After receiving a positive rapid test result for the SARS-CoV-2 virus, the passenger was transported from the airport to an isolation area specifically for Covid-19 cases at 108 Military Central Hospital.
Following this, the Department of Molecular Biology of the Hospital then conducted a test for SARS-CoV-2 by using the RT-PCR method, with this also giving a positive result.
With the patient being a passenger returning from the UK, a place where many Omicron infections have been detected in recent times, the Hospital on December 20 carried out sequencing of the SARS-CoV-2 genome by using Oxford Nanopore (ONT) technology to report a suspected result of Omicron infection.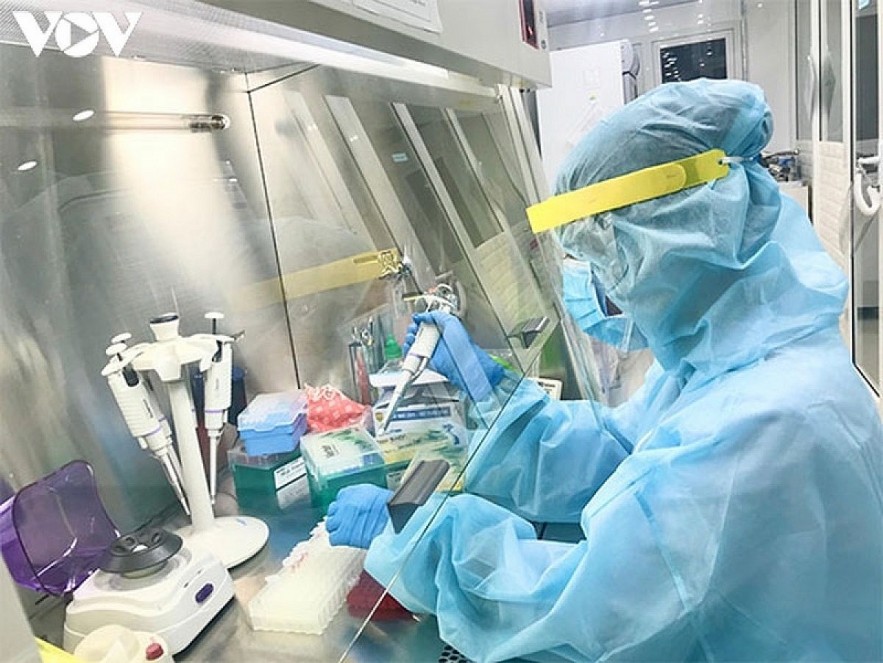 Photo: VOV
However, as the Omicron strain contains up to 36 mutations within the protein spike, including some point mutations, deletion mutations in this sequencing time remain unclear. Therefore, the hospital continued to take samples on December 21 as part of re-sequencing.
The hospital's gene sequencing results indicate that the patient was infected with the Omicron variant (B.1.1.529).
This marks the first infection case of the Omicron variant recorded in the country, although the entrant was quarantined and promptly managed after entry.
The Ministry of Health is therefore continuing to keep a close watch on the pandemic situation, as well as the possibility of infection with the Omicron variant in the nation.
It also recommends that people strictly comply with Covid-19 prevention and control measures and get themselves fully inoculated.
Vietnam Airlines Group to resume 10 more domestic routes in January
Member carriers of Vietnam Airlines Group are planning to resume 10 more domestic air routes from January 2022, raising the number of such routes to nearly 50.
The group, comprising Vietnam Airlines, Pacific Airlines, and VASCO, will reopen the routes connecting Ho Chi Minh City with Quang Ninh province; Hai Phong city with Da Lat, Buon Ma Thuot, and Nha Trang cities; Thanh Hoa province with Buon Ma Thuot and Da Lat; Vinh city with Buon Ma Thuot, Nha Trang, and Da Lat; and Hue city with Da Lat.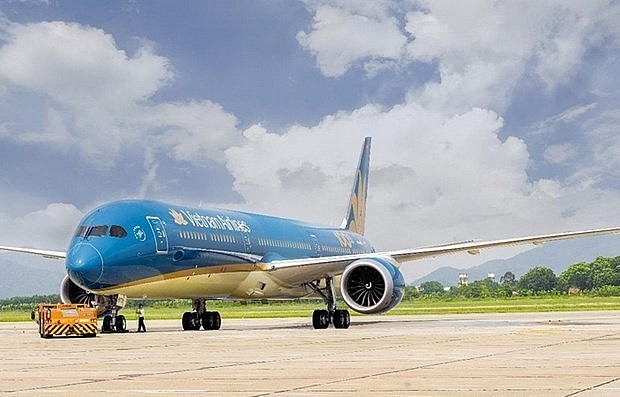 A plane of national flag carrier Vietnam Airlines. Photo: VNP
The routes are scheduled to resume from January 16, with three to four flights per week each.
The carriers will also increase the flight frequency on many routes to an average of about 300 one-way flights per day in total, cited VNA.
Meanwhile, the number of seats will also be raised by 120 percent from the current level to nearly 2 million to serve the Lunar New Year peak, which falls on late January and early February.
Vietnam Airlines Group said the carriers' official flight and ticket sales schedules will depend on authorized agencies' decisions, localities' requirements, as well as the pandemic situation.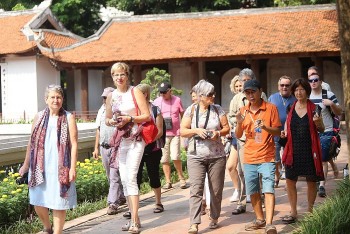 National
Vietnam News Today (May 24): Covid-19: Vietnam records 1,179 new cases, 3,862 recoveries on May 23; Foreign arrivals soar two months after border reopening; Vietnam, Cambodia boost defense ties; Heavy rain floods parts of northern Vietnam.