Vietnam News Today (Dec. 28): Vietnam's Economy Sailing Through Covid-19 Storm
Vietnam News Today (Dec. 28): Covid-19: Daily infections fall to nearly 15,000, Hanoi again tops localities; Vietnam to give all adults third Covid shot by next March; Vietnam preparing personnel for higher posts in UN peacekeeping missions; Vietnam's economy sailing through Covid-19 storm.
Vietnam News Today (Dec. 28) notable headlines
Covid-19: Daily infections fall to nearly 15,000, Hanoi again tops localities
Vietnam to give all adults third Covid shot by next March
Vietnam preparing personnel for higher posts in UN peacekeeping missions
Vietnam's economy sailing through Covid-19 storm
Vietnam Airlines sells airfares for commercial flights to Japan
HCM City tourist attractions offer discounts during tourism week
Hanoians struggle amid freezing temperatures
FDI inflows record annual rise of 9.2% in 2021
Cashew nut exports likely to exceed US$3.6 billion this year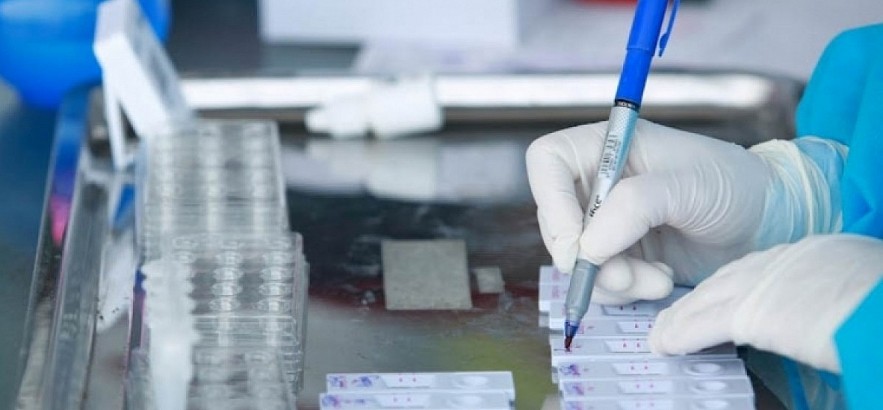 Labelling Covid-19 test samples. Photo: VOV
Covid-19: Daily infections fall to nearly 15,000, Hanoi again tops localities
The Ministry of Health has confirmed 14,872 new coronavirus cases, including 14,867 locally acquired infections, in 59 cities and provinces across the country during the past 24 hours.
Notably, as many as 10,418 cases (or two thirds of the total) were detected in the community, posing a high risk of virus spreading in localities.
The Covid-19 outbreak remains complicated nationwide, with most of the cases documented in the south. Localities that recorded hundreds of new cases each included Tay Ninh, Vinh Long, Can Tho, Dong Thap, Bac Lieu, Tra Vinh, Binh Dinh and Ca Mau. The number of infections continued to fall in Ho Chi Minh City, at just 560, cited VOV.
But Hanoi capital in the north topped localities in infection numbers, registering 1,948 cases. The number of new infections suddenly skyrocketed in the northern port city of Hai Phong, hitting 931 almost doubling the previous day's figure.
The same day, the official data from the MoH also show that 11,374 Covid-19 patients were discharged from hospital, and 204 patients died of the SARS-CoV-2 virus and underlying illnesses.
As of 6 p.m. on December 27 Vietnam has detected 1,666,545 Covid-19 cases since the start of the first outbreak in January 2020, ranking 31st out of 223 countries and territories worldwide.
Of the infected patients, 1,259,614 have recovered from the disease, and 31,418 patients have died of the disease.
More than 146 million vaccine doses have been administered nationwide, with 66.4 million people getting their second shot and nearly 2.8 million people receiving their booster jab.
Vietnam to give all adults third Covid shot by next March
Cities and provinces have been ordered to complete vaccinating all people over 18 with the third Covid-19 dose within the next quarter.
Speaking at a Ministry of Health's meeting held in response to the International Day of Epidemic Preparedness in Hanoi on Monday, Deputy Minister Nguyen Truong Son said cities and provinces must boost the progress to inoculate all adults with the third Covid-19 jab and cross the finish line within the first quarter of 2022.
"Vietnam's vaccination rate and vaccine coverage rate have reached a high level compared to other countries in the region and around the world."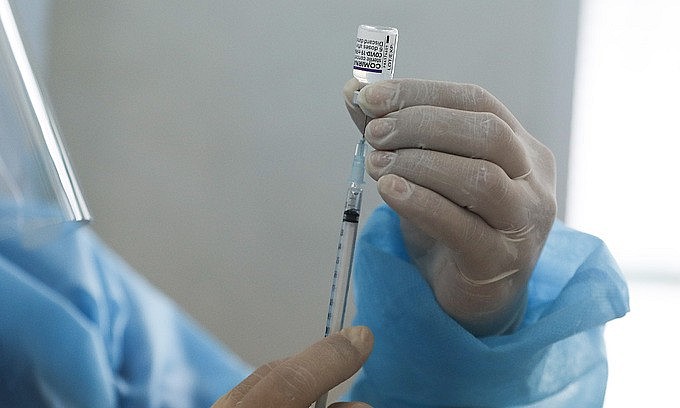 A medic prepares a Covid-19 vaccine shot in HCMC, October 27, 2021. Photo: VnExpress
With the current vaccination rate, by the end of this month, Vietnam will guarantee coverage for all people aged 18 and above with the first dose and have 90 percent of them inoculated with the second dose, he said.
For now, 98 percent of the adult population have received at least one shot, and 86 percent, two shots, according to VnExpress.
By Tuesday, over 65.9 million people of Vietnam's 96 million population have been vaccinated with two doses, and more than 2.5 million have received the third dose.
Vietnam allowed mass administration of the third Covid-19 vaccine shot on Dec. 1.
On Dec. 17, the health ministry issued a new guideline to reduce the waiting time for the third Covid-19 vaccine shot from six months to three.
Vietnam preparing personnel for higher posts in UN peacekeeping missions
Vietnam needs to prepare personnel to meet the requirements of higher positions in United Nations (UN) peacekeeping missions, and continue to send candidates, especially female staff, to the UN headquarters, Colonel Mac Duc Trong, deputy head of the Vietnam Department of Peacekeeping Operations, has said.
Trong stressed the need to participate more in UN peacekeeping operations, and deploy tasks in several tasks such as logistics, liaison and military police, adding that this is a long-term goal set out by the department.
According to him, participating in UN peacekeeping operations is a major policy of the Vietnamese Party and State, and also an important task of the Vietnam People's Army in the new period, contributing to realizing the foreign policy of peace, cooperation, development, multi-lateralization and diversification of international relations, reported VNA.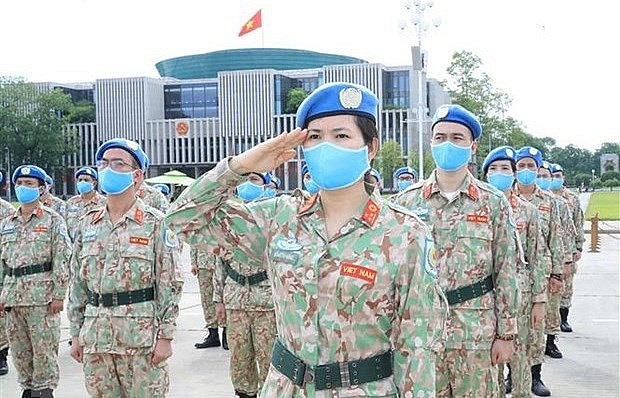 Vietnamese UN peacekeepers. Photo: VNA
Vietnam's engagement in UN peacekeeping operations over the past seven years has achieved many positive results, and at the same time opened up many new directions of deployment, becoming a prominent mark in diplomatic defense, he stated.
The colonel said that recently, for the first time, Vietnam made debut a sapper unit to participate in UN peacekeeping, marking a new development step in expertise and level.
Compared to the level-2 field hospitals Vietnam has deployed before, the sapper unit is larger in number with 184 professional officers and soldiers. In terms of equipment, the unit will deploy about 2,000 tonnes of equipment to the UN Interim Security Force for Abyei (UNISFA), including around 150 machines.
In the coming time, the set goal is to successfully deploy Vietnam's first sapper unit to the UN peacekeeping mission and complete all the tasks assigned by the UN for the humanitarian mission.
Vietnam must continue to keep up the good quality of its level-2 field hospitals to maintain the existing reputation among the missions, he added.
Vietnam's economy sailing through Covid-19 storm
Vietnam has fulfilled a number of economic targets this year despite impacts of the Covid-19 pandemic, becoming one of the top 20 economies in the world in terms of international trade.
The country's GDP grew 2 percent, while its foreign trade value surpassed US$660 billion, up 21 percent, with a trade surplus of about US$2.1 billion. Notably, foreign direct investment (FDI) poured into the country hit over US$29 billion, up nearly US$500 million from last year.
These achievements are attributable to efforts by the entire political system, the business community and people, along with the Government's flexible decisions and policies.
Vietnam has shifted its strategy from "zero Covid-19" to safely and flexibly adapting to and effectively controlling the pandemic, helping to maintain economic activities.
Such policies and strategies have consolidated public confidence in the Government, and encouraged them to join hands in pandemic containment and economic development.
The fourth wave of pandemic outbreaks, which began late April, has prompted prolonged social distancing in a number of cities and provinces which are industrial hubs and top contributors to the State budget like Ho Chi Minh City, Hanoi, Da Nang, Can Tho, Bac Ninh, Bac Giang, Binh Duong and Dong Nai, resulting in sluggish production, disrupted supply chains and a decrease in the purchasing power.
Up to 1.8 million laborers lost their jobs or part of their incomes in the third quarter of this year, up 700,000 from the previous quarter, and the country's economy contracted 6.17 percent – the sharpest drop since Vietnam began calculating and announcing its quarterly GDP. As a result, in the first nine months of this year, the national GDP was up only 1.42 percent.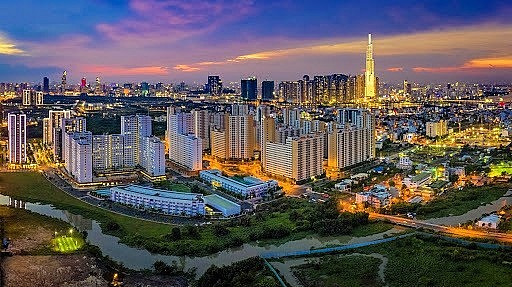 A view of Ho Chi Minh City. Photo: VNA
However, the country's socio-economic development has bounced back since October, as informed by Prime Minister Pham Minh Chinh at the Country Strategy Dialogue on Vietnam 2021 held at the end of the month.
During the January-October period, newly-registered FDI into Vietnam rose 11.6 percent and export went up 16.6 percent year-on-year. The country's consumer price index (CPI) in the 10 months inched up only 1.81 percent.
PM Chinh said difficulties facing Vietnam are temporary, stressing the country's potential, advantages and new driving forces for long-term development and macro foundation, with stable, solid major economic balances.
For a firm macro foundation, the country has issued unprecedented incentives for people and businesses affected by Covid-19, and made timely adjustments to policies.
Each locality has also adopted their own ways in implementing policies and guidelines of the Government to achieve the dual goals of pandemic combat and economic development, cited VNA.
With the timely, flexible policies, Vietnam is expected to see a GDP growth of over 2 percent this year, and the agricultural sector would expand 2.8 percent, continuing to be a pillar of the national economy.
Given the emergence of the Omicron variant that would greatly threaten the economy of Vietnam and the world, experts suggested that Vietnam should kick off its economic recovery program early, and deal with limitations of the previous support packages in order to reach the economic growth target of 6-6.5 percent in 2022 as set by the legislature.
Vietnam Airlines sells airfares for commercial flights to Japan
National flag carrier Vietnam Airlines began selling tickets on December 26 for commercial flights on the Vietnam-Japan route which is scheduled to take off on January 5.
The price of a one-way ticket will start from VND9 million, equivalent to US$391.3, per trip, Vietnam Airlines announced.
Accordingly, flights running between Hanoi and Narita will take off on every Thursday and Sunday, whilst flights from Ho Chi Minh City to Narita and vice versa will be held every Saturday.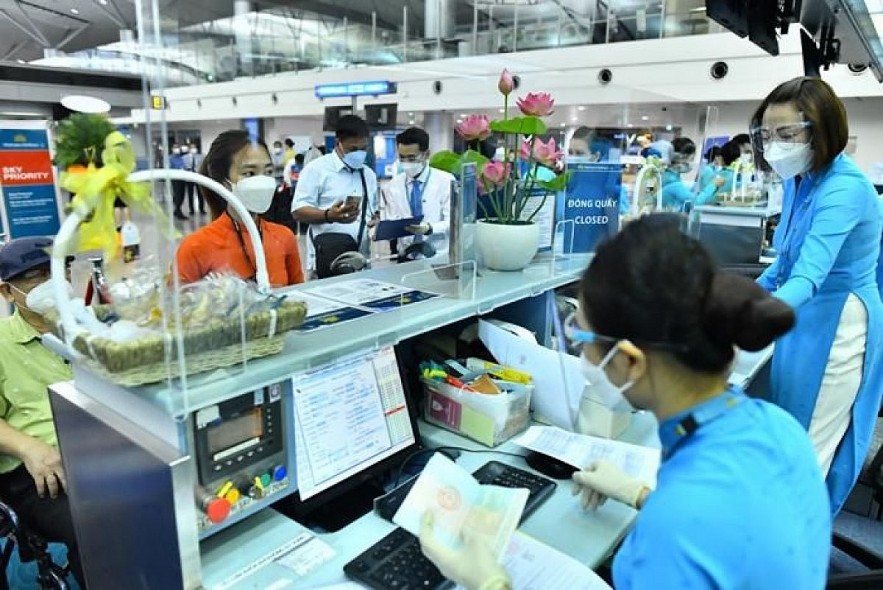 Photo: VOV
Vietnam is scheduled to resume regular international flights on a trial basis since the Covid-19 outbreak on January 1.
However, on December 23 the Civil Aviation Authority of Vietnam (CAAV) came out to state that only Japan had officially agreed with the Vietnamese plan to resume regular international flights starting from next year with four weekly flights.
Japan also announced that two of their airlines, Japan Airlines and All Nippon Airways (ANA), will be operating flights to Vietnam and back, VOV reported.
Vietnam Airlines noted that it is also preparing to reopen international routes to Europe and Australia, where there remains a huge demand from overseas Vietnamese who wish to return or visit the country, especially with the traditional lunar New Year holiday, known internationally as Tet, drawing near.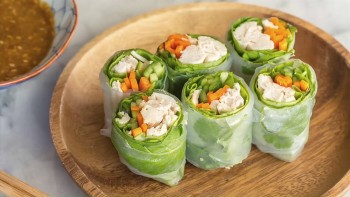 Travel
Rolls are a easy-to-make dish that is loved by many Vietnamese diners as well as Korean stars.