Vietnam News Today (December 7): Transport Ministry Proposes Measures for Resumption of Regular International Flights
Vietnam News Today (December 7): Close to 14,600 fresh Covid-19 cases detected, with over 8,000 in community; Vietnamese, Lao officials hold online talks; Transport Ministry proposes measures for resumption of regular international flights; Vietnam mulls vaccinating children from 5.
Vietnam News Today (December 7) notable headlines
Close to 14,600 fresh Covid-19 cases detected, with over 8,000 in community
Vietnamese, Lao officials hold online talks
Transport Ministry proposes measures for resumption of regular international flights
Vietnam mulls vaccinating children from 5
District shuts down 19 schools following Covid outbreaks
Bright prospects ahead for local agricultural exports to Singapore
Vietnamese tennis ace wins second int'l title in Mexico
Vietnam treasures comprehensive cooperation with Netherlands: PM
Parents do not want to send their 1st graders to school: HCMC poll
Photo: VOV
Close to 14,600 fresh Covid-19 cases detected, with over 8,000 in community
The Health Ministry reported the detection of 14,591 new Covid-19 cases in 59 provinces and cities nationwide on December 6, representing a rise of 246 cases from one day earlier.
Among the new infections, a total of 8,117 cases were detected in the community.
The three localities with the highest number of fresh cases were Ho Chi Minh City with 1,174 infections, Tay Ninh with 859, and Soc Trang with 793 cases.
Hanoi recorded 587 new infections over the past 24 hours, with many of them detected among the local community.
The COVID-19 death toll nationwide also rose to 26,482 following the confirmation of 223 deaths on December 6.
Health authorities also confirmed a total of 1,130 recoveries on the same day, thereby taking the overall number of recovered cases to 1,010,407 since the start of the pandemic.
Over 127.8 million people have now been inoculated at least once against the virus, with more than 54 million people now having received full two doses, cited VOV.
Elsewhere, Vietnamese airlines proposed that the Government swiftly resume international flights and exempt mandatory quarantine for fully vaccinated passengers in a bid to save the aviation industry from a prolonged crisis.
Dang Ngoc Hoa, chairman of Vietnam Airlines, said the national flag carrier has petitioned the Government to reopen international flights in the near future to countries and territories with high vaccination rates and competent pandemic control.
In line with this, if the country is slow-paced in reopening international flights, then the nation would lose its advantage in terms of attracting both foreign tourists and investors, Hoa said.
"Airlines and travel businesses are in deep financial crisis, which can lead to bankruptcy and inability to compete regionally," he added.
Vietnamese, Lao officials hold online talks
Chairwoman of the Communist Party of Vietnam (CPV) Central Committee's Commission for Mass Mobilisation Bui Thi Minh Hoai held online talks with President of the Lao Front for National Construction (LFNC) Central Committee Sinlavong Khutphaythoun to discuss bilateral ties and future orientations.
Sinlavong, who is also a Politburo member of the Lao People's Revolutionary Party Central Committee, expressed his delight at the effective development of Laos-Vietnam relations in various areas, bringing practical benefits to their people.
Vietnam's achievements provide a great source of encouragement for Laos in its cause of national construction and development, he said.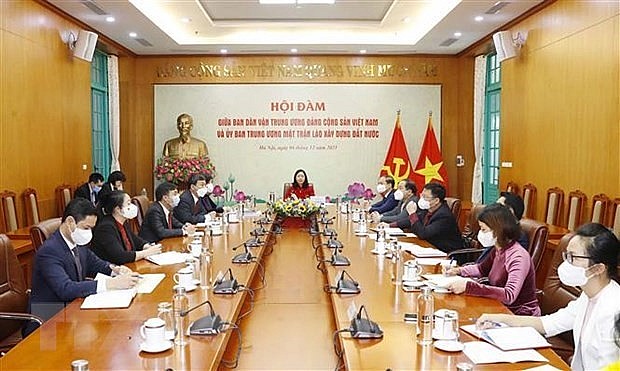 At the talks. Photo: VNA
The Lao official affirmed that the LFNC Central Committee will work closely with the Vietnamese side to effectively realize agreements reached by leaders of the two Parties and countries, as well as between the CPV Central Committee 's Commission for Mass Mobilization and the LFNC Central Committee, reported VNA.
For her part, Hoai, who is also Secretary of the CPV Central Committee, said over the past years, the CPV Central Committee's Commission for Mass Mobilization and the LFNC Central Committee have actively carried out their agreement and improved the efficiency of mass mobilization work in the new situation, thereby contributing to the successful implementation of the Resolutions adopted by each National Party Congress.
Both sides agreed to facilitate the exchange of delegations once the Covid-19 pandemic is under control, continue raising public awareness of and encouraging people of the two nations, especially young generations, to preserve and nurture the Vietnam-Laos great friendship, special solidarity and comprehensive cooperation, as well as fight distorted allegations aimed at sabotaging the two Parties, countries and dividing Vietnam-Laos ties by hostile forces.
They pledged to continue working closely together and offering mutual support at multilateral forums in the region and the world as well, and creating favorable conditions for mass mobilization committees at all levels, especially in border localities, to share experience and cooperate in the field.
Transport Ministry proposes measures for resumption of regular international flights
The Ministry of Transport (MoT) has sent a proposal on measures needed to be taken for the resumption of regular international flights to the Government's Office, according to Deputy Minister Le Anh Tuan said.
The Deputy Minister said the proposal was submitted following meetings between the MoT and domestic carriers namely Vietnam Airlines, Vietjet Air, Bamboo Airways, Pacific Airlines, the Airports Corporation of Vietnam (ACV) and concerning ministries.
He said all airlines and airport operators asked for resuming regular international passengers flights. The airlines also suggested lifting quarantine rules for fully vaccinated travelers or those having recovered from the Covid-19, who have negative virus test results taken within 72 hours prior to their travel, Tuan said.
International airports have got themselves ready to welcome back regular international flights, with 10% of employees vaccinated against the virus and issuance of Covid-19 hygiene guidelines, he added.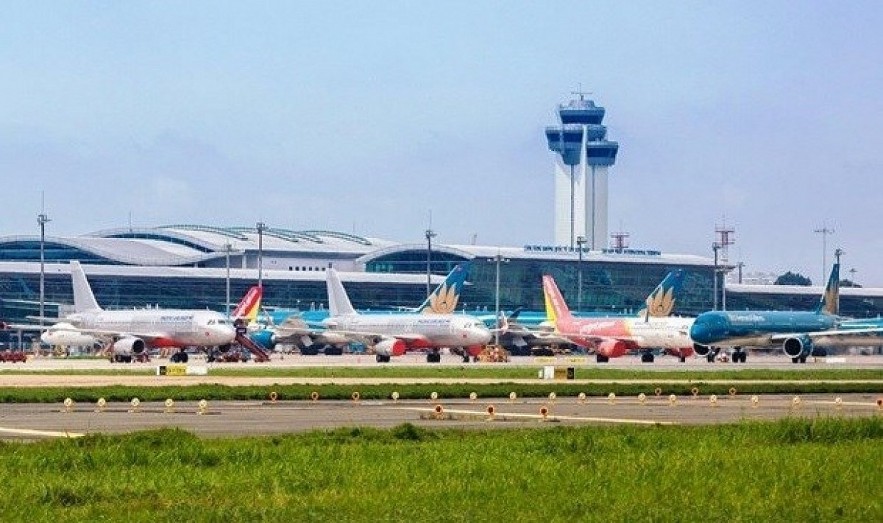 Tan Son Nhat International Airport in Ho Chi Minh City. Photo: VOV
The deputy minister further noted that the Ministry of Health has been drafting a guideline on relaxing quarantine rules for arrivals, which is expected soon to be released, while the Ministry of Foreign Affairs has been accelerating talks with foreign counterparts on the mutual recognition of "vaccine passport."
The Ministry of Public Security has also been developing an integrated mobile app for immigration reviews, health declaration and vaccination certification, the deputy minister said.
For the part of airlines, in a letter sent to the Prime Minister proposing the resumption of international air routes, Chairman of the Board of Directors of Vietnam Airlines Dang Ngoc Hoa pointed out multiple risks Vietnam is likely to face if international flights will not be reopened anytime soon, according to VOV.
Vietnam may lose its competitive edges in the eyes of not only tourists but also investors, Hoa said. Aviation and tourism firms in Vietnam are struggling, he noted, adding that they are on the brink of bankruptcy and losing competitive advantages to regional rivals, making post-pandemic recovery even harder.
Vietjet Air Deputy Director-General Nguyen Van Son said it is critical for Vietnam to early resume international flights, particularly from/to countries with high vaccination rate.
Data shows that the aviation sector served 13.4 million passengers in the first 10 months of this year, just equal to 22.5% of the pre-pandemic level (2019).
The number of air travelers only totaled 2.1 million between May and mid-November when the country was hit by the fourth Covid-19 wave, equivalent to 5.8% of 2019's figure. The foreign arrivals only accounted for 1% of the pre-pandemic level.
Vietnam mulls vaccinating children from 5
Prime Minister Pham Minh Chinh on Sunday requested authorities to look into Covid-19 vaccination for children aged 5 and above.
Chinh requested authorities to look into and seek approval into certain vaccine-related topics, including the possibility to vaccinate children aged 5 and above based on scientific and safety criteria that are suitable for the disease situation in both Vietnam and other countries.
Over 20 countries have vaccinated children aged 3-11, Nguyen Minh Vu, Deputy Minister of Foreign Affairs, said at the meeting. The WHO said the pros of vaccinating children aged 3-11 outweigh the cons, while vaccinating elderly people and those with underlying conditions should come first before moving on to children, he added.
A medic prepares a Pfizer-BioNtech Covid-19 vaccine shot at a high school in HCMC, October 27, 2021. Photo: VnExpress
Vu said the newly emerging Omicron variant has made the pandemic situation more complex globally. While reports have shown that current vaccines still offer high protection and firms are developing new shots to respond to the variant, countries have been ramping up prevention measures and giving their citizens third doses, VnExpress reported.
PM Chinh wants all adults to receive two Covid-19 vaccine doses within this year. He ordered health agencies to begin giving third doses to certain groups, prioritizing those aged 50 and above and those at the coronavirus frontline.
Vietnam has been rolling Covid-19 vaccine shots for children aged 12-18 using the Pfizer vaccine. So far, over 3.5 children aged 12-18 have received their shots. Around 0.3 percent experienced common side effects. Three have died due to "overreaction" to the vaccine.
The country has vaccinated 73.3 million people with at least one Covid-19 vaccine shot, and 54.1 million people have received two shots.
District shuts down 19 schools following Covid outbreaks
Nineteen schools in a district in the north central Thanh Hoa Province were closed down after the detection of multiple Covid-19 cases.
Since Monday morning, Vinh Loc District's Steering Committee for Covid-19 Prevention and Control has allowed over 8,000 students from 19 schools, including kindergartens, primary, secondary and high schools, to suspend in-person classes, according to the local Department of Education and Training.
Teachers and school staff must now clean up, perform pandemic prevention measures and instruct students to study at home until further notice, according to the department.
A high school student (L) in Thanh Hoa receives a Covid-19 vaccine shot in December 2021. Photo: VnExpress
The decision was made after the district detected five new Covid-19 cases, all students. Previously, 21 students at Vinh Loc High School and Vinh Phuc Secondary School were infected with the coronavirus.
One 10th grader in Vinh Loc High School was found to have made contact with, besides their family, around 34 classmates and 12 teachers in the past 14 days before being confirmed infected Friday.
At least 2,000 people have made contact with the students, medical authorities stated. So far, 21 cases have been infected, mostly fellow students and family members, cited VnExpress.
Since late April, Thanh Hoa has recorded around 3,000 Covid-19 cases and 12 deaths. Around 2.9 million Covid-19 vaccine shots have been given in the province.
Local children aged 15-17 have also begun to be vaccinated starting late November with Pfizer. But several have experienced side effects, though none were severe, according to the provincial Center for Disease Control.
Thanh Hoa is one of a few localities in Vietnam to have opened schools amid the pandemic. Hanoi reopened several high schools from Monday while HCMC has only resumed in-person classes in its island district Can Gio.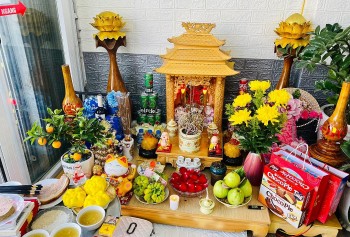 Handbook
Learn more about an ancient Vietnamese tradition that may bring you good fortune!