Travel Companies in Phu Quoc Prepare to Welcome Back Foreign Tourists
As Phu Quoc prepares to welcome back foreign tourists, travel firms say they are ready and expectant.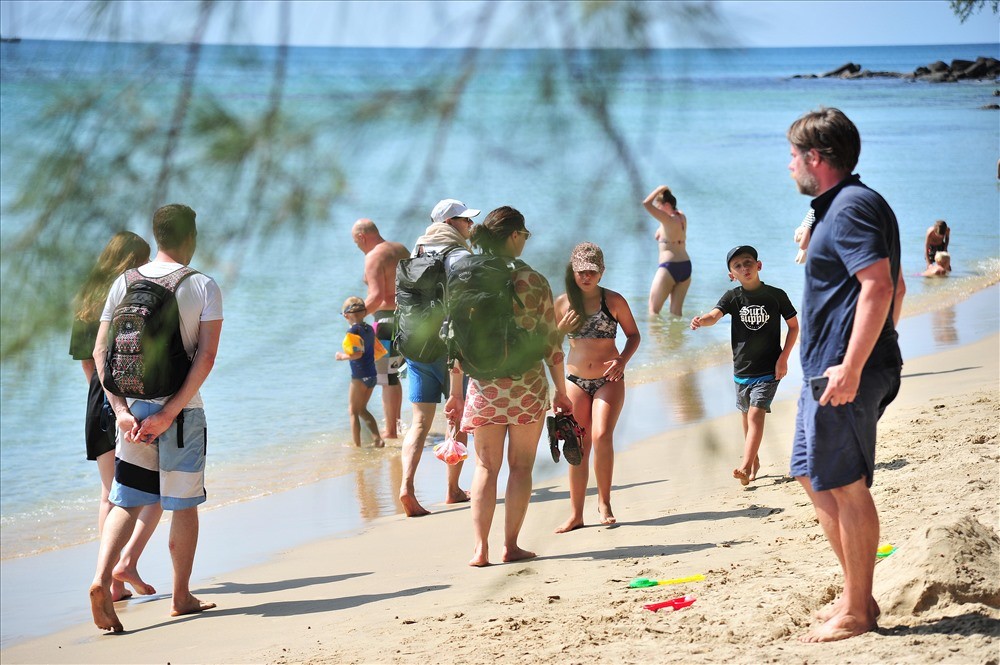 Foreign visitors in a beach in Phu Quoc. Photo: Bao Lao Dong
Tran Nguyen, sales director of giant hospitality company and property developer Sun Group, which owns a number of resorts and tourist areas in Phu Quoc, told VNE that everything from infrastructure to human resources was ready for the return of foreign tourists.
The Premier Residences Phu Quoc Emerald Bay, which the company owns, is among 15 five-star resorts where tourists can stay under a two-phase vaccine passport trial program that begins on Nov. 20.
Nguyen said buildings in the property were separated from each other to ensure that pandemic prevention and safety protocols were created.
Her company has upgraded tourist facilities and amusement parks, trained human resources and strengthened pandemic prevention measures as the tourism industry reopens, she added.
Le Thi Hai Chau, general director of Movenpick Resort Waverly Phu Quoc and Movenpick Villa and Residences Phu Quoc, said staff at both facilities had been fully vaccinated and received training in pandemic prevention to deal with unexpected situations.
Both facilities are in the list of 15.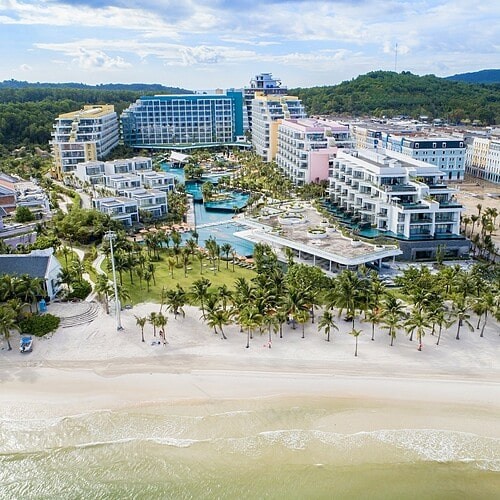 The Premier Residences Phu Quoc Emerald Bay. Photo courtesy of the resort/ via VNE
"We have worked with partners from Russia, South Korea, and Europe to prepare for the tourism reopening plan, and most of our partners have shown big interest in reopening Phu Quoc."
She also said that South Korea and Europe "are currently the two most promising markets for Phu Quoc" but did not disclose detailed figures.
Nguyen Dinh Thong of Eco Beach-Hon Thom, which offers undersea walking tours, said he hoped the vaccine passport program would be implemented as planned during Phu Quoc's peak travel season between October and March.
He said over two years and four waves of Covid-19 his company's operating capacity has shrunk to 30%. Despite the difficulties caused by the pandemic, the company continued to pay diving guides their salaries so that they would be ready to return quickly.
Nguyen Nguyet Van Khanh, deputy marketing head at major travel firm Vietravel, said since mid-September after Phu Quoc got the green light to allow in foreign tourists, the company had worked with foreign partners to develop new tourism products.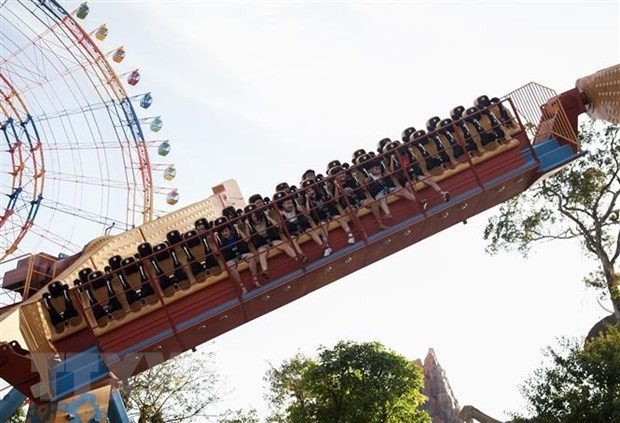 Phu Quoc VinWonders Park. Photo: VNA
Vietravel is one of four tour operators chosen to offer their services during the pilot phase from November. To enter Phu Quoc, visitors are required to book a tour package with one of them.
Khanh said the company planned to operate one to two charter flights a month with 200-400 passengers to Phu Quoc by the end of this year. Next year the flight frequency would be increased to three to five, equivalent to 1,000 tourists a month, he said.
All Vietravel tourism staff have been fully vaccinated and the company would test them regularly to ensure tourist safety.
More expectations
Nguyen of Sun Group expects the pilot program in Phu Quoc to enable the tourism industry to take off again after two years of border closures and flight suspensions.
But she wants authorities to ensure consistent implementation of policies by all localities to create a "green lane for tourism" and eliminate overlapping regulations that could hinder tourism recovery.
"In some tourism markets where the pandemic is under control, we want the government to exempt visa requirements and relax entry and quarantine regulations to attract more tourists."
Chau hopes that the medical system in Phu Quoc would be upgraded and people would be trained to deal with unexpected situations if Covid reappears.
He wants local authorities to help hotels carry out pandemic response drills.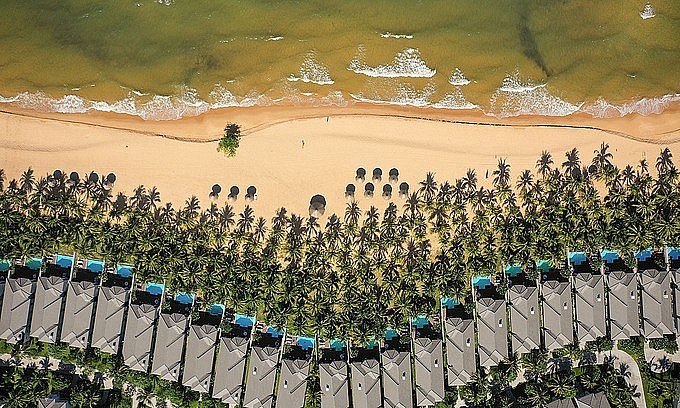 A beach resort on Phu Quoc Island, Kien Giang province. Photo: VNE
15 resorts chosen for Phu Quoc vaccine passport trial program
Kien Giang Province authorities have proposed a list of 15 five-star resorts on Phu Quoc Island to house foreign tourists in a two-phase vaccine passport trial program.
Seven will be selected for fully immunized foreign tourists to stay in the first phase from Nov. 20 to March 20 next year.
They are Vinpearl Discovery Costalland Phu Quoc, Vinpearl Discovery Greenhill Phu Quoc, Vinpearl Resort Spa Phu Quoc, Vinholidays Fiesta Phu Quoc, Premier Residences Phu Quoc Emerald Bay, Movenpick Resort Waverly Phu Quoc, and Movenpick Villa and Residences Phu Quoc.
In the second phase lasting until June eight more will be added.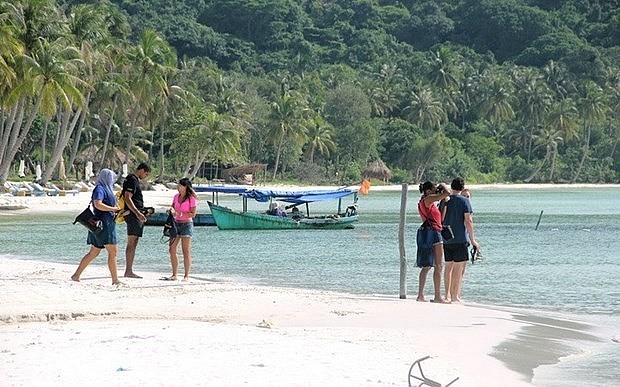 A beach in Phu Quoc. Photo: VNA
Some tourist attractions will also be allowed to entertain the foreign visitors, including Sun World Hon Thom Nature Park cable car, Vinpearl Safari Phu Quoc, Vinpearl Casino, the undersea walking tour offered by Namaste Investment and Development Company, and coral diving from D&M Phu Quoc Travel Service Trading Company and Ngoc Hien Pearl.
Four travel companies have also been identified to offer their services in the first phase.
D&M Phu Quoc Tourism Service Trading Company will be added in the second phase.
Phu Quoc has got at least one Covid vaccine and the island is speeding up vaccination to ensure everyone on the island is fully vaccinated before reopening for tourism.
Phu Quoc got the green light from the government to welcome back fully immunized tourists from Europe, the U.S., Northeast Asia, Australia, and the Middle East from November 20.
Visitors need to furnish a certificate showing they are fully vaccinated or recovered from Covid. People under 18 must show a negative Covid test result.
Vietnam's largest island gained global fame after the government allowed 30-day visa-free entry starting in 2014.
In 2019 it received over five million visitors, including 541,600 foreigners.
Authorities are hoping to reopen other select tourist destinations to vaccinate foreign visitors from countries with low Covid risks from November ahead of a full resumption in June next year.
From December 2021 to June 2022, favorite tourist sites such as Ha Long Bay in the northern province of Quang Ninh, Hoi An city in the central province of Quang Nam, Nha Trang city in the central province of Khanh Hoa, and Da Lat city in the Central Highland province of Lam Dong may follow the suit.
The country will fully reopen its doors to foreign tourists from June, the Vietnam National Administration of Tourism said.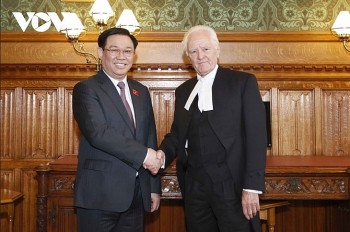 Friendship
Vietnam is willing to create all favourable conditions for investors of the UK to operate in the Southeast Asian country, National Assembly (NA) Chairman Vuong Dinh Hue told UK Secretary of State for International Trade Anne-Marie Trevelyan during their meeting on June 29 (UK time).