Vietnam News Today (December 5): CAAV Proposes Suspension of Flights From 10 African Countries
Vietnam News Today (December 5): Vietnam records 13,993 new Covid cases; PM requests tightening Covid-19 prevention and control measures; CAAV proposes suspension of flights from 10 African countries; Vietnam a focus of Russia's "pivot to the East" policy: expert.
Vietnam News Today (December 5) notable headlines
Vietnam records 13,993 new Covid cases
PM requests tightening Covid-19 prevention and control measures
CAAV proposes suspension of flights from 10 African countries
Vietnam a focus of Russia's "pivot to the East" policy: expert
Saigontourist operates MICE tours for foreigners
HCMC readies stations for public bike service
Vietnam does not manipulate its currency, says US Treasury Department
Vietnam-US Society elects new head
Forum seeks to boost post pandemic recovery
Barriers are put up at an alley with Covid-19 patients in Phu Do Ward, Nam Tu Liem District, Hanoi, December 2021. Photo: VnExpress
Vietnam records 13,993 new Covid cases
The Health Ministry reported 13,993 new Covid-19 cases in 57 provinces and cities Saturday, pushing the ongoing wave's tally to nearly 1.29 million cases.
The three localities with the highest number of new cases were Ho Chi Minh City with 1,636 cases, Can Tho with 998 and Tay Ninh with 787 cases.
Hanoi recorded 455 new cases on Saturday, cited VnExpress.
The Covid-19 death toll in Vietnam rose to 26,061 with the confirmation of another 203 deaths.
Health authorities also confirmed 1,107 recoveries the same day, bringing the total tally of recovered cases so far to 1,007,566.
Almost 53.6 million people of the nation's 96-million population have been fully vaccinated.
PM requests tightening Covid-19 prevention and control measures
The Prime Minister released a telegram on December 4 requesting ministries, agencies and localities to tighten Covid-19 prevention and control measures against the possible spread of the mutated variant Omicron in the country.
According to the PM, the Covid-19 outbreak has basically been brought under control since the Government issued a resolution on flexibly and safely adapting to and effectively controlling Covid-19 nearly two months ago.
However, he says the outbreak remains complicated in several localities and the Omicron variant has been recorded in a number of countries, raising public concern about the possible spread of the new variant in Vietnam.
The PM requests ministries, agencies and localities to strictly implement the Government's resolution, and proactively assess risk levels in order to come up with appropriate prevention measures, without hindering business production and affecting people's lives, according to VOV.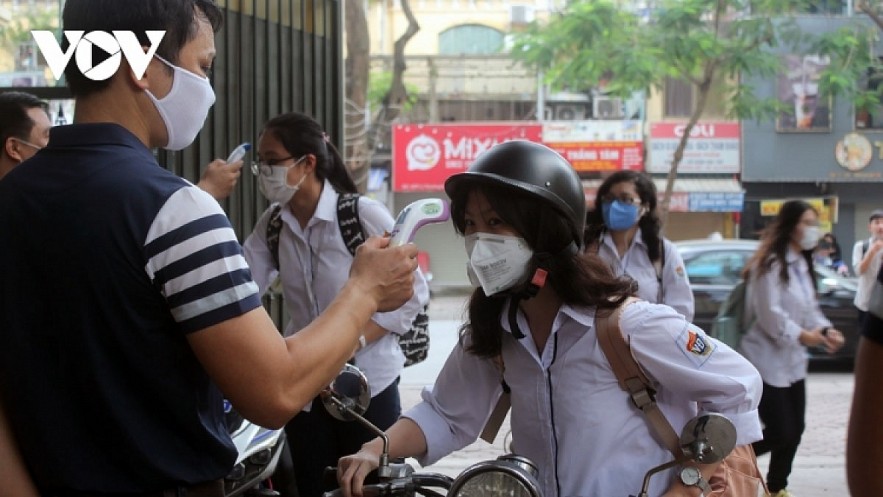 Hanoi has tightened Covid-19 prevention measures before reopening schools next week. Photo: VOV
The Government leader also asks them to spur socio-economic development, and speed up vaccinations along with observing Covid-19 guidelines including the 5K message set out by the Ministry of Health.
As of 06pm on December 4 Vietnam has confirmed 1,294,778 Covid-19 cases since the start of the first outbreak in January 2020, ranking 35th out of 223 countries and territories worldwide.
On December 4 alone it recorded 13,998 new coronavirus infections, with more than half of them detected in the community.
First reported in southern Africa more than a week ago, the Omicron variant has since spread to dozens of countries globally.
Vietnam has yet to detect any cases of the Omicron variant, although experts have warned that the variant may enter the country unless prevention measured are tightened. Two of Vietnam's regional neighbors - Malaysia and Singapore - reported their first cases of this mutated variant this week.
The World Health Organization (WHO) has already labeled Omicron a "variant of concern" due to a large number of mutations that could contribute to making the variant more contagious.
CAAV proposes suspension of flights from 10 African countries
The Civil Aviation Authority of Vietnam (CAAV) has proposed the suspension of flights, including repatriation flights, from 10 African countries to prevent the Omicron variant of SARS-CoV-2 from entering Vietnam.
According to CAAV Director Dinh Viet Thang, along with banning flights from the 10 countries - Botswana, Eswatini, Lesotho, Mozambique, Namibia, South Africa, Zimbabwe, Malawi, Angola and Zambia to Vietnam, passengers who travelled through these countries within 30 days before entering Vietnam should be denied entry into Vietnam.
Vietnam has been free of Omicron so far. Photo: VNA
The agency recommended that the Ministry of Transport ask the Ministry of Health to issue specific guidance on quarantine control over passengers arriving from some countries where Omicron has been found such as the Republic of Korea and Japan, reported VNA.
The Transport Ministry should also ask the Ministry of Public Security to tighten checks at aviation border gates to detect passengers who have travelled through the countries hit by Omicron, the CAAV said.
According to the CAAV, many countries around the world have applied travel restrictions on people from African countries and/or those where Omicron has been discovered including Israel, EU countries, Singapore, Malaysia, Thailand, the Republic of Korea, Japan and Cambodia.
Vietnam a focus of Russia's "pivot to the East" policy: expert
The Vietnam-Russia relationship and the significance of Vietnamese President Nguyen Xuan Phuc's visit to Russia from November 29 to December 2 were spotlighted in an article published on Russia's Independent newspaper.
The article by Grigory Lokshin, an expert from the Centre for Vietnam and ASEAN Studies under the Russian Academy of Sciences' Institute of Far Eastern Studies, said Russia is one of the destinations on the first foreign trip of President Nguyen Xuan Phuc, which reflects the importance of the Russia-Vietnam relationship.
It noted that when he was Prime Minister of Vietnam, Phuc also visited Russia in 2019 and the visit had achieved great success with the signing of a series of agreements to promote bilateral cooperation in many fields including economy, trade, security, and defense, it said.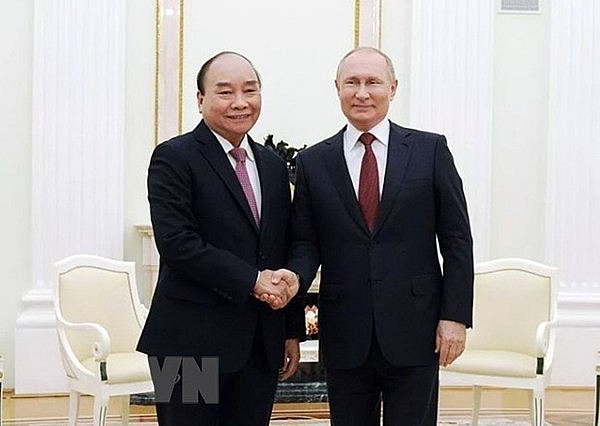 President Nguyen Xuan Phuc (left) shakes hands with Russian President Vladimir Putin. Photo: VNA
The article stressed that collaboration with Vietnam has long been an important orientation in Russia's "pivot to the East" policy and has become increasingly relevant given the current international situation. This orientation is not intended to replace Russia's main partner in Asia, but to diversify Russia's economic and trade relations with the east.
According to the article, Russia-Vietnam relations are based on equality and mutual respect, non-interference in each other's internal affairs, mutual trust in politics and the military. This is a "strategic" relationship because it is built for the long term, it said, adding that the relationship not only is defined by understanding and good memories of the past, but also suits mutual interests. Over the years, the two countries have established an active political contact and dialogue mechanism at all levels, creating a solid foundation for bilateral political cooperation, cited VNA.
Regarding economic-trade cooperation between Russia and Vietnam, the author said that the current scale of economic-trade relations between the two countries is still not commensurate with the level of political relations and the available potential. Russia's senior leaders have repeatedly mentioned Vietnam's potential as an economic and strategic partner, and Russia's foreign policy is also developed in this direction.
However, due to the geographical distance and the poor transport infrastructure connection, the economic and trade relations between the two countries are still limited.
To create a new impetus for this relationship, Lokshin suggested that Russia should first pay attention to developing sea transport to connect ports in Russia's Far East region with Vietnam. He also recommended that the two sides need to develop a direct communication channel between businesses of the two countries and other contacts through non-government organizations and the scientific community to contribute to promoting cooperation between the two nations.
Saigontourist operates MICE tours for foreigners
Saigontourist Travel Service Co is organizing a MICE (meeting, incentive, conference, and exhibition) tour specifically for 60 foreign cultural officers and reporters currently residing in Vietnam.
The MICE tour hosted by the Ho Chi Minh City Department of Foreign Affairs is taking visitors to Ho Chi Minh City and Ben Tre province to help them gain a greater understanding of the local economy and distinctive culture, as well as local people's daily life, along with development trends moving into the new normal.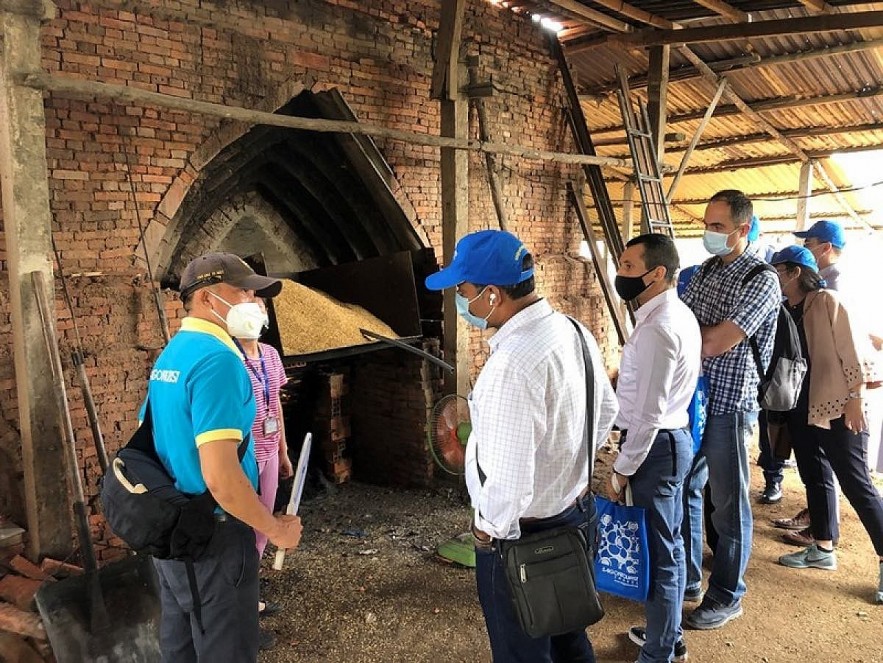 Foreign cultural officers and reporters visit Ben Tre province as part of MICE tour operated by Saigontourist. Photo: plo.vn
Guests also have the chance to enjoy delicious traditional cuisine served by talented chefs from the Rex Saigon Hotel.
The visitors are set to tour several famous tourist attractions, including Can Gio Mangrove Forest that was recognized as a world biosphere reserve by UNESCO, the Vam Sat Ecological Tourist Site, and Tang Bong Tower.
Organisers expect the tour will help popularize Ho Chi Minh City as a safe destination to international markets, and attract investment into local tourism, culture, education, and economy, reported VOV.
The MICE tour, which started on December 1, will last until December 5.