Vietnam News Today (Feb. 14): Cold Spell to Blanket Northern Vietnam This Week
Vietnam News Today (Feb. 14): PM Chinh's visit to Singapore brings practical results to both sides; Cold spell to blanket northern Vietnam this week; Petrol prices record slight increase under latest adjustment; Two Vietnamese cities among ASEAN's best tourist destinations.
Vietnam News Today (Feb. 14) notable headlines
PM Chinh's visit to Singapore brings practical results to both sides
Cold spell to blanket northern Vietnam this week
Petrol prices record slight increase under latest adjustment
Two Vietnamese cities among ASEAN's best tourist destinations
Vietnam's tourism makes international headlines
Ha Long Bay among stunning Asian seaside spots to watch sunrise and sunset
World Radio Day 2023: Radio promotes peace and reduces conflicts
Vietnam calls for support from France in bolstering cooperation with EU
Vietnam presents medical equipment to quake-hit Turkey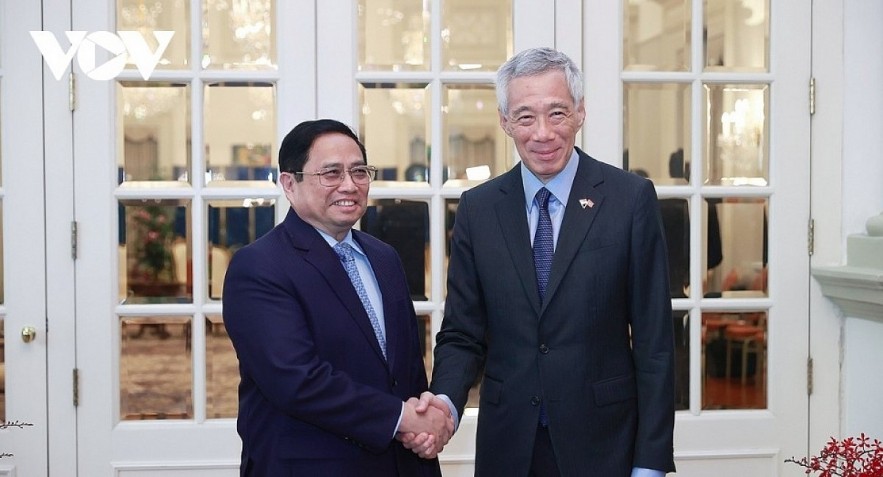 Prime Minister Pham Minh Chinh and his Singaporean counterpart Lee Hsien Loong.
PM Chinh's visit to Singapore brings practical results to both sides
The official visit to Singapore being undertaken by Prime Minister Pham Minh Chinh and his wife alongside a high-ranking Vietnamese delegation from February 8 to February 10 has contributed to promoting bilateral ties, especially economic co-operation in the context of the recently-changing world situation.
Dr. Pham Duc Minh of the Singapore Government's Agency for Science, Technology and Research made this statement in a recent media interview about the outcome of the visit.
Dr. Minh noted that the visit is part of opening for activities to celebrate the 50th anniversary of both nations' diplomatic ties and the 10th anniversary of the Vietnam - Singapore strategic partnership.
He assessed that the trip has produced substantive outcomes, including creating an impetus for the further development of the digital economy and green economy, with this serving as the two spearhead industries of the Vietnamese economy moving forward.
With the memoranda of understanding on co-operation signed between the two countries, it will be easier for corporations and companies in the nation to access investment and financial resources of Singaporean investment funds and those based in the country, he said. He added that linkages also help the country to access Singapore's latest technologies, cited VOV.
According to Dr. Minh, the Vietnamese Government's approval of investment in the Vietnam-Singapore Industrial Park Nghe An II will provide a boost to the development of industrial parks in the nation amid difficulties caused by declines in global production demand in some industries.
The country's favourable geographical position and improving transport infrastructure have attracted corporations to increase their investment and open production factories locally. Therefore, preparation of infrastructure in industrial zones is very important at this time, he stressed.
Both sides have been able to reach an important agreement on the digital economy and green economy which will pave the way for further co-operation in trade, investment, science and technology. This will allow the country to seek further co-operation in areas where Singapore is leading the world or the region, thus bringing great economic benefits to the two nations.
He stressed that both sides can first co-operate in environmental solutions and clean energy as Singapore is a global pioneer in this field.
Digital transformation, including e-government, smart country-smart city and smart manufacturing, is also worth receiving more attention for further co-operation, he said.
As a means of speeding up economic growth, the country should focus on developing mechanical engineering, electronics, telecommunications and computer science, as well as semiconductor ecosystem in co-operation with Singapore, the expert added.
Cold spell to blanket northern Vietnam this week
A cold wave is forecast to hit the northern and north-central regions on February 13 night and the following day, with temperatures ranging from 14-17 degrees Celsius.
Nguyen Van Huong, head of the weather forecast division under the National Centre for Hydro-Meteorological Forecasting, said temperatures in northern mountainous localities will drop to 10-13 degrees, even 8 degrees in some places.
The regions will see light rains from February 18-22. Nighttime temperatures will drop further on February 19, according to VNA.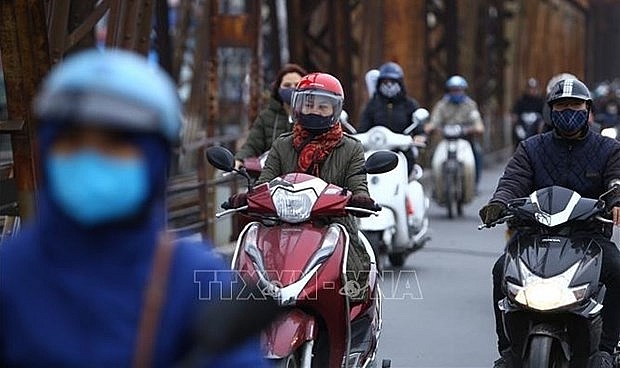 Illustrative image (Source: VNA)
Over the past days, unseasonal rains hit southern localities, affecting production as well as travelling of local residents, and they are forecast to continue in the coming days.
The centre said the cold fronts in February and March will cause waves as high as 3-5m in the sea from the north to the south.
Petrol prices record slight increase under latest adjustment
The retail prices of petrol rose slightly in the latest adjustment made on February 13 by the Ministry of Industry and Trade and the Ministry of Finance.
The changes saw the price of E5 RON 92 petrol go up by VND540 per litre to VND22,860, reported VOV.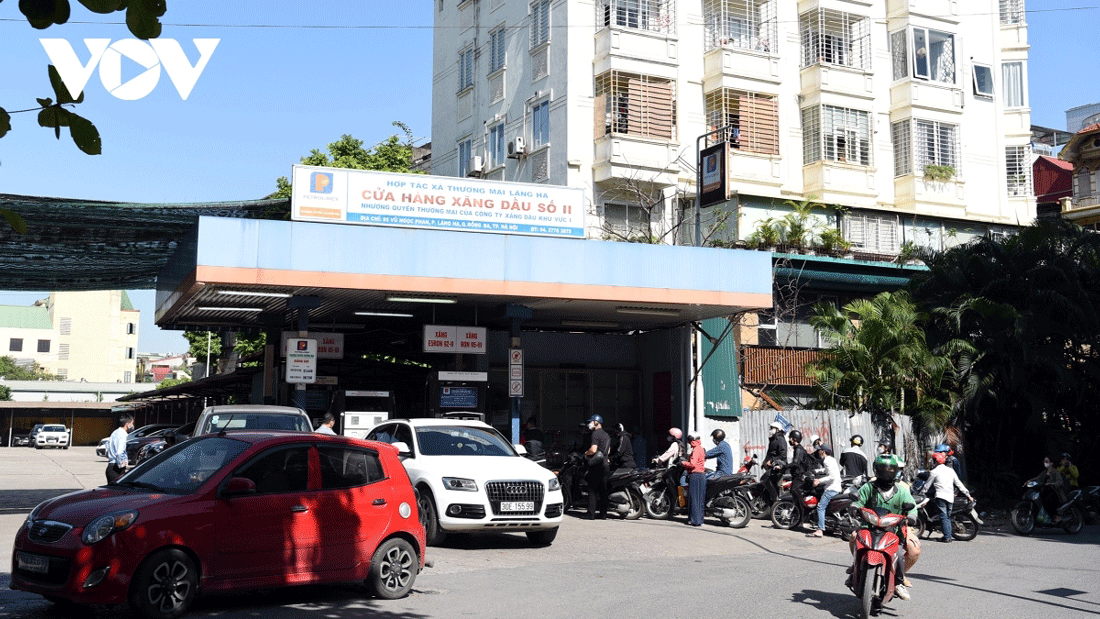 Photo: VOV
Meanwhile, the retail price of RON 95 rose by VND620 to VND23,760 per litre. Oil prices were also adjusted down, with the price of diesel oil decreasing by VND960 to VND21,560 per litre, whilst that of kerosene was reduced by VND70 to VND21,830 per litre.
Elsewhere, the price of Mazut oil dropped by VND150 to VND13,860 per kg.
Two Vietnamese cities among ASEAN's best tourist destinations
Two Vietnamese cities, Ho Chi Minh City and Hoi An, have been listed among the Top 6 ASEAN destinations winning TripAdvisor Travelers' Choice Best of The Best 2023 Awards.
According to the official website of ASEAN, asean.org, voters valued the locations of countries for natural beauty, cultural and historical landmarks, adventure activities, and phenomenal cuisines.
The website noted that UNESCO-recognised World Heritage Site of Hoi An is a historic city that was once a popular trading port from the 15th to 19th centuries in central Vietnam.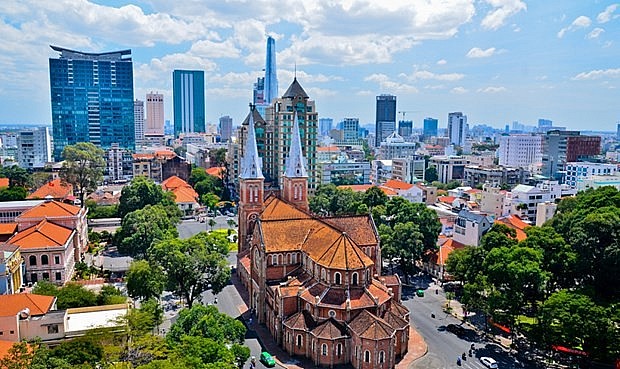 Ho Chi Minh City is well known for its historic French colonial architecture (Photo: VNA)
Located in central Quang Nam province, Hoi An is a bustling city with a population of approximately 120,000 and is a popular tourist destination for backpackers and adventurers seeking to explore the city and the nearby array of attractions.
The city is notable for its many man-made marvels. On every 14th day of the month the city turns off its electric lights and illuminates the night with lit paper lanterns.
"With so many things to do and try in Hoi An, it is no wonder that this quaint seaside town earned the number two spot on the TripAdvisor Traveler's Choice Best of the Best 2023," it shared.
Located in southeast Vietnam along the Saigon River, Ho Chi Minh City is well known for its historic French colonial architecture. The southern metropolis is also famous for its many attractions, including the Jade Emperor Pagoda, the Notre Dame Cathedral, Binh Tay Market, and the Mariamman Hindu Temple.
Voted by actual travelers, the awards were bestowed on 25 worldwide destinations, with three ASEAN destinations in the top five and six overall in the list of 25.
Other destinations to make the list were Siem Reap of Cambodia, Chiang Mai of Thailand, Panay Island of the Philippines, and Lombok of Indonesia.
Earlier, Hoi An and HCM City had been also ranked among the world's 25 trending destinations by the TripAdvisor Traveler's Choice.
Vietnam's tourism makes international headlines
Vietnam's tourism has won the praise of international media, according to the Vietnam National Administration of Tourism under the Ministry of Culture, Sports and Tourism.
The country has been named the Best Culinary Destination in the Bucket List Places in Asia in 2023 published by US magazine Travel Leisure.
According to the magazine, if there's one cultural cuisine that bursts with umami goodness, it's Vietnamese cuisine. The country, apart from its beautiful landscapes, is known for its food.
"Everywhere you go, you'll be met with local, regional delicacies that will bowl you over, as you soak in new, exciting experiences and visit stunning destinations," the magazine said.
It also recommends best places to explore in Vietnam are Hanoi, Da Nang, Ho Chi Minh City. Must-try food include pho, banh mi, banh cuon (rice rolls) and coffee, and the best time to visit the country is from November to March when the weather is the most comfortable, not too hot, not too cold and there are no pouring rain or stormy days.
An article on Australia's tourism website traveler.com.au also said pho is surely Vietnam's greatest culinary gift to the world.
People can argue long into the night about the world's best soup. Maybe it's ramen, laksa, bouillabaisse or caldo verde or even Moroccan bessara. What people can't argue, however, is that Vietnam's most famous soup, the pho, is in the conversation.
It affirmed pho is a fragrant, subtly powerful dish that's even greater than the sum of its considerable parts. Its broth is a gently simmered stock of beef bones with onion, ginger and spices; it arrives pooled around banh pho, or flat rice noodles, and rare beef slices, topped with bean sprouts, fresh herbs, lemon and chilli. The aroma is transcendent. The taste is perfection.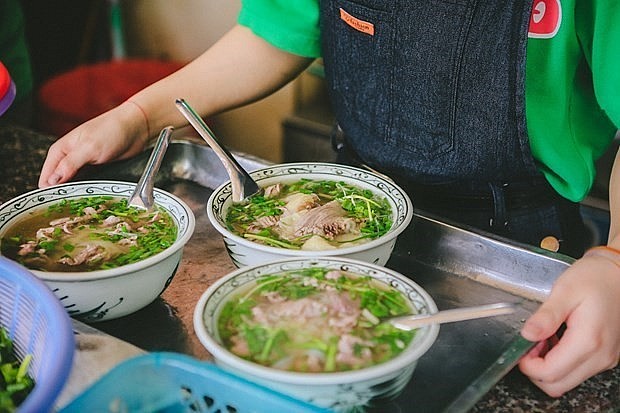 "Pho is surely Vietnam's greatest culinary gift to the world." (Photo: VNA)
Destinations in Vietnam have also been highly valued, such as Ho Chi Minh City as the trendiest Asian destination this year by US-based travel website Travel Off Path, Son Doong cave among the list of the 10 greatest natural caves in the world by travel website Wonderlist, Con Dao island as one of 16 best destinations for summer getaways by Condé Nast Traveler, and Hoi An among the 25 most beautiful cities in the world by Travel Leisure, among others.
The agency reported that Vietnamese tourism industry served 13 million domestic tourists in January, and earned some 46 trillion VND (1.96 billion USD).
During the seven-day Lunar New Year (Tet) holiday that lasted from January 20-26, the country was estimated to serve 9 million domestic visitors, an increase of about 47.5% compared to the 2022 Tet, with an estimated revenue of 17.5 trillion VND, cited VNA.
The local tourism sector targets 110 million tourists this year, including 8 million foreign visitors, and earn some 650 trillion VND from the non-smoke industry.
In 2022, Vietnam recorded around 101.3 million domestic tourists, exceeding the yearly plan by 68.3% . The tourism sector booked some 495 trillion VND (21.1 billion USD) in revenue, 23% higher than the target, thanks to the whopping number of domestic tourists.