Vietnam News Today (Feb. 16): Vietnam Represents Attractive Spot for Startups
Vietnam News Today (Feb. 16): Vietnam represents attractive spot for startups; Vietnam, US strengthen labour cooperation; Vietnam holds great potential for tourism development for young travellers; Vietnam offers US$200,000 in relief aid to Turkey, Syria quake victims.
Vietnam News Today (Feb. 16) notable headlines
Vietnam represents attractive spot for startups: Bloomberg
Vietnam, US strengthen labour cooperation
Vietnam holds great potential for tourism development for young travellers
Vietnam offers US$200,000 in relief aid to Turkey, Syria quake victims
Vietnam to pilot facial recognition technology to authenticate air passengers
Da Lat among top 12 romantic destinations in Asia
Vietnamese and Dutch business seek stronger partnership
Vietnam, El Salvador agree to boost all-round cooperation
Vietnam attends organic food fair in Germany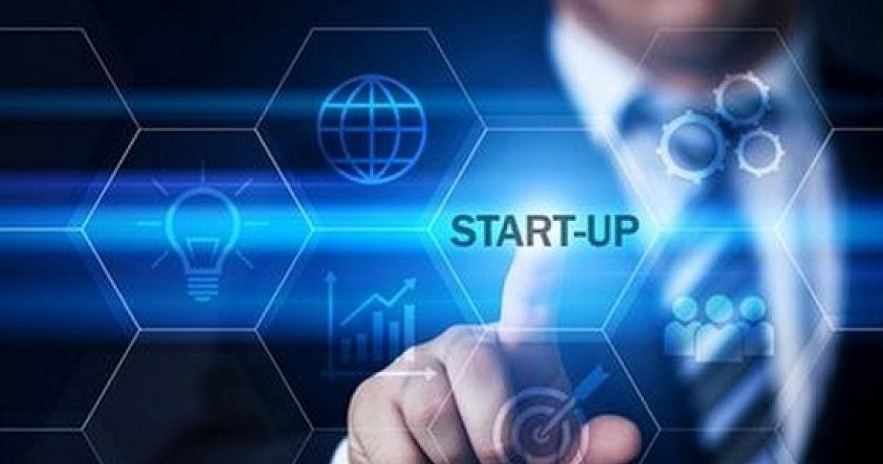 Photo: VOV
Vietnam represents attractive spot for startups: Bloomberg
An abundance of inexpensive engineers coupled with a fast growing economy makes the nation a highly attractive spot for startups, according to an article titled "Silicon Valley Talent Is Helping Grow Vietnam's Startup Hub" published on February 14 by Bloomberg.
The article cites a report published in July, 2022, by KPMG International Ltd and HSBC Holdings Plc which states that the number of startups in the country nearly doubled between the beginning of the COVID-19 pandemic to mid-2022,
Some of the world's largest investors, including Sequoia Capital, Warburg Pincus LLC, and Alibaba Group Holding Ltd., are backing those offering promising solutions.
In 2021, the country drew a record US$2.6 billion through 233 private deals, up from US$700 million via 140 deals the year prior, according to a Google, Temasek Holdings Pte., and Bain & Co. report.
In addition, local firms are also competing against businesses from throughout Southeast Asia, accounting for 13% of the total venture funding flows into the region after Indonesia and Singapore in 2021, according to Do Ventures.
The newswire stated that the Vietnamese Government aims to turn Ho Chi Minh City into a magnet for tech funding and is striving to grow its digital economy, particularly as it represents 40% of the southern city's gross domestic product.
Last month saw the Government order city officials to prioritise attracting foreign investment to high tech projects, while also offering other incentives to lure global talent and international firms to establish innovation research centres.
Industry insiders say Ho Chi Minh City has the makings of the next Silicon Valley-lite: a heavy math and science educational system, a decades-old software outsourcing industry that's created an abundance of inexpensive and talented engineers and the benefits of Vietnam's economic expansion, which last year was one of the fastest across Asia.
Vietnam, US strengthen labour cooperation
Deputy Minister of Labour, Invalids and Social Affairs Nguyen Thi Ha hosted a reception for US Trade Representative Katherine Tai in Hanoi on February 14.
Deputy Minister Nguyen Thi Ha highly appreciated Katherine Tai's working trip to Vietnam, especially in the context that countries are actively participating in and preparing for further negotiations on the Indo-Pacific Economic Framework for Prosperity (IPEF).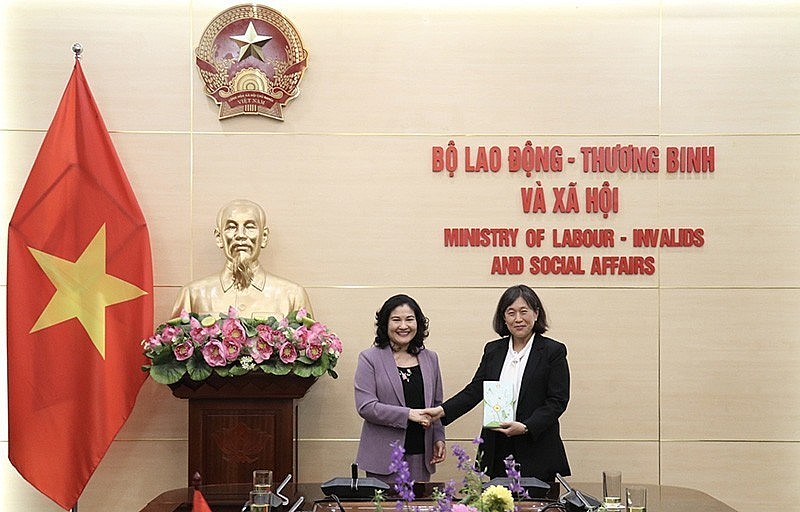 Deputy Minister Nguyen Thi Ha (L) and US Trade Representative Katherine Tai take souvenir photos. (Photo: Molisa)
Affirming the policy of strengthening comprehensive cooperation between Vietnam and the US in the fields of labour and society, Deputy Minister Nguyen Thi Ha said that recent cooperation activities between the US and Vietnam have made an important contribution to the process of Vietnam amending and perfecting the legal system, especially in the revision of the Labour Code 2019. Vietnam also ratified seven out of eight fundamental conventions of the International Labour Organisation (ILO), most recently the NA ratified Convention 105 on Abolition of Forced Labour.
US Trade Representative Katherine Tai, emphasised that, through cooperative activities, the US always wishes to promote the implementation of the employee-centred policy as a core issue in order to create better conditions for workers.
Katherine Tai assessed that Vietnam has recently made many changes in the Labour Code in line with international labour standards, which is an important basis for the two sides to strengthen cooperation in the coming time.
Within the framework of the exchange, Deputy Minister Nguyen Thi Ha suggested that the United States further promote cooperation in technology and experience in the fields of labour, employment, vocational education, cited NDO.
Deputy Minister Nguyen Thi Ha also suggested that the US Government strengthen its support in the humanitarian and social fields, including job creation in the transition to a zero-emissions economy, green jobs, and enhanced resilience to climate change.
Vietnam holds great potential for tourism development for young travellers
Vietnam has great potential to develop a toursim market segment for young travellers, heard a workshop organised by the Institution for Tourism Development Research (ITDR) under the Vietnam National Administration of Tourism.
Speaking at the workshop on the youth's tourism trends and solutions to attract young travellers in Vietnam, ITDR Director Nguyen Anh Tuan said that in the past, tourists are mostly middle-aged with quite stable incomes.
But now, thanks to the development of global tourism and improved living conditions, young people have an increasing demand for travelling, he said.
Le Quang Dang, a researcher from ITDR who led a study on the tourism trends of Vietnamese young people, said that Vietnam is amidst the golden population structure period with people aged from 15 to 35 making up 30% of its population.
"Young people are the generation with the most potential for tourism and a promising segment for the breakthrough of the country's smokeless industry," he said.
To young people, travelling is not simply about discovering a place with sightseeing but gaining experiences and looking for long-term meaningful values, Dang said.
With dynamism, youth, passion for travelling and exploring new things, Vietnamese young people have updated a series of interesting travel trends such as solo travel, check-in tourism, green tourism, charity tourism, or backpacking.
Dang's study found that Vietnamese young travellers usually choose destinations with beautiful and pristine natural landscapes to experience and explore with main activities such as check-in photography, camping, walking, mountain climbing, stream bathing, beach bathing, and team building.
Big, bustling cities with festivals, musical shows, walking streets, and night markets also attract young travellers, he said.
According to experts, their spending level for a trip is usually not too high but they have high travelling demand, especially since they are willing to plan many trips in the year.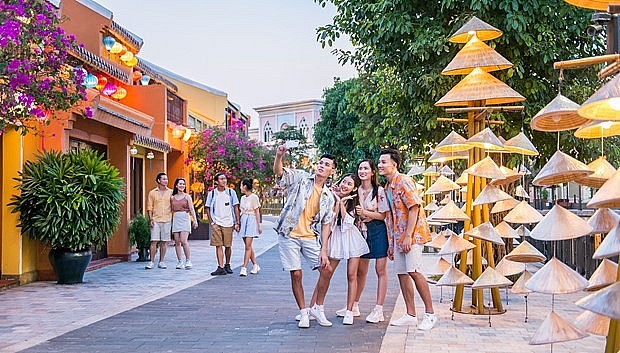 The ancient riverbank city of Hoi An in the central province of Quang Nam is a popular tourism destination for both domestic and international visitors. (Photo: VNA)
Young travellers are a source of tourists in the future as their travelling needs can last until they enter middle ages and old ages, so building a business strategy to promote the market share of young tourists is extremely important, reported VNA.
Young tourists usually care much about prices, so businesses also need to have an appropriate strategy to create tourism value chains, increase experiences to stimulate spending as well as keep attracting them.
In addition, instead of choosing a package tour, young people prefer self-designated schedules, customised tours, and book services online.
Therefore, localities and businesses need to invest more in digital transformation in business activities, and tourism management.
They are advised to actively conduct online communication activities through online platforms or social networks and increase digital experiences for young tourists during their trips.
Vietnam offers US$200,000 in relief aid to Turkey, Syria quake victims
Vietnam will provide Turkey and Syria with US$100,000 each as relief aid to support their recovery efforts following a devastating earthquake that hit both countries on February 6, announced Prime Minister Pham Minh Chinh.
In a letter of condolence to the Presidents of Turkey and Syria, Chinh said Vietnam will continue to take necessary support measures in the time ahead.
Last week Vietnam dispatched two delegations comprising 100 military personnel and police officers, along with equipment, to Turkey to join search and rescue operations there.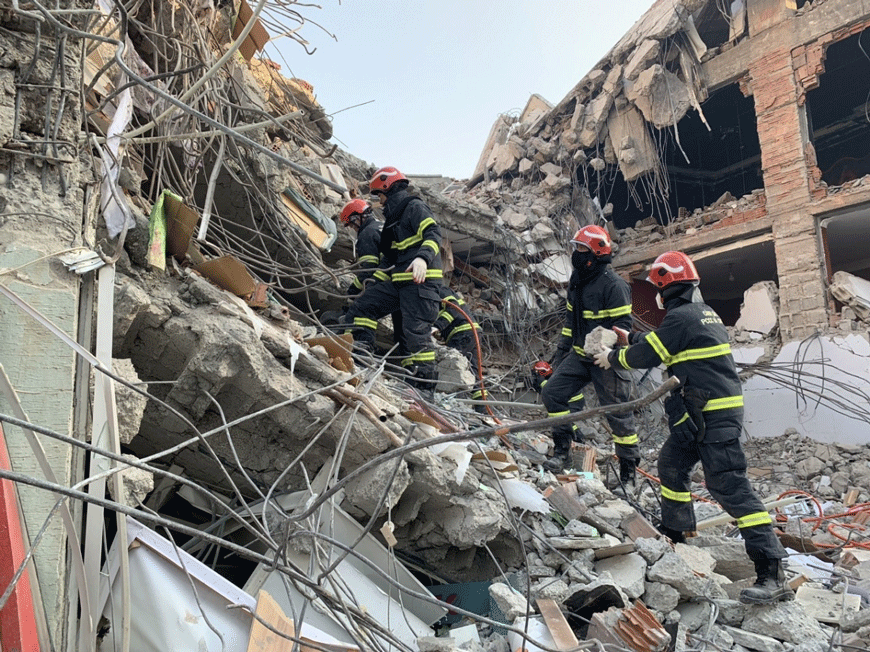 Search and rescue work is getting underway in Turkey.
On February 11, the Vietnamese and Pakistani teams saved a teenager from the rubble after being trapped underneath for 138 hours in Adiyaman, southeastern Turkey.
About 76 Vietnamese military soldiers and officers along with sniffer dogs and other special equipment joined rescue missions on Rustem Tumer Pasa road, one of the hardest hit places in Turkey, cited VOV.
They also brought with them about 10 tonnes of food to support local people there.
The 7.9-magnitude earthquake on February 6 had killed more than 37,300 Turkish and Syrian people as of February 13. The Turkish government has called for help from the international community.
Rescuers from dozens of countries are working at the scene trying to find survivors trapped beneath the rubble of collapsed buildings and apartment blocks.
Vietnam to pilot facial recognition technology to authenticate air passengers
The Civil Aviation Authority of Vietnam (CAAV) has released its plan to implement biometric authentication (facial recognition) at airports' check-in desks.
The high-tech move aims to contribute to ensuring social order and security, reduce time for check-in procedures, and thus increase accuracy. Facial recognition technology can also improve the prevention and detection of passengers using fake documents, and detecting those who are banned from flying or wanted criminals that cross borders, VNA reported.
Illustrative image (Photo: Internet)
In the first quarter of 2023, the facial recognition technology will be piloted at airports, and the implementation results have to be reported to the Ministry of Transport.
Previously, in October 2022, the CAAV had a meeting with Airports Corporation of Vietnam (ACV), Noi Bai International Airport, Vietnamese airlines and ground service companies, and the Ministry of Public Security's National Population Data Centre on the use of chip-based citizen identification cards for check-in on some domestic flights in six months before making a decision for official application.