Vietnam News Today (Feb. 9): Vietnam to Become New Manufacturing Base Globally
Vietnam News Today (Feb. 9): Vietnam records 21,901 new Covid cases; Vietnam to become new manufacturing base globally; 17.1 mln children back in school after Tet; Da Nang set to resume all international flights in March.
Vietnam News Today (Feb. 9) notable headlines
Vietnam records 21,901 new Covid cases
Vietnam to become new manufacturing base globally
17.1 mln children back in school after Tet
Da Nang set to resume all international flights in March
Vietnamese spring rolls become French's favorite food
More container trucks cross border gates into China
Exports to Canada rise for third consecutive year
Good signs for local tourism industry in early 2022
AC Energy acquires 49% of solar firm based in Vietnam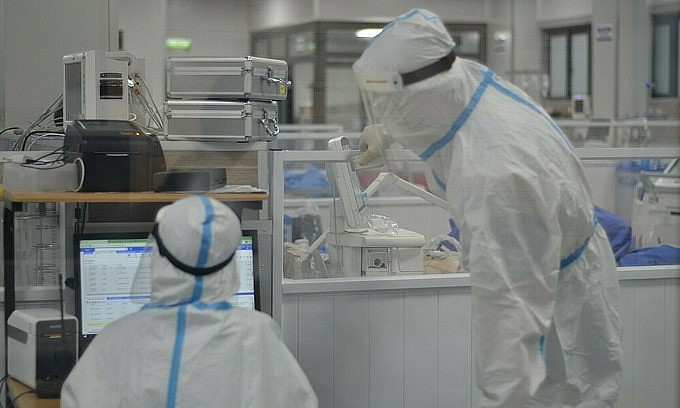 Doctors at Hanoi Covid Treatment Center on Jan 31, 2022. Photo: Hanoi Covid Treatment Center
Vietnam records 21,901 new Covid cases
The Health Ministry confirmed 21,901 new local Covid-19 cases Tuesday in 61 of Vietnam's 63 cities and provinces, with a big increase in cases detected in the community.
Nearly 7,000 cases were detected in quarantine or locked down areas and 14,982 in the community, up nearly 4,000 cases from the previous day.
The three localities with the highest number of new cases were Hanoi with 2,903 cases, central Nghe An Province with 1,717 cases, and northern Hai Duong Province with 1,245 cases.
Vietnam has recorded 192 cases infected with the Omicron variant, with 92 of them in HCMC.
The Covid-19 death toll in Vietnam rose to 38,524 on Tuesday with the confirmation of 97 more deaths.
For now, there are 192,934 active patients and 2,263 are severe, cited VnExpress.
Over 74 million people of Vietnam's 96 million population have been vaccinated with two doses, and around 30 million have received the third dose.
Vietnam to become new manufacturing base globally: Sputnik
Vietnam is getting more foreign attention with expectations of becoming a new production base of the world, Russia's Sputnik news agency reported.
In its recently published article, Sputnik stated that its argument is supported by Vietnam's record exports, the country's increasing market share of goods globally and its FDI growth despite the impact of the prolonged Covid-19 outbreak in 2021.
According to the news agency, besides digital giants Samsung, Nokia and Intel, a number of world renowned companies like Foxconn, Pegatron, Wistron and Lego decided to pour their investments into Vietnam.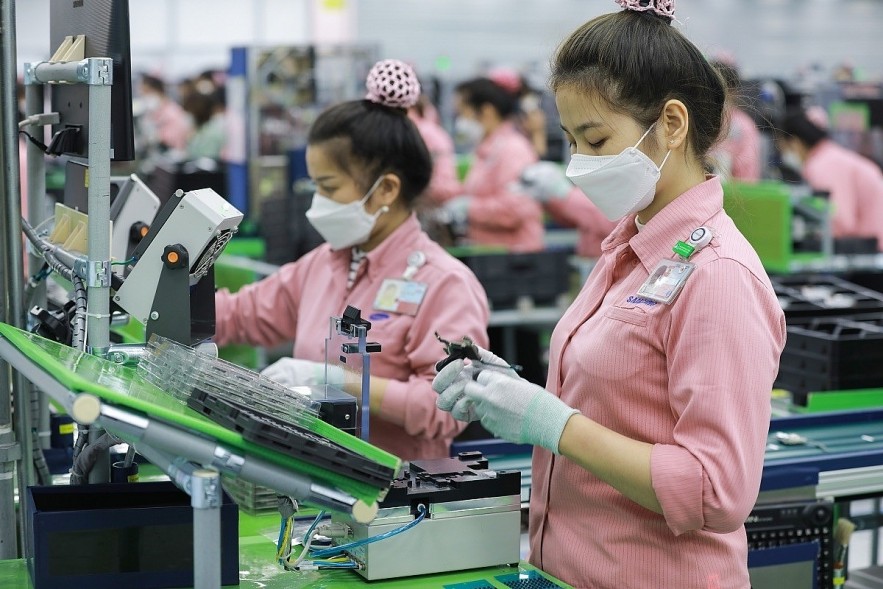 Samsung is investing US$200 million in a new research and development centre in Hanoi. Photo: VOV
A representative of Nike in Vietnam also said the group remains upbeat about its business prospects in Vietnam after the government adopted a strategy of living safely with Covid-19 and accelerated nationwide vaccinations.
Sputnik cited statistics from the General Department of Vietnam Customs, noting Vietnam's exports of phones and components reached US$57.54 billion last year, up 12.4% compared to 2020.
The news agency attributed the success to Samsung Vietnam's impressive performance last year with its revenue making up approximately 20% of the country's GDP. Samsung Vietnam fetched US$74.2 billion in revenue last year, up 14%, and US$65.5 billion in export, up 16% compared to 2020.
Many foreign investors maintain that Vietnam is creating an attractive investment environment thanks to its abundant labor force, stable socio-political situation, good production and circulation infrastructure and investment incentives.
Initial successes in bringing the Covid-19 outbreak under control, constantly improving its business climate, and encouraging international trade and investment have made Vietnam an attractive destination for FDI.
17.1 mln children back in school after Tet
Around 17.1 million students have returned to school after the Tet holidays, including 600,000 middle and high school students in Hanoi who resumed classes on Tuesday after 10 months.
The Hanoi middle and high school students, except those in sixth grade, were back after spending 10 months at home studying online.
For most, it was the first opportunity to meet friends and teachers since May last year, when the fourth Covid-19 wave hit.
Schools have in place safety measures like temperature checks at the gate and practiced actions to be taken in the event of infection.
All over the country, high school students returned to classes after Tet, while 57 out of 63 localities have also reopened middle schools.
In both Hanoi and Ho Chi Minh City, sixth graders and primary school and kindergarten students have yet to return to school.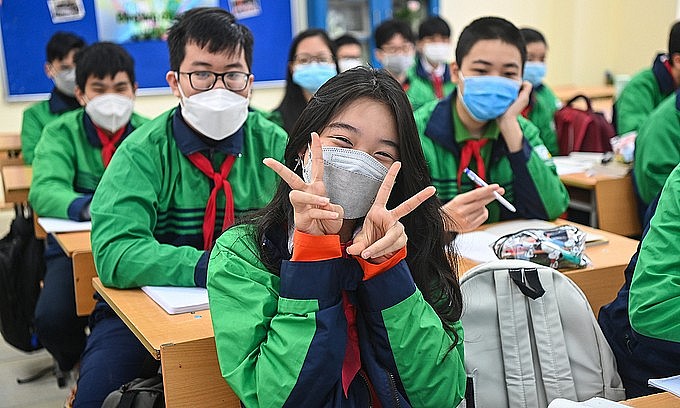 Ninth graders at Nguyen Tri Phuong Secondary School in Hanoi are in class on February 8, 2022. Photo: VnExpress
They are expected to return next week in HCMC, on February 10 on the outskirts of Hanoi and February 21 in downtown districts.
Pham Quang Hung, head of the Ministry of Education and Training's international cooperation department, said reopening schools is inevitable since the vaccine rate is high now, according to VnExpress.
By mid-January two-thirds of countries in the Asia-Pacific had completely reopened schools, while the rest reopened partially, he said.
"Many countries encourage unvaccinated students to return to school. Japan and Singapore increased surveillance [of students] for symptoms, while Canada and the U.S. require Covid-19 testing results."
In Vietnam, most people aged 12 and above have received two shots of Covid vaccines.
The Ministry of Health is buying more doses to immunize children aged 5-12, and recommends that everyone should be vaccinated.
Da Nang set to resume all international flights in March
The central city of Da Nang will resume all flight routes and tourism activities next month as it strives to boost its economic recovery process, Le Trung Chinh, head of the municipal administration, said on February 8.
Local authorities will continue to create favorable conditions for the Da Nang International Terminal Investment and Operation Joint Stock Company (AHT) to overcome difficulties, to help it fulfill tasks and contribute to the city's socio-economic development, said Chinh during a fact-finding trip to the terminal.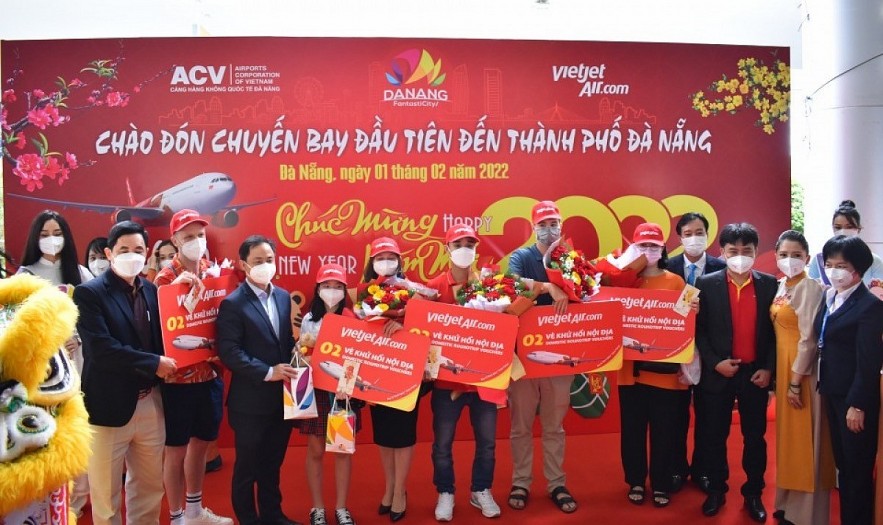 Da Nang International Airport welcomes first visitors to the city in the Year of the Tiger. Photo: thesaigontimes
According to the statistics from the Da Nang Department of Tourism, the total number of visitors to the central city during the Lunar New Year holiday (Tet) is estimated to stand at 35,939, marking an increase of 16.71% compared to the 2021 Tet holiday, VOV reported.
During the nine-day Tet holiday this year lasting from January 29 to February 6, the city welcomed roughly 404 flights carrying more than 44,000 tourists.
There are now a total of eight domestic air routes which run at a frequency of 218 flights per week connecting Da Nang with Ho Chi Minh City, Hanoi, Da Lat, Nha Trang, Phu Quoc, Buon Me Thuot, Hai Phong, and Can Tho.
Vietnamese spring rolls become French's favorite food
Vietnamese spring rolls are considered as one of the most favorite dishes of French people, along with Japanese sushi and American popcorn.
French television channel TF1 on February 7 aired a report on the trend of French people who are becoming more interested in foreign cuisine. According to the report, this is not a new phenomenon, but it has become more obvious over the past 10 years, cited VNA.
Food and related items from Mexico, Vietnam or India are increasingly attracting customers. Previously, foreign food only occupied a small area in the Carrefour supermarkets, but now the shelves are always filled with food and goods from many countries around the world.
Vietnamese spring rolls on sale at a supermarket in France. Photo: VNA
According to Stefen Bompas, Carrefour's customer experience manager, foreign goods have been arranged on 2-3 shelves of the supermarkets, adding that in the past, there was only a small corner with a few products from neighboring countries.
Carrefour supermarkets currently sell about 3,000 products imported from 24 countries. They do not only include products from such neighboring countries as Italy, Portugal and Spain, but also those from Asian nations like Vietnam, Thailand, Japan or Mexico and Brazil of Latin America. Revenue from these imported culinary and agricultural products increased by 20 percent last year and are now considered as potential "gold mines" for the supermarket chain to exploit.
Statistics of the Carrefour supermarket chain in France showed that among the most popular foreign culinary products, Japanese sushi topped the list, accounting for 45 percent of sales, followed by American popcorn and Macaroni. Vietnam's traditional spring rolls ranked third, accounting for 19 percent of sales of foreign goods last year.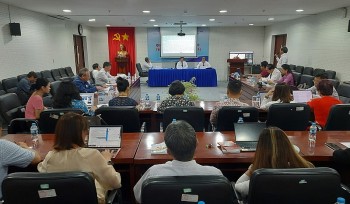 Friendship
The Vietnam - India Friendship Association's Ho Chi Minh City branch, the Ho Chi Minh City Union of Friendship Organizations (HUFO) and the Southern Institute of Social Sciences on March 21 held a scientific seminar themed "Vietnam - India relationship: tradition and present".