Vietnam News Today (Feb. 9): Vietnamese Aviation Market Predicted to Fully Recover by Year-end
Vietnam News Today (Feb. 9): Vietnamese Prime Minister starts official visit to Singapore; Vietnam among destinations for best slow travel holidays in 2023; Vietnamese aviation market predicted to fully recover by year-end; Vietnam weathers crisis to record robust growth thanks to digital boom.
Vietnam News Today (Feb. 9) notable headlines
Vietnamese Prime Minister starts official visit to Singapore
Vietnam among destinations for best slow travel holidays in 2023
The Vietnamese aviation market predicted to fully recover by year-end
Vietnam weathers crisis to record robust growth thanks to digital boom
Vietnam targets 100 gold medals at SEA Games 2023
Numerous ASEAN tourism awards for Vietnam in 2023
Vietnam remains magnet to Singaporean investors
Hoa Ban spring flower festival due to take place in March
Vietnam and Singapore to boost digital economy, sustainable development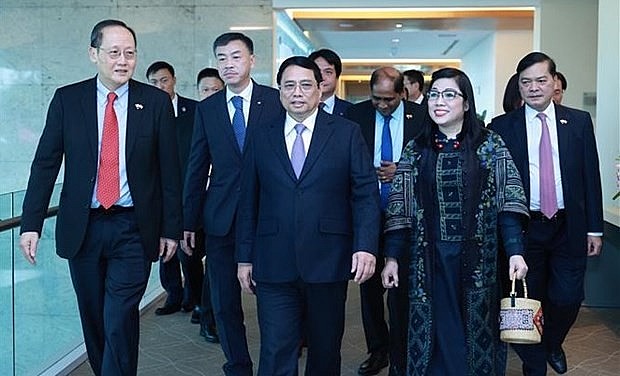 Prime Minister Pham Minh Chinh, his spouse, and a high-ranking Vietnamese delegation arrive in Changi Airport on February 8 afternoon. (Photo: VNA)
Vietnamese Prime Minister starts official visit to Singapore
Prime Minister Pham Minh Chinh, his spouse, and a high-ranking Vietnamese delegation arrived in Changi Airport on February 8 afternoon, starting a three-day official visit to Singapore.
Welcoming the Vietnamese delegation at the airport included Singaporean Minister for Manpower and Second Minister for Trade and Industry Tan See Leng, Singaporean Ambassador to Vietnam Jaya Ratnam, Vietnamese Ambassador to Singapore Mai Phuoc Dung, officials from the Vietnamese Embassy, and a number of overseas Vietnamese in the country.
The visit is taking place at a time when the Vietnam-Singapore strategic partnership is developing strongly and dynamically across all fields. This year, the two countries are celebrating the 50th founding anniversary of diplomatic relations and 10 years of their strategic partnership.
The two nations have regularly and effectively maintained high and all-level delegation exchanges and meetings, along with expanding defence and security cooperation. Collaboration in other areas such as education, culture, and tourism has also been bolstered through specific agreements and memoranda of understanding.
Singapore is now Vietnam's top important economic partner in the region, with two-way trade nearing 9 billion USD last year, up 10.1% year-on-year. The island state leads ASEAN and ranks second among 141 countries and territories investing in Vietnam with 3,032 valid projects worth 70.39 billion USD.
At present, 12 Vietnam-Singapore Industrial Parks (VSIP) in nine Vietnamese cities and provinces have an occupancy rate of around 83.2%, attracting 17.6 billion USD for some 900 projects and generating roughly 300,000 jobs, cited VNA.
Vietnam and Singapore have worked closely together on regional and international matters of shared concern, including the South China Sea issue while strengthening cooperation at multilateral organizations and forums such as the United Nations (UN), the Association of Southeast Asian Nations (ASEAN) and the Asia-Pacific Economic Cooperation (APEC) forum. Together they have also worked within bilateral and multilateral free trade agreements in which both sides are joining, including the Comprehensive and Progressive Agreement for Trans-Pacific Partnership (CPTPP) and the Regional Comprehensive Economic Partnership (RCEP).
In recent high-level visits, leaders of the two nations agreed on a number of major cooperation directions, especially in new areas such as the digital economy, digital transformation, regional and global supply chain connections, the building of the green economy, sustainable development, and cooperation in the production chain.
PM Chinh's visit to Singapore aims to lift Vietnam-Singapore economic connectivity to a new height in the context that a series of new-generation free trade deals joined by the two nations have taken effect, including the CPTPP and RCEP.
As scheduled, during his stay, PM Chinh will hold talks with his Singaporean counterpart Lee Hsien Loong, and have meetings with Singaporean President Halimah Yacob, and Speaker of the Singaporean Parliament Tan Chuan-Jin.
He will also meet with representatives of the Vietnamese community in Singapore, and leading businesses of Singapore, and attend a Vietnam-Singapore Business Forum to promote bilateral trade and investment cooperation.
Vietnam among destinations for best slow travel holidays in 2023
Australian travel publication Traveller of The Sydney Morning Herald has recently released its list of the top 20 slow travel holidays for this year, with Vietnam featured in the list of places to visit in 2023.
According to the media outlet, Vietnam represents an ideal destination for a salubrious wellness journey.
"Inside Asia Tours has a wellness-oriented journey through the length of Vietnam that's active thanks to cycling and walking tours, and which involves the likes of sunrise yoga, organic cooking classes, an aromatherapy workshop," says Traveller.
It also suggests that visitor enjoy a stay in Alba Wellness Valley which offers daily spa treatments, before heading for a kick-back beachside finale in Phu Quoc, one of the nation's most hip resort islands.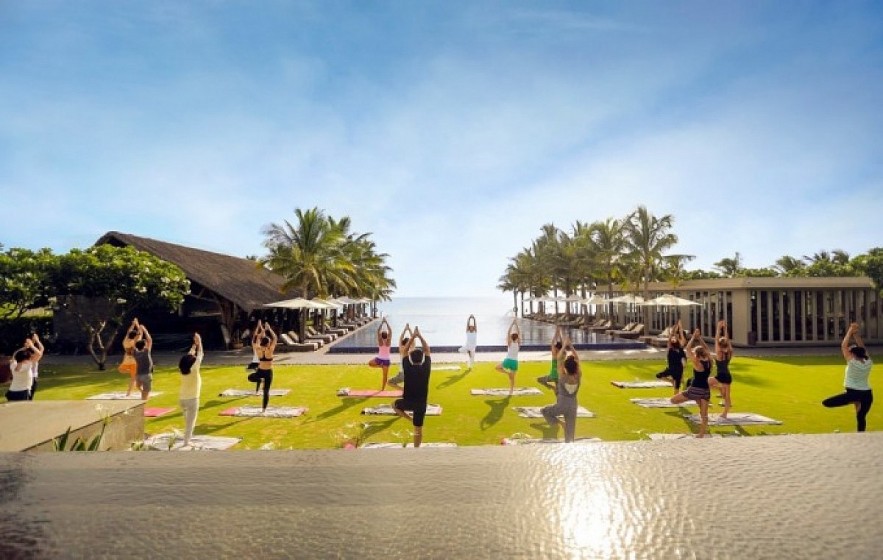 Visitors do yoga at Naman Retreat in the central city of Danang (Photo: Naman Retreat)
"Don't miss kick back on a multi-day cruise on Lan Ha Bay, the quieter alternative to Ha Long Bay but with the same humped peaks. Sunrise tai chi on the deck is a good start to the day," it concludes.
Other destinations to make the list include a blissful barge holiday in Europe, a languid long-haul stopover in Hawaii or New Zealand, a peaceful pilgrim trail trek in Santiago de Compostela in Spain, and an unhurried long-distance train journey between Toronto and Vancouver on The Canadian.
Vietnamese aviation market predicted to fully recover by year-end
The Vietnamese aviation market is forecast to fully recover by the end of this year, according to a global outlook for the aviation industry released by the International Air Transport Association (IATA) recently.
According to the association, Vietnam saw a full recovery and recorded strong growth in the domestic aviation market last year, while its international market is expected to reach the level recorded in 2019 by the end of 2023.
This year, the aviation sector is forecast to transport about 80 million passengers and 1.44 million tonnes of cargo, representing a respective year-on-year rise of 45.4% and 15%. Compared to 2019, the increase will be 1% and 14.8%, respectively.
Illustrative image (Source: VNA)
However, experts held that there remain great challenges for the sector, including those in aviation infrastructure, fuel prices, human resources shortage, and the Russia-Ukraine conflict, reported VNA.
Data from the Civil Aviation Authority of Vietnam, domestic airports served 9.8 million passengers in January, up 13.8% from the previous month, including 2.3 million international arrivals, a rise of 10%. Of the total, 4.85 million passengers were transported by Vietnamese airlines.
In the month, the airports also handled 112,000 tonnes of cargo, a month-on-month increase of 11.6%.
Experts held that with positive recovery signs right from the beginning of the year, the IATA prediction is reasonable, noting that last year, the market bustled strongly, especially in summer and New Year holidays.
They attributed the growth to efforts of the Government, the Ministry of Transport and the CAAV in removing obstacles and difficulties for the sector, ensuring its stable and sustainable growth, security and safety and a fair business environment.
In its report, the IATA predicted a recovery of 80% and 95% in the number of international passengers and domestic passengers, respectively compared to 2019 before COVID-19 broke out.
The association also gave prediction on the recovery speed of different regions, with the Asia-Pacific region showing the slowest recovery. Revenue from passenger transport activities is projected to rise, and the industry will be profitable again.
Vietnam weathers crisis to record robust growth thanks to digital boom
Despite recessionary pressure facing much of the world, Vietnam has weathered the storm to maintain its robust momentum, recording an impressive GDP growth rate of 8.02% in 2022 thanks to its digital boom, according to fintechnews.sg.
Part of reason behind the Vietnamese resurgence was due to a strong import-export boom, whilst positive digital trends also contributed to the country's small and medium-sized enterprises (SMEs) boosting their abilities to sustain growth, said the website.
Fintechnews.sg cited the data from January to October last year indicating the country's 10-month trade hit US$616 billion, up 14% year on year, while the updated figure for the entire year exceeded the US$700 billion mark for the first time, reaching more than US$730 billion in the process.
The majority of this growth was largely driven by Vietnam's base in commodities and manufacturing, as well as the country swiftly positioning itself to be an integral part of the global supply chain, said the website.
Like most of Southeast Asia, it said that SMEs play a vital role in the Vietnamese economy, accounting for more than 90% of all operational businesses. The country's capabilities in terms of the non-agricultural industry, textile, manufacturing, construction, and services, along with wholesale and retail trade, will all be important in the country's effort to become a bigger part of global supply lines.
The website cited a study of SME and Entrepreneurship Policy in Vietnam by the Organisation for Economic Co-operation and Development (OECD), stating "Business R&D spending in SMEs is limited but, based on survey data, local SMEs appear to be quite innovative, especially in product and process innovation. An assumption is, therefore, made that this innovation is mostly of a frugal nature."
Now thousands of SMEs have registered for aid in the form of digital lending support, with fintech firms seeking to establish connections with commercial banks to lend unsecured loans to individuals as well as to SMEs.
Interest in both consumer and business loans is steadily increasing, as is the number of digital lending fintechs, both local and international. In line with this, fintechs including Validus Capital, VC Do Ventures, TTC Group, and Funding Societies are working with other institutions to offer credit facilities to Vietnamese businesses.
The national digital transformation strategy has partially helped Vietnam deal with global recessionary pressure and maintain growth. (Illustrative image)
These international partnerships have contributed to solidifying digital lending capabilities in order to empower SMEs in Vietnam to access better financial resources, improve production capacities, and embark on digital transformation drives. These could in turn help SMEs to ride the shift that the country is undergoing, from exporting raw materials to pursuing opportunities in the global marketplace for processed products with higher added value, and to strengthen the country's participation in lucrative worldwide supply chains.
Alongside the invaluable opportunity for local businesses to join and expand export markets, the website said the demand for local consumption is also slated to increase if the economy remains robust. As Vietnamese consumers seek better spending potential, numerous local fintech companies are also working to establish relationships with local banks and financial institutions to offer digital lending products for end-users.
Vietnam targets 100 gold medals at SEA Games 2023
Vietnam has set a goal of winning 100 gold medals and coming in third place in the overall tally at the upcoming 32nd Southeast Asian (SEA) Games due to take place in Cambodia this May.
This target was unveiled at a working session to examine Vietnam's preparations for the SEA Games 2023 between the Ministry of Culture, Sports and Tourism and the Vietnam Sports Administration in Hanoi on February 7.
The target was described as 'reasonable' after Cambodia announced to eliminate many of Vietnam's strong sports, such as archery, shooting, canoeing, rowing, futsal, and kurash.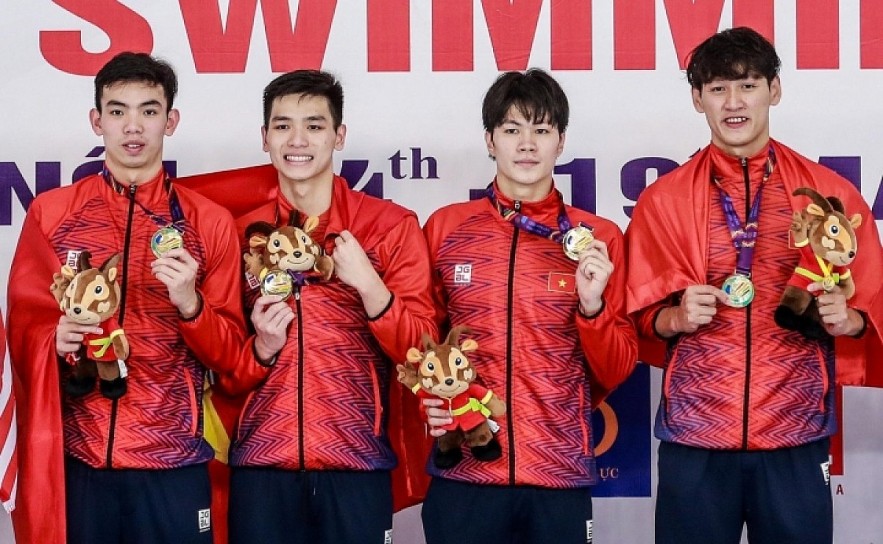 Vietnamese swimmers win a gold medal at SEA Games 31.
The upcoming regional sporting event scheduled to take place from May 5 – 16 is projected to feature a total of 36 sports, including 583 competitions. According to the Vietnam Olympic Committee, the number of competitions has yet to be finalised and will change in the near future.
The Vietnamese sports delegation hope to participate in 30 sports across 444 competitions, cited VOV.
In 2022 Vietnam played host to the SEA Games 31, winning top position with 205 golds.
Tran Duc Phan, deputy head of the Vietnam Sports Administration, said the Vietnamese sporting delegation has fully prepared for the upcoming regional games with confidence and respect to their rivals.
The event will serve as a preparatory step for Vietnamese athletes ahead of the Asian Games (ASIAD) 2023 to be held in China this September, Phan noted.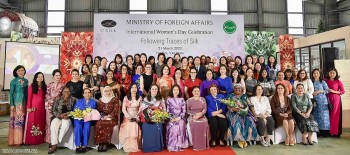 Friendship
Female ambassadors, representatives from diplomatic corps and international organizations, along with spouses of diplomats in Vietnam gathered together to find about more about silk weaving and silk products in Vietnam.