Vietnam News Today (Jan. 19): Vietnam Likely to Become Next Asian Industrial Hotspot
Vietnam News Today (Jan. 19): Vietnam likely to become next Asian industrial hotspot; Vietnam shares experience in ensuring food security, agricultural development; Hanoi to close Hoan Kiem pedestrian area, Old Quarter for Tet activities; Vietnam is more popular among US travelers.
Vietnam News Today (Jan. 19) notable headlines
Vietnam likely to become next Asian industrial hotspot
Vietnam shares experience in ensuring food security, agricultural development
Hanoi to close Hoan Kiem pedestrian area, Old Quarter for Tet activities
Vietnam is more popular among US travelers
COVID-19 spurs digital transformation in health sector
Art exhibition celebrates the Year of the Cat opens in Hanoi
Live TV program highlights Paris Agreement – Aspirations for peace
Speaker of RoK National Assembly concludes official visit to Vietnam
Enterprises expect more support to reform business environment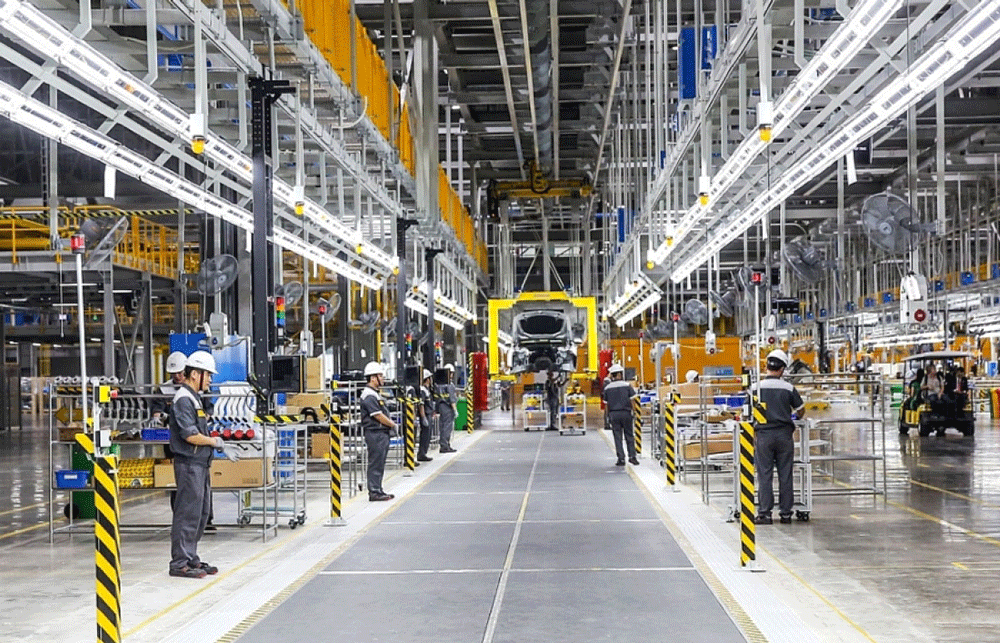 Photo: VOV
Vietnam likely to become next Asian industrial hotspot
Indian news outlet stattimes.com recently published an article saying Vietnam is likely to become a burgeoning industrial hub, especially for tech and apparel, as well as its beautiful beaches and delicious cuisine.
The newswire pointed out that while parts of Asia are still in the process of recovering from the global pandemic, the Vietnamese economy has boomed, reaching an impressive 8% growth last year, faster than other major regional economies in Asia, including India, Japan, and China. In addition, export revenue hit US$372 billion, an annual rise of 10%.
The Indian news outlet attributed the boom for Vietnamese industry to the disruption to supply chains occurring on the Chinese Mainland, Asia's largest manufacturing hub, particularly as factories were subject to shutdowns during the COVID-19 pandemic. As a result, companies turned to alternative locations as a means of continuing and diversifying their production streams.
According to the publication, the country boasts a competitive labour force and low manufacturing costs with strong infrastructure. It has a young and growing population of 97 million, 70% of whom are under 35 - a considerable labour force for the manufacturing industry
While China's manufacturing costs have risen to around US$6.50 per hour, those in Vietnam remain low at less than half the cost, equal to US$2.99 per hour.
Most notably, the country is strategically located along a strip of 3,200km long coastline which makes it, particularly the northern region, an ideal location for shipping cargo in and out. The Government has been investing in improving the nation's infrastructure, particularly in the northeastern cities, to create a more attractive travel destination and ultimately a more connected port and industrial hub.
The newswire outlined that more companies are now moving their production to Vietnam which is the world's second-largest manufacturer of tech and apparel, with big brands such as Nike, Adidas, and Samsung all operating across the country.
Moreover, the disruption caused by the pandemic has seen more companies explore options in the Vietnamese market. While Apple manufactures the majority of its products in China, it has been diversifying its production in other countries, namely India and Vietnam.
Last year, the tech giant announced that it will be producing Apple products, mainly Apple Watches and MacBooks, in Vietnam for the first time.
Google's newest Pixel phone, too, will be made in the country, while Microsoft started shipping Xbox game consoles from Ho Chi Minh in 2022.
Reports have also emerged that Apple supplier Foxconn is looking at investing US$300 million to expand their factories in northern Vietnam, whilst Dell, HP, Nintendo, and Lenovo are all planning on setting up plants in the country as well.
Meanwhile, the Government has been making strong efforts in order to make trade easier between Vietnam and the rest of the world.
To support these efforts, Vietnam has signed free trade agreements with the EU, UK, and nations across the Asia-Pacific region, opening up the country to further trading opportunities.
Another strong driver of trade is the Regional Comprehensive Economic Partnership – a trade agreement among the Asia-Pacific nations of Australia, Japan, Chinese Mainland, New Zealand, the Republic of Korea, and other ASEAN members.
Vietnam shares experience in ensuring food security, agricultural development
Deputy Prime Minister Tran Hong Ha on January 17 attended, delivered speeches at important sessions, and had bilateral meetings, as part of his activities at the 53rd World Economic Forum (WEF) Annual Meeting in Davos, Switzerland.
At a discussion of the Food Action Alliance, Ha shared Vietnam's experience in ensuring food security and agricultural development, saying the country has attached special importance to agriculture, taking it an economic spearhead.
The Party and the State have rolled out sound policies on agriculture and rural development, he said, noting that farmers, scientists, businesses and the State have been linked together and attention paid to international cooperation, notably the tripartite collaboration with the European Union (EU) and Africa.
Regarding food transformation, Ha highlighted opportunities in energy transition in parallel with food transformation, and the establishment of mechanisms in support of farmers.
Apart from the tripartite cooperation, collaboration in building regional innovative centres on food and foodstuff systems in Vietnam is necessary, the official continued.
In a keynote speech at another discussion on the Interplay of Food, Energy and Water, Ha stressed that issues regarding food, energy and water resources require a comprehensive and systematic approach.
It is a must to embark on green transition, and circular, low-carbon economy to address the interplay of food, energy and water resources, he said, emphasising that the matters of ecosystem, food, energy and water resources should go with climate change response, according to VNA.
Ha used the occasion to share Vietnam's experience in ensuring food security and sustainable agricultural development.
At a meeting with World Bank (WB) Managing Director of Operations Axel van Trotsenburg, Deputy PM Ha appreciated the WB's contributions to Vietnam's socio-economic growth, particularly its support of response to climate change and development of the Mekong Delta.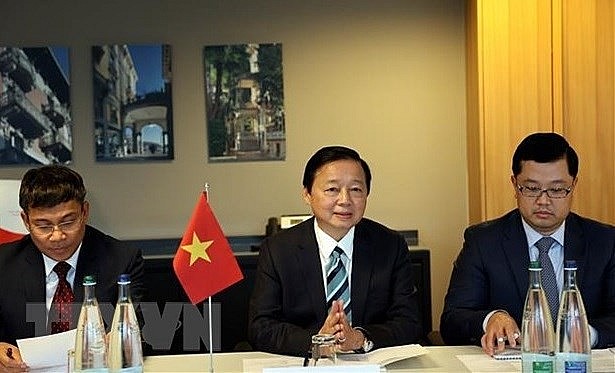 Deputy Prime Minister Tran Hong Ha (center). Photo: VNA
Affirming Vietnam's determination for shifting to the green, circular and low carbon economic growth model, Ha proposed the bank offer support in green investment capital, green finance, green technology, and policy consultation.
The official recommended the WB set up a mechanism for experience exchange among nations, adding that Vietnam is willing to share its lessons in how to effective use borrowed capital for reducing poverty, changing the country's position from low-income to middle-income, and making fundamental changes in education and health.
For his part, the WB managing director lauded the close ties between the WB and Vietnam, pledging his readiness to assist Vietnam in realising its goals, including to become an upper middle-income country, reduce net emissions by 2050, and shift to a green, circular economy, among others.
Receiving Group Chairman of Standard Chartered Jose Vinals, the Deputy PM affirmed that the Vietnamese Government always encourages the engagement of credit institutions with financial capacity, experience, support capacity, and administration expertise, in enhancing the operational efficiency and safety of Vietnamese credit organisations in Vietnam.
Vietnam is prioritising and encouraging the development of green and sustainable finance, especially green bond market, he said, suggesting the group introduce and connect foreign investors, including those from the UK, to Vietnam.
Ha wished that the bank will provide technical support to the country's National Innovation Centre, and participate in investing and mobilising capital for infrastructure and energy projects serving sustainable development.
In response, Vinals said that he is ready to help Vietnam, provide technical advice, and continue to coordinate the implementation of projects under the Just Energy Transition Partnership.
Hanoi to close Hoan Kiem pedestrian area, Old Quarter for Tet activities
The Hanoi People's Committee has announced the closure of the pedestrian spaces around Hoan Kiem Lake and the Old Quarter, allowing citizens to travel smoothly during the Tet holiday.
The walking zones around Hoan Kiem Lake and the Old Quarter will be closed from January 20 (the 29th of the final lunar month) and February 3 (the 13th of the first lunar month).
Photo: VNA
The local authority planned to organize various cultural and music programs to serve citizens and tourists.
Moreover, two fireworks displays will be held in front of the Hanoimoi Newspaper Office and the Hanoi Post Office to ring in the Lunar New Year (Tet), cited SGT.
For beautiful landscapes and a joyful atmosphere ahead of Tet, Hanoi City has decorated streets and public places with a variety of flowers, ornamental plants, and Tet symbols.
The cultural activities in the pedestrian zones around Hoan Kiem Lake were resumed in March 2022, after nearly a year of suspending due to the Covid-19 pandemic, to serve the entertainment demand.
Vietnam is more popular among US travelers
Vietnam is becoming a popular tourist destination for US holidaymakers, with more than 215,000 Americans visiting the country last year, ranking second behind the Republic of Korea in terms of arrival number.
Travel Off Path, a US website specializing in tourism, points out Vietnam is one of the top tourist destinations in Southeast Asia. Its natural wonders and incredible culture has inspired American tourists to get out of their comfort zone and travel across the world to explore the country, despite the limited flight options and the complex logistics of getting there.
Vietnam fully reopened for tourism in the middle of March 2022, becoming one of the first in the region to ease COVID-19 travel restrictions and welcome foreign visitors, including US travelers, regardless of vaccination status. Demand for quality tourism has since increased dramatically. The famous online travel agency Kayak even considered Vietnam the top destination in Southeast Asia for 2023.
Travel Off Path learns Vietnam welcomed 3.36 million foreign visitors last year, a drop of 79.9% compared to the pre-pandemic year of 2019, but 23.3 times more than it did the year before, that proves the government's March decision to reopen its borders was hugely beneficial to tourism.
Among 3.36 million guests visiting Vietnam in 2022, 388,873 came from the Americas, including North, Central, and South. US visitors, in particular, amounted to more than 215,000, ranking second after the Republic of Korea in terms of traveler number.
Explaining the reasons, Travel Off Path says Vietnam is a culturally-rich country, and it is a newborn country still finding its footing in a fast-changing world. It has only eased visa restrictions for foreigners in recent years, allowing them the privilege of visiting previous generations simply didn't enjoy.
"Needless to say, it is a different world altogether from your usual vacay spots in the West," the website notes.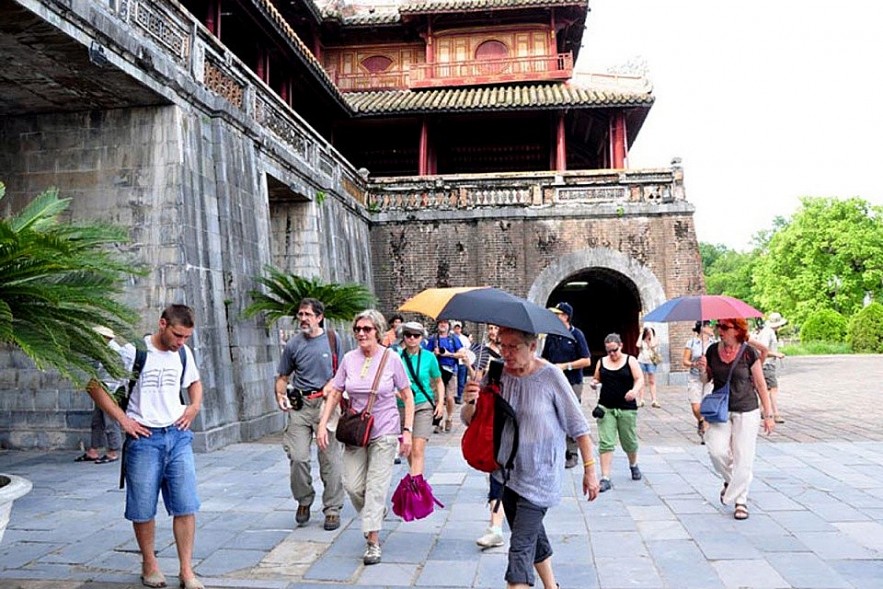 Photo: baogialai.com
According to the website, many adventurous Americans find Hanoi and Ho Chi Minh City impossible to resist, because the two cities are 'a complex maze of narrow, unplanned streets prospered with trade, vibrant flea markets, old colonial buildings, and ancient temples'.
"If the busy city life doesn't seem appealing and its bucolic, rolling rice terraces etched into green hills, quaint villages, and remote pagodas set against dramatic backdrops you're after, you'll soon realize Vietnam is brimming with them, from the Sa Pa heartland to the pilgrimage sites of the Ninh Binh province," it continues to describe Vietnam.
If visitors love to explore architecture or old ruins, there are numerous jaw-dropping imperial palaces to entertain them. One of those places introduced by Travel Off Path is Hue, a historical city in central Vietnam, home to the stunning Forbidden Purple City, the seat of the Nguyen Dynasty, sumptuously-decorated temples, and a monumental moated citadel.
For many, a trip to Vietnam is not complete without visiting and staying at pristine beaches. According to the website, Vietnam is packed with paradisiacal beaches boasting postcard-perfect turquoise waters and lined with luxurious resorts.
Last but not least, middle-income Americans choose to visit Vietnam because it is incredibly cheap coupled with the lower cost of living, enabling them to access luxuries they wouldn't be able to afford in their country.
COVID-19 spurs digital transformation in health sector: experts
The COVID-19 pandemic is a catalyst for speeding up the digital transformation in the health sector, according to experts.
Nguyen Truong Nam, Deputy Director of the Informatics Department under the Ministry of Health Ministry, during the two years of the pandemic, doctors have been accustomed to the application of information technology solutions in medical examination and treatment. The Internet access also facilitates the online check-up and treatment process, he told Dau tu (Investment) newspaper.
According to Nghe An province's Department of Health, software on medical examination, treatment and health insurance payment has been applied at all health facilities in the locality.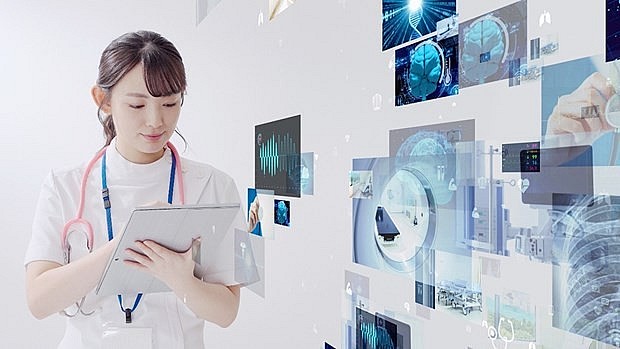 Illustrative. Photo: suckhoedoisong.vn
Electronic medical records have been used at three public hospitals and all administrative procedures have been conducted on the province's portal, it said.
Deputy Minister of Health Tran Van Thuan said that despite difficulties caused by the COVID-19 pandemic the health sector has successfully carried out a telehealth program that connects with more than 1,000 health centers across the country, with thousands of people getting free medical consultations, examinations and treatment.
Nguyen Huy Dung, Deputy Minister of Information and Communications, said that healthcare is one of the pioneers in adopting shared digital platforms with an aim to help doctors improve the quality of medical examination and treatment as well as enable people to access more convenient services.
According to Nam, the health sector targets all hospitals using electronic health records instead of paper-based ones by 2025.
However, capital resources remain a challenge, he said, adding that hospitals can fulfill the goal with due investment from localities, reported VNA.
To speed up the digital transformation in the sector, it is necessary for hospitals to massively apply information technology, experts said, noting that each locality should set up a health-related database that will serve the sharing of data among hospitals.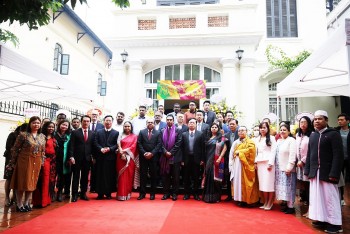 Friendship
To celebrate the 75th anniversary of the National Day of the Democratic Socialist Republic of Sri Lanka (February 4, 1948 - February 4, 2023), a ceremony was held at the Vietnamese Embassy of Sri Lanka in Hanoi on Feb 4, honoring the friendship and cooperation between people of the two countries over the past many years.