Vietnam News Today (Jan. 26): Vietnam Told to Reopen to International Tourism Ahead of SEA Games 31
Vietnam News Today (Jan. 26): Vietnam reports 15,699 more domestic Covid-19 cases; Vietnam told to reopen to international tourism ahead of SEA Games 31; Germany donates four million more vaccine doses to Vietnam; Vietnam has opportunity to become global leader in renewable energy.
Vietnam News Today (Jan. 26) notable headlines
Vietnam reports 15,699 more domestic Covid-19 cases
Vietnam told to reopen to international tourism ahead of SEA Games 31
Germany donates four million more vaccine doses to Vietnam
Vietnam has opportunity to become global leader in renewable energy
Vietnam to add night flights, ease domestic air congestion
HCMC-Mekong Delta expressway opens to traffic jam
China lifts restrictions at key border gate with Vietnam
HCMC to have children back in school by Feb. 14
Ministries say booster shot for populace should be criterion to allow foreign tourists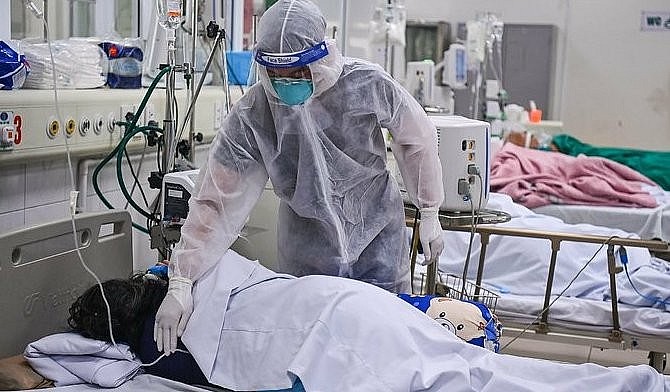 A doctor takes care of a Covid-19 patient at the National Hospital for Tropical Disease in Hanoi in 2021. Photo: VnExpress
Vietnam reports 15,699 more domestic Covid-19 cases
Vietnam confirmed another 15,699 local Covid-19 cases on Tuesday in 61 cities and provinces, and Hanoi continued to lead the tally.
The capital city reported 2,956 cases, followed by the central Da Nang City with 989 cases and the northern port city of Hai Phong with 704 cases.
The ministry confirmed 126 more Covid-19 deaths on Tuesday, including 18 in Hanoi, raising the national death toll to 37,010, or 1.7 percent of the total infections.
The fourth wave that hit Vietnam last April has until now been responsible for over 2.16 million cases. Of them, more than 1.9 have recovered, cited VnExpress.
Of 207,985 active patients in the country now, 4,602 are severe cases.
Almost 74 million people of the nation's 96-million population have been vaccinated with two doses, and more than 24.6 million have received the third doses.
Vietnam told to reopen to international tourism ahead of SEA Games 31
Vietnam should reopen its door to international tourism sooner than initially scheduled in order to seize upon opportunities and avoid being left behind by regional rivals, experts suggested at a workshop held on January 24 in Hanoi.
The country has welcomed more than 8,500 foreign visitors with vaccine passports from various markets such as Japan, the Republic of Korea, Russia, and the United States under a pilot scheme that started in mid-November, 2021.
The pilot scheme yielded positive results, laying a firm foundation for the tourism sector to welcome back foreign travelers in the near future, said Nguyen Trung Khanh, director of the Vietnam National Administration of Tourism.
Khanh added that the Ministry of Culture, Sports and Tourism is working closely alongside relevant ministries and agencies in a bid to supplement and issue complete guidelines on Covid-19, with the primary aim to receive international tourists at the earliest possible time.
Early reopening the border
Dinh Viet Son, deputy director of the Civil Aviation Authority of Vietnam, pointed out that Vietnam has now reopened flight routes to the US, Japan, the Republic of Korea, Singapore, Thailand, Cambodia, Laos, and Taiwan (China). In addition, it is currently negotiating with other countries such as the UK, France, Germany, and Russia.
He suggested that the Government reopen its borders to air travel sooner than April or May as scheduled, particularly as Vietnam is set to play host to the 31st Southeast Asian Games (SEA Games) in May, according to VOV.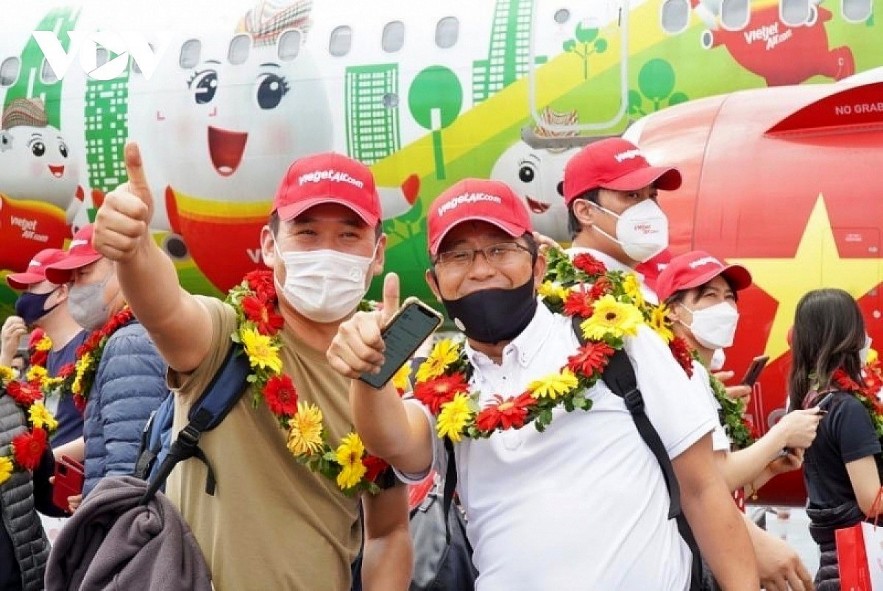 Vietnam is expected to reopen its door to international tourism in April, but experts suggest the plan should be implemented in February. Photo: VOV
"We should open the door just from the beginning of February, because we have fixed flight schedules to our important markets like Europe and Northeast Asia," said Son. "The Civil Aviation Authority of Vietnam is considering increasing the frequency of flights to licensed destinations, meaning we will have a lot of flights on the horizon."
Echoing Son's view, Truong Gia Binh, head of the Private Sector Research and Development Board (Board IV), noted that whether or not Vietnam opens to international tourists does not change the nature of the pandemic locally.
"What we have done over the past two months shows the implementation of the pilot scheme has not affected local pandemic control," said Binh.
According to the expert, in the event the country does not reopen to international tourism, it will go against the Government's economic recovery policy that will eventually impact the employment of more than 2.5 million workers, and deal a heavy blow to other economic sectors. In addition, it will cause the country to lose out on major opportunities, not to mention the ailing health of travel businesses.
Removing bottlenecks
Besides speeding up the opening of international tourism, the aviation representative also suggested that authorities create greater convenience for international visitors. He stated that along with negative PCR Covid-19 test certificates, the Covid-19 rapid testing requirement for passengers before departure and after arrival at airports is causing difficulty for both airlines and passengers.
"Only a few regular international flights have resumed, leading to congestion at international arrival terminals at Noi Bai and Tan Son Nhat airports. We wonder how the problem will be resolved if this policy is maintained when more regular international commercial flights are allowed," said Son.
If rapid testing is still to be required, Son suggested that it should not be held at the airport, but rather in localities where passengers are scheduled to arrive and stay as part of their package tours.
Germany donates four million more vaccine doses to Vietnam
New German vaccine donations totaling 4,000,230 doses of BioNTech/Pfizer's Covid-19 vaccine arrived in Hanoi at the turn of the year, raising the total number of vaccines supplied Germany to Vietnam to over 10 million doses.
According to details given by the German Embassy in Hanoi, the most recent delivery marks the largest German donation of vaccine doses to Vietnam to date in support of the country's ongoing vaccination campaign.
German Ambassador to Vietnam, Dr. Guido Hildner, said that Germany would continue its ongoing support to the country in fighting and overcoming the Covid-19 pandemic, reported VOV.
Photo: UNICEF
The shipments come amid high numbers of infections and the Omicron variant spreading at a rapid pace worldwide showing that the pandemic is far from defeated. As a result, Germany will continue to show solidarity with Vietnam in 2022 in its fight against the impact of the pandemic, noted the diplomat.
With the latest delivery, Vietnam has received in excess of 51 million doses of Covid-19 vaccines via the COVAX Facility.
The COVAX Facility is being co-led by the WHO, the Coalition for Epidemic Preparedness and Innovations (CEPI), GAVI - the Vaccine Alliance, and UNICEF as a key delivery partner.
In 2020, Germany co-founded the Access to Covid-19 Tools Accelerator (ACT Accelerator). As the second largest donor to the ACT Accelerator, Germany has provided EUR2.2 billion to date. By the beginning of December, 2021, 144 countries and territories were supplied this way, with over 960 million doses of vaccines from AstraZeneca, Johnson and Johnson, Moderna, and BioNTech given out.
Vietnam has opportunity to become global leader in renewable energy: Entrepreneur Magazine
Given Vietnam's high solar PV potential and ambitious green energy targets by 2050, the country has every opportunity to become a global leader in renewables, the Entrepreneur Magazine said on its e-version.
Eric Chin, the author of the article published on entrepreneur.com cited the World Bank as saying that Vietnam currently has the most comprehensive installed solar power capacity in Southeast Asia, with 16,500MW generated in 2020. Moreover, Vietnam was among the top 10 nations globally, with the most solar energy capacity installed in 2020.
There is also a compelling rationale for establishing wind energy projects in Vietnam due to evidence that it has some of the greatest wind resources in the region with a potential of 311 GW, according to the article.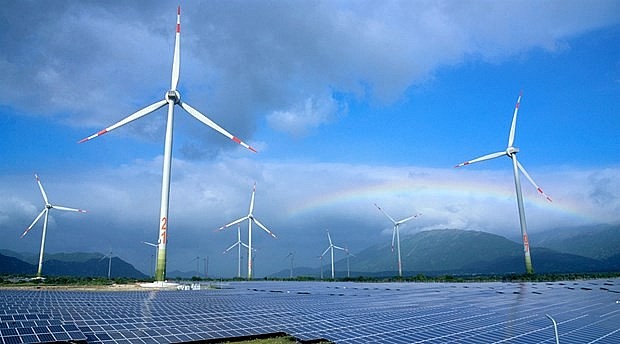 Vietnam has opportunity to become global leader in renewable energy. Photo: VNA
Market analysts believe that if Vietnam maintains its rapid expansion of renewable energy, it will rise much higher in the rankings, perhaps overtaking nations like Australia and Italy in renewable energy development and creative solutions.
The climate and topography of Vietnam make renewable energy, particularly wind power, a significant investment prospect. Vietnam's vast wind resource is thanks to the country's long and narrow geographic shape consisting of over 3000 kilometers of coastline, including a mix of hills and mountains.
According to the World Bank, more than 39 percent of Vietnam has wind speeds more than 6 meters per second (m/s) at 65 meters, equivalent to 512 gigawatts (GW) of capacity. Vietnam assumes excellent potential, with 8.6 percent of its land area suitable for large wind farms.
Vietnam has recently seen phenomenal solar photovoltaic (PV) growth, which is just the beginning of the country's vast energy transition away from coal. The country's solar PV capacity increased from 86 MW in 2018 to about 16,500 MW in 2020.
Consequently, Vietnam has surpassed Thailand as the ASEAN country with the greatest installed solar power capacity. Solar PV systems provide roughly 10.6 TWh of electricity in 2020, accounting for nearly 4 percent of total output.
Rooftop solar will account for approximately half of Vietnam's total solar capacity by 2030. With a promising solar energy production environment, international investors will have difficulty passing up such lucrative investment prospects, the author said.
Vietnam to add night flights, ease domestic air congestion
The aviation authority has ordered airlines to switch several flights during peak hours to nighttime after big crowds inundated major airports.
According to the Civil Aviation Authority of Vietnam (CAAV), the request on Monday serves to reduce the number of flights at the busiest time of day as too many passengers flock to Tan Son Nhat and Noi Bai international airports in Ho Chi Minh City and Hanoi to fly home for the upcoming Lunar New Year holiday.
The holiday, called Tet in Vietnam, is the biggest occasion for Vietnamese to reunite with their families. This year Tet break lasts nine days from January 29 to February 6.
The Ministry of Transport had already dropped the regulation to test flight passengers, but many have not kept up with the new rule and have still arrived early at the airport for the test, resulting in streams of people waiting at airline booths, the CAAV added.
Due to congestion, many flights have been delayed, reported VnExpress.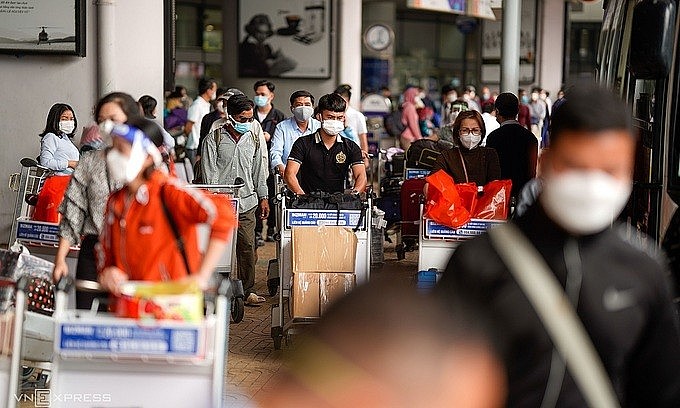 Passengers at Noi Bai airport in Hanoi on Jan. 24, 2022. Photo: VnExpress
The aviation industry had initially planned to supply 2.85 million seats and 13,400 flights for the period between Jan. 23 to Feb. 16 to serve Tet travel demand, but it later decided to increase the number of seats to 3.2 million and the number of flights to 15,300, up 13 percent compared to last year.
On Jan. 21, the Ministry of Transport announced relaxed restrictions for passengers on domestic flights, allowing people not in quarantined locations or areas with very high coronavirus risks to skip showing vaccination certificates or proof of Covid-19 recovery. Children not in these areas also won't have to be tested to fly.
However, passengers must still perform medical declarations and use the PC-Covid app. They are still not allowed to fly if they have symptoms like coughing, fever, muscle ache, a sore throat or loss of taste.
The simplified requirements, plus localities having been asked not to quarantine people returning home for Tet, has led to an increase in travel demand compared to a week earlier.
Tan Son Nhat last Sunday reported only 19 flights at the busiest hour, which is between 11 a.m. and mid-day, or 79 percent of the total operating capacity in this hour.
Noi Bai has operated only 10 flights in the peak daytime hours, or 59 percent of the total capacity.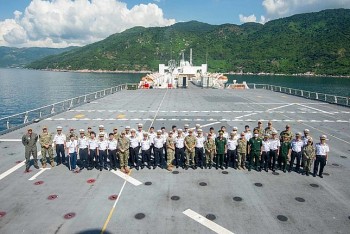 Friendship
The Pacific Partnership 2022 (PP22) concluded on July 3 on USNS Mercy, a hospital ship of the US Military Sealift Command anchored at Vung Ro Port in Dong Hoa town, the central province of Phu Yen.