Vietnam News Today (Jan. 27): Tourist Attractions Nationwide Lure Crowds During Tet
Vietnam News Today (Jan. 27): Hanoi's tourism sector rakes in over VND1 trillion during Tet holiday; Retail market predicted to bustle in 2023; Tourist attractions nationwide lure crowds during Tet; Maintaining growth momentum to push up Vietnamese trade activities.
Vietnam News Today (Jan. 27) notable headlines
Hanoi's tourism sector rakes in over VND1 trillion during the Tet holiday
Retail market predicted to bustle in 2023
Tourist attractions nationwide lure crowds during Tet
Maintaining growth momentum to push up Vietnamese trade activities
Festival marks 234th anniversary of Ngoc Hoi-Dong Da victory
HCM City gateway remains clear as people head back to work
2023 a special year in Vietnam-France relations
Vietnamese businesses could join global supply chains with sound strategies: experts
Lunar New Year sees abundant supply of goods and stable prices
Photo: VOV
Hanoi's tourism sector rakes in over VND1 trillion during Tet holiday
Hanoi capital has welcomed roughly 332,000 visitors, including 32,000 international guests, during the Lunar New Year holiday from January 21 to January 26, with total tourism revenue anticipated to reach more than VND1 trillion.
According to a report compiled by the Hanoi Department of Tourism, throughout the reviewed period the average room occupancy at one to five star hotels in Hanoi stood at an estimated 40%.
The majority of foreign arrivals mainly came from the Republic of Korea, Japan, Singapore, Canada, Thailand, and France. Among the 300,000 domestic visitors, most of them were residents of the capital who went on holiday during the early days of the year, cited VOV.
Popular destinations around Hanoi attracting the largest number of visitors include Quoc Tu Giam (Temple of Literature) with about 80,000, the Perfume Pagoda with 80,000, the Imperial Citadel of Thang Long with nearly 20,000, Co Loa relic site with about 18,000, and Duong Lam Ancient Village with about 15,000.
In general, tourist sites and attractions have moved to upgrade their service quality, launched plenty of new programmes and products, as well as organised cultural and artistic activities aimed at stimulating demand and attracting more tourists.
Retail market predicted to bustle in 2023
Although 2023 is forecast to see many difficulties, experts expect this is a recovery year of the retail sector after COVID-19 pandemic as there are many signs showing the return of investors and higher demands.
According to the Ministry of Industry and Trade (MoIT), the scale of the Vietnamese retail market is 142 billion USD, which is expected to reach 350 billion USD in 2025, with contributions of 59% to total GDP.
Last year, the total revenue from retail sales of goods and services rose 21%, exceeding the target of 8%.
A survey by Vietnam Report showed that over 53.8% of total retail firms enjoyed similar and higher business results compared to the pre-pandemic level.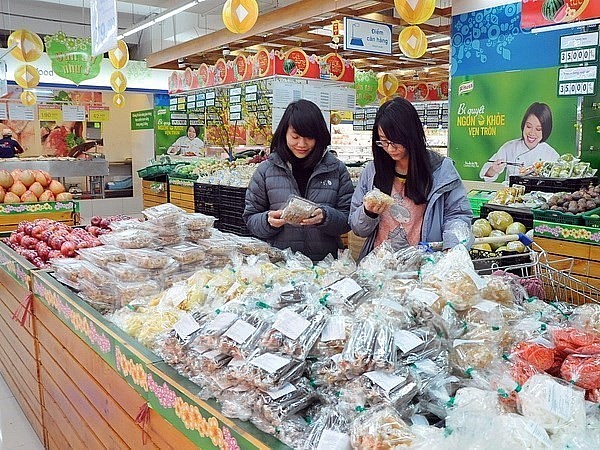 Illustrative image. Photo: VNA
Experts held that growth of retail sales is being supported by rise in income and the strong recovery of the tourism sector as well as relevant sectors such as transport and accommodations, as well as the effectiveness of inflation control measures.
Particularly, from now to the Lunar New Year (Tet) Festival, which falls in late January, consumers are predicted to loosen their wallet dramatically.
At the same time, there are signs of vibrant retail activities as many foreign investors have announced their plans to return after COVID-19, according to VNA.
Recently, Thailand's Central Retail said that it will pump additional 20 trillion VND (852.87 million USD) into the Vietnamese market in the next five years, pushing its investments in Vietnam in the 2022-2026 period to 65 trillion VND. With this plan, Central Retail will raise their coverage from 40 localities currently to 55.
Meanwhile, Japanese giant retailer Aeon Group plans to build another megamall in Hanoi, raising its total trade centres in Vietnam to 20.
Phung Trung Kien, Founder of Vietnam Holdings Inc., said that retail businesses will see good growth in early 2023, especially those trading consumer goods thanks to the Lunar New Year Festival.
In 2023, four trade centres are scheduled to be launched - Central Premium plaza, Vincom Megamall Grand Park, Sunrise City Central and Emart 2 with total area of over 116,000 sq.m.
Many experts predicted that this year, retailers will expand their selling channels, bringing their products to different trading platforms to optimise online retail channels.
MoIT Deputy Minister Do Thang Hai said that in the time to come, the ministry will coordinate with other ministries and localities to keep a close eye on the developments of the market, ensuring the supply of commodities, especially during Tet. At the same time, it will apply measures to control consumer price index (CPI), he said.
Tourist attractions nationwide lure crowds during Tet
Tourist attractions across the country have lured large numbers of visitors during Tet (Lunar New Year).
In the capital city of Hanoi, popular tourist sites, such as Thang Long Imperial Citadel, Temple of Literature, and Tran Quoc Pagoda have been crowded with locals and visitors.
Over the past five days, a large number of domestic and foreign tourists have flocked to Sa Pa Town and the districts of Bac Ha, Si Ma Cai, Bat Xat, and Bao Yen in the northern province of Lao Cai, which boasts beautiful natural landscapes and rich culture of ethnic minority groups.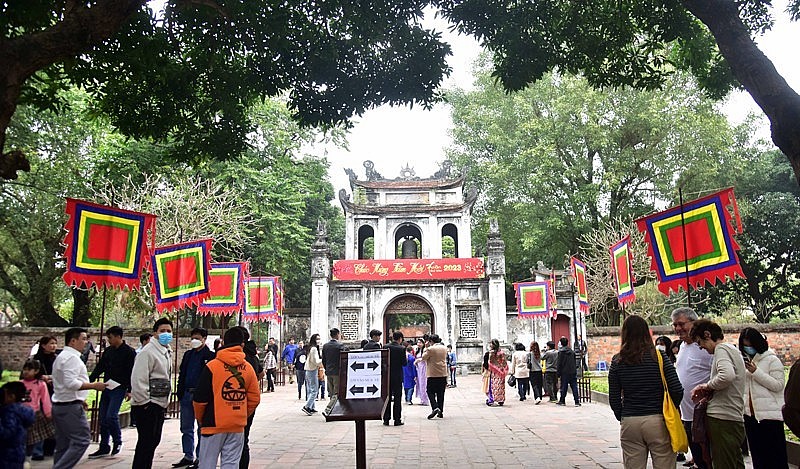 Temple of Literature in Hanoi crowded with locals and visitors during Tet. Photo: hanoimoi.com.vn
Of which, Sa Pa town is expected to welcome 80,000 to 100,00 holidaymakers during the week-long Tet festival.
Meanwhile, tourist attractions in the Mekong Delta province of Tien Giang, such as Thoi Son Islet and Ba Duc Ancient House, have witnessed a significant increase in number of vacationers.
A spring festival opened in Son La Province on January 25, featuring a wide range of cultural, arts and sporting activities, reported NDO.
The highlight of the festival was a mass 'Xoe' folkdance, during which more than 1,200 performers held hands to create a giant circle representing the great solidarity of ethnic groups in the northwest region.
In Can Tho City, the flower street at Song Hau Park and Ong Lang Street in Phong Dien District are among the most favoured check-in places for locals and visitors.
The Phu Yen provincial tourism sector also recorded a promising start for the Year of the Cat as it greeted around 94,920 holidaymakers over the first five days lunar New Year, 10.5 times higher than the same period last year.
The locality pocketed 132.8 billion VND in tourism revenue over the past five days, 12.4 times higher than the same period in 2022.
Maintaining growth momentum to push up Vietnamese trade activities
The success of the nation's trade activities last year has served to create greater momentum for 2023 and the years ahead, particularly as local enterprises have moved to enhance their internal strength along with receiving additional support from the State.
Despite facing numerous challenges last year, the country's trade activities have obtained outstanding results, with total import and export turnover during the year reaching a record of over US$732 billion, up 10% compared to 2021. Of this figure, exports grossed US$371 billion, up 10.5% compared to 2021.
Most notably, the structure of export items last year witnessed positive changes with a reduction in raw exports and an increase in the export of processed products, while Vietnamese industrial products and other goods became more deeply involved in global supply chains.
Experts therefore emphasised the need to take full advantage of the achievements recorded last year and to fully tap into the country's advantages for future trade development, thereby making significant contributions to the country's socio-economic development.
Phan Thi Thanh Xuan, vice president and general secretary of the Vietnam Leather, Footwear and Handbag Association (Lefaso), pointed out that the major challenge ahead this year for the leather and footwear sector remain raw materials. Xuan assessed that the industry has to import more than US$1 billion of leather every year in order to produce high-quality products specifically for export.
Xuan underlined the necessity of attracting additional investment in the production of leather materials and accessories in the nation as a means of increasing the proportion of shoe production, especially with regard to leather shoes for export.
She went on to underscore the importance of attracting investment in developing leather material areas at localities to produce highly value-added shoe categories, adding that the State must devise policies aimed at supporting enterprises to improve their design capacity, thereby allowing local firms to absorb new technologies from foreign markets.
Simultaneously, management agencies have been urged to continue to help local enterprises improve their capacity in terms of trade promotion activities with the aim of making further inroads into various markets, especially fastidious markets, Xuan noted.
Tran Thanh Hai, deputy director of the Foreign Trade Agency under the Ministry of Industry and Trade, said that trade activities this year are anticipated to maintain their growth momentum as businesses have been utilising the incentives from various Free Trade Agreements (FTAs), as well as advantages from the shift of foreign investment flows from other markets into Vietnam.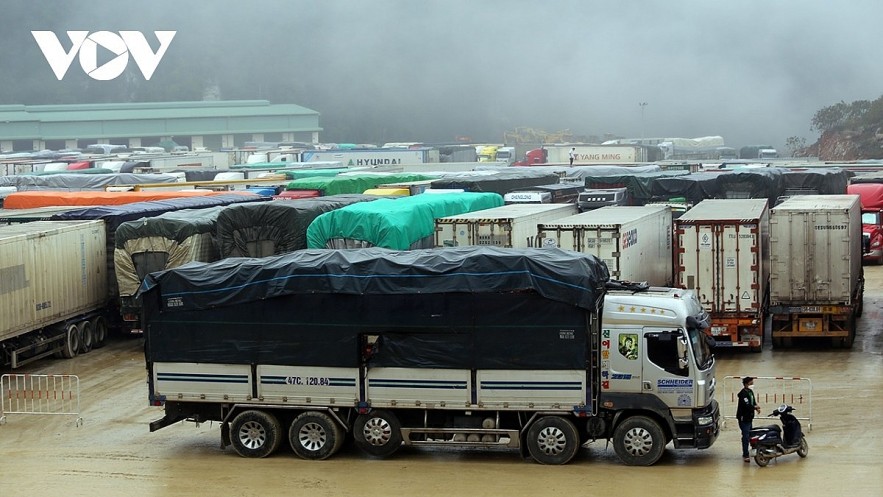 Photo: VOV
Aside from meeting the increasingly stringent requirements of the export markets, Vietnamese businesses are required to improve their creative capacity, thereby further establishing their prestige in the international market, a factor which is projected to provide a basis for the diversification of markets in the future, Hai noted.
Trade expert Vu Vinh Phu emphasised the need to ramp up the re-planning of production areas for industrial goods and agricultural products as a means of providing a stable supply source of high-quality goods at reasonable prices for the domestic distribution system and for export.
Furthermore, the State needs to further invest in infrastructure; including logistics and a national distribution system featuring supermarkets, shopping malls, wholesale markets, and trading floors of agricultural products; as well as establishing supply chains to enhance the overall competitiveness of Vietnamese goods in domestic and export markets, Phu noted.
He called on local enterprises to develop brands and make in-depth investments specifically to improve labour productivity, thereby proactively creating domestic raw material source to reduce reliance on imports, cited VOV.
Phu also suggested that the State formulate a policy aimed at building large branded retail corporations that are capable of producing goods whilst leading the development of the domestic market, accelerating the digital economy, as well as focusing on green growth and the circular economy.
The trade expert stressed the need to ramp up close co-ordination between domestic enterprises and trade offices based abroad, thereby expanding into new markets and contributing to diversifying export products and markets moving forward.
The Ministry of Industry and Trade has been asked to co-ordinate efforts with relevant ministries and local authorities in a bid to rapidly deploy the export scheme through official channels as China has reopened its border in order to meet the strict standards set by the market.
Festival marks 234th anniversary of Ngoc Hoi-Dong Da victory
A festival was held at the Dong Da Culture Park in Hanoi on January 26 (the fifth day of the first lunar month) to mark the 234th anniversary of the Ngoc Hoi-Dong Da victory over Chinese invaders.
In 1789, under the leadership of Emperor Quang Trung (also known as national hero Nguyen Hue), Tay Son troops defeated 290,000 Qing invaders, liberating the imperial city of Thang Long and regaining national independence and freedom.
Since then, the fifth day of the first lunar month has become the traditional day marking the historic victory. The Ngoc Hoi–Dong Da victory has also gone down in Vietnamese history as an immortal and epic struggle for national construction and defence.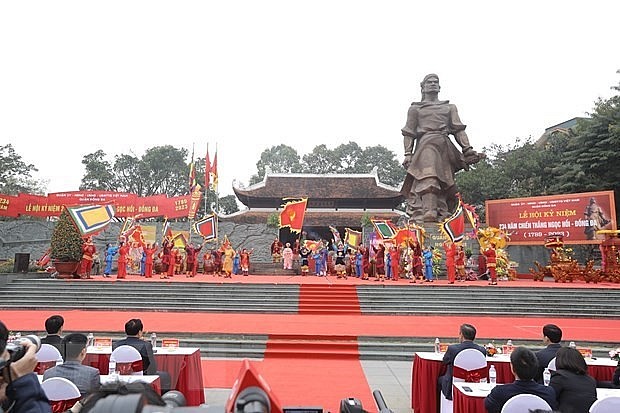 An art performance at the festival. Photo: VNA
Dong Da Mound reportedly witnessed fierce battles between Emperor Quang Trung's soldiers and the Chinese invaders 234 years ago, VNA reported.
The festival is designed to uphold the country's cultural values, while educating young generations about the tradition of patriotism and national pride.
At the event, Chairman of the municipal People's Committee Tran Sy Thanh and leaders of departments, sectors and localities, and local people offered incense in tribute to Emperor Quang Trung.