Vietnam News Today (Jan. 26): Vietnam - Important Partner of RoK
Vietnam News Today (Jan. 26): Vietnam - important partner of RoK; HCM City maintains growth momentum, reaps successes in 2022; Vietnam's tourism forecast to strongly rebound in five years; Many localities attract a large number of visitors during Tet.
Vietnam News Today (Jan. 26) notable headlines
Vietnam - important partner of RoK
HCM City maintains growth momentum, reaps successes in 2022
Vietnam's tourism forecast to strongly rebound in five years
Many localities attract a large number of visitors during Tet
National museum's exhibition features spring landscapes
Vietnam successfully connecting tangible with intangible heritage: UNESCO
Yellow apricot blossom – flower of traditional Tet
Belgian television makes reportage on Vietnamese Lunar New Year celebration
Mangrove forests - a destination worth exploring in Ca Mau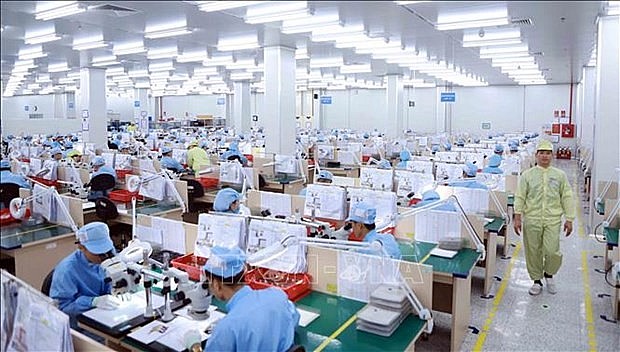 Production at Korean-invested YPE Vina Company at Binh Xuyen 2 IP in Vinh Phuc province. Photo: VNA
Vietnam - important partner of RoK: Korean broadcaster
Vietnam is an important partner of the Republic of Korea (RoK), with more than 200,000 Koreans living in the Southeast Asian country from which a large amount of trade surplus was generated in 2022, Korean broadcaster KBS underlined in an article published on January 24.
The article noted that Vietnam is the largest consumer of Korean-made Choco Pie with spending of 100 billion KRW (81.02 million USD) each year. The country is also home to 270 Lotteria shops, it added.
Due to the US-China tension, businesses from all over the world are flocking to Vietnam, and the country is gaining great attraction, it held.
The article said that Apple will produce MacBooks in Vietnam from May and both Dell and HP corporations are also ready to come to Vietnam. A significant number of Chinese companies are also moving to Vietnam, it noted.
As investment inflows and exports increased, Vietnam's economy grew rapidly. It cited data from the General Statistics Office of Vietnam which showed that in 2022, the country's economic growth reached 8.02% and workers' wages increased by an average of 16%.
Vietnam is becoming a global manufacturing hub. In December 2022, Vietnam overtook the UK in terms of trade with the US to rise to the 7th position, cited VNA.
In order to manufacture and export electronic products, Vietnam needs to import sensor components, semiconductors, screens, and steel, which are strong products of the RoK, it said.
In 2022, the RoK exported 60.9 billion USD worth of goods to Vietnam, equivalent to more than 50% of the RoK's total export revenue from the US (109.8 billion USD) and doubling the revenue from Japan ( 30.6 billion USD). Although Vietnam saw a trade deficit of 34.2 billion USD with the RoK last year, it is the country from which the RoK gained the most benefits in the past year, not China or the US, the article underscored.
The RoK ranks first in both number of projects and cumulative value of investments in Vietnam. Currently, there are about 9,000 Korean companies operating in Vietnam, the article said.
Vietnam's economy opened in 1986. In the process, Vietnam has created favourable conditions for the development of private enterprises, the article noted, adding that in Vietnam, domestic firms such as Vingroup and Vietjet are developing rapidly.
HCM City maintains growth momentum, reaps successes in 2022
After struggling to recover from the negative impacts of the COVID-19 pandemic, Ho Chi Minh City took back what it lost, achieving positive results in its socio-economic development in 2022.
Entering the new year 2023, HCM City determines to be highly focused on tasks, particularly those to promote last year's achieved results, maintain economic growth momentum, and ensure social security, he said.
In 2022, with the drastic leadership and direction of the central government, the determined will of the city's political system, people, and business community, in the spirit of flexible, proactive, and drastic adaptation and disease control, the city achieved results faster than expected.
The scale and growth rate of industries and fields reached the pre-pandemic levels. Specifically, the city's gross regional domestic product (GRDP) increased to 9.03% over the same period of 2021 and exceeded the planned target of 6-6.5%.
The city's budget revenue reached 471.56 trillion VND (20.1 billion USD), 22% higher than the estimate and increasing by 23.6% over the same period.
Its export revenue reached 49.5 billion USD, up 10.3% compared with that of 2021. In addition, many of the city's manufacturing and service sectors grew strongly last year.
Cultural and social activities, education and training, health care, and sustainable poverty reduction were promoted.
The material and spiritual lives of the people continued to improve.
The city also enhanced foreign affairs and maintained political security, social order, and safety.
It made positive changes, especially in Party building; each cadre and party member properly performed their assigned duties and responsibilities, associated with self-cultivation and training.
The city gradually adjusted and rearranged the apparatus, and improved the quality of the contingent of cadres and civil servants, making an important contribution to strengthening internal unity.
Key projects and works were implemented as planned. The removal of difficulties in investment projects left positive impacts on the city's investment environment, such as putting into operation Thu Thiem 2 bridge that connects district 1 and Thu Duc city, the upgrade and expansion of Dang Thuc Vinh road in Hoc Mon district and Vo Van Kiet parallel road project in district 1.
The year 2022 saw the city's breakthrough efforts in creating positive changes in the development of infrastructure, especially traffic infrastructure, speeding up the progress of construction and operation of key infrastructure projects, including urban railway project No. 1 (Ben Thanh-Suoi Tien), a flood control project that climate change factor taken into account, urban railway project No. 2 (Ben Thanh - Tham Luong), Ring Road 3 (expected to start in June 2023), HCM City - Moc Bai expressway, a project on the construction of T3 terminal of Tan Son Nhat Airport, works/projects to celebrate the 50th anniversary of the liberation of the southern region of Vietnam and reunification of the country.
Tran Viet Anh, Vice Chairman of the Ho Chi Minh City Business Association, said that after more than a year of implementing the policy on flexible adaptation to the COVID-19 pandemic, HCM City has made great breakthroughs which prove the city's internal economic strengths in terms of dynamism and creativity.
The city's business community has the tradition and skills to overcome difficulties, he said.
He added that in 2022, besides the prolonged impacts of the COVID-19 pandemic, the city's economy was affected by high inflation, fluctuating real estate market, and the bond market.
However, the city's manufacturers, exporters, and digital technology service providers recovered quite well.
Concluding at the year-end meeting of the city's Party Committee in 2022, Politburo member, Secretary of the municipal Party Committee Nguyen Van Nen emphasised after a year of socio-economic recovery and development, the city overcame difficulties and regained what it lost due to the pandemic.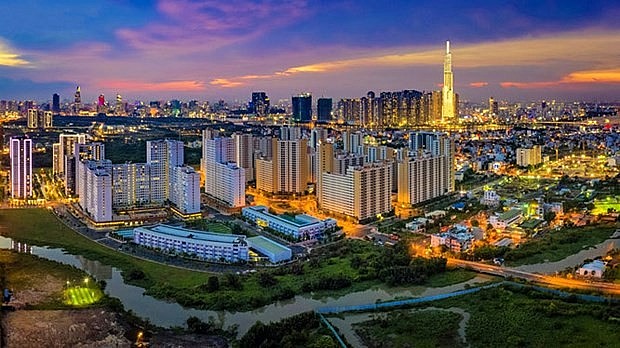 In 2022, Ho Chi Minh City's gross regional domestic product (GRDP) increases to 9.03% over the previous year and exceeds the planned target of 6-6.5%. Photo: VNA
The spirit of solidarity in the political system and social consensus increased, creating a positive spillover effect on the trust of the people and business community. He said the city's leaders sincerely thanked the dedication, sacrifice, and active and effective contributions of cadres, civil servants, public employees, labourers, and armed forces in the city.
The business community, organisations, individuals, and people joined hands and united, contributing to generating positive important results, paving the way for the successful implementation of the city's 5-year socio-economic development plan.
A model of reform, innovation, and development Entering 2023, the city set 15 key goals, particularly targeting a GRDP of 7.5-8%, according to VNA.
The year is themed "Improving the quality of public services, accelerating administrative reform and improving the investment environment."
The city will focus on removing difficulties for businesses, strengthening discipline, administrative discipline, and improving civil service ethics.
These are all issues that people and the business community always pay much attention to. 2023 is a very important year as it is the year of acceleration and development momentum for the remaining two years of the 2020-2025 term.
As the world situation will continue to be complicated and unpredictable, the city's Party Committee and authorities are determined to be more proactive and adaptive, to bring into full play the spirit of dynamism and creativity on solving obstacles, unleashing resources, and promoting the strength of the great national unity bloc.
"Facts show that with determination, unity, and acting for the people, authorities will gain public trust and support, then reap successes," Nen said.
After a recent working session with leaders of the city, Prime Minister Pham Minh Chinh asked the city to focus on three growth engines - consumer services, public investment, and import/export activities.
PM Chinh emphasised the need to turn HCM City into a model of innovation and creativity in science and technology applications and creative start-ups.
It must be the locomotive, the model of reform, innovation, and development of the whole country.
The city is also expected to be a high-quality human resource training hub of regional and international stature.
It targets to further develop digital government, digital economy, digital society, smart city, green transformation, and achieve a sustainable development.
Vietnam's tourism forecast to strongly rebound in five years
In 2024, Vietnam's tourism revenues are expected to reach US$11 billion, which will surpass the pre-pandemic amount of $10.8 billion in 2019.
Vietnam's tourism industry is forecast to strongly grow in the coming five years, with more than 22 million foreign visitors and total revenue of US$13.2 billion.
The prediction was made by Fitch Solutions' latest report.
"It's a rosy outlook for a country that's heavily dependent on international travelers and their spending," the report noted.
The British market research firm reckoned that by 2024, revenue from tourists in Vietnam is expected to reach $11.1 billion, which will surpass the pre-pandemic levels of $10.8 billion in 2019.
The report is based partly on positive Vietnam's tourism performance last year, local insiders said.
Stronger breakthroughs
The year 2022 marked the spectacular return of the tourism industry after a long period of impacts from Covid-19. Revenue from tourists was estimated at VND495 trillion ($20.9 billion), up 23% from the year's plan and equivalent to 66% of the 2019 amount, according to the Vietnam National Tourism Administration (VNAT).
This year, the country aimed to welcome 110 million visitors, including 102 million domestic visitors and eight million foreign arrivals. Its revenue is estimated at VND650 trillion ($27.5 billion).
To reach the goal, the sector will continue to restructure regional linkages that connect Vietnam with other countries in the region, ensuring synchronization, sustainability and international integration, attaching importance to linkages between the tourism industry and other sectors in the value chain, forming diverse and unique tourism products on the basis of historical values, culture, and typical natural conditions.
The sector will also focus on promoting the construction and development of new tourism products, and nighttime activities, contributing to positioning the national tourism brand.
The Vietnamese tourism sector will focus on exploiting traditional tourism markets, refining policies to facilitate the entry, exit and movement of international tourists, and creating conditions for domestic and foreign airlines to open new routes and directly connect Vietnam to key and potential tourism markets.
In addition, it will improve policies, including supporting small and medium-sized enterprises and tourism business households to acquire new technologies, digital skills and access to finance.
VNAT Deputy Director General Ha Van Sieu said that despite forecasts of a positive outlook for 2023, the tourism sector continues to face difficulties, namely the downturn of the global economy, increased risks of financial instability, currency, public debt, energy and food security. Meanwhile, Vietnam's current visa policy is less competitive than other countries in the region.
As one of Vietnam's largest travel agencies, Saigontourist also had the same concern. However, the company is optimistic about the prospects for 2023, saying the year will be very active in terms of tourism activities, especially in the inbound segment.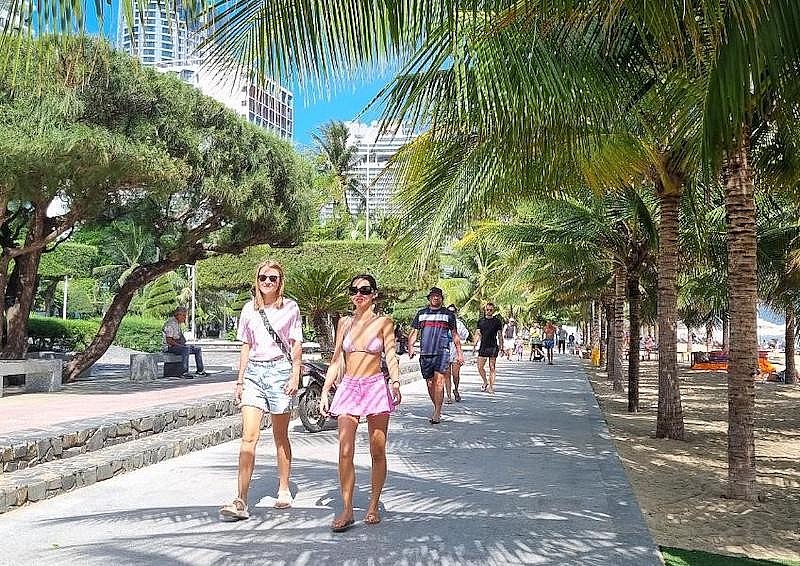 Photo: VNN
Mai Thuy Hang, deputy general director of Sun Group, believed Vietnam has many advantages for tourism recovery and spectacular growth in 2023. Recently, the number of travelers from India to Vietnam increased significantly, promising continued growth in 2023, she added. "The tourism industry will experience a strong breakthrough this year in terms of domestic and foreign arrivals," she said.
Hanoi with highlights
Contributing to the impressive rebound of the whole sector, Hanoi tourism has defined its missions and recovery plans.
Director of the Hanoi Department of Tourism Dang Huong Giang stated that one of the key tasks of the tourism sector is to focus on planning and investing in infrastructure development in a professional, modern and environmentally friendly manner.
She added the department has actively collaborated with embassies and Vietnam's missions abroad to organize tourism promotion programs, such as JATA Tourism Expo Japan and IFTM [International and French Travel Market] Top Resa, the multi-purpose trade show for tourism and travel in France.
At the same time, the city will implement reciprocal tourism promotion programs to member countries under the Framework Agreement on Facilitation of Cross-border Paperless Trade in Asia and the Pacific (CPTA), Tourism Promotion Organization for Asian-Pacific Cities (TPO), and the Lancang-Mekong Tourist Cities' Alliance, according to the department.
Giang said another issue of focus is human resources. Accordingly, the department has worked with training facilities to improve manpower at three levels including state management, corporate governance, and workers with the application of national standards and international standards as well.
In 2023, the city is expected to welcome 22 million arrivals, a surge of 17.6% on year. Among them, the number of domestic visitors would be about 19 million, up 10.5% from 2022.
Tourism revenue is expected to hit VND77 trillion (US$3.26 billion), an annual rise of 28.2%. The average occupancy rate of accommodation establishments and hotels would reach 45%, up 5% year-on-year, reported Hanoitimes.
To achieve the target, Hanoi has focused on implementing a plan to improve the quality of tourism products and places of interest associated with heritage, relics, and handicraft villages in districts and towns with an emphasis on four main itineraries, including those from the city center to Bat Trang pottery village of Gia Lam District, Huong Son of My Duc District, the districts of Thach That, Quoc Oai, Son Tay, and Ba Vi.
The municipal Department of Tourism plans to launch a series of events such as the Hanoi Tourism Program to welcome the Lunar New Year in January 2023, the Hanoi Tourism Gift Festival in the second quarter of this year, and the Hanoi Ao Dai Festival in the fourth quarter.
In addition, it will promote cooperation with key provinces and cities in the Northern region, Ho Chi Minh City, and Southern provinces, the Central Highlands region for more attractive programs. It will also organize a series of promotion activities in key markets, including Northeast Asia, France, European countries, the US, and India.
Hanoi welcomed 18.7 million domestic and international visitors in 2022, including 1.5 million international tourists and 17.2 million domestic travelers. The arrivals in 2022 soared 4.7 times over 2021 and equal to 64.7% of 2019. Its revenues were estimated at VND60 trillion ($1.9 billion), 5.3 times higher than the previous year.
Many localities attract a large number of visitors during Tet
An influx of visitors flocked to popular travel destinations like Yen Tu, Ha Long, Ninh Binh, Khanh Hoa, Da Lat and Ba Ria-Vung Tau, during the Lunar New Year holiday.
The Complex of Yen Tu Monuments and Landscapes in Uong Bi city, Quang Ninh province, received nearly 10,000 visitors on the first two days of Tet.
According to the People's Committee of Uong Bi city, the annual Yen Tu Spring Festival will take place from January 30 (the ninth day of the first lunar month), featuring many cultural and spiritual activities.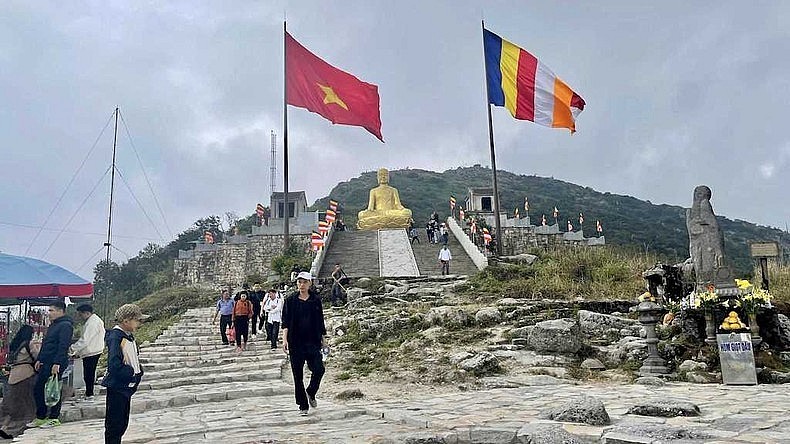 Tourists visit the Complex of Yen Tu Monuments and Landscapes in Uong Bi city. Photo: NDO
*Two international ports of Ha Long and Tuan Chau in Quang Ninh province received the first foreign visitors to Ha Long Bay on January 22, including 251 multi-national visitors aboard the Silver Spirit cruise ship, departing from Hong Kong (China). After leaving Quang Ninh, the cruise ship will head to Da Nang and Ho Chi Minh City.
*During four days of Tet from January 20-23, Ninh Binh province welcomed about 85,000 tourists, seven times higher than during Tet 2022, including 12,825 foreign visitors. Hoa Lu Ancient Town in Ninh Binh city saw the largest number of visitors with 36,835 arrivals during the four days of Tet, cited NDO.
*The central province of Khanh Hoa received the first 214 tourists from China on the second day of Tet (January 23). This is the first flight taking Chinese tourists to Khanh Hoa, after three-year hiatus due to the COVID-19 pandemic.
*Da Lat city in Lam Dong province also welcomed tens of thousands of domestic and foreign tourists, during the first three days of Tet. Lam Dong saw 35,000 visitors on the first two days of Tet and the province is expected to receive 180,000 visitors during the seven days of Tet, up 71% compared to the same period in 2022.
*The southern province of Ba Ria – Vung Tau also welcomed 43,000 visitors on the second day of Tet (January 23), seven times higher than the first day of Tet.
National museum's exhibition features spring landscapes
A painting exhibition at the Vietnam Museum of Fine Arts offers art lovers a chance to see the beauty of the spring in different regions across the country.
The exhibition, entitled Spring Colours, includes nearly 60 paintings selected from the Modern Art Collection of the museum and is held to celebrate Tet (Lunar New Year).
"Through the artists' perspectives and artistic language, typical features of spring in different regions across the country are vividly depicted," said Nguyen Anh Minh, the museum's director. "The country's natural landscapes are poetically portrayed in these works showing the love for the homeland of the artists."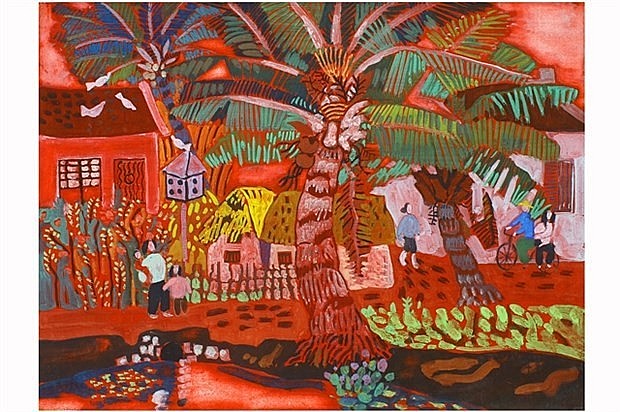 Du Kien An gouache painting by Pham Viet Hong Lam. Photo: VNA
The paintings were created in different periods of history and by various popular artists from the Indochina Art generation including Tran Van Can, Nguyen Van Ty and Tran Dinh Tho, to the younger generations such as Nguyen Trong Kiem, Pham Viet Hong Lam, Nguyen Ba Thi and Vo Luong Nhi.
Exhibition goers will notice popular destinations in Hanoi like Hang Ma street, Ngoc Ha Flower Village or Dong Da Mound, as well as familiar scenes in the countryside like small villages, trees and coconut groves, from the mountainous provinces of Lang Son and Cao Bang with famous historical sites including Karl Marx Mountain, Ban Gioc Waterfall and Pac Bo Cave to the midlands and coastal areas.
Gouache painting Dua Kien An (Kien An Coconut) by veteran Pham Viet Hong Lam is eye-catching at the exhibition with hot oranges and bright and bold pinks, VNA reported.
"This is one of my favourite paintings," said artist Lam.
"I drew the painting from sketches that I made when I took my students for an internship in Kien An district in the northern city of Hai Phong. I like it because it is my memory and it characterises the land."
Dua Kien An was displayed at National Fine Arts Exhibition in 1986 and the museum collected it after the exhibition.
Spring and country themes are endless inspirations for artists. Spring gives people the colours of joy and vitality with the plants sprouting.
Artist Vo Luong Nhi has a chance to see her work after nearly 30 years in the museum collection.
"It is a happy moment for me," she said at the exhibition's opening ceremony.
"It is a thrill to see my painting at the museum. I'm very moved and surprised because when I finished the painting it was displayed at an exhibition and the museum bought it. The colour of the painting has not changed showing that it has been kept in good condition at the museum.
The exhibition is a pleasant and auspicious gift that brings best wishes and good luck for the New Year to everyone, according to museum director Minh.
The exhibition runs until February 15 at 66 Nguyen Thai Hoc street.