Vietnam News Today (Jan. 3): Vietnam Airlines Operates First International Flight since Covid-19
Vietnam News Today (Jan. 3): Vietnam records 16,914 new domestic Covid cases; Vietnam to soon purchase Covid-19 vaccines for kids aged 5-11; Vietnam Airlines operates first international flight since Covid-19; Hanoi capital plans only one venue for Lunar New Year fireworks display.
Vietnam News Today (Jan. 3) notable headlines
Vietnam records 16,914 new domestic Covid cases
Vietnam to soon purchase Covid-19 vaccines for kids aged 5-11
Vietnam Airlines operates first international flight since Covid-19
Hanoi capital plans only one venue for Lunar New Year fireworks display
Tourism companies say outlook bright for 2022
Vietnam-US trade value hits record high of US$100 billion in 2021
Vietnam maintains diplomatic aspirations in Middle East
HCMC tightens oversight of foreign arrivals after detecting Omicron
Da Lat offers escapes from New Year holiday crowds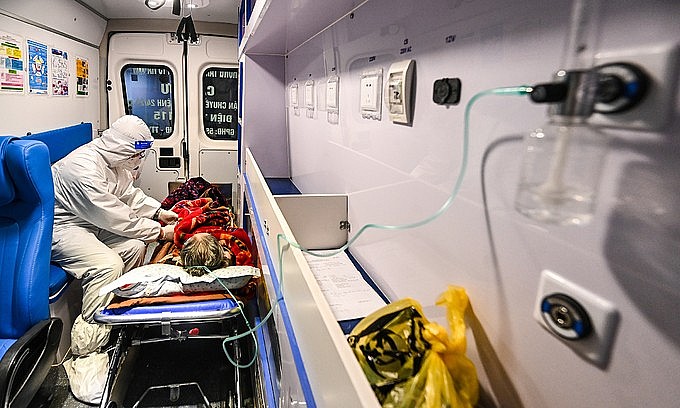 A doctor takes care of a Covid-19 patient as she is transferred to a hospital for emergency aid in Hanoi, December 23, 2021. Photo: VnExpress
Vietnam records 16,914 new domestic Covid cases
The Health Ministry announced 16,914 new local Covid-19 cases in all 63 cities and provinces on Sunday, pushing the ongoing wave's tally to 1,757,254.
The three localities with the highest number of new cases were Hanoi with 2,045 cases, the northern city of Hai Phong with 1,804 cases, and Vinh Long Province in the Mekong Delta with 1,280 cases.
Health authorities also confirmed 221 Covid-19 deaths on Sunday, including 30 in HCMC and 41 in its neighboring province of Dong Nai, sending the death toll in Vietnam to 32,831, or 1.9 percent of the total infections since the pandemic started.
The country now has 356,601 active patients in total and 6,746 are severe cases, cited VnExpress.
Around 77.7 million people of the 96-million population have been vaccinated with two doses.
Vietnam to soon purchase Covid-19 vaccines for kids aged 5-11
The Prime Minister has assigned the Ministry of Health (MoH) to immediately carry out necessary procedures to purchase Covid-19 vaccines for children aged 5 to 11.
The PM made the request in a document released by the Government Office on January 1, 2022.
He asked the MoH to make a review and regular update of vaccines to promptly adopt appropriate solutions to ensure sufficient vaccines for people of all ages, including children aged 5 to 11, according to VOV.
Vietnamese children aged 5-11 will soon be vaccinated against Covid-19. Photo: VGP
According to MoH Deputy Minister Do Xuan Tuyen, the MoH is consulting with professional agencies and the World Health Organization on immunization for children aged 5-11.
It is negotiating with vaccine manufacturers and suppliers to access sources of the Covid-19 vaccines for children of this age group after receiving guidance from the World Health Organization.
Vietnam has basically completed the first and second dose injection for adults, and is beginning the third dose inoculation nationwide. It is implementing a vaccination campaign for children aged 12-17 nationwide.
The country has so far received approximately 200 million doses of vaccines of different brands such as AstraZeneca, Pfizer, Moderna, Vero Cell, Sputnik V, Abdala from purchase contracts and donations.
Vietnam Airlines operates first international flight since Covid-19
A flight carrying 121 passengers from Cambodia's Phnom Penh to Ho Chi Minh landed in the southern economic hub's Tan Son Nhat International Airport on the evening of January 1, making it the first regular international operated by Vietnam Airlines after a nearly-two-year hiatus since the outbreak of the Covid-19 pandemic.
The flight, coded VN852, followed Vietnam's plan to reopen air routes to destinations abroad with high safety levels starting the first day of 2022 in a bid to resume international passenger transport and boost economic recovery.
Uch Leang, Acting Director of the Department of Asian, African and Middle East Studies of the International Relations Institute of Cambodia, considered such reopening a strong and prompt decision of the Vietnamese Government given the regional efforts for socio-economic recovery.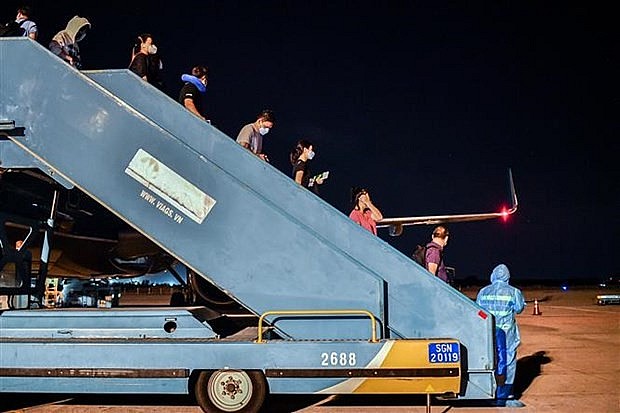 Passengers from Phnom Penh, Cambodia, leave the flight after arriving in Vietnam. Photo: VNA
Noting that Cambodia and Vietnam have close ties concerning trade and investment, the travel needs of overseas Vietnamese in Cambodia, and the significant demand of Cambodians for traveling to Vietnam for medical examination and treatment, the expert said he appreciated the flight resumption plan in an attempt to live safely with Covid-19.
After the Vietnam-Cambodia flight, Vietnam Airlines will run flights between Vietnam and Japan on January 5 as well as between Vietnam and the US on January 9.
Earlier, it announced a plan to resume regular international flights between Vietnam and 15 countries and territories in the first half of 2022, which is scheduled to be carried out in two phases, reported VNA.
During Phase 1, expected to last for two weeks from January 1, the carrier will operate two-way flights between Vietnam and the United States, Japan, the Republic of Korea, Taiwan (China), Singapore, Thailand, Laos, and Cambodia.
In Phase 2, Vietnam Airlines plans to restore more two-way routes between Vietnam and the UK, France, Germany, Russia, Australia, Hong Kong (China), and Malaysia.
The plan is subject to change according to the approval of relevant authorities and the developments of the pandemic.
Hanoi capital plans only one venue for Lunar New Year fireworks display
The Hanoi municipal administration has decided to put on a fireworks display at an only one venue to welcome in the lunar New Year 2022 on January 31 evening.
Fireworks will go off at Thong Nhat Park in the city centre and last for 15 minutes, starting at 00.00hrs on February 1. Funding for the show will be contributed by local businesses, cited VOV.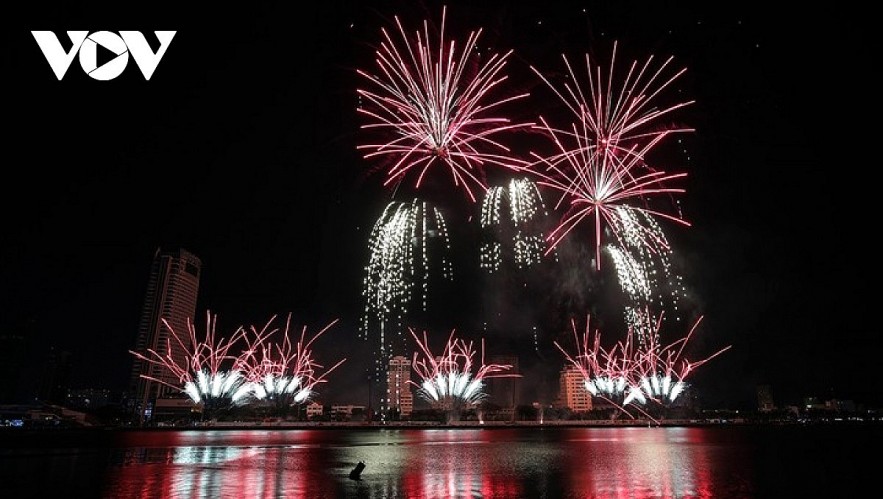 Photo: VOV
Hanoi cancelled New Year fireworks and countdown celebrations this year due to the complex nature of the Covid-19 pandemic, and this was the second year such a show had been cancelled. Instead, the city organized several celebrations online.
In a recent directive, the Party Central Committee's Secretariat requested localities to consider fireworks display to welcome in New Year and lunar New Year depending the actual situation of their Covid-19 outbreak.
The Covid-19 outbreak remains complicated in Hanoi capital as around 2,000 new cases are detected daily these days. Almost all inner districts have raised their Covid-19 alert levels and restricted events of public gatherings.
Tourism companies say outlook bright for 2022
With the government allowing in foreign tourists and resuming international air services, major tourism firms are optimistic about the outlook for this year.
Dang Minh Truong, chairman of Sun Group, which has a number of luxury hotels and resorts across Vietnam, said the tourism industry would continue to face challenges this year due to the Covid-19 pandemic but everything would gradually be better as the country has changed its strategy from zero-Covid cases to living safely with the pandemic.
His company has upgraded all its hotels, resorts and amusement parks across the country, developed new tourism products and strengthened pandemic prevention measures, he said.
This year it plans to invest in more amusement parks and luxury accommodation since domestic and international tourism is gradually recovering, he said.
Nguyen Nguyet Van Khanh, deputy marketing head of major travel firm Vietravel, said his this year company would prioritize resumption of domestic tourism and receiving tourists from Northeast Asia and Russia.
It also plans to start outbound tours this month to Thailand, Dubai, Europe, and the U.S. where Vietnamese are exempt from quarantine requirements, he said.
Pham Ha, chairman of Lux Group, which specializes in luxury cruises, said the segment has huge potential and his company plans to launch a series of new tours this year targeting domestic tourists, VnExpress reported.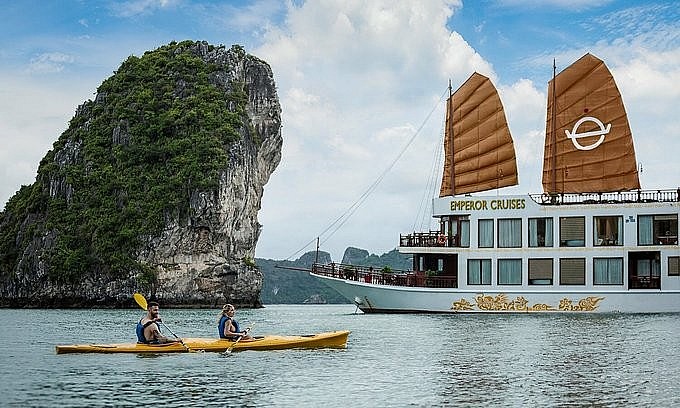 Foreign tourists sail kayak on Ha Long Bay, Quang Ninh Province. Photo: Lux Group
Since last month three of his company's cruise ships in Ha Long Bay, Lan Ha Bay off Hai Phong City and Nha Trang have been fully booked on weekends and for the upcoming Lunar New Year holidays in February.
Nguyen Chau A, CEO of Oxalis Adventure, a company that takes people on cave tours in the central province of Quang Binh, said he has high hopes for tourism revival this year.
He said his company would focus on the domestic tourism market since the pandemic still limits foreign travel.
In the last two years it has taken over 10,000 Vietnamese tourists to Son Dong, the world's largest cave, and the tour is already almost fully booked for this year, he said.
It has started preparing for an international promotion campaign in 2023, and at the end of January will organize a tour for a team from BBC coming to film in the Phong Nha-Ke Bang National Park.
Ha said Lux Group's 2022 target is to achieve 50 percent of 2019 revenues.
"The tourism industry has slowly stepped out of the tunnel and is able to see light".