Vietnam News Today (Jan. 31): Vietnam Joins "Golden Triangle of Startups" in Southeast Asia
Vietnam News Today (Jan. 31): Vietnam joins "golden triangle of startups" in Southeast Asia; Vietnam Airlines Group serves 2.4 million passengers during Tet holiday; Con Dao among 16 best island vacations in the world; Vietnam to send 20 teams to VEX Robotics World Championship 2023.
Vietnam News Today (Jan. 31) notable headlines
Vietnam joins "golden triangle of startups" in Southeast Asia
Vietnam Airlines Group serves 2.4 million passengers during Tet holiday
Con Dao among 16 best island vacations in the world
Vietnam to send 20 teams to VEX Robotics World Championship 2023
Vietnam develops innovative start-ups from e-commerce
Vietnam posts trade surplus of 3.6 billion USD in January
Da Lat receives ASEAN Clean Tourist City award
Workers to enjoy five-day Reunification Day holiday
Second-hand products becoming more popular in Vietnam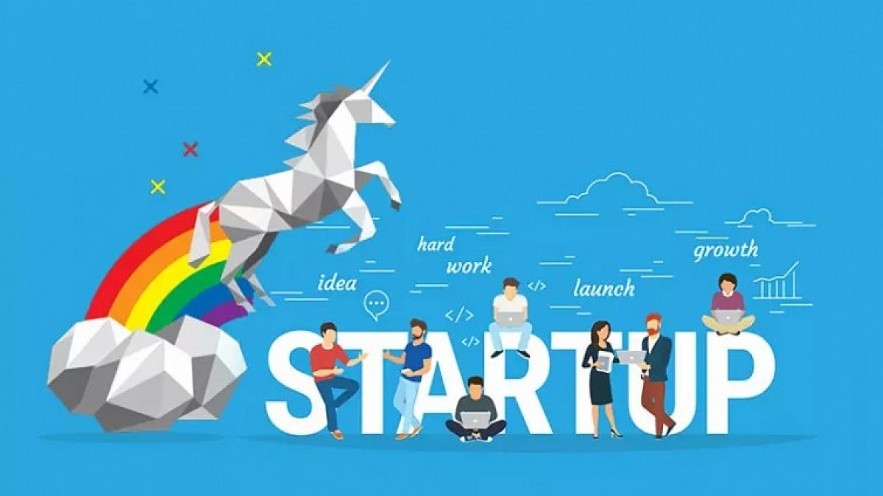 Photo: VOV
Vietnam joins "golden triangle of startups" in Southeast Asia
Lianhe Zaobao newspaper in Hong Kong (China) has recently published analysis outlining the nation's advantages, such as a strong domestic market and abundant science and technology human resources, with local startups growing rapidly in recent years.
As a result of this growth, the country has joined Indonesia and Singapore to become the third pillar of the "golden triangle of startups" in Southeast Asia.
The article cited a speech given by Vietnamese Minister of Planning and Investment Nguyen Chi Dung at the Startup Investment Forum held in December, 2022, saying that in recent years, more and more foreign direct investment (FDI) target Vietnamese startups.
During the initial nine months of 2022, the nation's innovative startups alone attracted approximately US$500 million in investment capital, with the investment level of each transaction also higher compared to the previous year.
Over the past two years, startups attracted nearly US$2 billion in foreign investment, indicating that Vietnamese startups are increasingly appealing to international and regional investors.
In 2021, local startups raised US$1.4 billion in investment capital, a figure 56% higher than the figure of US$894 million recorded in 2019.
The Vietnam National Innovation Center estimates that Vietnamese startups' ability to attract capital will maintain an upward trend in the year ahead, cited VOV.
According to the media outlet, 39 investment funds have pledged to invest US$1.5 billion into the nation in the 2023 to 2025 period, duly bringing the total investment of Vietnamese startups up to US$5 billion in this period.
According to Vinnie Lauria, co-founder of Golden Gate Ventures, in the first 10 years of the Southeast Asian startup ecosystem, Singapore and Indonesia were both the primary growth drivers that led the region.
Most notably, Vietnam became the third pillar of the "golden triangle of startups" in 2022, bringing a successful combination of top technology talent to the table. In line with this, the Vietnamese inherent startup culture, as well as the domestic market, has been rapidly developing in the country.
Luu Can Binh, an investment partner of Vertex Ventures SEA & India Fund, also offered a positive assessment of Vietnamese development prospects over the coming years, noting that the Vietnamese startup ecosystem boasts explosive power.
Along with the advantage of an abundant technological talent reserve and a strong individual's sense of entrepreneurship, factors such as stable domestic politics, a young and highly-educated workforce, developing infrastructure, digital skills and innovation capacity, as well as the support of the Government, all serve to create a beneficial ecological environment for local startups.
The article quoted Dr. Le Hong Hiep - a Senior Fellow at the Vietnam Studies Programme and the Regional Strategic and Political Studies Programme of the ISEAS – Yusof Ishak based in Singapore, who especially appreciated Vietnamese startups in the fields of financial technology (Fintech), e-commerce, and educational technology, adding that these companies will attract the most sustainable foreign investment.
The Vietnamese Government has therefore made efforts in order to support startups, although there remains plenty of work left to further improve the investment environment and legal framework as a way of lowering risks for startups, while simultaneously encouraging tech talents to set up local companies.
Meanwhile, Binh said that it will have to wait until the domestic startup ecosystem is more mature to expand its vision to the regional market before Vietnam can surpass Indonesia or Singapore to become the leader of the "golden triangle of startups".
Vietnam Airlines Group serves 2.4 million passengers during Tet holiday
The Vietnam Airlines Group, including Vietnam Airlines, Pacific Airlines and VASCO, served 2.4 million passengers on over 14,500 domestic and international flights from January 6-29 which was the peak season of the Lunar New Year (Tet) holiday.
The group offered services to nearly 80,000 passengers on nearly 500 flights on January 18. Later on January 29, it recorded around 93,000 passengers with around 550 flights.
Compared to the same period three years ago, the number of passengers served by Vietnam Airlines increased by some 20%.
Though the number of flights increased, Vietnam Airlines' on-time performance (OTP) remained high, at about 90%, according to VNA.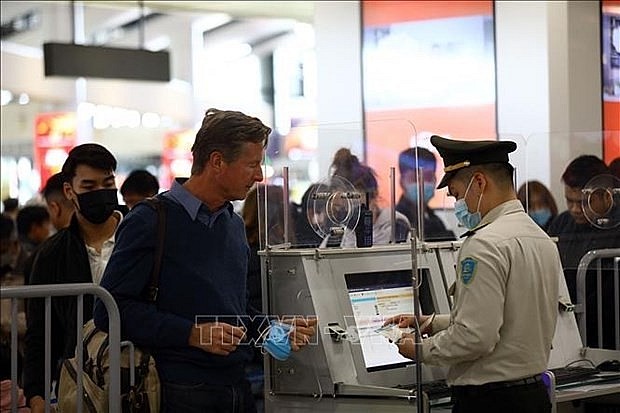 Illustrative image (Photo: VNA)
To ensure good services during the holiday, the group took a number of solutions, from making the most of wide-body aircraft, increasing night flights to enhancing ground staff and promoting online check-ins.
Between now and February 5, the group suggested passengers check in online, arrive at the airport two hours before departure for domestic flights and three hours for international flights.
Con Dao among 16 best island vacations in the world
Situated in the southern province of Ba Ria - Vung Tau, Con Dao island has been named among the top 16 best island vacations in the world, as compiled by tourism magazine Condé Nast Traveler (CNTraveler) of the United States.
According to the publication, in its location off the nation's southern coast, Con Dao is a small island with very little commercial development.
"With this, the beaches are quiet and the few resort options allow for a special retreat," says Condé Nast Traveler.
The article noted that the beaches are typically long with soft sand, making them perfect for light water sports like SUP and kayaking.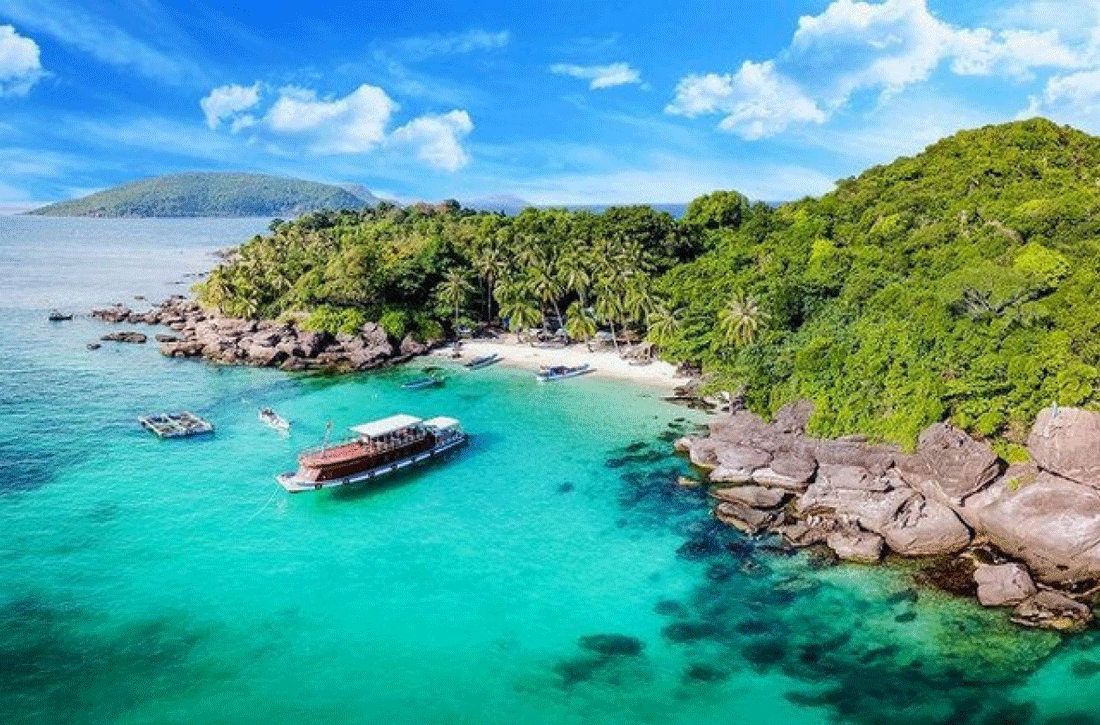 Con Dao is named in the list of among 16 best island vacations in the world (Photo: chinhphu.vn)
Condé Nast Traveler stated that the downtown area boasts a quaint seaside atmosphere with small restaurants, whilst there are also plenty of historical connections for visitors to explore.
According to the magazine, a visit in August can allow holiday goers to have the chance to watch turtles hatch.
"Stay through the morning when the turtle sanctuary supports the release of the hatchlings and watch them find their way to the big blue sea," it suggested.
From those visitors interested in history, they are recommended to pay a visit to Con Dao Prison, a site built during the French colonial era and used through the Vietnam-American War.
Rounding off the list of the top 16 best island vacations in the world are Big Island of Hawaii, Mallorca of Spain, Koh Samui of Thailand, Vancouver Island of Canada, the Andaman and Nicobar Islands of India, the Galápagos Islands of Ecuador, and Vega Island of Norway.
Vietnam to send 20 teams to VEX Robotics World Championship 2023
Vietnam is allowed to send 20 teams to the VEX Robotics World Championship 2023 (VEX Worlds), scheduled to be held in May this year in Dallas city in the US state of Texas, according to the Robotics Education and Competition Foundation which involves in the organisation of robotics competitions.
Held annually, the VEX Robotics World Championship, the largest robotics competition in the world, attracts more than 3,000 teams from over 60 countries.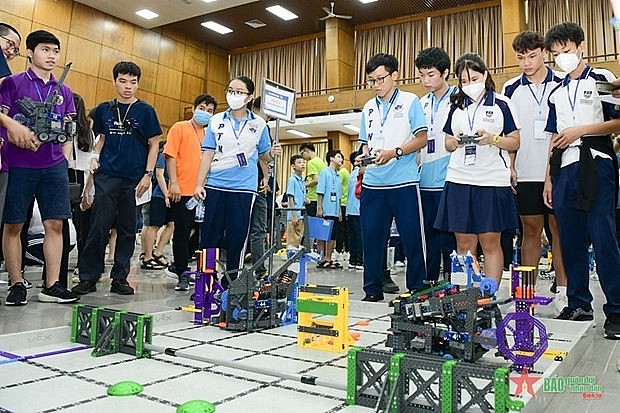 Competitors take part in the National Robotics Tournament 2022. (Photo: qdnd.vn)
To select the best teams representing Vietnam to compete at the championship, STEAM for Vietnam, in coordination with the American Centre and Hanoi University of Science and Technology (HUST), organized the National VEX IQ Robotics Championship 2023.
The tournament will take place on February 26 at HUST. It brings together 145 teams and 684 students from 152 elementary and junior high schools in 27 provinces and cities, reported VNA.
The tournament is expected to help students across the country have hands-on experiences in science, technology, engineering, and math. It also enables the students to develop necessary soft skills for the future, such as computational thinking, problem-solving, and teamwork skills.
According to Tran Viet Hung, Co-founder of STEAM for Vietnam Foundation, by participating in the VEX Worlds, Vietnamese students will gradually gain the essential skills to be able to compete in the global market in the future.
Vietnam develops innovative start-ups from e-commerce
E-commerce start-ups are becoming more and more popular and are considered relatively safe in the fields of innovative start-ups in Vietnam today.
However, safety does not mean success because to succeed in a vibrant developing market requires effort and creative thinking. Vietnam is considered to have great potential for start-ups in the e-commerce sector, with 72.1 million internet users, accounting for 73.2% of the population, ranking 12th in terms of internet users globally, by September 2022.
Two years of the COVID-19 pandemic have changed the shopping habits of the majority of consumers, shifting from direct shopping to online shopping. This is one of the important levers that create the amazing development of Vietnam's e-commerce industry.
According to a report by the Ministry of Industry and Trade, in 2022, the size of the Vietnamese retail e-commerce market was estimated at 16.4 billion USD, accounting for 7.5% of the country's revenue from consumer goods and services. Last year, the number of online shopping users reached 57-60 million people, accounting for 74.8% of internet users, of which the online shopping value of a Vietnamese person is about 260-285 USD. In addition, with a growth rate of 20% per year, Vietnam is also ranked by eMarketer, a US market research company, in the group of five countries with the world's leading e-commerce growth rate.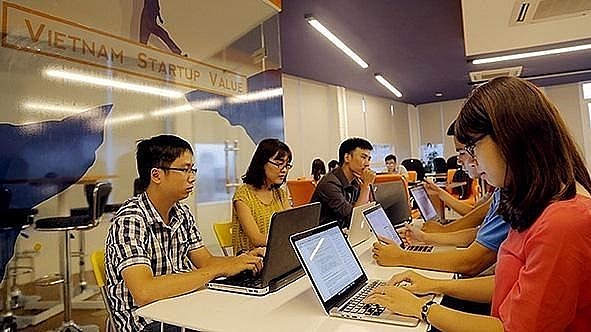 Illustrative image. (Photo: vneconomy.vn)
The booming e-commerce market has great potential, creating many opportunities for Vietnamese start-ups. Starting a business in e-commerce is also in line with the Government's policy of promoting the development of the digital economy. The legal framework for e-commerce activities is increasingly complete; start-ups are encouraged, and favourable conditions and open mechanisms are created for development. On the other hand, Vietnam's e-commerce market is still quite young, so there is still much room for Vietnamese start-ups.
In addition to many advantages, start-ups in the field of e-commerce also face many obstacles. There is a high level of competition due to the very early participation of big names such as Shopee, Lazada, Amazon, Tiki and Sendo. In addition, obstacles are coming from an underdeveloped payment system, goods infrastructure, packaging, warehousing, goods rotation, customs clearance, and the lack of trust from some consumers when buying online, cited NDO.
However, the key point of an innovative start-up is an idea, in which difference is a decisive factor, so the challenge is not small coming from the start-ups themselves, requiring creativity and right-oriented thinking. At the same time, they must find sustainable solutions to have new users and retain existing users.
Although there is no exact number of start-ups in the field of e-commerce, it is estimated that about 387 start-ups were formed and operated with certain success. Compared to the development potential of Vietnam's e-commerce, it is thought that this number is still quite modest. Therefore, it is necessary to continue promoting start-ups, creating a vibrant market with healthy competition, and contributing to making this field one of the key areas of the digital economy.