Vietnam News Today (Jan. 4): HCMC Schools Prepare to Welcome Back Over 600,000 Students
Vietnam News Today (Jan. 4): Vietnam records 15,916 local Covid cases, 4 imported Omicron cases; Vietnam aims to remove EC's warning against IUU fishing next year; HCMC schools prepare to welcome back over 600,000 students; Hanoi to set off fireworks from one single location on Lunar New Year's Eve.
Vietnam News Today (Jan. 4) notable headlines
Vietnam records 15,916 local Covid cases, 4 imported Omicron cases
Vietnam aims to remove EC's warning against IUU fishing next year
HCMC schools prepare to welcome back over 600,000 students
Hanoi to set off fireworks from one single location on Lunar New Year's Eve
Sa Pa welcomes nearly 20,000 visitors during New Year holidays
Vietnam strengthens int'l cooperation to promote renewable energy development
Strategy approved to boost vocational training development until 2030
Transport infrastructure development provides leverage for GDP growth
First Chinese RCEP train departs for Hanoi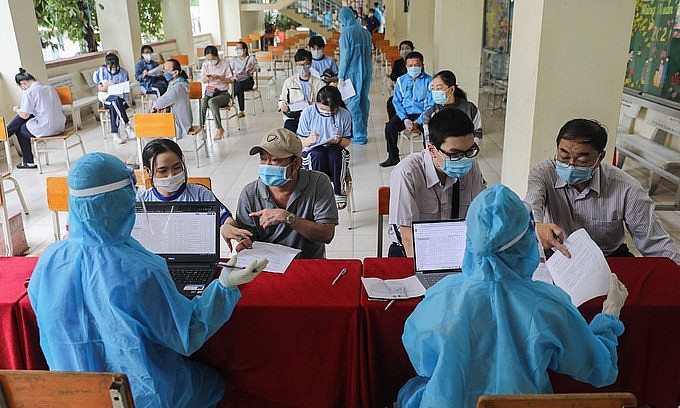 Students wait for Covid-19 vaccination as their parents are consulted at the Luong The Vinh High School in HCMC's District 1, October 27, 2021. Photo: VnExpress
Vietnam records 15,916 local Covid cases, 4 imported Omicron cases
Vietnam on Monday recorded 15,916 local Covid-19 cases, plus four imported cases with the Omicron variant.
The four new Omicron cases were recorded in Hai Duong and Hai Phong in northern Vietnam and the north central province of Thanh Hoa. Vietnam has recorded 24 Covid-19 cases with the Omicron variant so far, including one in Hanoi, five in HCMC, and 14 in the central province of Quang Nam, all imported cases.The total infection tally in the new wave so far is 1,772,257 cases.
The three localities with the highest numbers of new local cases on Monday are Hanoi with 2,100 cases, Hai Phong with 1,749 cases and Tay Ninh with 919 cases.
190 deaths were added to the national database on Monday, with 31 deaths in Ho Chi Minh City, 19 in An Giang, 14 in Dong Thap, 13 each in Vinh Long and Can Tho, 12 in Tay Ninh, 11 in Binh Duong, 10 in Ben Tre, nine each in Binh Phuoc and Ba Ria-Vung Tau, eight in Soc Trang, seven in Tien Giang, six in Ca Mau, five each in Binh Thuan and Bac Lieu, four in Hue, three in Long An, two each in Binh Dinh, Tra Vinh, Khanh Hoa, Kien Giang and Hau Giang, and one in Phu Yen.
The total number of Covid-19 deaths so far is 33,021, or around 1.9 percent of all infections, cited VnExpress.
24,461 Covid-19 patients were announced recovered on Monday, bringing the number of recovered cases to 1,397,157.
77.7 million people have received their first Covid-19 vaccine doses, 69.2 million have received their second doses, and 6.5 million have received their third doses, including those of the three-dose Abdala vaccine.
Vietnam aims to remove EC's warning against IUU fishing next year
The Ministry of Agriculture and Rural Development (MARD) has taken synchronous measures in order to remove the European Commission (EC)'s "yellow card" warning against illegal, unreported and unregulated (IUU) fishing in Vietnam next year.
Due to this move, the Directorate of Fisheries has advised the MARD to direct localities to obtain certificates of seafood origin, mostly those in south central, southeast, and southwest provinces in service of exports to the European market.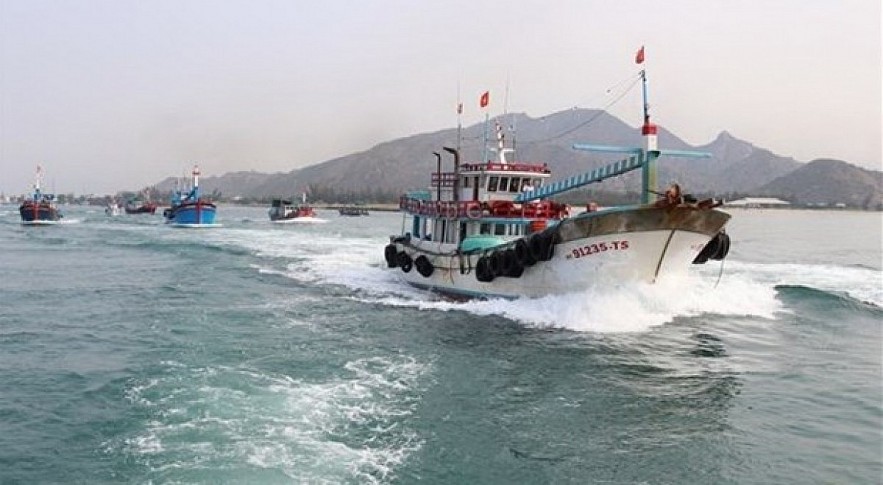 Photo: VOV
Tran Dinh Luan, director of the Directorate of Fisheries, revealed that the nation has actively made changes and revisions to its legal system, all of which were subsequently approved by the EC with the aim of handling violations on IUU fishing in future, according to VOV.
He added that the MARD and the Directorate of Fisheries have also deployed more than 10 IUU inspection missions in various localities in recent times to inspect efforts to address IUU fishing.
In line with this, 92% of fishing vessels have installed monitoring device equipment in line with the EC's regulations.
Luan underscored the importance of law enforcement as a way of ensuring security and safety for fishing boats out at sea.
HCMC schools prepare to welcome back over 600,000 students
HCMC schools have increased staff and medical supplies as around 680,000 students of grades 7, 8, 10, and 11 prepare to resume in-person classes after New Year holiday.
After 9th and 12th grade students, the afore mentioned grades will head back to the classroom Tuesday after eight months of remote learning.
Middle and high schools have made necessary preparations to welcome back the students.
Nguyen Van Linh High School in District 8 will let 1,300 students in three grades study in 26 classes. Principal Kim Nguyen Quynh Giao said the school won't separate classes into smaller groups. The school has four reserve rooms and one isolation room in case a Covid patient is detected. The school has purchased more temperature monitors and increased personnel to control student entry and exit.
"In the first week, students in grades 10 and 11 will revisit the materials they have learned online and prepare for the first semester exam from Jan. 10-22," she said.
Giao said that what she worries about the most is scheduling and finding personnel, VnExpress reported.
"During the in-person learning period, if a teacher unfortunately tests positive for Covid, the school would assign a substitute, ensuring the learning process will carry on normally."
Since the beginning of the pandemic until now, the school has had 10 teachers and staff members who got infected and recovered.
The school has also thought of different schedule options in case the Covid situation in Ho Chi Minh City grew worse so student learning would not be disturbed.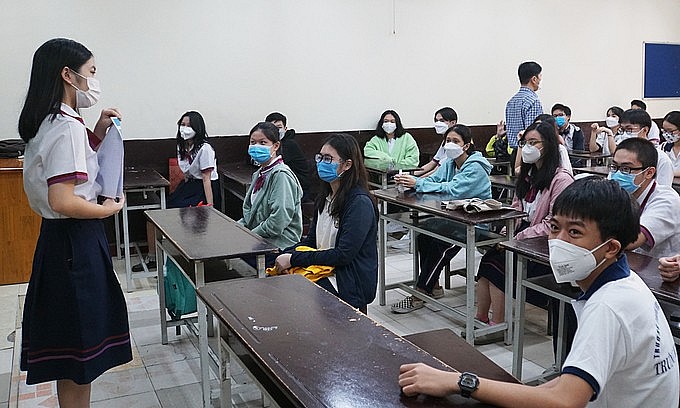 Grade 12 students attend class at Trung Vuong High School, HCMC's District 1, in December 2021. Photo: VnExpress
Nguyen Thi Minh Khai High School in District 3 will provide pandemic prevention and control training for 10th and 11th grade students on their first day back in class.
The school will let 10th graders study in person in the morning while 11th graders take online classes before switching about in the afternoon.
At Nguyen Du High School, District 10, over 1,500 returning students will be divided into two face-to-face class shifts.
In the morning, grade 12 and half of grade 10 would attend class, while the other half of grade 10 and grade 11 learn online. They will switch schedule in the afternoon.
On Dec. 31, students of grades 10 and 11 went to school for anti-pandemic training and to learn about their study plans before their first lesson Tuesday.
Schools with large campuses and many classrooms would separate students. This is to ensure the best safety for students, and to give parents peace of mind.
For instance, Le Van Huu Secondary School, in Nha Be District, splits classes and arranges 8th and 9th graders to study in the morning, while letting 7th graders attend in the afternoon.
Principal Duong Cong Ly said the school will have separate online classes for each grade, serving students who cannot attend school.
From Jan. 4 to 10, the school will focus on preparing students for the upcoming first semester exams.
"After the first few weeks, if the situation stabilizes, the school would increase the number of in-person classes so learning could resume normally."
Hanoi to set off fireworks from one single location on Lunar New Year's Eve
Hanoi will set off fireworks at both high-altitude and low-altitude from only one location - the Thong Nhat Park in Hai Ba Trung district - on the upcoming Lunar New Year's Eve, according to a plan recently issued by the municipal People's Committee.
Cost for the 15-minute firework display will be contributed by businesses.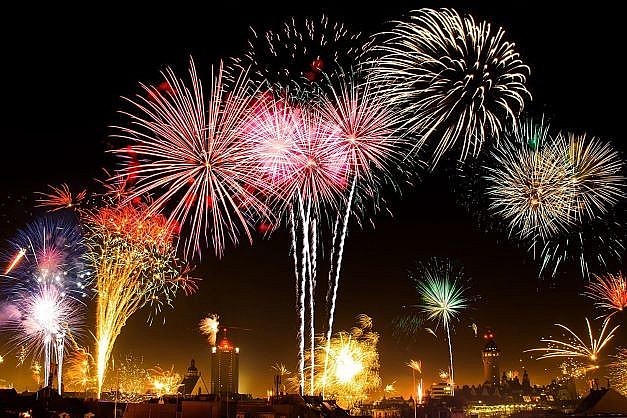 Photo: Bao Giao thong
The city has assigned relevant departments and agencies to make preparations for the fireworks to ensure utmost safety and security.
This will be the second year in a row that the capital city will set off fireworks at just one location due to the complicated development of Covid-19 pandemic.
On previous Lunar New Year's Eves, fireworks shows were organized in all 30 districts and towns of the city, cited VNA.
Earlier, the capital city canceled all outdoor activities for Solar New Year's eve, including countdown events and firework displays amid a spike in Covid-19 cases.
Sa Pa welcomes nearly 20,000 visitors during New Year holidays
Sa Pa township – a famous tourist destination in the northern province of Lao Cai welcomed 17,346 visitors during the three-day solar New Year holiday (January 1-3), according to head of the Culture-Information Office of the township Hoang Thi Vuong.
Vuong said that revenue from tourism activities during the holidays reached VND46 billion (US$2.01 million), up over VND7.8 billion (US$341,281) compared to the Christmas holidays (December 24-26), VNA reported.
Although the number of tourists was equivalent to only 30 percent of that in the same time last year, the results showed signs of recovery of Sa Pa tourism after a tough year due to impacts of Covid-19, she said.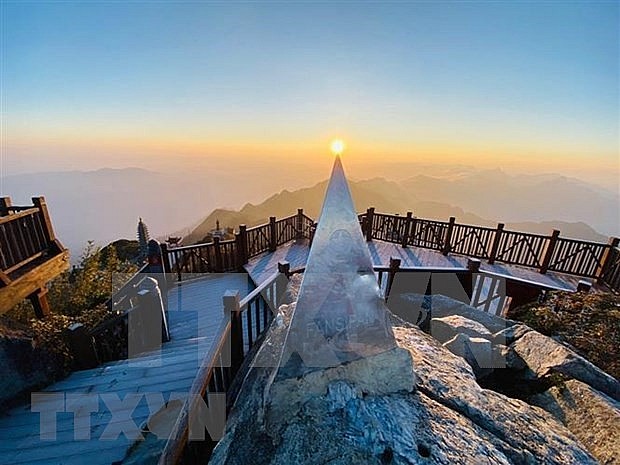 On top of the Fansipan Mountain in Lao Cai. Photo: VNA
As part of efforts to promote the "Lao Cai-Safe Destination" trademark, local authorities and businesses have applied effective measures to ensure pandemic and transport safety, environmental sanitation and food safety for tourists.
Alongside, local travel firms have offered various promotion programs to attract tourists. On average, Sa Pa welcomed about 4,000 - 5,000 visitors each day, with many hotels fully booked during weekends.
Sa Pa has long been among the country's leading destinations. Of note, young people accounted for more than 70 percent of tourist arrivals to the town last year.